ER Editor: It is linked to below, but here is the site where Pfizer's documents are being published –
In particular – https://phmpt.org/pfizers-documents/
We remind readers in relation to reporting injuries and death following vaccination, an estimated 1-10% of all so-called 'adverse events' are ever reported. Some put this figure closer to the 1% mark. Which means that statistics for an injury should be multiplied by 100 to obtain a more realistic figure.
See this article by Michael Nevradakis for Children's Health Defense for background information concerning the lawsuit to get Pfizer to reveal its Covid vaccine Emergency Use Authorization documents:
Also, this latest piece from Yudi Sherman for America's Frontline Doctors concerning details of payments the FDA would have received from Pfizer:
And this from Children's Health Defense (CHD):
And finally from Global Research,
***
Below we're doing a twofer, from The Exposé and Daily Sceptic, with help from Steve Kirsch and Kyle Beattie.
********
Confidential Pfizer Docs. reveal the Covid-19 Vaccine accumulates in the Ovaries; & now Official UK Data shows cases of Ovarian Cancer are at an all time high
THE EXPOSE
The US Food and Drug Administration (FDA) has been forced by court order to publish all confidential documents sent to them by Pfizer in regard to emergency use approval of the Pfizer Covid-19 injection. The latest round of documents were published 1st March 22, and one of the documents confirms that the Pfizer Covid-19 injection accumulates in the ovaries over time.
What are the consequences of this?
Well, official UK data shows that cases of Ovarian cancer in 2021 were at an all-time high, and the UK Medicine Regulator received over 40,000 reports relating to reproductive and menstrual disorders suspected as adverse reactions to the Covid-19 injections in 2021 alone.
The study, which can be found in the long list of confidential Pfizer documents that the FDA have been forced to publish via a court order here, was carried out on Wistar Han rats, 21 of which were female and 21 of which were male.
Each rat received a single intramuscular dose of the Pfizer Covid-19 injection and then the content and concentration of total radioactivity in blood, plasma and tissues were determined at pre-defined points following administration.
In other words, the scientists conducting the study measured how much of the Covid-19 injection has spread to other parts of the body such as the skin, liver, spleen, heart, etc.
But one of the most concerning findings from the study is the fact that the Pfizer injection accumulates in the ovaries over time.
An 'ovary' is one of a pair of female glands in which the eggs form and the female hormones oestrogen and progesterone are made.
In the first 15 minutes following injection of the Pfizer jab, researchers found that the total lipid concentration in the ovaries measured 0.104ml. This then increased to 1.34ml after 1 hour, 2.34ml after 4 hours, and then 12.3ml after 48 hours.
The scientists, however, did not conduct any further research on the accumulation after a period of 48 hours, so we simply don't know whether that concerning accumulation continued.
But official UK data published by Public Health Scotland offers some concerning clues as to the consequences of that accumulation on the ovaries.
Public Health Scotland (PHS) have a full dashboard on Covid-19 wider impacts on the health care system, found here, and it includes a whole range of data from mental health statistics to pregnancies, cardiovascular disorders data, and cancer.
The data available for all types of cancers shows that the total count of individuals suffering from cancer in 2021 was inline with the 2017-2019 average, but higher than the numbers recorded in 2020.
Unfortunately the data has a huge delay and, as of March 2022, only covers up until June 2021.
However, data for the number of individuals suffering from ovarian cancer shows that the known trend in 2021 was significantly higher than 2020 and the 2017-2019 average.
On top of this we also have further official data from the UK that shows nearly 40,000 incidents of changes to period and unexpected vaginal bleeding had been reported to the MHRA Yellow Card scheme as adverse reactions to all available Covid-19 injections as of November 2021.
Up to the 17th Nov 21, the UK Medicine Regulator, the MHRA, had received 1,724 reports of menstrual disorders, 3,034 of menstruation irregularities, 5,068 reports of heavy menstrual bleeding, amongst thousands of other reproductive disorders, as suspected adverse reactions to the Pfizer Covid-19 vaccine.
In September 2021, Dr Victoria Male, a lecturer in reproductive immunology for Imperial College London, published an article in the British Medical Journal in which she states that a link between menstrual changes and the Covid-19 vaccination is perfectly plausible and should be investigated.
Dr Victoria Male concludes in her article that – "One important lesson is that the effects of medical interventions on menstruation should not be an afterthought in future research.
"Clinical trials provide the ideal setting in which to differentiate between menstrual changes caused by interventions from those that occur anyway, but participants are unlikely to report changes to periods unless specifically asked.

"Information about menstrual cycles and other vaginal bleeding should be actively solicited in future clinical trials, including trials of covid-19 vaccines."
But perhaps more interesting than the article itself is some of the responses that were received to it.
It is of course impossible to definitively conclude that the Covid-19 injections are responsible for a rise in ovarian cancer.
But with –
Confidential Pfizer documents showing that the Covid-19 vaccine accumulates in the ovaries over time,
and over 40,000 menstrual disorders being reported as adverse reactions to the Covid-19 injections,
It's quite clear that the Covid-19 injections interfere with the reproductive system and further studies and investigation should be carried out with immediate effect.
************
Systemic Adverse Events in 23% of the Vaccinated, 16% of the Vaccine Ends Up in the Liver – Revelations From the Pfizer Trial Documents
DAILY SCEPTIC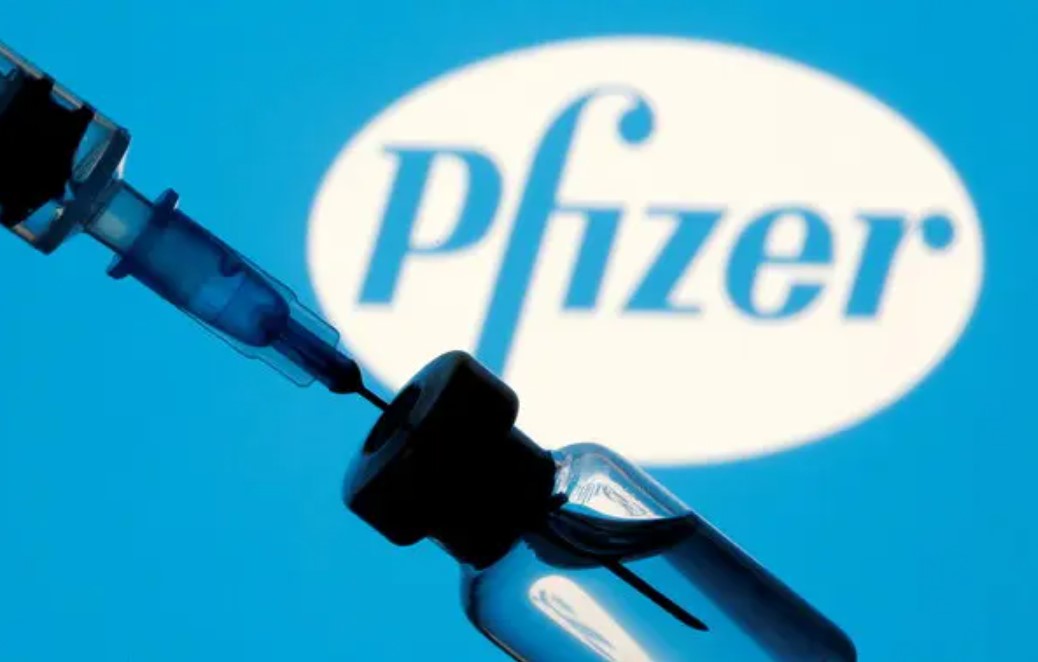 Steve Kirsch and Kyle Beattie have been going through the documents from the Pfizer Covid vaccine trial that the company has been compelled to release (150 so far with many more to come). While they warn that their findings are preliminary and need double-checking, here are some of the key points from their analysis so far.
1. Despite recent claims that the vaccines were only ever intended to reduce serious illness, it's clear in the documents (see excerpts below) that Pfizer's submission to the FDA was for a vaccine that would provide: "Active immunisation to prevent COVID-19 caused by SARS-CoV-2 in individuals 16 years of age and older." This purpose of the drug is stated repeatedly. That's what it's supposed to do, what it was authorised for. This means it has failed on its own terms, and it is unclear why this should not invalidate the authorisation in the eyes of the approving body.
2. A high number of adverse events were observed, and it was clear that many were reactions to the vaccine as they were much higher in the vaccine arm and increased with each dose.
The dose relationship was observed particularly in the animal trials. In the documents, Pfizer states:
Local reactions were observed in male and female animals dosed IM with BNT162b2 (V8). The incidence and severity of the reactions were higher after the second or third injections compared with the first injection. The majority of animals had very slight edema or rarely slight erythema after the first dose. After the second or third dose, the severity of edema and erythema increased up to moderate or rarely, severe grades.
The animal trials also showed serious adverse reactions of muscle necrosis and increased spleen size and weight.
BNT162b2 (V8)-related higher absolute and relative (to body) spleen weights (up to 1.62 times controls) were evident and correlated with the macroscopic observation of increased spleen size… Injection site inflammation was associated with moderate edema, mild myofiber degeneration, occasional muscle necrosis, and mild fibrosis.
The documents show that vaccine recipients were much more likely to suffer severe adverse events than placebo recipients – anywhere from twice to 25 or more times as likely to have severe systemic events compared with the placebo group.
Systemic events were more than twice as likely in the vaccine arm, with almost a quarter of the cohort suffering them. Steve writes:
Within seven days after each dose, twice as many people (23%) in the vaccinated group suffered systemic events compared with the placebo group (11.3%), while severe fever was noted in the vaccinated group 14 times as much as the placebo group.
3. It's very clear in the documents that the vaccine does not stay at the injection site but travels extensively throughout the body.
The data from the animal trials show that with one dose over a 48 hour period the vaccine quantity decreases from the injection site and increases substantially in the ovaries, liver, and spleen in particular, but also in adrenal glands, bladder, bone, bone marrow, eyes, large intestine, lymph nodes, pancreas, salivary glands, skin, small intestine, testes, thymus, thyroid, and the uterus.
Specifically, 0.09% of the injection ends up in the ovaries, 1.03% of the injection ends up in the spleen, and around 16.2% of the injection ends up in the liver after 48 hours. The table below shows the data in full. This confirms what was known from Japanese data.
4. The data also show that the efficacy of the vaccine wanes very quickly over time, by as much as 50% in a month after the second dose, judging by S1-binding and RBD-binding IgG antibody levels.
5. In the documents, Pfizer defended the side-effect reporting system VAERS as a "robust" system that is "designed to detect safety concerns with vaccines" when it wanted to get out of monitoring side-effects itself (see below). Yet subsequently the extraordinary number of VAERS reports have largely been treated as incidental and unrelated to the vaccines, despite the trial data giving every reason to expect high numbers of adverse reactions.
Read Steve's post in full here.
Stop Press: Dr. John Campbell has switched to recommending against vaccination following the revelations in these documents. Watch the video here.
••••
The Liberty Beacon Project is now expanding at a near exponential rate, and for this we are grateful and excited! But we must also be practical. For 7 years we have not asked for any donations, and have built this project with our own funds as we grew. We are now experiencing ever increasing growing pains due to the large number of websites and projects we represent. So we have just installed donation buttons on our websites and ask that you consider this when you visit them. Nothing is too small. We thank you for all your support and your considerations … (TLB)
••••
Comment Policy: As a privately owned web site, we reserve the right to remove comments that contain spam, advertising, vulgarity, threats of violence, racism, or personal/abusive attacks on other users. This also applies to trolling, the use of more than one alias, or just intentional mischief. Enforcement of this policy is at the discretion of this websites administrators. Repeat offenders may be blocked or permanently banned without prior warning.
••••
Disclaimer: TLB websites contain copyrighted material the use of which has not always been specifically authorized by the copyright owner. We are making such material available to our readers under the provisions of "fair use" in an effort to advance a better understanding of political, health, economic and social issues. The material on this site is distributed without profit to those who have expressed a prior interest in receiving it for research and educational purposes. If you wish to use copyrighted material for purposes other than "fair use" you must request permission from the copyright owner.
••••
Disclaimer: The information and opinions shared are for informational purposes only including, but not limited to, text, graphics, images and other material are not intended as medical advice or instruction. Nothing mentioned is intended to be a substitute for professional medical advice, diagnosis or treatment.