ER Editor: Here is Alexander Mercouris' take on the current situation in Sweden and the EU generally. See his full video commentary below.
For the first time ever, the sitting PM in Sweden has lost a confidence vote and has a week to decide how to move forward – with a cobbled-together government or hold a snap election. Apparently, this was over a rent-control issue.
It was always a weak left-wing government with many forces opposed to it. Governance was always a balancing act among certain forces such as the Greens and the radical left with the neo-liberal and/or conservative right, which has become impossible.
Mercouris: it's all fallen apart. There will be an election. Trying to cobble together a coalition will be too difficult.  Further, the Social Democratic party will go into severe eclipse: it's the beginning of the end of social democracy in Sweden. These SD parties are losing ground everywhere. This has happened in Austria, Germany, the UK, and likely now in Sweden. Sweden will likely move to the right.
Sweden is having terrible problems with crime and the migrant issue. With each government, these problems have been papered over continually.
The rent control issue that the government has fallen on is related to these problems. This government has been unable to get a grip on the crime wave as well as the property bubble. It has never been a strong, purposeful government, which was there simply to keep the Sweden Democrats (right-wing) out. The present arrangement was always unsustainable. Now it will be a mish-mash of parties vying for power.
This seems to be a copy-paste situation applicable to so many EU countries: politics bumbles along simply to keep out the right-sovereigntist parties. But this can't go on. The entire EU project is being undermined with this strategy.
The centre left parties don't understand that they have been destroyed through the EU! They've become one and the same over time. (ER: i.e. globalist, pro-corporation, pro-war, pro-mass immigration, and 'woke' which means turning against the majority of the electorate.) So as the EU declines, so do these parties. The EU isn't fostering stability – it's just integrationist and globalist, which is destroying itself. It's like ivy wrapping around a tree, whereby both end up dead.
********
Sweden Plunges Into Political Chaos After Prime Minister Lofven Ousted In Historic No Confidence Vote
Sweden's centre-left Prime Minister Stefan Lofven was ousted in a no-confidence vote in parliament on Monday, plunging the country into deep political uncertainty. Lofven, 63, was the first Swedish prime minister to be ousted by a no-confidence motion put forward by the opposition in the European Union member state of about 10 million people.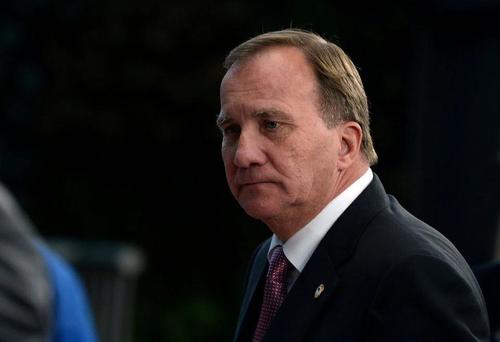 Lofven, who as Reuters notes was defeated after nearly seven years in power over a plan to ease rent controls for new-build apartments, now has a week to resign and hand the speaker the job of finding a new government, or call a snap election.
"The government now has a week to decide and we will hold talks with our cooperation parties," Lovfen told a news conference after the vote. "It is what is best for the country that is important. We will work as fast as we can."
But with parliament deadlocked and opinion polls showing center-right and center-left blocs evenly balanced, the political crisis may not be resolved for a long time, even though economists say this is unlikely to have a big impact on the economy. After all, we live in a world where central banks are now in control of everything and politicians are merely their muppets.
It is not clear to whom the speaker might turn to form a new government if Lofven quits because of the make-up of parliament, but the opinion polls suggest a snap election might not bring clarity either.
As a reminder, back in 2018 Lofven secured a second term only after months of negotiations following an election in which the anti-immigration Sweden Democrats made big gains, redrawing the political map.
Since then he has led a fragile minority government of Social Democrats and Greens, supported by former political rivals the Centre Party and the Liberals but needing the tacit approval of the Left.
Naturally, the Left Party blamed Lofven for the crisis. "It is not the Left Party that has given up on the Social Democrat government, it is the Social Democrat government that has given up on the Left Party and the Swedish people," Left Party leader Nooshi Dadgostar said.
Nonetheless, Dadgostar said that even though her party had voted against Lofven, it would never help "a right-wing nationalist government" take power.
Sweden Democrat leader Jimmie Akesson, whose party has moved from the far-right fringe into the harmful and historically weak [sic] and "should never have come into power."
Meanwhile, popular appetite for a snap poll may be limited while Sweden is fighting the effects of COVID-19, especially as an election is due next year anyway. A new government – or a caretaker administration – would sit only until after that election. Economists have said they do not expect the political uncertainty to weigh on the economy because of the strict fiscal rules under which Sweden operates.
************
••••
The Liberty Beacon Project is now expanding at a near exponential rate, and for this we are grateful and excited! But we must also be practical. For 7 years we have not asked for any donations, and have built this project with our own funds as we grew. We are now experiencing ever increasing growing pains due to the large number of websites and projects we represent. So we have just installed donation buttons on our websites and ask that you consider this when you visit them. Nothing is too small. We thank you for all your support and your considerations … (TLB)
••••
Comment Policy: As a privately owned web site, we reserve the right to remove comments that contain spam, advertising, vulgarity, threats of violence, racism, or personal/abusive attacks on other users. This also applies to trolling, the use of more than one alias, or just intentional mischief. Enforcement of this policy is at the discretion of this websites administrators. Repeat offenders may be blocked or permanently banned without prior warning.
••••
Disclaimer: TLB websites contain copyrighted material the use of which has not always been specifically authorized by the copyright owner. We are making such material available to our readers under the provisions of "fair use" in an effort to advance a better understanding of political, health, economic and social issues. The material on this site is distributed without profit to those who have expressed a prior interest in receiving it for research and educational purposes. If you wish to use copyrighted material for purposes other than "fair use" you must request permission from the copyright owner.
••••
Disclaimer: The information and opinions shared are for informational purposes only including, but not limited to, text, graphics, images and other material are not intended as medical advice or instruction. Nothing mentioned is intended to be a substitute for professional medical advice, diagnosis or treatment.