ER Editor: A two-fer from RT and Peter Imanuelsen on immigrant violence in Sweden. Imanuelsen updates us on the latest government response to the outrageous level of violence going on, which may set a positive precedent finally.
********
Swedish capital rocked by murder spree
Three people were killed in less than 12 hours, including a rapper executed on a sports field
RT
Warring gangs murdered three people in the span of 12 hours in the Swedish capital of Stockholm between Wednesday and Thursday. With one of the murders involving a devastating bomb attack on a residential building, Prime Minister Ulf Kristersson has vowed to bring in the military.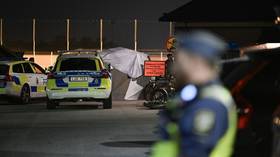 The killing spree began on Wednesday evening with the fatal shooting of an 18-year-old man on a soccer pitch in southern Stockholm. The victim was described as a popular local rapper, and police spokesman Mats Eriksson told reporters that the execution-style slaying took place as children were training.
A video of the murder is circulating on social media, Eriksson said, adding that police are looking for multiple perpetrators. Eriksson said that the killing may be connected to an ongoing gang war in the city.
According to Sweden's Aftonbladet newspaper, two drug kingpins from immigrant backgrounds – Rawa Majid, known as 'The Kurdish Fox', and Mikael Ahlström Tenezos, nicknamed 'The Greek' – are vying for control of the drug market. After a spate of shootings earlier this year, the conflict between the sides died down. However, an internal dispute between Majid and one of his associates named Ismail Abdo has set off another wave of violence and murder.
Abdo was reportedly behind an attempt on Majid's life in Türkiye earlier this summer, which Majid allegedly responded to by killing Abdo's mother.
Police believe that a bomb attack on a house in the Stockholm suburb of Uppsala on Thursday morning was aimed at one of Majid's relatives. However, the device was placed next to a neighboring house and killed a woman unconnected to the gang.
Two houses were demolished in the blast while several others were damaged. Police have arrested two suspects and are investigating whether the bombing was linked to the Majid-Abdo dispute.
The third killing took place at midnight in the suburb of Jordbro. Residents reported hearing up to a dozen gunshots, and officers arriving on the scene found two men shot, one of whom died of his injuries. Three men were arrested, and the shooting is being investigated for connections to the gang war.
ER: We're leaving this September 2020 article link in – it's interesting and very pertinent background to the current report — 
.
"Many people saw this coming," Swedish Prime Minister Ulf Kristersson said in an address on Thursday. Pointing out that fatal shootings have tripled over the last decade, Kristersson blamed the failed immigration policies of previous governments, which saw the country take in more than 800,000 primarily Middle Eastern and North African immigrants between 2015 and 2022.
In response to the latest murders, and to nine other fatal shootings so far this month, Kristersson said that his government would deploy the military to "help the police in their work against the criminal gangs."
********
IT'S HAPPENING🇸🇪

▪️Sweden is talking about deploying the military to assist police in fighting the gangs.

▪️The Prime Minister announced a new policy that foreigners involved with gangs can be deported even without having a conviction.

Please SHARE this massive news👇 pic.twitter.com/SZqXhyAktE

— PeterSweden (@PeterSweden7) September 28, 2023
See also this Financial Times article on the topic —
BBC reporting that the Swedish government may put the army on the streets to curb gang warfare (12 killings so far this month). How on earth did this happen to such a civilised and peaceful country? https://t.co/XaSfMK5PZ6

— Paul Embery (@PaulEmbery) September 28, 2023
******
MASSIVE NEWS: Sweden to DEPORT foreigners involved in gangs
The Swedish Prime Minister announced new tough measures to deal with the ongoing gang crisis in the country.
.
Things have become so bad that the police warned that the situation hasn't been this dangerous since 1945.
Other police have warned that we risk a "systemic societal collapse" if things are allowed to continue.
Recently I wrote an article on the TRUTH about the Swedish gang crisis. Please make sure to check that out if you haven't done so already:
The TRUTH about the Swedish gang CRISIS.
Just last night (ER: September 27) two people were shot dead and a 25 year old woman was blown up in yet another bombing.
The woman was just an innocent bystander. She lived as a neighbor to a gang criminal who police believed was the actual target. But the massive bomb destroyed her house and killed this young woman.
Police in Uppsala where the bombing took place say that "the situation in society is inhumane, unexplainable and limitless"
There have been 125 bombings in Sweden so far this year. That is almost one every other day.
To put that into comparison, consider that Sweden is a small country with only just over 10 million people. If the equivalent would have taken place in the USA, it would have been almost 4000 bombings – In just this year so far! That is really, really bad!
But now Sweden is cracking down hard for the first time.
The Swedish Prime Minister gave a speech to the nation tonight, outlining new tough measures.
I have here translated much of the speech from the Prime Minister from Swedish to English.
"This is a difficult time for Sweden. A 25 year old woman went to sleep, a completely normal night. But she was not allowed to wake up again. This morning she was killed in a bombing in Uppsala…A week ago a 70 year old man went to a bar in Sandviken to spend time with his friends. He was not allowed to come home again. He was blind and he was shot to death…My thoughts are also with those three kids, 13, 14 and 14 years old who were found assassinated in forest areas outside of Stockholm…Now more children and completely innocent people are falling victim to this serious violence. I cannot enough say how serious the situation is. Sweden has never before seen anything like this. No other country in Europe see something like this…Everyone who wants to tell the police about the gangs' reign of terror doesn't dare out of fear for their own lives and their children's lives.

How could it become this bad? The fact is that we are many who saw this coming and warned about it. This organized crime has grown in over a decade, in just 10 years, violent deadly shootings have tripled. It is political naivety and ignorance that has brought us here. It is a reckless migration policy and a failed integration that has brought us here. Exclusion and parallel societies are feeding the criminal gangs. There they can recklessly recruit children and educate the murderers of the future. Swedish law is not designed for gang warfare and child soldiers. But we are changing that now. This government is changing the migration policy…We are doubling the sentences for serious weapons crime and crimes involving explosives…We are going to introduce containment sentences so that really dangerous criminals will never get out. And we will deport those foreigners that are involved in the criminal gangs, even if they have not yet been convicted of any crime…We are going to build youth prisons so that youth are separated from adult criminals and we will make sure that all children learn Swedish with language screening and law school in socially vulnerable areas. We are going to deploy the resources that are needed. Everything is on the table. I have tomorrow called in the police chief and the commander in chief to see how the military can help the police in their work against the criminal gangs…We are going to do what is necessary to restore safety in Sweden".
Make sure to check out my article on the TRUTH about the Swedish rape crisis that the mainstream media has been ignoring!
The truth about the Swedish rape crisis.
PETER IMANUELSEN
So to outline some of the things Sweden will do now to crack down on the gangs:
Looking at deploying the military to assist the police in fighting the gangs.
Deporting foreigners involved in criminal gangs, even if they haven't been convicted of any crimes yet.
Build new prisons for youths to separate them from adult criminals.
Doubling the sentences for serious weapons crime and crimes involving explosives.
Make sure that all children learn Swedish.
Introduce tougher sentences so that dangerous criminals will never get out of prison.
I was quite surprised to hear this. I never thought Sweden would suddenly wake up one day and decide to ignore political correctness.
Then again, the situation has gotten so dire now that when even some police have warned of a "systemic societal collapse", it's getting hard to ignore the situation.
What do you think of this?
************
••••
The Liberty Beacon Project is now expanding at a near exponential rate, and for this we are grateful and excited! But we must also be practical. For 7 years we have not asked for any donations, and have built this project with our own funds as we grew. We are now experiencing ever increasing growing pains due to the large number of websites and projects we represent. So we have just installed donation buttons on our websites and ask that you consider this when you visit them. Nothing is too small. We thank you for all your support and your considerations … (TLB)
••••
Comment Policy: As a privately owned web site, we reserve the right to remove comments that contain spam, advertising, vulgarity, threats of violence, racism, or personal/abusive attacks on other users. This also applies to trolling, the use of more than one alias, or just intentional mischief. Enforcement of this policy is at the discretion of this websites administrators. Repeat offenders may be blocked or permanently banned without prior warning.
••••
Disclaimer: TLB websites contain copyrighted material the use of which has not always been specifically authorized by the copyright owner. We are making such material available to our readers under the provisions of "fair use" in an effort to advance a better understanding of political, health, economic and social issues. The material on this site is distributed without profit to those who have expressed a prior interest in receiving it for research and educational purposes. If you wish to use copyrighted material for purposes other than "fair use" you must request permission from the copyright owner.
••••
Disclaimer: The information and opinions shared are for informational purposes only including, but not limited to, text, graphics, images and other material are not intended as medical advice or instruction. Nothing mentioned is intended to be a substitute for professional medical advice, diagnosis or treatment.