ER Editor: We have no word yet on who is really behind this, but coming from The Guardian, as well as Zerohedge, which relies on sources like Bloomberg and Reuters, the event may not be what it seems. We pulled this image from Simon Parkes' site.
A little digging on the net shows that Soros' influence can be found in relation to former Sudanese PM Omar al-Bashir, who was removed in 2019.
********
Sudan's army detains PM and other civilian leaders in coup attempt
'Joint military forces' arrest civilian members of the sovereign council, information ministry says
PETER BEAUMONT for THE GUARDIAN
Sudan's military has launched a coup attempt, arresting the prime minister, Abdalla Hamdok, and other senior ministers during overnight raids, as thousands of people protested in the capital, Khartoum.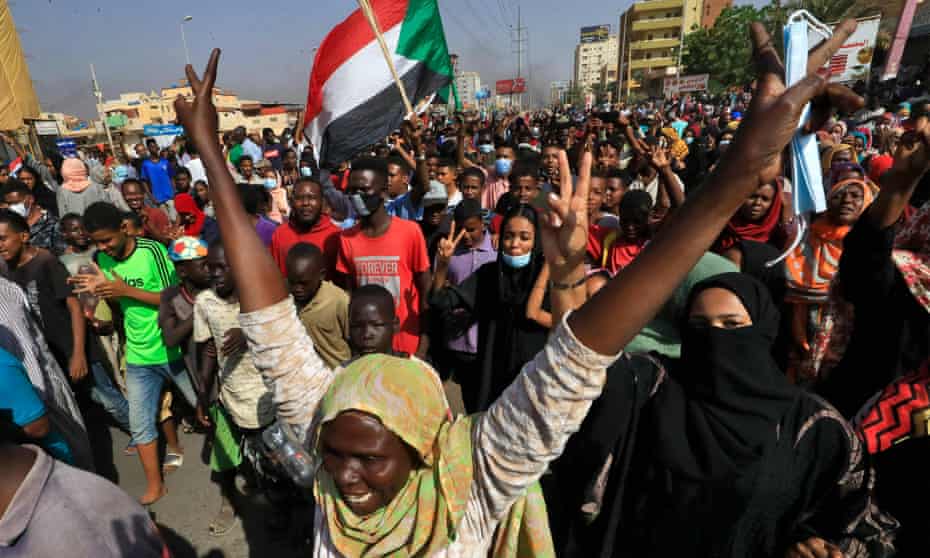 .
After weeks of escalating tensions between military and civilian members of the country's transitional sovereign council, and rival street protests, Sudan's information ministry said "joint military forces" had arrested civilian council members and government officials and taken them to an undisclosed location.
As news of the coup spread, large numbers of anti-military protesters converged on key streets in Khartoum, pushing past barriers outside the military headquarters where clashes and injuries were reported.
Images posted on social media appeared to show large crowds marching on Khartoum's Africa Street, which runs from near the international airport towards the city centre.
The US, which has been mediating in Sudan, condemned the arrests and threatened to withhold assistance, and domestic opponents of the military opposition called for nationwide protests and a general strike.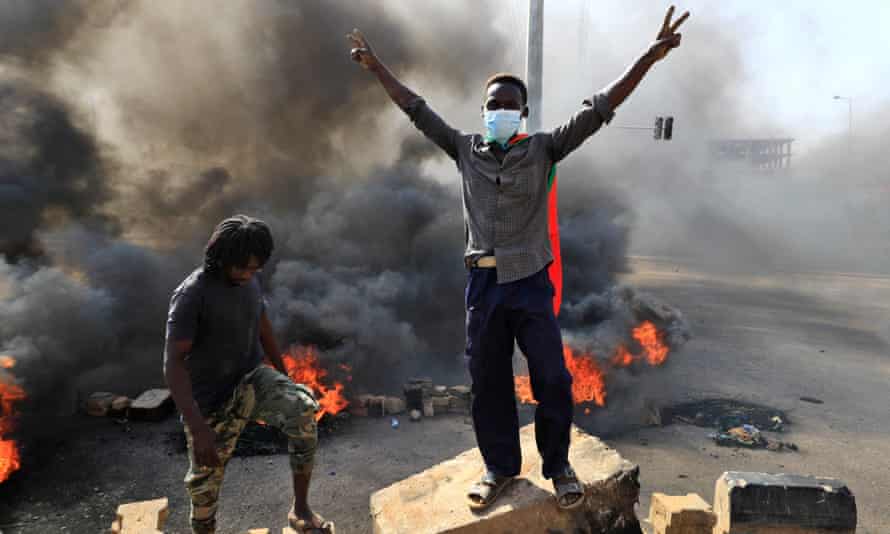 .
Hamdok had refused to issue a statement in support of a coup, the information ministry said, adding that the internet had been cut off and military forces had closed bridges.
The country's state news channel played patriotic traditional music and scenes of the Nile River.
Witnesses in Khartoum described security forces from the military and from the paramilitary Rapid Support Forces stationed in the streets.
Earlier the Dubai-based Al-Hadath television channel reported that security forces had surrounded Hamdok's house and placed him under house arrest.
In the immediate aftermath of the arrests, the director of Hamdok's office told the Saudi-owned news channel Al Arabiya that the military had deliberately stirred unrest in Sudan to precipitate a crisis and implement a coup.
Sudan has experienced a number of coups since it gained independence from Britain and Egypt in 1956. The country has been on edge since a failed coup plot last month unleashed bitter recriminations between military and civilian groups meant to be sharing power following the ousting of the autocratic Omar al-Bashir as leader in 2019. Bashir came to power in a 1989 military coup that removed the country's last elected government.
Jeffrey Feltman, the US special envoy for the Horn of Africa, met military and civilian leaders over the weekend in a mediation attempt. On Monday he said the US was "deeply alarmed at reports of a military takeover of the transitional government".
The EU's foreign affairs chief, Josep Borrell, said the bloc expressed its "utmost concern".
"The EU calls on all stakeholders and regional partners to put back on track the transition process," Borrell tweeted, referring to the fragile transition from autocracy to democracy that was supposed to follow Bashir's departure.
Sudan's main pro-democratic political group, the Sudanese Professionals' Association (SPA), said at least five senior government officials had been detained, and called on people to take to the streets to counter the apparent coup.
********
Sudanese PM, Cabinet Arrested, Internet Curtailed In Apparent Military Coup
Following weeks of rising tensions between civilian and military members of a state council attempting to guide Sudan to Democracy two years after the fall of longtime dictator Omar al-Bashir, the Sudanese military has decided to end Sudan's Democratic experiment – arresting the prime minister and a large number of senior cabinet members and pro-grovernment party leaders, and shutting off the Internet – with a coup, per reports from Reuters and the AP.
In response, thousands of Sudanese citizens have taken to the streets in Khartou and its twin city of Omdurman to protest the military's decision to seize power from a fragile government that had only just barely made the transition to civilian rule. The coup is hardly a surprise for the US and EU; a failed coup attempt last month infuriated progressive Sudanese who pushed for the overthrow of al-Bashir, while the country's more conservative Islamists support a military-led government.
Access to the Internet was "widely disrupted" during the coup, while the country's state news channel started playing patriotic traditional music. Military forces even reportedly stormed the TV station's office in Omdurman and arrested a few employees.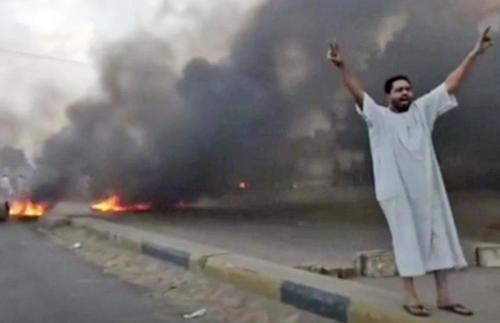 This latest coup comes less than one month before the powerful Sudanese Gen. Abdel-Fattah Burhan was expected to turn over leadership of the Sudan's Sovereign Council, a transitional committee including both military and civilian members that was supposed to steward the transition to democracy,
According to the AP, a military takeover "would be a major setback for Sudan, which has grappled with a stop-and-go transition to democracy since long-time ruler Omar al-Bashir was toppled by mass protests two years ago."
Reports of a coup attempt emerged before dawn on Monday in Sudan. By mid-morning the country's information minister confirmed that Prime Minister Abdalla Hamdok had been detained and moved to an undisclosed location. Several other senior officials were detained, and all of their whereabouts were unknown, according to a statement from the country's information ministry posted to Facebook.
Gen. Burhan hinted that he might not willingly turn over command of the state council last month during a TV interview:
Burhan, who leads the council, warned in televised comments last month that the military would hand over power only to a government elected by the Sudanese people. His comments suggested he might not stick to the previously agreed timetable, which called for the council to be led by a military figure for 21 months, followed by a civilian for the following 18 months. Under that plan, the handover was to take place sometime in November, with the new civilian leader to be chosen by an alliance of unions and political parties that led the uprising against al-Bashir.
The Sovereign Council was supposed to lead Sudan to elections by the end of 2023.
As tensions mounted, the Biden Admin's envoy to the region, Jeffrey Feltman, said he met with Sudanese officials over the weekend in an attempt to fix the growing rift between the civilians and the military.
Jeffrey Feltman, the U.S. special envoy to the Horn of Africa, said Washington was "deeply alarmed" by reports. Feltman met with Sudanese officials over the weekend in an effort to resolve the growing dispute between civilian and military leaders. EU foreign affairs chief Joseph Borrell tweeted that he's following events with the "utmost concern."
Ironically, this latest coup in the Middle East-North Africa region occurred right around the 10th anniversary of the 'Arab Spring', which saw nearly half a dozen governments in Sudan's region – including nearby Tunisia, Libya and Egype – overthrown during Democratic uprisings with decidedly mixed results.
While coups (or attempted coups) aren't uncommon in the developing world, Sudan's (now former) leader should probably count himself lucky: At least he's still alive, unlike some other former third-world leaders we could name.
Well, at least for now, anyway.
************
••••
The Liberty Beacon Project is now expanding at a near exponential rate, and for this we are grateful and excited! But we must also be practical. For 7 years we have not asked for any donations, and have built this project with our own funds as we grew. We are now experiencing ever increasing growing pains due to the large number of websites and projects we represent. So we have just installed donation buttons on our websites and ask that you consider this when you visit them. Nothing is too small. We thank you for all your support and your considerations … (TLB)
••••
Comment Policy: As a privately owned web site, we reserve the right to remove comments that contain spam, advertising, vulgarity, threats of violence, racism, or personal/abusive attacks on other users. This also applies to trolling, the use of more than one alias, or just intentional mischief. Enforcement of this policy is at the discretion of this websites administrators. Repeat offenders may be blocked or permanently banned without prior warning.
••••
Disclaimer: TLB websites contain copyrighted material the use of which has not always been specifically authorized by the copyright owner. We are making such material available to our readers under the provisions of "fair use" in an effort to advance a better understanding of political, health, economic and social issues. The material on this site is distributed without profit to those who have expressed a prior interest in receiving it for research and educational purposes. If you wish to use copyrighted material for purposes other than "fair use" you must request permission from the copyright owner.
••••
Disclaimer: The information and opinions shared are for informational purposes only including, but not limited to, text, graphics, images and other material are not intended as medical advice or instruction. Nothing mentioned is intended to be a substitute for professional medical advice, diagnosis or treatment.