ER Editor: We first published on the Health Justice Initiative action against the South African government for its vaccine contracts. See —
Around the middle of August, the SA health ministry was given a 10-day window to produce the relevant documents and didn't. But finally it succumbed. A continuation of the story …
***
Readers may also be interested in this piece from Naked Emperor —
And this from a SA site, Daily Maverick 4 days ago —
********
South Africa 'held to ransom' over Covid vaccine deals – NGO
The country was the victim of "gross profiteering" by Big Pharma during the pandemic, a report has claimed
RT
An investigation into South Africa's procurement of Covid-19 vaccines has found that the country's health officials purchased supplies from global pharmaceutical companies at inflated prices compared to many Western nations.
The Health Justice Initiative (HJI), an independent body formed during the pandemic to monitor the South African healthcare system's handling of the crisis, said during a news conference this week that the government was "bullied" into accepting unfavorable vaccine deals via one-sided "ransom negotiations."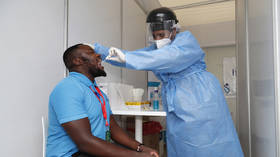 .
"The [vaccine] contracts contain unusually hefty demands and conditions, including secrecy, a lack of transparency, and very little leverage against late or no delivery of supplies or inflated prices," the HJI said in a statement on Tuesday. It added that this system led to "gross profiteering" and an "inability to plan properly in a pandemic."
The terms agreed by South Africa's government with companies such as Pfizer and Johnson & Johnson for the purchase of Covid-19 vaccines were the subject of a legal challenge by the HJI last month under the country's Promotion of Access to Information Act.
A Pretoria court subsequently ruled in favor of the HJI, compelling the South African government to release the vaccine contracts in the interest of transparency and accountability.
The documents detailed that South Africa was liable for vaccine payments of $734 million. The terms of the agreements included no guarantees of a timely delivery or penalties for late arrival. It was also found that Johnson & Johnson charged South Africa $10 per dose of its vaccine – some $1.50 more than EU countries paid.
"The country was forced to overpay for vaccines, paying 33% more than the African Union price from the Pfizer-BioNTech vaccine and paying the Serum Institute of India 2.5 times more for a generic version of the Oxford-AstraZeneca vaccine compared to the United Kingdom," the HJI said.
The group claimed that the government's practices throughout the pandemic "signals a dangerous precedent for future pandemic readiness," and that "we were bullied into unfair and undemocratic terms in contracts that were totally one-sided. Put simply, pharmaceutical companies held us to ransom."
According to publicly available data, South Africa has recorded 102,595 deaths from Covid-19 since the start of the pandemic. As of May 2023, approximately 65% of South Africans have received a vaccine against the virus.
********
FRONT NIEUWS
T

he calls for Nuremberg-style trials are growing louder after the South African government released the COVID-19 jab contract with Pfizer as part of a court order.
.
The details of the contract were revealed "in an analysis by the Health Justice Initiative (HJI), a South African NGO campaign against health inequalities after winning a court case last month to get the government to contracts," writes Aljazeera .
One section that stands out is the "Buyer Acknowledgment".
It reads as follows:
Buyer acknowledged that the Vaccine and materials related to the Vaccine, and their components and constituent materials are being rapidly developed due to the emergency of the COVID-19 pandemic and will be further studied upon delivery of the Vaccine to Buyer under this Agreement. Buyer further acknowledged that the long-term effects and efficacy of the Vaccine are not currently known and that there may be adverse effects of the Vaccine that are not currently known. Furthermore, to the extent applicable, Buyer acknowledged that the Product is not produced in series.
LOOK: The South African Government has released the Pfizer Covid-19 vaccine contract as part of a court order. Within the contract dated March 30, 2021, it states that the "Purchaser further acknowledges that the long-term effects and efficacy of the Vaccine are not currently… pic.twitter.com/R2e0RN44fW

— The Canadian Independent (@canindependent) September 6, 2023
Viva Frei, a lawyer who has become a podcaster, said that after reading the contract he is now in favor of Nuremberg-style trials.
"I wasn't initially in favor of #Nuremberg2. Now it is. Lawsuits. For all of them," wrote Viva Frei.
Viva Frei is a pseudonym for lawyer David Freiheit, who started a law career at one of Canada's largest law firms.
Via LinkedIn:
I started my law career in 2005 at one of Canada's largest law firms. After the birth of my first daughter, I left the large law firm to start my own practice, which I expanded into a boutique litigation firm of 4-5 lawyers and more than 250 clients. I eventually expanded my professional and creative horizons by mining into videography on YouTube (under the name Viva Frei). 26 million views later, with over 51 million viewing minutes, it has become more than a pastime, and has now led to me vlogging daily and working as a creative director with Luxy Media, a fantastic digital agency. Let the creation begin!
"Health Canada is in big trouble. Take a look at the disclaimer that Pfizer South Africa has signed. Just like Slovenia. Same as Canada no doubt," Lion Advocacy noted.
Although the contract is disclosed, South Africa's, Canada and other countries are believed to have signed similar agreements.
Health Canada is in big trouble.
View the disclaimer that Pfizer had South Africa sign. Just like Slovenia. No doubt the same as Canada.
" long-term effects and efficacy currently unknown ".
" side effects … currently unknown ".
Health Canada knew.
And misled the Canadians.
Health Canada is in BIG trouble.
Check out the disclaimer Pfizer got South Africa to sign. Same as Slovenia's. Same as Canada's undoubtedly.
"long term effects and efficacy not currently known"
"adverse events… not currently known".
Health Canada knew.
And misled Canadians. pic.twitter.com/bcsxgmGbJN

— Lion Advocacy (@LionAdvocacy) September 6, 2023
"And again, Pfizer avoided serialization of the product, making it difficult to detect fraudulent doses / batches (saline or worse ) and likely making it difficult to detect bad batches," Lion Advocacy added.
Aljazeera reports that pharmaceutical companies have "intimidated" South Africa by signing unfair deals that forced them to overpay for the experimental COVID-19 shots.
From Aljazeera:
During the height of the pandemic, Johnson & Johnson ( J & J ) South Africa charged 15 percent more per dose of its COVID vaccine than it charged the European Union, while Pfizer-BioNTech South Africa charged almost 33 percent more than it allegedly charged the African Union, according to the vaccine contracts between the pharmaceutical companies and the government.
"Simply put, Big Pharma has forced South Africa into these conditions," Fatima Hassan, director of HJI, told Al Jazeera. " In the middle of a deadly pandemic, when scarce vaccines went only to the richest countries, companies took advantage of our desperation."
"Simply put, the pharmaceutical companies kept us under pressure," an HJI press release emphasized.
South Africa was liable for payments of at least $ 734 million, HJI said, including advance payments of almost $ 95 million, without guarantees or on-time delivery.
"We hope that more countries will publish their contracts with Big Pharma so that the world can see how the industry really does business," Hassan told the newspaper.
A Canadian lawyer is calling for #Nuremberg2 trials after reading the agreement the Trudeau government signed with Pfizer.
What do you think?
A Canadian lawyer is calling for #Nuremberg2 trials after reading the agreement the Trudeau government signed with Pfizer.

What do you think?

— Mark Slapinski (@mark_slapinski) September 6, 2023
From Pfizer's " Manufacturing and Supply Agreement " with South Africa:
The Health Justice Initiative also obtained agreements from the South African government with COVAX Facility (Gavi Alliance), Janssen Pharmaceutical and the Serum Institute of India.
Via 100 percent fedup.
••••
The Liberty Beacon Project is now expanding at a near exponential rate, and for this we are grateful and excited! But we must also be practical. For 7 years we have not asked for any donations, and have built this project with our own funds as we grew. We are now experiencing ever increasing growing pains due to the large number of websites and projects we represent. So we have just installed donation buttons on our websites and ask that you consider this when you visit them. Nothing is too small. We thank you for all your support and your considerations … (TLB)
••••
Comment Policy: As a privately owned web site, we reserve the right to remove comments that contain spam, advertising, vulgarity, threats of violence, racism, or personal/abusive attacks on other users. This also applies to trolling, the use of more than one alias, or just intentional mischief. Enforcement of this policy is at the discretion of this websites administrators. Repeat offenders may be blocked or permanently banned without prior warning.
••••
Disclaimer: TLB websites contain copyrighted material the use of which has not always been specifically authorized by the copyright owner. We are making such material available to our readers under the provisions of "fair use" in an effort to advance a better understanding of political, health, economic and social issues. The material on this site is distributed without profit to those who have expressed a prior interest in receiving it for research and educational purposes. If you wish to use copyrighted material for purposes other than "fair use" you must request permission from the copyright owner.
••••
Disclaimer: The information and opinions shared are for informational purposes only including, but not limited to, text, graphics, images and other material are not intended as medical advice or instruction. Nothing mentioned is intended to be a substitute for professional medical advice, diagnosis or treatment.