ER Editor: The RT report below was put out late Friday night UK/EU time. We're throwing a few things out here, including things that make you go 'hmmm'. The so-called natural world seems to be anything but these days.
And the anniversary of the attacks of September 11, 2001 (or '9/11') are tomorrow. In reference to this, check out Kevin Barrett noticing the repeated digits of 11:11 and 9/9. When the quake hit, religious followers were in their mosques praying. 
***
See this USGS page for Friday night's quake. A map —
Chishawa it's entire population died 😢 this town turned into a mass cemetery there is no single survivor. Nearly 70 people died#moroccoearthquake pic.twitter.com/vpsSnL8Ewp

— Morocco's beauty (@Moroccobeauty7) September 10, 2023
They are thousands who have lost a family member in the earthquake, a father, a mother, or both. 🇲🇦🦁 We must come together to ease their suffering. Let's stay strong together. ✊🦁 #MoroccoEarthquake #Morocco pic.twitter.com/5tfkVelabJ

— DailyDose (@DDose27191) September 10, 2023
😢🌙 Last night's earthquake in Morocco has forced thousands to sleep outdoors for the second night. Let's extend our prayers and support to those affected during this challenging time. 🙏🇲🇦 #MoroccoEarthquake #SupportMorocco #Morocco pic.twitter.com/Viyg1aDXeD

— DailyDose (@DDose27191) September 10, 2023
🚁🌍 Breaking: Exclusive aerial footage reveals the extent of damage in Atlas Mountains villages after Morocco's most powerful #earthquake in 123 years. The aftermath is truly sobering. 📹💔 #MoroccoEarthquake #AtlasMountainsStrong pic.twitter.com/LTa03kITDt

— DailyDose (@DDose27191) September 10, 2023
***
This report from Dr. Kevin Barrett, a false flag researcher and expert, currently in Morocco, wonders aloud about the timing of the earthquake and the numerology involved. See —
Of note:
I woke up this morning to the news that a 6.8+ magnitude quake killed hundreds, and caused massive structural damage, in the Marrakech region. I'm in Saidia, Morocco, 800 kilometers from Marrakech, and didn't feel the quake. But my in-laws in Rabat, Casablanca, and al-Jadida did.

It was the biggest Moroccan earthquake since the invention of the Richter scale. Along with the immense human suffering, including more than 800 people killed at last count, and the economic damage of thousands of buildings destroyed, there was disproportionate damage to the old, historic parts of Marrakech, including the medina, a UNESCO World Heritage Site. The 12th-century Koutoubia Mosque with its almost 70-meter minaret was apparently damaged, though how badly remains to be seen. (My wife's book's cover photo is a picture I took of the shrine behind the Koutoubia.) I haven't yet heard how the shrines of the Sab'atu Rijal, the Seven Saints of Marrakech, fared.

We are praying for the people killed and injured and their loved ones. Inna lillahi wa inna ilaihi rajiun.

A Disturbing 9/11 Coincidence

In what struck me as a disturbing coincidence, the quake struck last night at 11:11 pm, just in time for the 9/9 newspaper headlines, two days before the 22nd anniversary of "9/11."

What made the synchronicity especially disturbing was that about 90 minutes before the quake hit, I was discussing the significance of the numerological representation "9/11" on a live radio broadcast from Morocco with my guest Edward Curtin. Ed wondered whether former New York Times editor Bill Keller may have participated in a mind-control op by creating the representation "9/11" for the false flag events of September 11, 2001. Listen to our exchange in the video posted above.

…

Does the fact that the earthquake struck at exactly 11:11 pm (22:11 GMT) mean the Illuminati did it? I have no idea. But I don't completely discount the notion of Illuminati numerology and its apparent connections with false flag events, disasters, and massive human suffering. One of my most popular articles, which racked up over 100,000 reads back in 2014 before the VT website migrated and the counter was reset, was "11 Examples of Illuminati Numerology." Some of my readers pursue this line of inquiry much further than I do. …
***
Make of this what you will (source)–
********
More than 2,000 killed as powerful earthquake strikes Morocco
Most damage occurred in the countryside, but tremors were felt in several large cities, including Rabat and Marrakesh
RT
The death toll from the earthquake that hit Morocco on Friday evening has risen to at least 2,012 people, the Interior Ministry has announced.
At least 2,059 people were injured, with 1,404 in critical condition, the ministry reported on Saturday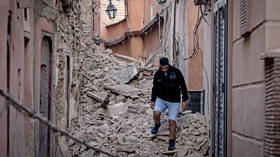 .
The initial figures provided overnight (ER: Friday to Saturday) stood at 269 fatalities, but they were growing rapidly throughout the day as the rescue effort went on. The number of those killed is likely to keep increasing due to most of the damage from the quake occurring in hard-to-reach areas in the Atlas Mountains south of Marrakesh.
Tremors were felt in the capital Rabat, as well as other cities, including Marrakesh, Casablanca, Agadir, and Kenitra. Many residents fled their homes and stayed on the streets overnight, helping to clear the rubble.
Videos shared on social media show that multiple buildings were damaged, with some destroyed entirely.
A mosque was reportedly damaged near Jemaa el-Fnaa square in Marrakesh's Old City, a UNESCO World Heritage site, as well as other historical buildings in the area.
Other videos show residents running in fear after feeling the tremors.
Morocco's National Institute of Geophysics measured the earthquake at magnitude 7.0, with the epicenter in Al Haouz Province. The US Geological Survey (USGS) said it was magnitude 6.8.
The death toll has already surpassed that of the 2004 quake, which hit Morocco's Mediterranean coast, killing more than 600 and injuring over 900.
************
••••
The Liberty Beacon Project is now expanding at a near exponential rate, and for this we are grateful and excited! But we must also be practical. For 7 years we have not asked for any donations, and have built this project with our own funds as we grew. We are now experiencing ever increasing growing pains due to the large number of websites and projects we represent. So we have just installed donation buttons on our websites and ask that you consider this when you visit them. Nothing is too small. We thank you for all your support and your considerations … (TLB)
••••
Comment Policy: As a privately owned web site, we reserve the right to remove comments that contain spam, advertising, vulgarity, threats of violence, racism, or personal/abusive attacks on other users. This also applies to trolling, the use of more than one alias, or just intentional mischief. Enforcement of this policy is at the discretion of this websites administrators. Repeat offenders may be blocked or permanently banned without prior warning.
••••
Disclaimer: TLB websites contain copyrighted material the use of which has not always been specifically authorized by the copyright owner. We are making such material available to our readers under the provisions of "fair use" in an effort to advance a better understanding of political, health, economic and social issues. The material on this site is distributed without profit to those who have expressed a prior interest in receiving it for research and educational purposes. If you wish to use copyrighted material for purposes other than "fair use" you must request permission from the copyright owner.
••••
Disclaimer: The information and opinions shared are for informational purposes only including, but not limited to, text, graphics, images and other material are not intended as medical advice or instruction. Nothing mentioned is intended to be a substitute for professional medical advice, diagnosis or treatment.