ER Editor: We covered the breach and flooding of the Kakhovka Dam in Ukraine's southern region of Kherson four days ago. Note that the residents of this region voted last year to join Russia, which is why the first RT article below refers to it as 'Russia's Kherson region'. See —
A reminder that the Zaporozhye nuclear power plant lies upstream from the reservoir contained by the dam. Reservoir water apparently serves to cool down nuclear components.
This week in a news update for members only, Simon Parkes, under a fresh NDA with US naval intelligence, told viewers to think about the phrase 'watch the water' in relation to this dam, not the Three Gorges Dam. The Oleshky Desert is in the floodplain area affected by the dam, which those in exopolitics say contains something rather interesting, which we cannot prove.
We're sure there's another agenda going on here. Meanwhile, some tweets:
Video showing the flooding and devastation in Russian-occupied Oleshky, Kherson oblast, a day after the Kakhovka Dam under Russian forces' control was destroyed. pic.twitter.com/k6ys9rnjij

— Christopher Miller (@ChristopherJM) June 7, 2023
#Kherson untold scale of the environmental catastrophe and the damage caused to civilian https://t.co/HrkWEpqcpu if flooding was not enough Ukrainian regime continue The senseless shelling of the nearby forests with "lighters" from the MLRS Grad continues.
🔽 pic.twitter.com/x7XGCNTKYm

— Arthur Morgan (@ArthurM40330824) June 9, 2023
Another ecological disaster is brewing
Forests are burning in the #Kherson region due to #Ukrainian shelling with incendiary rounds and firefighters cannot drive up due to the flooding of the highway after the disaster at the hydroelectric power station. Forests are burning pic.twitter.com/JQep7bTeMV

— Arthur Morgan (@ArthurM40330824) June 9, 2023
#khersonflooding #KhersonStrong amazing people helping each other and saving animals from the flooding waters of #KahovkaDam disaster pic.twitter.com/9k8s6FDv9P

— Ірина Faulkenberry (@Faulken87094189) June 9, 2023
We found that 250 people had been cut off from accessing what has now become the mainland of Kherson, many of which are deciding to stick out the flooding and wait for the waters to recede. We have now gathered a supply of medications, food kits, hygiene products, injury… pic.twitter.com/BscjvoXsDf

— Renegade_Relief_Runners (@3xR_team) June 9, 2023
********
Ukraine hits flood shelter with UK-supplied missiles – Kherson official
At least one person was killed, according to the acting governor of Russia's Kherson region
RT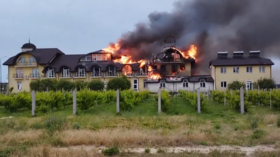 Ukrainian forces have attacked several temporary shelters for people evacuated in the wake of the breach of the Kakhovka dam, the acting governor of the Kherson region, Vladimir Saldo, said on Saturday morning, sharing pictures of the devastated facility.
The strike on the shelter on the left bank of the Dnieper river was carried out around 5am local time, allegedly using British-supplied Storm Shadow missiles, Saldo said in a statement. There was at least one casualty, a woman, according to preliminary information.
The Black Sea village of Zhelezny Port also came under "fierce shelling" overnight, with a local hotel hosting the evacuees "destroyed," according to the official.
The acting governor shared several pictures of the heavily damaged facility, as well as a video of a villa engulfed in flames.
"The targeted strikes are being carried out with British missiles, delivered to the Kiev regime to unleash 'peace' on civilian infrastructure," Saldo wrote.
Earlier on Friday, one person was killed and another injured after several rockets hit a children's summer camp in the same area. According to Saldo, first responders discovered the debris of Storm Shadows at the scene.
The Russian-held Kakhovka dam in the Kherson region was destroyed early on Tuesday morning. Several people were killed, while thousands more were exposed to flooding.
Kherson authorities declared a state of emergency across the entire territory controlled by Russia. Saldo said that a total of between 22,000 and 40,000 people were located in the disaster area.
Moscow and Kiev have traded accusations over who is to blame for the incident, which triggered mass evacuation efforts on both sides of the Dnieper River. Kremlin Press Secretary Dmitry Peskov accused Ukraine of "deliberate sabotage" in a bid to deprive Crimea of drinking water and deflect attention away from Kiev's botched counteroffensive in Donbass.
***
Ukraine tried to attack nuclear power plant – local officials
Air defenses brought down drones headed for the Zaporozhye NPP, authorities claimed
RT
Russian air defenses have intercepted three drones armed with explosive warheads that were headed towards the Zaporozhye Nuclear Power Plant on Friday, local authorities told RT. The attack came after Moscow had warned Kiev against any attacks on Europe's largest atomic energy station.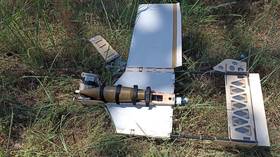 Electronic warfare specialists detected the UAVs and brought them down, Zaporozhye officials said. One of the drones exploded upon crashing, while two were recovered mostly intact. The lightweight UAVs were armed with PG-7L high-explosive rockets, commonly used with RPG-7 anti-tank launchers.
Ordnance disposal specialists examined the wreckage and decided to destroy the devices on the spot, after documenting the remains.
"Ukraine blew up the Nova Kakhovka hydroelectric power station in order to distract the world from the failures of their much-publicized counteroffensive," the Zaporozhye authorities said in a statement. "Now they need another disaster, this time a nuclear one, for which they will again blame Russia."
Earlier in the day, another drone crashed into a residential building in the Russian city of Voronezh (ER: on Russian territory, northeast of Ukraine, above Kharkiv), injuring three people. While the investigation into the incident is ongoing, the Kremlin described it as a Ukrainian attack against Russian civilian infrastructure. Voronezh is about 260 kilometers from the nearest Ukrainian-held territory.
Moscow has also blamed Kiev for Monday's destruction of the Kakhovka dam, and the resulting flooding of the Dnieper River estuary. The International Atomic Energy Agency (IAEA) has warned that the disaster may jeopardize the cooling systems of the ZNPP.
Russia's permanent representative to the UN, Vassily Nebenzia, has urged the Security Council to stop Ukraine from even contemplating an attack on the ZNPP. Russian Foreign Ministry spokeswoman Maria Zakharova said on Wednesday that Moscow will "respond extremely harshly to any attacks by Ukraine" on the power plant itself, its infrastructure, or the town of Energodar where its employees live.
The Zaporozhye NPP is Europe's largest atomic power station, with six reactor cores capable of generating a gigawatt of electricity each. Russian troops have controlled it since March 2022. The region in which it is located voted to join Russia in September that year, though Ukraine claims it is illegally occupied.
Ukrainian artillery has repeatedly targeted both the ZNPP and Energodar. Kiev's commandos tried to seize the facility last September, just as the IAEA mission was scheduled to arrive on site.
************
••••
The Liberty Beacon Project is now expanding at a near exponential rate, and for this we are grateful and excited! But we must also be practical. For 7 years we have not asked for any donations, and have built this project with our own funds as we grew. We are now experiencing ever increasing growing pains due to the large number of websites and projects we represent. So we have just installed donation buttons on our websites and ask that you consider this when you visit them. Nothing is too small. We thank you for all your support and your considerations … (TLB)
••••
Comment Policy: As a privately owned web site, we reserve the right to remove comments that contain spam, advertising, vulgarity, threats of violence, racism, or personal/abusive attacks on other users. This also applies to trolling, the use of more than one alias, or just intentional mischief. Enforcement of this policy is at the discretion of this websites administrators. Repeat offenders may be blocked or permanently banned without prior warning.
••••
Disclaimer: TLB websites contain copyrighted material the use of which has not always been specifically authorized by the copyright owner. We are making such material available to our readers under the provisions of "fair use" in an effort to advance a better understanding of political, health, economic and social issues. The material on this site is distributed without profit to those who have expressed a prior interest in receiving it for research and educational purposes. If you wish to use copyrighted material for purposes other than "fair use" you must request permission from the copyright owner.
••••
Disclaimer: The information and opinions shared are for informational purposes only including, but not limited to, text, graphics, images and other material are not intended as medical advice or instruction. Nothing mentioned is intended to be a substitute for professional medical advice, diagnosis or treatment.