ER Editor: Below is a Breitbart report from late February showing Salvini's significant success in reducing the number of incoming illegals into Italy, testified to in a report by border agency Frontex.
Here we link to a recent article over the EU's controversial decision, voted on by 403 to 162 with 44 abstentions, to massively increase the number of Frontex border guards within and outside of Europe – from 1,500 guards in place now, to 10,000 by 2027, with additional resources provided for air and sea patrols. While this sounds like a good thing, i.e. the borders will surely be policed and illegals kept out, the policy is being heavily criticised by countries such as Hungary, Greece and Italy for basically handing over control of national borders to the EU, thereby permitting illegals to enter. And they are most probably correct. This from Breitbart:
Frontex has been criticised by other sovereigntist figures in the past including populist Austrian Vice-Chancellor Heinz-Christian Strache, who said it was, "anything but a border guard" and even labelled Frontex a "people trafficking organisation" in May of last year.

Hungarian State Secretary for International Communications and Relations Dr Zoltán Kovács also warned in March that the expansion of Frontex would undermine Hungarian national sovereignty.

"It's never 'strengthening' or 'defending' borders. It's always about 'managing' them and that's a euphemism for immigration," Kovács said.

The Hungarian government has suggested the EU wants to reinforce its role in border management not to protect Europe's frontiers, but to stop national border agencies in anti-mass migration countries from keeping them shut.
European Parliament elections are due to take place toward the end of May. Boosting European security through Frontex – allegedly – is likely to be an election ploy, in addition to thwarting pro-sovereignty leaders like Salvini.
********
EU Border Agency Confirms Salvini's Populist Migrant Policies Working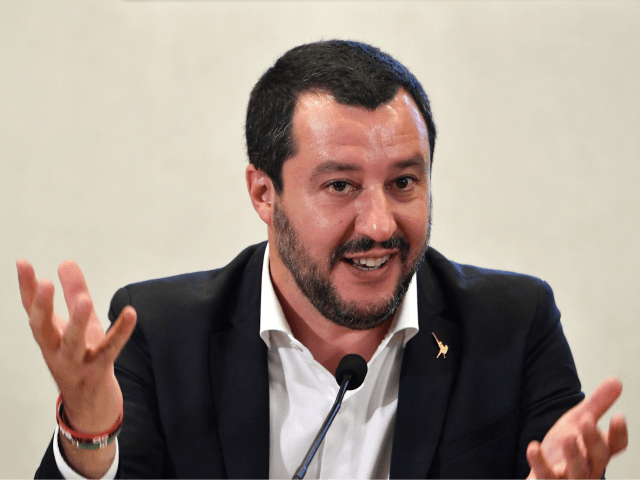 The European Union (EU) border agency Frontex has released new statistical data showing that the tough migrant policies of Italian populist Interior Minister Matteo Salvini have drastically reduced illegal migration.
The EU agency revealed that the Mediterranean migrant route numbers had dropped from 118,962 in 2017 to 23,276 in 2018, a decline of around 80 percent following the formation of the populist coalition government of Salvini's Lega and the Five Star Movement Il Giornale reports.
According to the data, the number of illegals in 2018 is the lowest amount since 2012 and showed that while Italy had seen a massive decline due to Salvini's policies, socialist-led Spain had seen a 157 percent rise in crossings by the sea in 2018.
Fabrice Leggeri, director of Frontex commented on the newly released figures saying, "the Libyan route has become less attractive because of the dangers," and said that the trend of decline in the central Mediterranean had begun in the summer of 2017 and increased the following year.
Vice-President of the Italian Senate, Roberto Calderoli a member of Salvini's Lega, said that while the report did not explicitly mention Salvini, it was a clear victory for Salvini's policies.
"This confirms that the Italian policy, implemented by Minister Salvini and the Government of change, works and produces concrete results, even in terms of lives saved, because Frontex confirms that the departures from Libya fell by 87 percent," he said.
"These are irrefutable numbers, which contradict what the Left has done in the last five years, when it was, unfortunately, in government, and had brought in over 600 thousand immigrants," Calderoli noted and went on to add, "we saw that the invasion could be stopped and Salvini did it."
The Frontex figures follow Italian Interior Ministry reports that have shown illegal migration levels decreased by 95 percent in January of this year compared to January of 2018.