ER Editor: About that training area a few miles from the Polish border. The Zerohedge piece (relying on MSM) below reports that US National Guardsmen had been there in February, and that NATO will respond with 'full force' if NATO member Poland is attacked.
Russian military blogger Andrei Martanyov has a somewhat different take on who's been training there, what NATO's real response to this strike is away from the journalists, and what the bigger military play in the region is shaping up to be:
And while Western media continue to spread fakes from 404, Jake Sullivan had better learn (don't hold your breath) the actual correlation of economic and military potentials between what increasingly forms as an isolated and fast declining West, headed by the US, and the rest of the world. And here are some pictures for Western mercenaries (primarily good at shooting defenseless civilians) to consider in terms of what I write for many years. These are from Yavorov Range where CIA and NATO "advisers" were training Neonazi forces and now were drilling combat cohesion for mercenaries' "units". As some of those "soldiers of fortune" admit–180 of them are gone. 

Or here:

As I am on record–it is one thing to shoot civilians, totally another to be under sustained fire impact of high precision stand-off weapons. Here it is. That is what it looks like and that is precisely how the rear of any–even the best NATO force–will look like in case of the war with Russia. I repeat: NATO watches this operation in a complete shock and awe, especially when one considers that VSU (ER: VSU is the armed forces of Ukraine), especially its 80,000 grouping in the East and which was trained and equipped by NATO, is fully surrounded and broken apart and is being annihilated as I type this. 
This attack, if Martanyov is right, would exactly correspond to the stated demilitarize / denazify agenda of Russia, as well as indicating a measure of success against Ukrainian forces in the west of the country. Previously, military activity had been concentrated in the east, in the first place to secure the Donbass region (far east). Namely,
Notice how the Biden Whitehouse has to resort to claims of what is NOT happening – threats to Poland, and well-worn claims (against Syria and Iraq, for example) of chemical weapons and WMDs.
********
US Warns Russia Of NATO "Full Force" Response If Its Territory Hit After Strikes Near Polish Border
Update (11:56ET): The White House is considering Russia's Sunday attack on Ukraine's base at Yavoriv, which lies a mere 10 to 15 miles from NATO member Poland's border, a dangerous escalation aimed at the West, also given that only until last month US National Guardsmen were present there reportedly training Ukrainian troops.
US national security adviser Jake Sullivan warned upon news of the attack, which killed an estimated 35 people, that NATO stands ready to response "with full force" if Russia attacks NATO territory. "If there is a military attack on NATO territory it would cause the invocation of Article 5, and we would bring the full force of the NATO alliance to bear in responding to it," he said to CBS News. Russia fired an estimated 30 missiles at the base which lies a mere minutes by car from Poland's border:
"All I will say is that if Russia attacks, fires upon, takes a shot at NATO territory, the NATO alliance would respond to that".
Specifically he was invoking a scenario whereby member state Poland would suffer a hit, which also leaves open the dangerous possibility of a major Russia-West war erupting based on a possibly 'errant' or stray missile scenario.
In the same comments Sullivan repeated the White House warning over chemical weapons and 'weapons of mass destruction'...
He also said the US was warning Russia diectly against using chemical weapons, adding that if Vladimir Putin did deploy weapons of mass destruction, it would be a "shocking additional line" that he had crossed in international law.
The proximity of the site of the attack to Poland's border: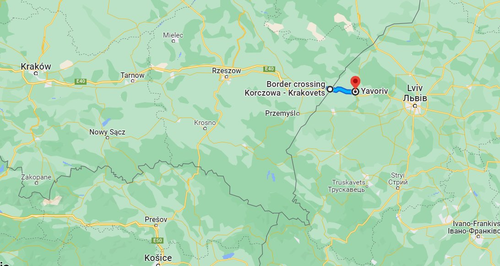 Meanwhile, this is certainly not a time – at a moment the world is alarmed over a possible WW3 scenario erupting from this conflict – for America's number two leader to be confused about where NATO territory is and isn't…
* * *
Starting by Thursday and Friday, there began to be an alarming uptick in Russia striking targets in Ukraine's West near the border with Poland, in what we and others described a likely "message to NATO" warning against outside intervention from Western countries.
On Sunday there are fresh reports of more major attacks, this time coming a mere ten miles from the Polish border, following the heels of the Kremlin warning NATO that its military will strike any external arms shipments that are inbound.
The Wall Street Journal, citing Ukrainian sources, said 35 were killed at a military training center: "Eight missiles hit the facility at Yavoriv, a base where until last month the U.S. National Guard trained Ukrainian troops," the report says. "Shortly after the strike, ambulances were seen rushing toward the base, and troops were seen leaving."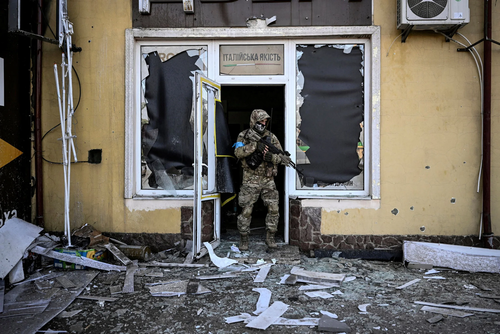 "Footage on social media showed destroyed buildings and a parade ground strewn with debris, with smoke rising from the ruins," WSJ continues. "The strike injured 134 people and destroyed and damaged some barracks, according to the governor's office in Lviv."
The fresh attack on Yavoriv is being taken also as a clear warning to Washington, again given it was a well-known site which previously housed US military trainers engaged in short-term missions to support Ukrainian national forces prior to the invasion began. Training was going on up until earlier in February.
Setting the stage for a potential major escalation with Western and NATO powers, the Kremlin warned on Saturday that the Russian military is prepared to target Western arms shipments that are continuing to pour into Ukraine. Russia's Deputy FM Sergei Ryabkov said on state TV that Washington had been informed in the last days that Moscow will see weapons supply convoys entering Ukraine as "legitimate targets".
"We warned the United States that the orchestrated pumping of weapons from a number of countries is not just a dangerous move, it is a move that turns these convoys into legitimate targets," Ryabkov said in the remarks, which served as a severe warning to the West.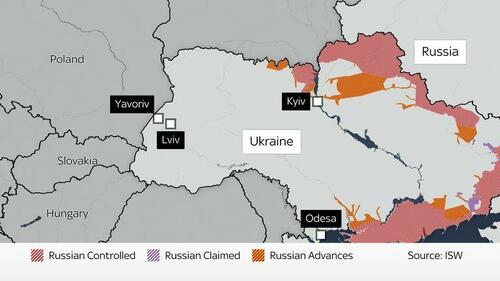 The Sunday action against a training facility so close to the Polish border comes as "Moscow has shown off its ability to bomb targets throughout the country even as its ground troops near Kyiv have faced setbacks" – the WSJ underscores of the attack.
************
••••
The Liberty Beacon Project is now expanding at a near exponential rate, and for this we are grateful and excited! But we must also be practical. For 7 years we have not asked for any donations, and have built this project with our own funds as we grew. We are now experiencing ever increasing growing pains due to the large number of websites and projects we represent. So we have just installed donation buttons on our websites and ask that you consider this when you visit them. Nothing is too small. We thank you for all your support and your considerations … (TLB)
••••
Comment Policy: As a privately owned web site, we reserve the right to remove comments that contain spam, advertising, vulgarity, threats of violence, racism, or personal/abusive attacks on other users. This also applies to trolling, the use of more than one alias, or just intentional mischief. Enforcement of this policy is at the discretion of this websites administrators. Repeat offenders may be blocked or permanently banned without prior warning.
••••
Disclaimer: TLB websites contain copyrighted material the use of which has not always been specifically authorized by the copyright owner. We are making such material available to our readers under the provisions of "fair use" in an effort to advance a better understanding of political, health, economic and social issues. The material on this site is distributed without profit to those who have expressed a prior interest in receiving it for research and educational purposes. If you wish to use copyrighted material for purposes other than "fair use" you must request permission from the copyright owner.
••••
Disclaimer: The information and opinions shared are for informational purposes only including, but not limited to, text, graphics, images and other material are not intended as medical advice or instruction. Nothing mentioned is intended to be a substitute for professional medical advice, diagnosis or treatment.