ER Editor: The two stories below fit back-to-back. The EU relies on cheap Russian gas, which has been coming in large measure through the Nord Stream 1 (one) pipeline, in addition to others. Nord Stream 2 was built and completed toward the end of last year to meet greater energy demand. Only to be stopped in its tracks by no other than Germany's globalists long before Russia invaded Ukraine (Germany had originally urged its construction under Merkel). Recently, Russia claimed that a Nord Stream 1 turbine, which had to be sent to Siemens in Montreal and couldn't be shipped back because of Canada's participation in Russia sanctions, was the reason Nord Stream 1 gas was/is being delivered into the EU at only 40% capacity. Analysts think this was an excuse, Russian payback for the ridiculous nonsense the EU has been engaging in, such as freezing Russian assets and refusing to pay up in rubles, &etc.
Story 1: Putin promises to restore full gas supply through Nord Stream 1 if the turbine is returned.
Story 2: Canada caves. But will apply more face-saving sanctions on Canadian companies doing business with Russia.
This is something of a major deal if you're on the European side, especially German, as we're getting stories like this:
********
Russia Says It Will Increase Gas To Europe Under One Condition
By Irina Slav of OilPrice.com
Russia will increase its gas supplies to Europe if a turbine necessary for Nord Stream 1 that is currently undergoing repair in Canada is returned, Reuters reported on Friday.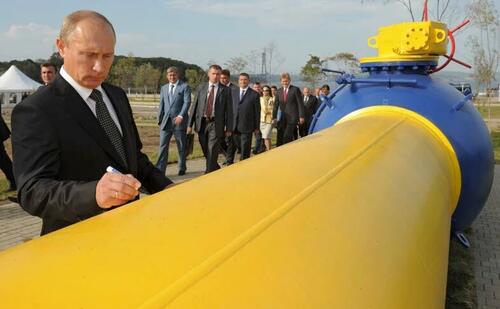 Ukraine urged Canada on Thursday not to return a gas turbine to Gazprom, claiming that the Russian major has enough turbines to keep gas flowing to Europe at full capacity. According to a Reuters report that cited a Ukrainian government official, if Canada returns the turbine to Gazprom, it would violate its own sanctions.
"The sanctions forbid the transfer of any equipment related to gas," the Ukrainian government source said.

"If, God forbid, this decision is approved, we will undoubtedly appeal to our European colleagues that their approach must be reassessed. Because if countries do not follow decisions they have agreed about sanctions, how can we talk about solidarity?" he added per Reuters.
Meanwhile, Germany's Economy Minister Robert Habeck called on Canada to release the turbine.
"I'll be the first one who will fight for a further strong EU sanction package, but strong sanctions means it must hurt and harm Russia and Putin more than it does our economy," Habeck told Bloomberg earlier this week.

"Therefore, I ask for understanding that we have to take this turbine excuse away from Putin." 
The turbine affair began last month when Gazprom began to reduce gas flows via the Nord Stream 1. The Russian state company attributed the reduction to a missing turbine that had not been returned after maintenance.
Germany's Siemens Energy explained that "Due to the sanctions imposed by Canada, it is currently impossible for Siemens Energy to deliver overhauled gas turbines to the customer. We have informed the Canadian and German governments and are working on a viable solution."
As a result of this delayed delivery, flows via the Nord Stream 1 pipeline are now at just 40 percent of capacity, and Germans are bracing for a complete halt of the flow for scheduled maintenance, which begins next week, on July 11.
While normally Gazprom would divert flows to other pipelines, now there is fear it will not do so as relations between Russia and the European Union break records in reaching historically low point after low point.
Meanwhile, Canada has indicated that it has no intention of returning the turbine, with Natural Resources Minister Jonathan Wilkinson saying in late June that "If you talk to the Germans, they are very, very concerned about" their energy security. "I'm sure it'll come up at least in the corridors of the G7 … I wouldn't hold my breath that we're going to find a resolution before the end."
A Ukrainian energy ministry source who spoke to Reuters, however, said they had information that Canada was preparing to make the transfer of the equipment, with another unnamed source saying that the decision had been made as Canada and Germany did not want to give Russia an excuse not to keep the gas flowing to Germany.
********
In Pipeline Poker, Canada Folds: Will Release Sanctioned Russian Gas Turbine
In a high-profile exception to its Ukraine war-inspired sanctions regime, Canada will release a Russian turbine to Germany that's necessary for maintaining Russia's Nord Stream 1 natural gas pipeline. As Reuters reports:
The Canadian government, which is issuing a "time-limited and revocable permit" to exempt the return of turbines from its Russian sanctions, said the move would support "Europe's ability to access reliable and affordable energy as they continue to transition away from Russian oil and gas."
Built in Canada by Siemens Energy AG, the gas turbine had been shipped to Montreal for repairs, only to be trapped there by sanctions against Russia's fossil fuel industries.
"Absent a necessary supply of natural gas, the German economy will suffer very significant hardship and Germans themselves will be at risk of being unable to heat their homes as winter approaches," said Canadian natural resources minister Jonathan Wilkinson in explaining the decision.
Pointing to the delayed return of the turbine, Russia cut the flow of gas to Europe via the Nord Stream 1 pipeline by 60% in June. On Friday, Russia said it would boost the supply if the turbine were released.
Previously, Russia announced the pipeline will close entirely from July 11 to 21 for regular scheduled maintenance. The gas turbine controversy has contributed to fears that Russia may not turn the gas back on when July 22 arrives.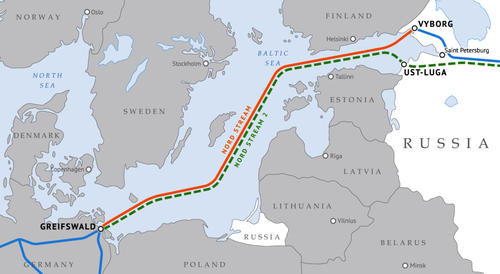 Germany sought the release of the turbine, but the move was opposed by the Ukrainian government and many Ukrainian-Canadians.  
As we reported on Saturday, energy tensions in Germany are mounting swiftly, with the country rationing hot water and dimming street lights, while the largest landlord is restricting heating at night. "The situation is more than dramatic," said Axel Gedaschko, head of the federation of German housing enterprises GdW. "Germany's social peace is in great danger."
As if to offset its conspicuous capitulation on the contended turbine, Canada on Saturday also announced a widening of its sanctions against Russia. (ER: Because you can't look like you've lost face.) "These new sanctions will apply to land and pipeline transport and the manufacturing of metals and of transport, computer, electronic and electrical equipment, as well as of machinery," said Canada's ministry of foreign affairs in a news release.
"Once the measures are in effect, Canadian businesses will have 60 days to conclude contracts with targeted industries and services," the statement said. (ER: Which will presumably hurt Canadian businesses more …)
Together with oil, gas and chemical industry sanctions, the new move against Russian manufacturing means Canada is targeting industries that cumulatively account for more than half of Russia's federal budget revenues, according to the release.
Despite the sanctions, Russia's oil and gas business has thrived. Reuters reported that Russia's oil exports grew by $1.7 billion in May thanks in large part to higher exports to China and India.
************
••••
The Liberty Beacon Project is now expanding at a near exponential rate, and for this we are grateful and excited! But we must also be practical. For 7 years we have not asked for any donations, and have built this project with our own funds as we grew. We are now experiencing ever increasing growing pains due to the large number of websites and projects we represent. So we have just installed donation buttons on our websites and ask that you consider this when you visit them. Nothing is too small. We thank you for all your support and your considerations … (TLB)
••••
Comment Policy: As a privately owned web site, we reserve the right to remove comments that contain spam, advertising, vulgarity, threats of violence, racism, or personal/abusive attacks on other users. This also applies to trolling, the use of more than one alias, or just intentional mischief. Enforcement of this policy is at the discretion of this websites administrators. Repeat offenders may be blocked or permanently banned without prior warning.
••••
Disclaimer: TLB websites contain copyrighted material the use of which has not always been specifically authorized by the copyright owner. We are making such material available to our readers under the provisions of "fair use" in an effort to advance a better understanding of political, health, economic and social issues. The material on this site is distributed without profit to those who have expressed a prior interest in receiving it for research and educational purposes. If you wish to use copyrighted material for purposes other than "fair use" you must request permission from the copyright owner.
••••
Disclaimer: The information and opinions shared are for informational purposes only including, but not limited to, text, graphics, images and other material are not intended as medical advice or instruction. Nothing mentioned is intended to be a substitute for professional medical advice, diagnosis or treatment.