ER Editor: Below is a two-fer. Robert F. Kennedy Jr. succinctly states what's going on in a message to Celia Farber, while the Wall Street Journal delivers its verdict on the man (via Daily Sceptic).
For a light-hearted moment, we recommend doing an online search for Ben Garrison's cartoons of Fauci. Here's the latest:
***
Now it's Rand Paul who's going to begin the public demolition process. See Senator Lays Groundwork for Potential Fauci Probe. Of note:
Rand Paul has demanded that records and communications be saved as he looks to investigate the US Covid-19 czar

Fresh from vowing to investigate chief White House medical adviser Dr. Anthony Fauci for his role in the Covid-19 pandemic, Senator Rand Paul (R-Kentucky) has demanded that President Joe Biden's administration preserve documents and messages that could become evidence in the potential probe.

Paul, who has sparred with Fauci in Senate hearings over government funding of potentially dangerous virus research, sent a letter to the National Institutes of Health (NIH) on Tuesday, calling for the Covid-19 czar's documents and communications to be saved. The demand came one day after Fauci announced that, effective in December, he would step down as Biden's chief medical adviser and as director of the NIH's National Institute of Allergy and Infectious Diseases (NIAID).

"Fauci's resignation will not prevent a full-throated investigation into the origins of the pandemic," Paul said after the doctor's announcement on Monday. …
***
And we'll just leave this one here, from August 19 2022, by US attorney Thomas Renz:
********
Robert F. Kennedy Jr. On Fauci's Shock Resignation–A Truth Barrier Exclusive
"The Rats Are Leaving The Ship. The Omertà is Collapsing"
Dr. Anthony Fauci has recently announced his resignation—an act not characteristic of him.
We have all been wondering "why now?"
There was primarily one person who I wanted to hear from—Robert F. Kennedy Jr., author of The Real Anthony Fauci: Bill Gates, Big Pharma, and The Global War on Democracy and Public Health. [A soaring best-seller— #1 in medical ethics, #1 in public health, # 2 in virology— despite blackout censorship in all mainstream media and tech platforms. Over 20,300 reviews, almost 90% of them 5 stars.]
I asked Mr. Kennedy, by text, if he would give me a quote, (and to please not hold back.)
"Why do you think Fauci resigned now?" I asked.
He replied:
"All the lies are starting to unravel.

"Even Dr. Fauci's propaganda commissars at CNN are asking why our country, under Dr. Fauci's helmsmanship, had the world's highest Covid body counts.

"His hand picked investigator on the Lancet Commission, Jeffrey Sachs, is now functionally accusing Dr. Fauci, and his minion, Peter Daszak, of helping to create Covid in the Wuhan lab, and of lying incessantly to cover their tracks.

"In recent days, his key and most loyal subordinates: Robert Redfield, Robert Kadlec, Christian Hassel, and Lawrence Tabec, have all distanced themselves, trying to get clear of the splatter zone.

Even Birx and Wallensky are doing Mea Culpas. The rats are leaving the ship. The Omertà is collapsing."

—Robert F. Kennedy Jr.,
Statement via text message Celia Farber @ The Truth Barrier, 08/24/22
********
Dr. Fauci and the Covid Rule of Experts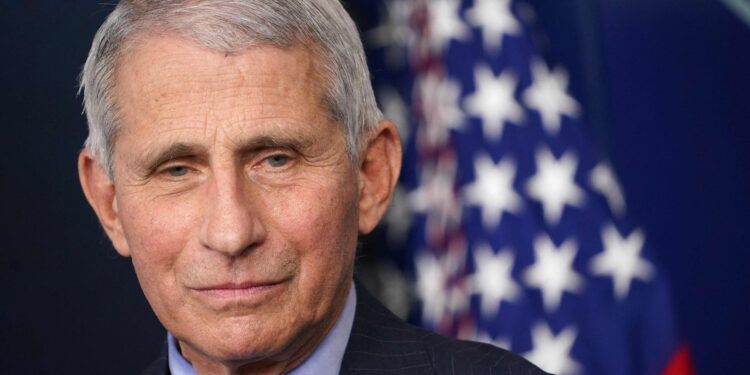 The Wall St Journal editorial board has pronounced its verdict on Dr. Fauci, now that he's announced his retirement. Conclusion: "[H]is legacy will be that millions of Americans will never trust government health experts in the same way again." Quite so.
ER interjection: We really have to wonder if the WSJ hasn't been commandeered by a whole different group of people!
Anthony Fauci announced on Monday that he will step down from his National Institutes of Health leadership posts in December, and the fact that this is a major news story suggests the problem with his tenure. He became the main symbol of the rule by experts who imposed lockdowns on America and brooked no scientific debate on Covid.

Dr. Fauci has led the National Institute of Allergy and Infectious Diseases (NIAID) since 1984, and his personal research contributions are impressive. He first became known to the public during the early years of the AIDS epidemic, and his agency was an early backer of the mRNA technology that became the platforms for two Covid vaccines.

But the main legacy of his 38-year tenure will be as the public face of government during the Covid pandemic, for better and worse. His reassuring authority won acclaim in the early weeks of the pandemic as Americans struggled to make sense of the threat. "Fifteen days to slow the spread," he famously said in March 2020, and the Trump Administration and America picked up his refrain.

The two weeks would stretch to two years. The uncertainties of the pandemic's course weren't his fault, but the certainty of his policy

He and a passel of public-health experts used their authority to lobby for broad economic lockdowns that we now know were far more destructive than they needed to be. He also lobbied for mask and vaccine mandates that were far less protective than his assertions to the public. Dr. Fauci's influence was all the greater because he had an echo chamber in the press corps and among public elites who disdained and ostracized dissenters.

A flagrant example was Dr. Fauci's refusal even to consider that the novel coronavirus had originated in a lab at the Wuhan Institute of Virology in China. This may have been because the NIH had provided grant money to the nonprofit EcoHealth Alliance, which helped fund "gain of function" virus research at the Wuhan lab. In a semantic battle with Republicans, Dr. Fauci denied that the NIH funded such research. But his refusal even to consider the possibility that the virus started in a Wuhan lab showed that Dr. Fauci was as much a politician as a scientist.

Worse, Dr. Fauci smeared the few brave scientists who opposed blanket lockdowns and endorsed a strategy of "focused protection" on the elderly and those at high risk. This was the message of the Great Barrington Declaration authors, and emails later surfaced showing that Dr. Fauci worked with others in government to deride that alternative so it never got a truly fair public hearing.

"There needs to be a quick and devastating published take down of its premises," NIH Director Francis Collins wrote to Dr. Fauci. Their inability to abide criticism and dissent undermined the U.S. pandemic response.

"It's easy to criticize, but they're really criticizing science because I represent science. That's dangerous," Dr. Fauci said last November, in a comment that summarizes the view of the public-health clerisy. The public is supposed to let a few powerful men and women define science and then impose their preferred policies and mandates on the country.

The costs of that mindset have been severe, and not merely economic. We know now that states that locked down fared no better, and sometimes worse, than those that didn't. We also know that the vaccines, while invaluable against serious disease, don't prevent the spread of Covid—even after multiple boosters. More honest candor would have been better for America's trust in public-health authorities. (ER: Obviously the WSJ could have done far better on Covid vaccine commentary.)

"Whether you've met him personally or not, he has touched all Americans' lives with his work," President Biden said Monday about Dr. Fauci's resignation. That's true enough. But his legacy will be that millions of Americans will never trust government health experts in the same way again.
************
••••
The Liberty Beacon Project is now expanding at a near exponential rate, and for this we are grateful and excited! But we must also be practical. For 7 years we have not asked for any donations, and have built this project with our own funds as we grew. We are now experiencing ever increasing growing pains due to the large number of websites and projects we represent. So we have just installed donation buttons on our websites and ask that you consider this when you visit them. Nothing is too small. We thank you for all your support and your considerations … (TLB)
••••
Comment Policy: As a privately owned web site, we reserve the right to remove comments that contain spam, advertising, vulgarity, threats of violence, racism, or personal/abusive attacks on other users. This also applies to trolling, the use of more than one alias, or just intentional mischief. Enforcement of this policy is at the discretion of this websites administrators. Repeat offenders may be blocked or permanently banned without prior warning.
••••
Disclaimer: TLB websites contain copyrighted material the use of which has not always been specifically authorized by the copyright owner. We are making such material available to our readers under the provisions of "fair use" in an effort to advance a better understanding of political, health, economic and social issues. The material on this site is distributed without profit to those who have expressed a prior interest in receiving it for research and educational purposes. If you wish to use copyrighted material for purposes other than "fair use" you must request permission from the copyright owner.
••••
Disclaimer: The information and opinions shared are for informational purposes only including, but not limited to, text, graphics, images and other material are not intended as medical advice or instruction. Nothing mentioned is intended to be a substitute for professional medical advice, diagnosis or treatment.