ER Editor: Fusion technology, which could provide untold amounts of energy without fossil-fuel by products and uranium or plutonium waste, was a technology put on hold for political reasons way back. After all, if you want to scare the world with nonsense talk of Global Warming or Climate Change – topics we have published on in order to show they are a complete fraud, constructed on fake science in order to justify the creation of a world government, what better way to do it than withhold this very technology? This article shows that western entrepreneurs like Bezos have already jumped aboard the train; Russia is also promising to develop the same thing. Which means, as this article illustrates, that fusion-producing technologies are well on their way. So why all the fuss about alleged
AGW? We're apparently moving way beyond that.
Note therefore that we do NOT subscribe to the climate change fear mongering of this piece.
And why aren't the MSM all over this story? Silly question.
Here is the link to the ITER website (ITER stands for International Thermonuclear Experimental Reactor). As the article mentions below, a fusion facility has been under construction in southern France, not far from Marseille (see map), over the last few years with the participation of scientists from 35 countries. Russia and China are involved.
********
Could Nuclear Fusion Be A Reality By 2025?
In order to keep globally rising temperatures from increasing more than 1.5 degrees Celsius this century, the international community will have to cut carbon emissions by 45 percent by 2030 and down to zero by the middle of the century. Meanwhile emissions continue to increase every year, and the increase is accelerating, rising by 1.6 percent in 2017 and about 2.7 percent in 2018 to reach an all-time high. Making matters even more dire, global energy demand is projected to grow by approximately 27 percent by 2040, or 3,743 million tons oil equivalent (mtoe). What if there was one energy solution that could solve all of these pressing problems?
While it sounds fantastical, there is a comprehensive solution. And it's right around the corner.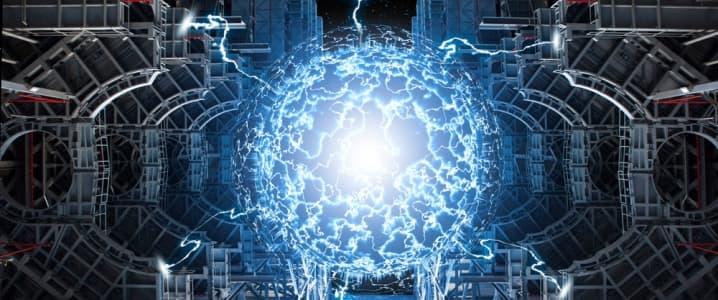 One of the most powerful forms of power we use today is nuclear energy. While modern nuclear is extremely efficient and creates zero carbon emissions, it has a lot of drawbacks, and they're big ones: potential nuclear meltdowns and radioactive waste that remains hazardous for thousands of years (costing taxpayers a bundle in the process). But there is a better way. Our current nuclear reactors are all powered using nuclear fission, the process of splitting atoms to generate energy. For years, scientists have wondered how we can harness nuclear fusion, the process that powers the sun by fusing atoms together, for use on earth. Fusion is ultra-powerful, several times more potent than fission, and generates zero nuclear waste, since its fuel is not uranium or plutonium, but hydrogen. 
"Achieving controlled fusion reactions that net more power than they take to generate, and at commercial scale, is seen as a potential answer to climate change," writes Nathanial Gronewold for Scientific American.

"Fusion energy would eliminate the need for fossil fuels and solve the intermittency and reliability concerns inherent with renewable energy sources. The energy would be generated without the dangerous amounts of radiation that raises concerns about fission nuclear energy."
The dream of nuclear fusion has long been out-of-reach, but now, with companies like the Jeff Bezos-backed General Fusion and a huge pool of fusion startups heating up the competition, fusion is quickly becoming a reality. Just this week, the "world's largest nuclear fusion experiment" has made a major breakthrough.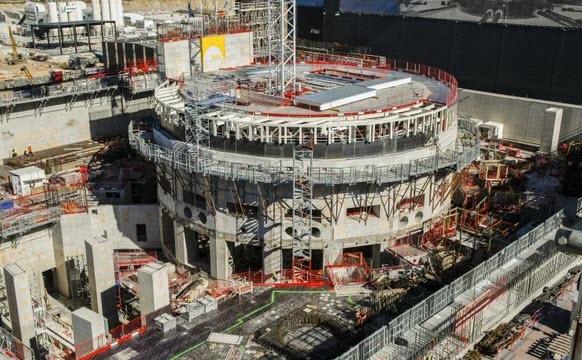 Officials from the International Thermonuclear Experimental Reactor (ITER), a multinational project based in Southern France, have announced that they are now just 6.5 years away from "First Plasma," in a historic milestone. ITER's project, supported by a consortium of 35 nations, is now 65 percent complete according to this week's press release. "The section recently installed—the cryostat base and lower cylinder—paves the way for the installation of the tokamak, the technology design chosen to house the powerful magnetic field that will encase the ultra-hot plasma fusion core," reports Scientific American.
The project is the world's very first commercial-scale fusion reactor project, and all eyes are on ITER's tokamak to set the bar, as well as the timeline, for the commercialized nuclear fusion race. While the project is scheduled to launch at the end of 2025, it will take another decade (at least) to bring the facility to full power.
"The date for First Plasma is set; we will push the button in December 2025," spokeswoman Sabina Griffith told SA.

"It will take another 10 years until we reach full deuterium-tritium operations."
Nuclear fusion is so difficult to achieve because of the extreme conditions–like those in the core of the sun– needed to be reproduced here on Earth. As explained by the United States Department of Energy, "fusion reactions are being studied by scientists, but are difficult to sustain for long periods of time because of the tremendous amount of pressure and temperature needed to join the nuclei together."
While nuclear fusion holds an incredible amount of promise for solving some of the modern world's toughest issues, the clock is ticking, and many experts say that even with fusion right around the corner, time is not on our side. While it is hopeful that ITER's tokamak will be up and running by 2025 and fully operational by around 2035, that could be too late. Climate experts are now saying that the 12-year deadline the Intergovernmental Panel on Climate Change gave the world to turn climate change around may need to be shortened–to 18 months. Potsdam Climate Institute's Hans Joachim Schellnhuber puts it simply: "The climate math is brutally clear: While the world can't be healed within the next few years, it may be fatally wounded by negligence until 2020."
************
••••
The Liberty Beacon Project is now expanding at a near exponential rate, and for this we are grateful and excited! But we must also be practical. For 7 years we have not asked for any donations, and have built this project with our own funds as we grew. We are now experiencing ever increasing growing pains due to the large number of websites and projects we represent. So we have just installed donation buttons on our websites and ask that you consider this when you visit them. Nothing is too small. We thank you for all your support and your considerations … (TLB)
••••
Comment Policy: As a privately owned web site, we reserve the right to remove comments that contain spam, advertising, vulgarity, threats of violence, racism, or personal/abusive attacks on other users. This also applies to trolling, the use of more than one alias, or just intentional mischief. Enforcement of this policy is at the discretion of this websites administrators. Repeat offenders may be blocked or permanently banned without prior warning.
••••
Disclaimer: TLB websites contain copyrighted material the use of which has not always been specifically authorized by the copyright owner. We are making such material available to our readers under the provisions of "fair use" in an effort to advance a better understanding of political, health, economic and social issues. The material on this site is distributed without profit to those who have expressed a prior interest in receiving it for research and educational purposes. If you wish to use copyrighted material for purposes other than "fair use" you must request permission from the copyright owner.
••••
Disclaimer: The information and opinions shared are for informational purposes only including, but not limited to, text, graphics, images and other material are not intended as medical advice or instruction. Nothing mentioned is intended to be a substitute for professional medical advice, diagnosis or treatment.