ER Editor: A two-fer from RT today, and Larry Johnson, who thoughtfully provides us with some music as well as a very big picture perspective.
We remind readers of a recent piece by Johnson, who questions what is really underground around Soledar and Bakhmut. See —
********
'The entire town is littered with bodies': how Ukraine suffered a humiliating defeat in Soledar after a relentless Russian assault
This marks Russia's first major victory since the withdrawals from Balakleya, Krasny Liman and Kherson
RT
Fighters from the Wagner Group have completely surrounded the Donbass town of Soledar and are now clearing the extensive tunnel network in the town's salt mines, the head of private military company, Evgeny Prigozhin, claimed.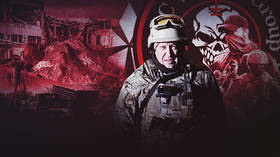 The news came after weeks of intense battles in an area which sources from both sides, but especially those which are pro-Kiev, have described as a "meat grinder." Despite the sustained, albeit slow, Russian advance, the Ukrainian authorities have chosen not to retreat (ER: which is a hotly debated topic) at the cost of tremendous losses.
"I want to repeat that Soledar has been fully liberated and cleared of Ukrainian army units," Prigozhin said in a statement on Wednesday evening. "The Ukrainian troops that refused to surrender have been destroyed."
ER: Bakhmut and Soledar shown
Prigozhin estimated that 500 Ukrainian troops died in the final stages of the fighting, after Wagner forces encircled them. That's on top of others who perished previously.
The entire town is littered with the bodies of Ukrainian servicemen," he said.
While gunfire can still be heard in the western outskirts of Soledar, it is clear now that Russian forces will emerge victorious. Their victory will, in turn, collapse a 70 km-long section of Kiev's defenses.
The Stakes
Soledar is a conglomeration of several settlements established around salt mines and railway stations. In 2001, when Ukraine last conducted a census, around 13,000 people lived here. The town stretches along the right bank of the Bakhmutka River from southeast to northwest.
In late 2022, it became an infamous urban warzone. In peaceful times, however, it was known as the largest source of mineral salt in Central and Eastern Europe, covering around 80% of Ukraine's needs. Deep salt mines have also made Soledar a tourist and leisure destination with tours around the caves.
There was, however, a second, military purpose to the city and its industries, as was typical for the Soviet Union. In the case of Soledar, several of its depleted mines were used as spacious and secure military warehouses.
Last year, this previously disregarded aspect of Soledar's identity became its most prominent feature. Salt production stopped, and the gypsum plant ceased operating; the only visitors around were now Ukrainian soldiers – and developing asthma was the least of their problems.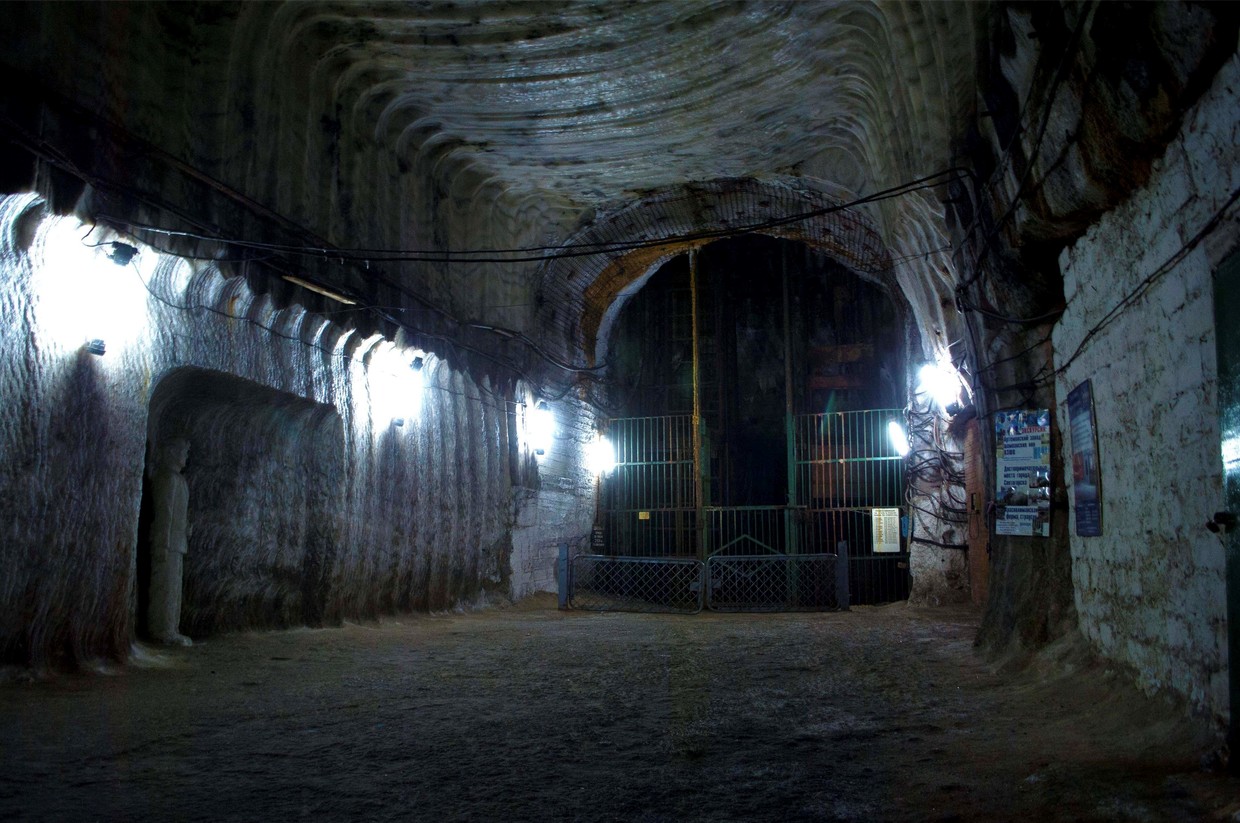 Strategic Positions
ER: All the place names mentioned here are located in the Donbass region (Lugansk and Donetsk)
Soledar became the focus of Russian offensive operations last May, after troops seized Popasnaya and breached the first line of Ukrainian defenses. The Ukrainian command turned the town into a major piece of its second defensive line, a stretch of fortifications along the Dzerzhinsk – Bakhmut (Artyomovsk) – Soledar – Seversk line.
Up until early August, fighting continued around Soledar: Russian forces were busy cutting off the pocket of Ukrainian forces near Severodonetsk and Lisichansk, and gradually advancing toward Soledar and Artyomovsk, seizing fortifications at Pilipchatino and Pokrovskoye along the way. Wagner units and the 6th Cossack Regiment of Lugansk gradually moved into the combat area. Russian troops enjoyed uncontested superiority in terms of artillery, but there were some early signs of 'ammunition hunger' looming on the horizon.
The Russians were unable to penetrate Ukrainian defenses in one burst. The troops, exhausted after a major operation to liberate the entirety of the Lugansk People's Republic (LPR), simply could not break through the numerically superior Ukrainian forces.
Ukrainian defenses in the area consisted of the 93rd Mechanized Brigade, supported by numerous units of the Territorial Defense Forces. The second line was formed by the 24th Mechanized Brigade, which had suffered losses during the earlier fighting in Popasnaya. Combined, these forces were sufficient to hold off the attacks along most of the Artyomovsk-Soledar-Lisichansk line, a stretch of fortifications that would not be breached until December – a development that would ultimately spell defeat for the Ukrainians.
Yet, over the summer of 2022, Ukrainian defenses in the area held strong – so much so that one of Ukraine's top media spokesmen, Aleksei Arestovich, boasted that the Russians would not take a single Ukrainian town beyond Lisichansk, including Artyomovsk and Soledar. The frontline stabilized, and the armies switched to positional warfare. In the Donbass farmland, fields are separated by strips of trees to prevent soil erosion; these strips were fortified and used as strongpoints. The Russian troops wrestled the farmland away from the Ukrainians, 500 meters at a time – however, an unconventional approach was required in order to achieve a decisive breakthrough.

Until then, Russian assault groups, under the cover of artillery fire, had been working their way slowly, but steadily, through the Ukrainian defenses. Their first successful operation, which marked the start of the battle for Soledar, was the capture of the Knauf Gips gypsum plant in early August, by the 6th Cossack Regiment of the LPR army and Wagner units. Then, using the plant as a foothold, the Russian forces engaged in months of fighting in the southern part of the city, which consisted of private residences, several blocks of multistory residential buildings, a gypsum plant, a gypsum quarry and a refractory materials factory.
The fighting dragged on for the rest of the summer and into the fall. After the pullback from Kharkov Region and Krasny Liman, a new tug-of-war started over Peski, Marinka and Avdeevka. Later, the Russian army pulled out of Kherson, but managed to hold Svatovo. In the meantime, the situation around Soledar and Artyomovsk remained unchanged. Wagner forces, in cooperation with units from the Donbass republics and assisted by Russian aviation and artillery, lay the groundwork for a successful breach of the multi-layered Ukrainian defenses.
Fresh blood
What finally got things moving was the Wagner group's decision to focus on assault tactics and scale up its operations by increasing its numbers. To get an influx of fresh blood, it used several approaches. First, friendly media created an entire subculture that praised Wagner as the leading military force and made it desirable to serve in its ranks. This promotional effort was driven by military bloggers (often Wagner veterans themselves), journalists, musicians and artists, and was certainly helped by the outspoken head of the group, Prigozhin.
As a result, when Russia announced a partial mobilization, some eligible men decided that it would be better to go to war themselves than sit around and wait for a draft summons. Volunteering gave you one privilege: You could choose which force to join. Wagner was one of the top choices.
ER: This video shamelessly makes blowing things up look glamorous
Second, it was decided to start recruiting among prison inmates. Subject to strict discipline, they were offered equal treatment to other soldiers and a six-month contract, after which it was promised that they would be pardoned and their criminal records cleared. The first unit made up of such volunteers set out for the front in July, and those who survived until January went home, as shown in videos published by Prigozhin's affiliated media.
The whole enterprise would not be as effective if not for the training system, in which assault units were actually prepared for this role, without wasting time on other skills that would be useless in this context. Another factor was Wagner's combat control system that enabled coordination between many small groups.
By December, the assault units had proved their worth in Artyomovsk, breaking through Ukrainian defenses south of the city. Ukrainian commanders had to send brigade after brigade over to this front, losing opportunities in other areas.
Path to victory
The front line in Soledar was moving north, rather slowly. But the Ukrainian army was suffering losses. The 93rd Mechanized Brigade, which had stopped Russians near Soledar in August, was shattered so badly that it lost combat effectiveness and was pulled back for reinforcements.
It was replaced by the 128th Mountain Assault Brigade, which was supposed to have been drawn out of combat to be replenished after heavy fighting on the right bank of Dnieper in Kherson Region. But the Ukrainian general staff had to draw on reserves, so there wasn't enough time to replenish the 128th brigade before it was put up against Wagner's assault troops in Bakhmutskoye and Soledar.
In the latter, fighting had intensified along the flanks. The Russians started to move forward through the industrial areas of Artyomovsk, opening up possibilities for moving into the southern outskirts of Soledar and for attacking Yakovlevka from the north.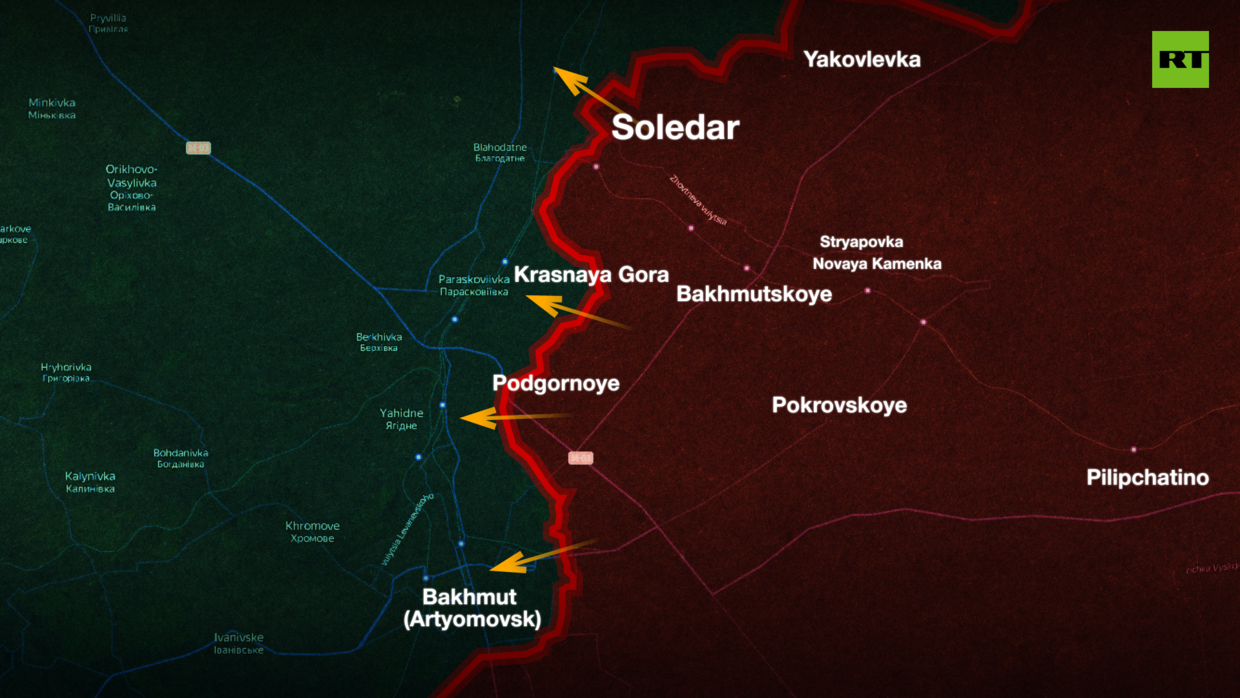 Yakovlevka was seized on December 18, which enabled further advancement towards Soledar. Ukrainians undertook a number of counter-attacks, trying to use the wood strips in the fields for their defense. The fall of Yakovlevka was a turning point that defined future success in Soledar.
The situation in the industrial area of Artyomovsk was different. The assault operation stopped after the frontline had shifted several kilometers away from the highway. Ukraine's government and Western media described this as a victory, claiming that the Russians were evidently unable to seize Artyomovsk and had to shift the focus to a minor target – Soledar. In reality, the battles in Artyomovsk and Soledar were interconnected.
By advancing east of Artyomovsk, the Wagner Group took the upper hand and was able to storm Bakhmutskoye. Since the summer, the frontline ran through the village, splitting it into two parts, with the Ukrainian Armed Forces setting up a fortified area in the local school and equipment storage facilities in its northern part. After this, events took a faster course. On December 26, the Ukrainians were driven out of the school building and, on January 9, Bakhmutskoye was liberated almost completely and the Russian storm units moved on to Dekonskaya railway station.
Meanwhile, Ukraine's defense in Soledar suffered an operational crisis, with the garrison stationed in the town attacked at the southern and northern flanks and unable to stop the Russian offensive. Kiev's troops were exhausted with some fighters fleeing from their positions, according to Arestovich.
On January 5, the crisis Ukraine's defenses became apparent, with its Forces withdrawing from the southern part of the town. On January 6, fighting broke out on the premises of salt mine No. 1-3, located downtown. The following day, Ukraine's 46th Airmobile Brigade, one of the freshest units on the battlefield, was moved there from Artyomovsk to reinforce the defense – or rather, to cover retreat of Kiev's fighters, in reality.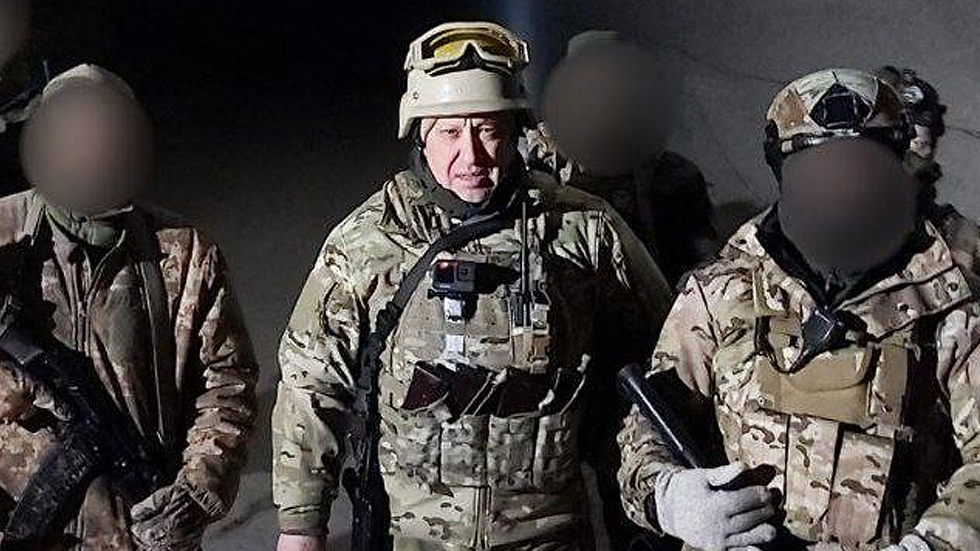 On January 9, Prigozhin reported that there was fighting for control of Soledar's municipal buildings. By January 10, the Russians had taken control of the town center and surrounded the Ukrainian units that hadn't retreated to Soledar's western parts. They were then given time until midnight to lay down their arms.
What happens next?
At the moment it's hard to say how effective this rhetoric might be for encouraging the Ukrainian troops to surrender. There have been cases of some soldiers giving up, but there have also been quite different cases – like, for example, that of five Ukrainian troops who preferred to jump off a five-story building than submit to Russian custody during the assault of Soledar.
By late Wednesday, Russian troops had mostly cleared central Soledar. Clearing the salt mines is expected to take more time. According to open-source intelligence, Ukraine recognizes that mine 4 is under Russian control. and its troops to the east of that point are surrounded. There is no data concerning the situation around mine 7 and railway station Sol, which have been under the control of the Ukrainian Army. These are Kiev's last footholds in the area of Soledar and they will be hard to keep since all the supply routes are open to enemy fire.
The Russian offensive is targeting not only Soledar, but also the settlements on its flanks. The village of Podgornoye is already under Moscow's control, and an offensive is in progress to capture the settlement of Krasnaya Gora, located between Soledar and Artyomovsk. If successful, this operation will cut off Artyomovsk's supply routes from Slavyansk in the north, leaving it only accessible from Konstantinovka and Chasovy Yar.
A Russian offensive targeting railway station Sol, Krasnopolye, and Razdolovka is also in progress. Should this be a success and the troops succeed in crossing the Bakhmutka River, it will be a serious threat to the Ukraine-controlled Seversk that is strategically important to the Ukrainian Army since it keeps both Lisichansk and Kremennaya in check.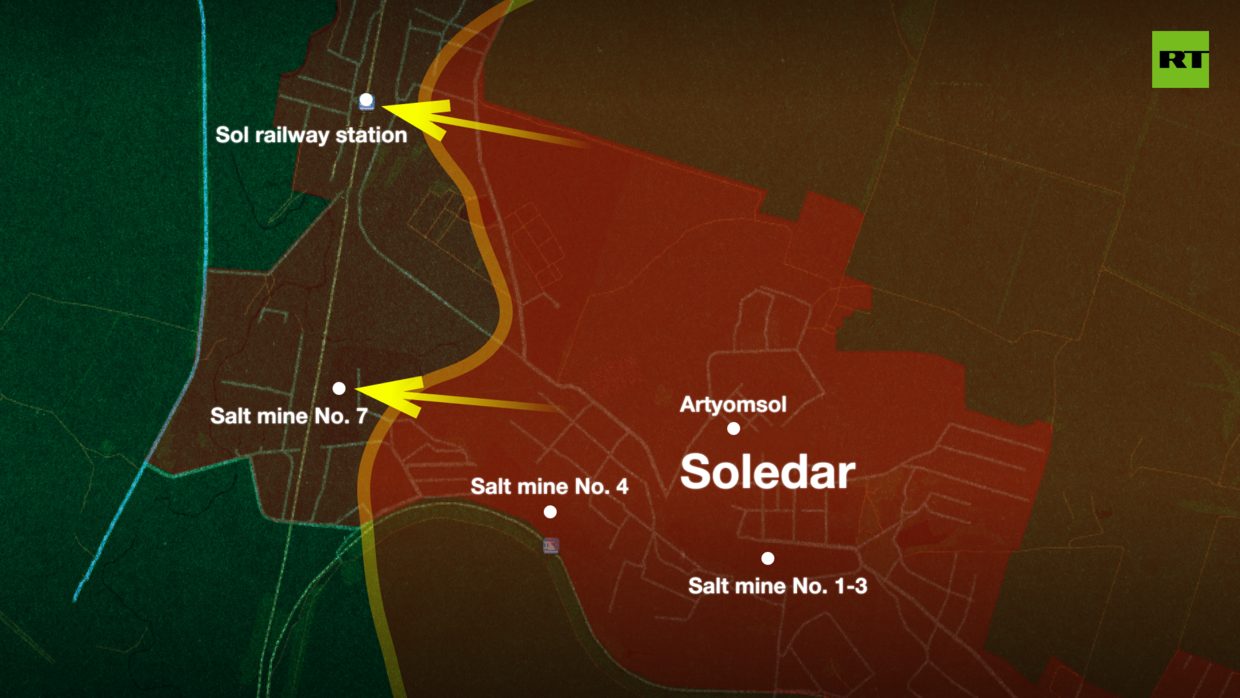 The Ukrainian resistance in Soledar and Artyomovsk is currently weakening due to the intense Russian offensive. There is a clear shortage of battle-ready Ukrainian troops up to the challenge of withstanding the efficient offensive tactics employed by the Wagner PMC assault units.
And yet, the outcome of the Soledar offensive is up to the Russian command now. It remains to be seen within the next few weeks whether the command will take the risk of large casualties and try to step up the offensive or revert to slower tactics in crushing the Ukrainian defenses.
This is Russia's first major victory since the withdrawals from Balakleya, Krasny Liman and Kherson and it's important for boosting the morale of the troops. It is certainly a bitter pill for the Ukrainian Army. Whether we can expect Kiev to try and adapt to the new situation and look for out-of-the-box solutions remains to be seen. All we know now is that President Zelensky keeps promising the Ukrainian people he will recapture all of Donbass even though his troops are retreating.
********
In Ukraine, "There's Something Happening Here"
The collapse of the Ukrainian resistance in Soledar was confirmed by even some of Ukraine's staunchest supporters, meaning that Bakhmut is expected to fall under Russian control in the coming days. Russian troops are advancing from the south, north and east, creating a potential cauldron that will leave the Ukrainian soldiers in Bakhmut surrounded, writes Larry Johnson.
The 1960s band Buffalo Springfield had a hit that I think captures the dramatic developments in Ukraine and Russia over the last 36 hours – "There's Something Happening Here:"
Do you remember my last article? I gave CNN credit for being right about something. Well, rest assured, CNN is again pushing propaganda and failing to understand what's going on:
Russia's defense ministry on Wednesday announced another reshuffle of commanders leading the war in Ukraine as criticism mounts over the handling of the stalled campaign.

It said General Valery Gerasimov, Chief of the Russian General Staff, would become the general commander of the campaign and that the current commander, Sergey Surovikin, would become one of his three deputies…

Mark Galeotti, senior associate fellow at the Royal United Services Institute, said "it's kind of a demotion [for Gerasimov] or at least the most poisoned chalice. It's up to him now, and I suspect Putin has unrealistic expectations again." –  https://edition.cnn.com/2023/01/11/europe/russia-valery-gerasimov-ukraine-commander-intl
Error. Error. Error. Yes, Chief of General Staff General of the Army Valery Gerasimov was appointed Commander of the Joint Group of Forces and Sergei Surovikin Commander-in-Chief of Air and Space Forces General of the Army. This was not a change of command due to dissatisfaction with Surovikin's performance over the past three months. On the contrary, I think it is a sign that Russia is paving the way for a major escalation of its operations to eliminate the Ukrainian military threat.
If Surovikin starts targeting the "aerospace forces", Russian aerospace activities are likely to gain momentum. So far, the Russian air force has played a minimal role in the fighting over the past 11 months. The fact that Gerasimov will be in charge of the Joint Group of Forces is a clear signal that the command task will be more complex and extensive in the future. Cue Bachman Turner Overdrive, You Ain't Seen Nothing Yet:
Let me give you a few more pertinent pieces of information. Let's start with a major movement of the Russian Navy in the Black Sea:
At the same time, Russia continues to build up its armed forces in Belarus:
One more thing – Where are the Chechens? If you followed the battle of Mariupol in May, social media channels were filled with video footage of the bearded Russian Muslims shouting Allahu Akbar as they crushed the Ukrainian Azov battalion. Now nothing more. They are out there somewhere in large numbers, but have not yet been deployed operationally. Are they preparing for a new offensive?
Put yourself in the shoes of the Ukrainian General Staff. On the eastern front, your soldiers are slaughtered and lose vital territory to Russia. The Bakhmut/Soledar line of defense has been breached. You need to reinforce the Kramatorsk/Slovyanksa line (ER: Also around Donbass), but the number of trained troops is limited.
At the same time, you have to wonder if the Russians are going to launch an amphibious/air assault on Odessa (ER: south south-west). Do you have enough troops or available reinforcements to fortify and defend Odessa? Then there is the construction in Belarus (ER: north-west). Belarus and Russia have amassed enough ground and air forces to pose a credible threat to Kiev.
Where will Russia strike? Therefore, Gerasimov took overall command of these joint forces. He can use feints from troops in the north and south to pin down the Ukrainian troops and launch a major attack from the east. Or he can order all-out attacks from the north, south, and east. He also has other options.
The West and Ukraine claim that Russia will not be able to mount a credible offensive operation until spring. I don't know if the West is spreading that message as part of a propaganda campaign to convince Russia that Ukraine is not prepared for a winter offensive, or if they really believe it. All I know for sure is that Russia, like a world poker champion, hides its cards and shows Ukraine only what it wants to see. Will Russia go all in or will it keep grinding?
************
••••
The Liberty Beacon Project is now expanding at a near exponential rate, and for this we are grateful and excited! But we must also be practical. For 7 years we have not asked for any donations, and have built this project with our own funds as we grew. We are now experiencing ever increasing growing pains due to the large number of websites and projects we represent. So we have just installed donation buttons on our websites and ask that you consider this when you visit them. Nothing is too small. We thank you for all your support and your considerations … (TLB)
••••
Comment Policy: As a privately owned web site, we reserve the right to remove comments that contain spam, advertising, vulgarity, threats of violence, racism, or personal/abusive attacks on other users. This also applies to trolling, the use of more than one alias, or just intentional mischief. Enforcement of this policy is at the discretion of this websites administrators. Repeat offenders may be blocked or permanently banned without prior warning.
••••
Disclaimer: TLB websites contain copyrighted material the use of which has not always been specifically authorized by the copyright owner. We are making such material available to our readers under the provisions of "fair use" in an effort to advance a better understanding of political, health, economic and social issues. The material on this site is distributed without profit to those who have expressed a prior interest in receiving it for research and educational purposes. If you wish to use copyrighted material for purposes other than "fair use" you must request permission from the copyright owner.
••••
Disclaimer: The information and opinions shared are for informational purposes only including, but not limited to, text, graphics, images and other material are not intended as medical advice or instruction. Nothing mentioned is intended to be a substitute for professional medical advice, diagnosis or treatment.