German Election: Merkel's Pyrrhic Victory
"Ms. Merkel is in effect a lame duck."
SOEREN KERN
"Angela Merkel has ruled this country for twelve years. She has imposed a debt burden of billions on the Germans to protect the southern part of Europe from collapsing and to implement her idea of a European community. She has shaken the German energy industry to save the world's climate. And she has opened the gates of the country to hundreds of thousands of refugees because she considered it a humanitarian obligation. She also changed the traditional notion of marriage, as marriage of husband and wife, just like that…." — Tagesspiegel.
"We will reclaim our country and our people." — Alexander Gauland, a former CDU official who is now co-chairman of the Alternative for Germany party (AfD).
"The reality is that as of today, September 24, Ms. Merkel is in effect a lame duck." — Handelsblatt.
Chancellor Angela Merkel has won a fourth term in office, but the real winner of the German election on September 24 was the Alternative for Germany, an upstart party that harnessed widespread anger over Merkel's decision to allow into the country more than a million mostly Muslim migrants from Africa, Asia and the Middle East.
Preliminary election results show that Merkel's center-right CDU/CSU alliance won around 33% of the vote, its worst electoral result in nearly 70 years. Merkel's main challenger, Martin Schulz and his center-left SPD, won 20.5%, the party's worst-ever showing.
The nationalist Alternative for Germany (AfD) won around 13% to become the country's third-largest party, followed by the classical liberal Free Democrats (FDP) with 10.7%, the far-left Linke party with 9.2% and the environmentalist Greens with 8.9%.
"With only 33%, Merkel has not only achieved the worst result of all the campaigns she has led, but also the second-worst in the party's history," wrote Die Zeit.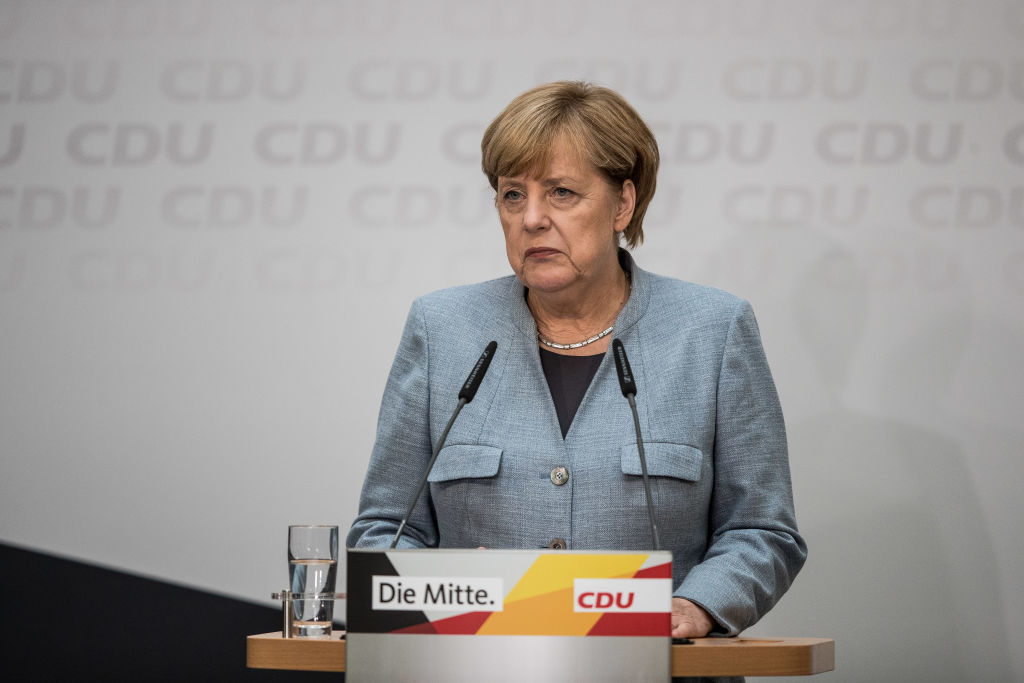 German Chancellor Angela Merkel speaks to the media in Berlin on September 25, the day after her CDU/CSU party alliance won first place with 32.9% of the vote — its worst electoral result in nearly 70 years. (Photo by Maja Hitij/Getty Images)
Merkel now has two main options for building a governing coalition: a so-called grand coalition between the CDU/CSU and the SPD, or a three-way coalition comprising the CDU/CSU, the FDP and the Greens. Building a stable coalition will be difficult, given that all the parties have differing ideologies, platforms and priorities.
Merkel has governed twice in a grand coalition with the SPD and once in coalition with the FDP. Schulz has insisted that the SDP will not agree to another grand coalition because it would leave the AfD as Germany's main opposition party, which would give it special rights and privileges in parliament.
The Frankfurter Allgemeine newspaper predicted that any coalition would collapse before the end of the four-year legislative period because Merkel will need to bring together several parties that could not be more different:
"The CDU/CSU and the Greens are worlds apart. Many positions of the libertarian FDP collide head-on with the socialized ideas of the CDU/CSU…. The chances that such an alliance will last until the end of the legislature is estimated to be far below 50%. There is an obvious point of view: the CDU/CSU, FDP and Greens will start as a temporary coalition whose protagonists become exhausted and give up after about two years…. Surely by then the Chancellor will have concluded for herself that enough is enough. The result would be new elections and the end of the Merkel era and a new government — led by its successor."
Deutsche Welle concurred:
"Although these results mean the CDU will remain Germany's largest party, it still represents a substantial loss for the conservatives, who managed 41.5% in 2013. With a three-way coalition looking to be the likely solution to avoid a minority government, Merkel is about to begin a far less stable administration than in her past three terms."
The Financial Times added:
"Ms. Merkel is clearly weakened. The chancellor has over the past year been portrayed as the West's last standard-bearer of liberal values in a world upended by populists such as Mr. Trump. Sunday's election result has revealed just how much her domestic support has dwindled, and how divisive her policies have been."
ER recommends other articles by The Gatestone Institute
About the author
Soeren Kern is a Senior Fellow at the New York-based Gatestone Institute.  Follow Soeren Kern on Twitter and Facebook