ER Editor: This entire episode in the Canadian Parliament is, we believe with zero proof, a set-up aiming at shaping the narratives – many of them – in one go. Now we have the GERMAN connection to the Canadian Nazi story. Seriously? Nobody governs this way with 2 functioning brain cells. A diplomat in the public chamber of a foreign government would likely have the entire situation mapped out beforehand by their staff. There would be no accidents.
It would be mightily useful to have a list of all those in the Chamber at the time, and to ask why none of them walked out.
In Germany, it is nigh-on impossible to make any non-conventional claims about the Nazis and WWII, nor can lawyers defend clients charged with such things without being charged themselves. Ordinary citizens have no due process in these matters. And so the German ambassador no less was ACTUALLY THERE?!
We smell a story here designed to bring people and/or government entities down. The gift that keeps on giving. Collapse is in the air on many fronts.
Notice that Russia and Poland (western deep state poodle, suddenly transformed into Ukraine's enemy on various pretexts) now have a cause in common …
***
It needs to be said that we haven't yet seen the ambassador on video or photographic image during this ovation. Her twitter account is silent on this story. A glimpse at her twitter account shows that she re-posts Obama stuff. Readers might be interested in this tweet from the summer. Try not to laugh:
We must keep telling the horrors of the Holocaust and never forget.

Europe wouldn't be what it is today without Jewish culture, values and contributions to science.

We will co-finance a new section at @yadvashem on Jewish life in Europe before the Shoah. pic.twitter.com/tCbcPY00CD

— Ursula von der Leyen (@vonderleyen) June 9, 2023
Hypocrisy much?
********
German ambassador attended Canadian honoring of WWII Nazi – Berlin
Berlin has claimed that its diplomat was not aware that Yaroslav Hunka fought with the Waffen SS
RT
Germany's Foreign Office has shrugged off the participation of its ambassador to Canada in last week's embarrassing standing ovations for a Ukrainian veteran of the Waffen SS, saying she was unaware that he was a Nazi when she joined with Ottawa lawmakers in applauding him.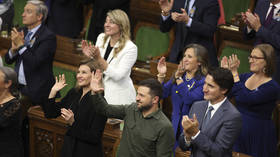 .
Foreign Office spokesman Sebastian Fischer acknowledged the gaffe (ER: gaffe?!?) for the first time on Wednesday, when asked at a press briefing about Ambassador Sabine Sparwasser's honoring of World War II Nazi collaborator Yaroslav Hunka.
Members of the Canadian parliament stood and gave long ovations for the 98-year-old Hunka when he was introduced during a visit by Ukrainian President Vladimir Zelensky on Friday. Zelensky and Canadian Prime Minister Justin Trudeau were among the enthusiastic participants in the cheers.
Sparwasser simply didn't know about Hunka's Nazi affiliation when she joined with others in applauding him, Fischer claimed. The spokesman conceded that the incident was unacceptable, but Hunka's true identity was not known to the German diplomat or other members of the crowd because his attendance at the event was not announced beforehand. (ER: So who set up the German ambassador?)
However, when House Speaker Anthony Rota introduced his guest to the crowd, he noted that Hunka "fought for Ukrainian independence against the Russians," which by definition suggested that he served on the side of the fascist Axis powers. "He's a Ukrainian hero, a Canadian hero, and we thank him for all his service," the speaker said.
Rota resigned from his position on Tuesday and apologized for his mistake in honoring Hunka. The war veteran was a volunteer in the 14th Waffen Grenadier Division of the SS, a Ukrainian unit, which committed atrocities against Jews and Poles on the Eastern Front.
Asked about how Sparwasser could fail to understand Hunka's Nazi affiliation – despite being told that he fought against the Red Army – Fischer said there were other possible explanations for his role in the war. For instance, he theorized, Hunka could have been a fighter for the Polish Home Army, which fought against both German and Russian forces.
Ukrainian Nazi collaborators slaughtered thousands of Poles during World War II. Hunka was among thousands of Ukrainian fighters who were allowed to emigrate to the UK and Canada after World War II, despite their possible participation in war crimes.
Moscow called the incident a cynical abuse of the memory of the victims of Nazism and an example of blatant Russophobia, and said it may launch a probe into potential war crimes and request the extradition of Hunka. Poland, which has been among the top backers of modern-day Ukraine in its fight against Russia, has also urged a probe into potential war crimes committed by Hunka. (ER: and right there we have a common cause between Russia and enemy Poland)
************
Featured image source, Sabina Sparwasser: https://diplomatonline.com/mag/2018/12/envoys-album-winter-2019/diplomat_2018-12-29_0116/
••••
The Liberty Beacon Project is now expanding at a near exponential rate, and for this we are grateful and excited! But we must also be practical. For 7 years we have not asked for any donations, and have built this project with our own funds as we grew. We are now experiencing ever increasing growing pains due to the large number of websites and projects we represent. So we have just installed donation buttons on our websites and ask that you consider this when you visit them. Nothing is too small. We thank you for all your support and your considerations … (TLB)
••••
Comment Policy: As a privately owned web site, we reserve the right to remove comments that contain spam, advertising, vulgarity, threats of violence, racism, or personal/abusive attacks on other users. This also applies to trolling, the use of more than one alias, or just intentional mischief. Enforcement of this policy is at the discretion of this websites administrators. Repeat offenders may be blocked or permanently banned without prior warning.
••••
Disclaimer: TLB websites contain copyrighted material the use of which has not always been specifically authorized by the copyright owner. We are making such material available to our readers under the provisions of "fair use" in an effort to advance a better understanding of political, health, economic and social issues. The material on this site is distributed without profit to those who have expressed a prior interest in receiving it for research and educational purposes. If you wish to use copyrighted material for purposes other than "fair use" you must request permission from the copyright owner.
••••
Disclaimer: The information and opinions shared are for informational purposes only including, but not limited to, text, graphics, images and other material are not intended as medical advice or instruction. Nothing mentioned is intended to be a substitute for professional medical advice, diagnosis or treatment.