ER Editor: It may seem wimpy to have this sort of reaction to a retirement age which is higher or even non-existent in other countries. However, there is something about this topic which clearly strikes at the French psyche. It always has. And this coming after 3 years of some of the worst lies and tyranny people have lived through (everywhere).
In France there are still healthcare workers who haven't been reinstated and haven't made any kind of paycheque in over 550 days. A nasty side of this country was emerging through the Gilets Jaunes (Yellow Vest) period (November 2018 up to Covid, early 2020), with extreme police violence on display and a very corrupt judiciary prosecuting ordinary protestors at lightning speed on behalf of Macron. Their real crime? Being poor. There are few 'breaks' in France, with its low wages, high taxation and a difficult employment situation at the best of times. And a very authoritarian attitude coming from the privileged top. We know this from personal experience. The retirement age was perhaps one of those breaks. And now it's been obviously trampled. After 3 years of obvious Covid/vaccine tyranny that produced an extraordinary degree of sheepishness, this is the safety valve that's been released on the French. THE event designed to make the pot boil over and then some. The nasty side of this country has just gotten worse over time. It's one of the European countries under a great degree of Rothschild control historically. We hope this is coming to an end.
We need to remember that pension reform was always hanging over the heads of the French under Rothschild boy Macron. It had been announced way way back. That and destruction of the healthcare system and other aspects of the public sector, which clearly came to light during Covid.
Macron isn't the original one (do a simple google search to see), and we truly have no idea who is driving this baiting of the public. Readers familiar with the term 'white hats' will understand. We still feel in our bones that this is all a movie designed to wake the sleepers up. To get his pension reform through, Macron plays the tyrant in invoking article 49.3 giving the executive special constitutional powers, thereby putting his OWN government at risk of a no-confidence vote. It's all pretty nonsensical. And it just happens to coincide with some of the biggest issues coming up in other countries (bank failures, J6 revelations, Project Veritas / subcommittee hearings into Covid origins, Matt Hancock revelations in the UK, Ukraine failure, etc.) March madness or March orchestration.
Below we have a summary by RT, a brief reaction by a French police union, and a short article on what invoking article 49.3 means. First, some tweets.
********
Translation: 64% of the French are opposed to the pension reform. 72% support the mobilization. The abusive use of the 49.3 (11 times) by this #Macron regime demonstrates that democracy is no longer an empty word and that this authoritarian regime is causing chaos.
64% des Français sont opposés à la réforme des retraites. 72% soutiennent la mobilisation.
L'utilisation abusive du 49.3 (11 fois) par ce régime #Macron démontre que la démocratie n'est plus qu'un vain mot et que ce régime autoritaire provoque le chaos. #ReformedesRetraite https://t.co/2MWXbAqVkS

— Virginie Joron (@v_joron) March 17, 2023
Translation: MACRON USES 49-3 IN A PANIC
The leaders of LR, including Retailleau, were very worried this morning because everything indicated that the pension reform would be rejected.Macron is panicking and is using the 49-3, which will lead to a motion of censure. If it is voted, Borne falls.
🚨 MACRON RECOURT DANS LA PANIQUE AU 49-3
Les chefs de LR,dont Retailleau, étaient très inquiets ce matin car tout indiquait que la réforme des retraites serait rejetée.
Macron affolé sort donc le 49-3,ce qui va entraîner une motion de censure.
Si celle-ci est votée, Borne tombe. pic.twitter.com/UcgYughSkr

— François Asselineau (@UPR_Asselineau) March 16, 2023
Translation: What a huge crowd!!! The police, although in number, are backing down in front of the determined demonstrators. No violence on either side for the moment.
Le monde fou !!!

La police pourtant en nombre recule devant les manifestants déterminés. Aucune violence des deux côtés pour l'instant. pic.twitter.com/WILmpoIW4r

— Ilan #greve15mars (@Ilangabet) March 16, 2023
Translation: The demonstrators join massively the Place de la Concorde in Paris following the passage in force of the Reform of the Pensions with the 49,3
Les manifestants rejoignent massivement la Place de la Concorde à Paris suite au passage en force de la Réforme des Retraites avec le 49,3 pic.twitter.com/RordoFrbvD

— 🇫🇷 Alex 77 Matricule 207 (@Alex77zz) March 16, 2023
Translation: ALERT INFO – Thousands of people are heading to the Place de la Concorde in #Paris following the use of the 49-3: "It's going to blow!"
🇫🇷 ALERTE INFO – Des milliers de personnes se dirigent vers la Place de la Concorde à #Paris suite à l'utilisation du 49-3 : "Ça va péter !". (via @ClementLanot) #greve16mars #reformedesretraites pic.twitter.com/8lc4aRZDaL

— Mediavenir (@Mediavenir) March 16, 2023
****
Riots erupt after Macron raises retirement age
The French president forced his controversial pension reform bill through without a full vote in parliament
RT
French President Emmanuel Macron bypassed parliament and enacted a controversial pension reform package on Thursday, triggering riots and arson on the streets of Paris. The move, which raises France's retirement age to 64, had already caused months of strikes and protests.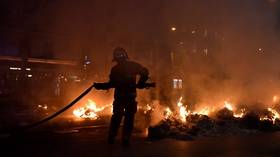 French President Emmanuel Macron bypassed parliament and enacted a controversial pension reform package on Thursday, triggering riots and arson on the streets of Paris. The move, which raises France's retirement age to 64, had already caused months of strikes and protests.
Macron invoked a special constitutional power to pass the bill, immediately before a vote was set to take place. Prime Minister Elisabeth Borne announced the decision in the National Assembly, as opposition lawmakers booed, jeered, and sang. (ER: How much more provocation could you make as a president?)
Under the power invoked by Macron and Borne, the bill is considered passed unless a majority of lawmakers file a motion of no confidence against the government in the next 24 hours. Right-wing leader Marine Le Pen said that her National Rally party would back such a motion, as did a number of leftist leaders.
Macron has argued for months that France's pension system will go bankrupt unless citizens pump more money into the system. Raising the retirement age from 62 to 64 – which would still see French workers retire earlier than most of their European counterparts – would be a "just and responsible" way to achieve this, he said in January. (ER: Isn't the entire pension system GONE? Aren't our countries actually bankrupt?)
France's trade unions – who have protested the reforms since last year – have argued that the system should instead be buoyed by increasing taxes on the wealthy. (ER: The ones who did precisely NOTHING over workers losing their fundamental rights and income during the plandemic.)
Thousands of protesters gathered in Paris as Macron's bill was passed. Near parliament buildings, police fired tear gas at the demonstrators and faced off against the crowd in lines.
Rioters set fires and blocked roads throughout the French capital, as groups of masked protesters clashed with riot police.
Prior to the bill's passage, almost half a million people protested in cities across France on Wednesday, according to figures from the Interior Ministry. Police have already made 73 arrests in the capital, Le Figaro reported, citing a police source.

(ER: If these numbers are coming from the government, they should be multiplied several times. We learned this with the Gilets Jaunes, where 1.2 million people were estimated by police unions to be out on November 17, 2018, the first day. The government said through their media shills that it was 220,000. You couldn't make this up.)
********
This from a police union —
The use of 49.3 to force through the unjust pension reform is a humiliation for parliament and a provocation for working France.
SYNDICATE FRANCE POLICE
Setting fire to the powder while the country is on the verge of implosion is irresponsible.
Our union calls on MPs to step up and vote urgently on a transpartisan censure motion.
This reform serves primarily as private interests, in this case insurance companies and other pension funds which sell more and more contracts each year.
We call on all opponents of this despicable reform to continue the struggle peacefully.
Violence would discredit the just opposition fight led by workers.
Don't let go !
********
Pension reform: what happens if a motion of censure passes?
After recourse to article 49.3, Thursday, March 16, to have the pension reform adopted, the government is exposed to one or more motions of censure.
CAROLINE FRUEHAUF for RTL
Thursday, March 16, after the Prime Minister resorted to article 49.3 to have the pension reform adopted, the parliamentary group Libertés, Indépendants Outre-mer et Territoires (LIOT) threatened to table a cross-partisan motion of censure. This could be voted on by deputies from several groups.
To table a motion of censure, it is necessary to obtain 58 signatures of deputies. After the various appeals to 49.3, motions of censure were already tabled  by the National Rally (RN) and France Insoumise (LFI). However, they never garnered enough votes.
Thursday March 16, the RN and LFI thus indicated that they wanted to file motions of censure. However, that of the LIOT group, which is transpartisan, could be voted on by more deputies . "This is perhaps the first time that a  motion of censure  can indeed overthrow the government," said Green MP Julien Bayou.
A possible resignation of the government
"The motion of censure must bring together the votes of the absolute majority of the members of the National Assembly, i.e. 289 votes , indicates the site viepublique.fr . This would require that almost all opposition deputies, from the RN to LFI, but also Republicans, agree on this text. The motions of censure tabled on Friday March 17 could be debated during the weekend or Monday March 20.
If it votes a motion of censure, the National Assembly can cause the resignation of the government.
************
••••
The Liberty Beacon Project is now expanding at a near exponential rate, and for this we are grateful and excited! But we must also be practical. For 7 years we have not asked for any donations, and have built this project with our own funds as we grew. We are now experiencing ever increasing growing pains due to the large number of websites and projects we represent. So we have just installed donation buttons on our websites and ask that you consider this when you visit them. Nothing is too small. We thank you for all your support and your considerations … (TLB)
••••
Comment Policy: As a privately owned web site, we reserve the right to remove comments that contain spam, advertising, vulgarity, threats of violence, racism, or personal/abusive attacks on other users. This also applies to trolling, the use of more than one alias, or just intentional mischief. Enforcement of this policy is at the discretion of this websites administrators. Repeat offenders may be blocked or permanently banned without prior warning.
••••
Disclaimer: TLB websites contain copyrighted material the use of which has not always been specifically authorized by the copyright owner. We are making such material available to our readers under the provisions of "fair use" in an effort to advance a better understanding of political, health, economic and social issues. The material on this site is distributed without profit to those who have expressed a prior interest in receiving it for research and educational purposes. If you wish to use copyrighted material for purposes other than "fair use" you must request permission from the copyright owner.
••••
Disclaimer: The information and opinions shared are for informational purposes only including, but not limited to, text, graphics, images and other material are not intended as medical advice or instruction. Nothing mentioned is intended to be a substitute for professional medical advice, diagnosis or treatment.