ER Editor: What is clear from this piece is the EU's willingness to ramp up the literal, kinetic war side of things by sending in arms. While spending an additional $500 million it as a bankrupt entity doesn't have. This after spending mountains on the Covid scamdemic.
********
EU Provides $500 Million To Buy Arms For Ukraine; Turkey Readies Closure Of Straits To Russian Navy
Update (1750ET): There's now an EU-wide consensus on supplying Ukraine with arms amid reports that large columns of ground and armored forces are moving closer to Kiev, and as fighting rages across other parts of Ukraine. "European Union member states on Sunday agreed to unblock 450 millions euros ($500 million) for members states to buy arms for Ukraine, the bloc's foreign policy chief Josep Borrell said," the AFP reports.
"The measure is part of a wide-ranging package of support and sanctions agreed by the 27 EU states. Borrell said they also formally approved a move to ban any transactions with the Russian Central Bank." It comes as unconfirmed reports suggest Putin may be frustrated at the slower than expected progress of the Russian forces.
Also on Sunday for the first time, Turkey signaled it is ready to block Russian naval access to the Black Sea…
"Turkey's foreign minister said Sunday that the situation in Ukraine had become a war, a legal distinction that paves the way for Ankara to potentially ban Russian warships from entering the Black Sea through a strategic chokepoint," The Wall Street Journal reports. The terms of the 1936 Montreux Convention is now expected to be triggered. Speaking to CNN Turk Foreign Minister Mevlüt Çavuşoğlu said:
"We came to the conclusion that the situation in Ukraine has transformed into a war," and this means "We will implement all articles of Montreux transparently."
Last Thursday – which was the first day of the all-out Russian invasion, Ukraine's government urged Turkey to close the Bosphorus and Dardanelles Straits for all Russian warship passage.
Meanwhile, things may be covertly ratcheting up in terms of Western support for a Ukrainian insurgency against the Russian advance and presence in Ukraine.
Though unconfirmed, the latest statements out of the Ukrainian presidential official include the following:
11 Russian troop transport ships are inbound to Odessa
Each ship containing one battalion each
landing to be attempted
* * *
Update (1517ET): The State Department is now warning all US nationals inside Russia to consider leaving the country immediately as more and more European airspace around Russia is being closed by the orders of Western allied governments as part of severe sanctions measures aimed at isolating Russia and its economy.
"US citizens should consider departing Russia immediately," a US Embassy-Moscow statement said.
Likely there are tens of thousands of US citizens or dual nationals in Russia.
Meanwhile both the White House and Pentagon have called Putin putting his nuclear forces posture on "high alert" an "unnecessary" and "escalatory" major step…
And the White House statement on Sunday included the following:
White House press secretary Jen Psaki said Sunday that Russian President Vladimir Putin's decision to put Russia's deterrence forces, which includes nuclear arms, on high alert are part of a wider pattern of unprovoked escalation and "manufactured threats" from the Kremlin.

"This is really a pattern that we've seen from President Putin through the course of this conflict, which is manufacturing threats that don't exist in order to justify further aggression — and the global community and the American people should look at it through that prism," Psaki told ABC's George Stephanopoulos on "This Week."

Additionally, a senior administration official told CNN on Sunday that Putin's move was "yet another escalatory and totally unnecessary step," a senior administration official said Sunday.
Meanwhile, even Switzerland is now reportedly looking to jump on the EU sanctions bandwagon as the economic noose tightens…
* * *
Update (1404ET): The mayor of Kiev Vitali Klitschko has declared that the capital city is now fully surrounded and under siege, preventing the possibility of civilians being evacuated.
When asked by press about emergency evacuation efforts, Mayor Klitschko responded: "We can't do that, because all ways are blocked," according to the AP. "Right now we are encircled."
Meanwhile there are new alarming reports suggesting sites in Ukraine storing radioactive waste are witnessing heavy fighting, suggesting the potential for large-scale contamination.
According to the latest breaking reports:
EU MINISTERS APPROVE SENDING JOINT MILITARY AID TO UKRAINE
SATELLITE FIRM MAXAR SAYS LATEST IMAGES SHOW LARGE DEPLOYMENT OF RUSSIAN GROUND TROOPS MOVING IN DIRECTION OF KYIV, APPROXIMATELY 40 MILES/64 KM AWAY
SWISS PRESIDENT CASSIS TELLS TELEVISION IT "VERY PROBABLE" THAT SWITZERLAND WILL FOLLOW EUROPEAN UNION ON MONDAY IN SANCTIONING RUSSIA AND FREEZING ASSETS
MAXAR SAYS RUSSIAN CONVOY EXTENDS MORE THAN 3.25 MILES (5 KM) AND CONTAINS FUEL, TANKS
FEDEX SAYS SERVICES IN AND OUT OF RUSSIA ARE TEMPORARILY SUSPENDED UNTIL FURTHER NOTICE -WEBSITE
UPS SAYS INTERNATIONAL SHIPMENTS TO RUSSIA, UKRAINE SUSPENDED UNTIL FURTHER NOTICE
* * *
Update (1200ET): Despite the relatively positive news that Ukraine has agreed to talks with Russia, the European Union has issued a notable escalation in its 'sanctions' against Russia.
European Commission President Ursula von der Leyen said Sunday that the 27-nation bloc will close its airspace to Russian airlines, fund supplies of weapons to Ukraine and ban some pro-Kremlin media outlets in response to Russia's invasion.
"For the first time ever, the European Union will finance the purchase and delivery of weapons and other equipment to a country that is under attack."

Von der Leyen added that "we are shutting down the EU airspace for Russians. We are proposing a prohibition on all Russian-owned, Russian registered or Russian-controlled aircraft. These aircraft will no more be able to land in, take off or overfly the territory of the EU."

First, we are shutting down the EU airspace for Russian-owned, Russian registered or Russian-controlled aircraft.

They won't be able to land in, take off or overfly the territory of the EU.

Including the private jets of oligarchs. pic.twitter.com/o551M9zekQ

— Ursula von der Leyen (@vonderleyen) February 27, 2022

She said also the EU will ban "the Kremlin's media machine. The state-owned Russia Today and Sputnik, as well as their subsidiaries, will no longer be able to spread their lies to justify Putin's war and to sow division in our union."

"We are developing tools to ban their toxic and harmful disinformation in Europe."
Hungary – for now – has said that it won't supply arms to Ukraine.
*  *  *
As we detailed earlier, in a hopeful sign of de-escalation, Ukrainian officials said they will meet Russian counterparts at the Belarus border, shortly after Vladimir Putin said he is putting Russia's nuclear forces on higher alert.
In a Facebook post, President Volodymyr Zelenskiy said that Ukraine has agreed to talks with Russia on the Belarusian-Ukrainian border.
"We have agreed that the Ukrainian delegation will meet with Russian without prior conditions on the Ukrainian-Belarusian border, in the area of the Pripyat River," Zelenskiy said. A delegation has already left Kyiv, Fedir Venislavskyi, a member of Zelenskiy's party, said in televised comments.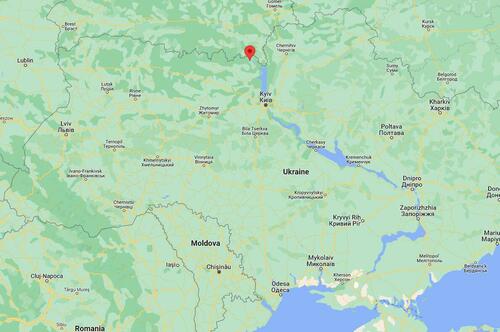 The Ukraine foreign minister said that he will go to listen to what Russia has to say and that he will not surrender territory.
The confirmation came after Russia earlier sent a negotiation team to the southeastern Belarusian city of Gomel. Kremlin spokesperson Dmitry Peskov said the "Russian delegation is ready for talks, and we are now waiting for the Ukrainians" in the Belarusian city of Homel, per AP.
In response, Zelensky said in a video address that he's open to talks, but not in Belarus which he said was not neutral territory.
"If there had been no aggressive action from your territory, we could talk in Minsk … other cities can be used as the venue for talks," Zelensky said. "We want peace, we want to meet, we want an end to the war," he added.

"Warsaw, Bratislava, Budapest, Istanbul, Baku — we proposed all that to the Russian side. Any other city would work for us, too, in a country from whose territory rockets are not being fired."
While an encouraging development, this won't be the first time that the two nations have exchanged proposals for a potential ceasefire, only to see the plans collapse.
The news helped push the weekend IG spread market for the "weekend Dow" higher by about 150 points although it remains well in the red from Friday's close.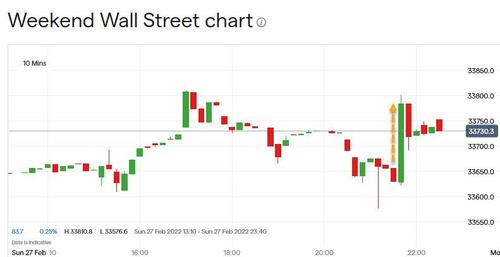 Meanwhile, in the latest battlefield developments, overnight Russian forces on Sunday attacked Kharkiv, Ukraine's second-biggest city. Much of Europe has closed its airspace to Russia, and offers of military assistance continue to flow in.
Also overnight, Western nations agreed to exclude some Russian banks from the SWIFT messaging system, used for trillions of dollars worth of transactions between banks around the world, further isolating Russia's economy and financial system.
************
••••
The Liberty Beacon Project is now expanding at a near exponential rate, and for this we are grateful and excited! But we must also be practical. For 7 years we have not asked for any donations, and have built this project with our own funds as we grew. We are now experiencing ever increasing growing pains due to the large number of websites and projects we represent. So we have just installed donation buttons on our websites and ask that you consider this when you visit them. Nothing is too small. We thank you for all your support and your considerations … (TLB)
••••
Comment Policy: As a privately owned web site, we reserve the right to remove comments that contain spam, advertising, vulgarity, threats of violence, racism, or personal/abusive attacks on other users. This also applies to trolling, the use of more than one alias, or just intentional mischief. Enforcement of this policy is at the discretion of this websites administrators. Repeat offenders may be blocked or permanently banned without prior warning.
••••
Disclaimer: TLB websites contain copyrighted material the use of which has not always been specifically authorized by the copyright owner. We are making such material available to our readers under the provisions of "fair use" in an effort to advance a better understanding of political, health, economic and social issues. The material on this site is distributed without profit to those who have expressed a prior interest in receiving it for research and educational purposes. If you wish to use copyrighted material for purposes other than "fair use" you must request permission from the copyright owner.
••••
Disclaimer: The information and opinions shared are for informational purposes only including, but not limited to, text, graphics, images and other material are not intended as medical advice or instruction. Nothing mentioned is intended to be a substitute for professional medical advice, diagnosis or treatment.