Just how important would you say the European Parliament is, both on a local (European) level and internationally?
In a pro-European Belgian newspaper in around 2001 I remember reading the results of a survey of Europeans with over 70 percent agreeing that the institution was an important body, while almost 80 percent admitting they didn't really know what it did.
The European Parliament's role often comes into question both by the staunch supporters of the EU and those who have lost faith in the EU as a whole. Recently, it was interesting to see MoroccoGate of QatarGate take up a lot of EU media oxygen as a bribery scandal rocked the very foundations of the parliament, forcing its president to act quickly and suspend the MEPs who were milking their positions and the EU for everything they could get. Notably, these MEPs were all fiercely pro-EU, at least in theory glancing at their political stripes (socialists), but in reality you could easily argue that they had no belief in the project as a whole, given that they were happy to piss in its soup.
What emerged not only from the parliament but from the EU as a whole were warnings that such scandals can bring the entire EU project to its knees and that corruption on all levels needs to be tackled head on. But, just as
Neil Kinnock in 1999 (see image) was brought in as Vice President to supposedly clean up graft, does it mean that in reality, just like Kinnock's role, the new initiative will be to cover it up better? Kinnock's legacy as Vice President was to draw up new internal EU roles, which the bulk of the British pro EU press genuinely believed was about preserving the sanctity of the EU. In reality, his first few years were dealt with him dealing with whistleblowers – which largely meant having briefings with journalists where he defamed them and claimed they were mentally unwell. I should know. I was at one of those briefings in his huge Brussels office. He soon drew up new rules which practically made it impossible for whistleblowers to expose corruption and keep their jobs and their rights. Kinnock himself – and his family, who all had EU jobs – returned to the UK after almost a decade of riding the EU gravy train at least 6 million quid in assets and cash which the now defunct News of the World wanted to claim was in reality closer to 10m pounds using friends and family to purchase properties on his behalf, before, that is, he threatened to sue them hours before publication.
Corruption is really the very heart of what the EU is about. The beating heart of the EU institutions is greed and self-gratification either by hook or by crook. And with almost no real accountability, looking beyond the phalanx of fake watchdogs or graft investigation authorities, it's hardly surprising that socialist MEPs – who belonged to the same pan-EU group in the European parliament as the Kinnocks – would be found with millions of euros of cash stuffed in suitcases under their beds in their Brussels' apartments like Kaili and Panzeri.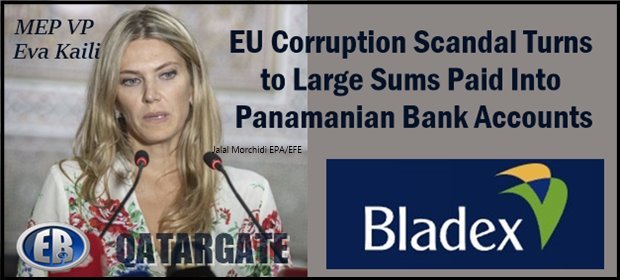 But now we are led to believe that the European parliament itself is doing something about this bribery scandal, preventing another one from happening. Some leading MEPs, apparently, believe it would have never happened if Panzeri was not allowed to act as a lobbyist when he lost his MEP seat and continued to work in the parliament in the murky world of consultancy.
Remarkably, this is the focus of attention. We should remember of course that the phoney democracy that the EU is, produced a parliament a couple of years after the entire grandiose project launched. It is only at best a rubber-stamping body which was mainly created to give the EU some credibility as something vaguely democratic. If that were the case, of course, the MEPs would be allowed actually to propose new EU laws. Given that this is beyond their reach, we could at least assume that this institution is merely window dressing at best.
And within this mindset, it is hardly surprising that such scandals which involve bribing MEPs to gain influence or, in the case of Morocco and Qatar, whitewash their appalling human rights records, exist in the first place. I would argue that the latest scandal probably only scratches the surface and that a lot more of this 'pay-as-you-go' bribery for influence is happening, and that the europress, whenever they stumble across it, feel it their duty – as also part of the corruption – to cover it up. Journalists in Brussels are pro-establishment and actually believe that they are self-harming if they actually do any erudite reporting of the dark side of the EU.
The real story here is that the MEPs themselves – even the ones who are not taking bribes – have known about this murky world and are not remotely interested in cleaning it up, which makes their recent acerbic tutelage which they delivered to the Moroccans about their human rights record and their banged-up journalists preposterous, if not hilarious.
MEPs think about themselves and their careers first, their political party second, their own country third and the EU's sanctity last, if at all. When they recently suggested that the rules about MEPs becoming lobbyists when they leave office needed amending, what they were really doing is thinking about themselves and how hard it would be to keep the payments up, not to mention cash flowing to keep their mistresses in the life they aren't accustomed – and so came up with this plan which still allowed them to suck the milk from the EU teat while pretending that they cared about sleaze. Six-months break? Are they having a laugh? If they were serious then they would propose an entire five-year gap, but this of course would make them very unpopular with their older bosses who are eyeing a key, high-paying appointment with Weber Shandwhick or Hill and Knowlton or any of the other sleaze operations which represent the interests of shareholders of the largest and most powerful corporations in the world.
Fuck the EU.*
*ER: an ironic reminder of Victoria Nuland's famous words years ago around the time of the 2014 Maidan western deep state coup in Ukraine.
************
Photo inset, Neil Kinnock: Fox Photos/Hulton Archive/Getty Images
Featured image, EU flag: Kenzo Tribouillard/AFP via Getty Images
Featured image, EU Parliament: Kenzo Tribouillard/AFP via Getty Images
••••
The Liberty Beacon Project is now expanding at a near exponential rate, and for this we are grateful and excited! But we must also be practical. For 7 years we have not asked for any donations, and have built this project with our own funds as we grew. We are now experiencing ever increasing growing pains due to the large number of websites and projects we represent. So we have just installed donation buttons on our websites and ask that you consider this when you visit them. Nothing is too small. We thank you for all your support and your considerations … (TLB)
••••
Comment Policy: As a privately owned web site, we reserve the right to remove comments that contain spam, advertising, vulgarity, threats of violence, racism, or personal/abusive attacks on other users. This also applies to trolling, the use of more than one alias, or just intentional mischief. Enforcement of this policy is at the discretion of this websites administrators. Repeat offenders may be blocked or permanently banned without prior warning.
••••
Disclaimer: TLB websites contain copyrighted material the use of which has not always been specifically authorized by the copyright owner. We are making such material available to our readers under the provisions of "fair use" in an effort to advance a better understanding of political, health, economic and social issues. The material on this site is distributed without profit to those who have expressed a prior interest in receiving it for research and educational purposes. If you wish to use copyrighted material for purposes other than "fair use" you must request permission from the copyright owner.
••••
Disclaimer: The information and opinions shared are for informational purposes only including, but not limited to, text, graphics, images and other material are not intended as medical advice or instruction. Nothing mentioned is intended to be a substitute for professional medical advice, diagnosis or treatment.