ER Editor: Our Middle Europe (Unser Mittel-Europa) also picked up the story on AfD figure, Tino Chrupalla (browsers will translate) — see Attack on AfD boss: Chrupalla in intensive care – lethal injection involved?
The latest attack on an AfD politician, this time Tino Chrupalla, follows on from a rather brutal August 2023 attack on Andreas Jurca, a 35 year old town councilman running on the AfD platform. See this Gateway Pundit piece —
Regarding the mob attack on Jurca, and the collaborative role of the German government with Antifa:
On the ground, the mob kicked and pummeled him, calling him an "F*** ing Nazi".

The shortsighted Jurca lost his glasses, his ankle was broken and his face severely battered. Jurca has a 5-year-old daughter and a six-month-old son. State elections will take place in Bavaria on Oct. 8. The AfD is tied with the Greens in 2ndplace at 14%.

Left-wing accounts and journalists spread hate and fake news, claiming that Jurca had been injured in a drunken bar brawl. It was a lie, total "disinformation".

In the neighboring state of Hesse, which also votes on Oct. 8., Antifa Frankfurt released the photos and addresses of all AfD candidates, including their license plate numbers and hobbys, akin to an assassination dossier. The leftist radicals urged "militant action" to "make their lives hell." Local law enforcement and the state police shared the Antifa links, thus further endangering the politicians' lives.

Commemorating 75 years of the German constitution on Thursday, socialist President Frank-Walter Steinmeier used the bully pulpit to incite against the AfD in the name of "democracy," thus further inciting Antifa violence.

Government-funded NGOs like HateAid conspire with pubweb journalists like ARD's George Restle to incite hatred against the AfD, in complete violation of neutrality rules for journalists and publicly funded bodies, while claiming to defend "democracy" and "rule of law". Interior minister Nancy Faeser, whose job it would be to enforce the law, wrote an article for "Antifa" magazine 2021 and posed for photos with Antifa radicals. Faeser's ministry funds the hate groups together with Green pro-groomer "Family Minister" Lisa Paus.

Despite their €200 million yearly funding for "protecting democracy" in Germany, threats of violence and professional and personal destruction, the AfD is currently the most popular single party in Germany at 23% nationwide, due to the abysmal failure of the mainstream parties and far-left agenda. Hate and violence are expected to increase even more as the party gains support.
See also this Breitbart report from August regarding an attack on AfD politician Beatrix von Storch with dog faeces —
Of note:
Amid the increased popularity of the right-wing populist party, which is

currently polling in second place

after surpassing Chancellor Olaf Scholz's Social Democrats, there has been an increasing level of fearmongering in the establishment media, in both Germany and internationally over the supposed rise of the "far-right".

There have also been growing calls within Germany to impose a ban on the AfD to somehow "protect" democracy.
This makes 3 attacks on AfD politicians in as many months.
***
A reminder that the Alternative fur Deutschland (AfD) party was founded by an economist to address the economic plight of people in the region of the former East Germany.
********
German opposition party leader hospitalized after alleged attack
AfD's Tino Chrupalla collapsed after taking selfies at an event following what the German political party called an "assault incident"
RT
Tino Chrupalla, the co-chair of the right-wing Alternative for Germany (AfD) party, was hospitalized on Wednesday after collapsing at a campaign event in Ingolstadt, the party's national website reported.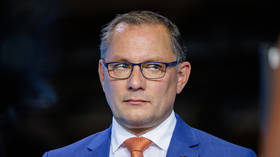 .
While the details of the incident have not been officially made public, the party hinted at an "assault incident" precipitating his collapse.
Sources exclusively told RT.de that the politician was attacked using a syringe containing an unknown liquid that caused anaphylactic shock. Police reportedly told Austrian journalist Gerald Grosz, who was also listed to speak at the rally, that Chrupalla had collapsed after taking selfies with members of the public.
The Upper Bavaria North Police Headquarters announced on Wednesday evening that Chrupalla was found to have had no apparent injury at the hospital, according to German news outlet Focus, though other outlets have indicated that his situation is "still being clarified."
The Ingolstadt Criminal Investigation Department is reportedly looking into the incident, and police have asked any attendees who took photos or videos in the area to submit them online via a special upload portal.
Chrupalla's AfD co-chair, Alice Weidel, had canceled a Unity Day appearance in Bavaria-Thuringia on Tuesday for security reasons following a threat of attack to her second home in Switzerland that required the relocation of her family with a security escort.
AfD members and their families frequently require personal protection due to violent threats, physical attacks, and vandalism, according to German media outlets – Chrupalla himself has been attacked before – but party representative Stephan Brandner told NZZ that a threat requiring the relocation of a politician and her entire family to a safe house was unprecedented in post-war Germany.
The party's defense policy spokesman, Rudiger Lucassen, warned the outlet that the "heated political climate" in which AfD was routinely demonized by other parties could easily produce "an attack with fatal consequences against one of our members."
While the AfD has grown in popularity among the German electorate to the point that it plans to nominate its own candidate for chancellor for the first time in 2025, victory would require one or more coalition partners to run the federal government. Germany's other parties have thus far refused to work with the right-wing populists, who are often denounced as extremist bogeymen by the media.
The AfD's youth wing was designated an extremist organization by the German federal government earlier this year, subjecting its members to covert surveillance and onerous legal hurdles for employment and weapons licenses.
The party has been illegally shut out of the two main public news channels and was labeled a suspected threat to democracy last year, while some in party leadership worry that despite – or perhaps because of – its increasing popularity, attempts may soon be made to ban it from politics entirely.
Founded in 2013, AfD is known for its tough stance on migration, LGBTQ rights, and EU bureaucracy. The party has surged in popularity in recent years, polling second after former Chancellor Angela Merkel's Christian Democratic Union.
************
Featured image, Tino Chrupalla: Tino Chrupalla (X/@Megatron_ron)
Featured image, Beatrix von Storch: Omer Messinger/Getty Images
Featured image, Andreas Jurca: X / Twitter
••••
The Liberty Beacon Project is now expanding at a near exponential rate, and for this we are grateful and excited! But we must also be practical. For 7 years we have not asked for any donations, and have built this project with our own funds as we grew. We are now experiencing ever increasing growing pains due to the large number of websites and projects we represent. So we have just installed donation buttons on our websites and ask that you consider this when you visit them. Nothing is too small. We thank you for all your support and your considerations … (TLB)
••••
Comment Policy: As a privately owned web site, we reserve the right to remove comments that contain spam, advertising, vulgarity, threats of violence, racism, or personal/abusive attacks on other users. This also applies to trolling, the use of more than one alias, or just intentional mischief. Enforcement of this policy is at the discretion of this websites administrators. Repeat offenders may be blocked or permanently banned without prior warning.
••••
Disclaimer: TLB websites contain copyrighted material the use of which has not always been specifically authorized by the copyright owner. We are making such material available to our readers under the provisions of "fair use" in an effort to advance a better understanding of political, health, economic and social issues. The material on this site is distributed without profit to those who have expressed a prior interest in receiving it for research and educational purposes. If you wish to use copyrighted material for purposes other than "fair use" you must request permission from the copyright owner.
••••
Disclaimer: The information and opinions shared are for informational purposes only including, but not limited to, text, graphics, images and other material are not intended as medical advice or instruction. Nothing mentioned is intended to be a substitute for professional medical advice, diagnosis or treatment.