ER Editor: A two-fer on Alberta's new premier Danielle Smith, from Zerohedge and LifeSite News. Canada's MSM, along with the university crowd and the NDP (Canada's left-leaning party, traditionally of the people but now full-on globalist), are dredging up the typical 'conspiracy theory' garbage in relation to Smith calling out the WEF. Smith's also abandoning school mask mandates. Kudos.
See this short video report by City News: Premier Danielle Smith challenges Alberta judge's mask mandate ruling
********
Alberta's New Premier Under Attack For Refusing To Associate With WEF
Recently noted as an opponent of vaccine and mask mandates, new Alberta Premier Danielle Smith is breaking previously established ties with the World Economic Forum, which has been deeply involved in a "health consulting agreement" revolving around the province's covid response.
"I find it distasteful when billionaires brag about how much control they have over political leaders," Smith said at a news conference Monday after her new cabinet was sworn in. "That is offensive … the people who should be directing government are the people who vote for them."
The United Conservative Party premier said she is in lockstep with federal Conservative Leader Pierre Poilievre, who has stated he and his caucus will having nothing to do with the World Economic Forum.  Earlier this month, on her first day as premier, Smith stated that people not vaccinated against covid are the most discriminated group she has seen in her lifetime. (ER: Pierre Poilievre was certainly part of the WEF; he has tried to scrub online evidence of his previous associations, which is suspicious. To the problem of suspended, unvaccinated healthcare workers, he suggested employing overseas professionals. There may be few likenesses between Smith and Poilievre.)
In response, the Canadian mainstream media (ER: CBC, the public broadcaster) is pursuing a thorough hatchet campaign against Smith, consistently referring to all opposition to the WEF as being based in "conspiracy theory." As they say, if you want to know who is really in power, all you have to do is find out who you are not allowed to criticize.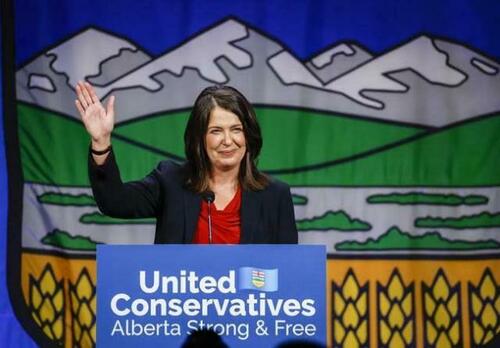 After two years of authoritarian lockdowns and attempts to enforce vaccine passports in Canada, Alberta was one of the only regions in the country that asserted political opposition to executive dictates.  This helped to support the anti-passport protests by truckers and other Canadians, and led to Justin Trudeau using provisions for terrorism to confiscate donations to the movement.  Alberta's covid averages in terms of infections and deaths are no worse than provinces with strict mandates, proving once again that the mandates achieved nothing in terms of safety, but everything in terms of control.
The Canadian Press and other media outlets claim that criticism of the WEF is built on "online conspiracy accusations, unproven and debunked, that the forum is fronting a global cabal of string-pullers exploiting the pandemic to dismantle capitalism and introduce damaging socialist systems and social control measures, such as forcing people to take vaccines with tracking chips."
Every "conspiracy" noted in that statement is true – none of them have been "debunked" except perhaps the "tracking chip" claim, which is unnecessary because the WEF was already encouraging governments to use cell phone tracking apps to monitor the vaccine status and movements of their respective populations.  Many of these apps were approved by the CDC in the US, and in countries like China they are mandatory.
The World Economic Forum, acting as a kind of globalist think-tank for future policy initiatives, was instrumental in promoting many of the failed restrictions used by various national governments during the pandemic.
WEF head Klaus Schwab specifically mentions in his writings that the institution saw covid as a perfect "opportunity" to implement what he calls the "Great Reset" which includes the concept of the "Shared Economy," a global socialist technocracy meant to replace free markets and end capitalism as we know it. As the WEF states, you will "own nothing, have no privacy" and you will like it.
This is not conspiracy theory.  This is openly admitted conspiracy fact.  It is undeniable.
The use of the "conspiracy theory" label is generally a tactic designed to circumvent fair debate based on facts and evidence.  If the Canadian Press was forced to defend their position based on the information at hand, they would lose.  So, they instead try to inoculate their readers to opposing arguments by calling them "conspiracy theory" in the hope that those readers will never research the information further.
The Canadian media then cites quotations that specifically argue that not working with the WEF would put the Alberta public at a disadvantage because it would cut them off from information that the WEF provides.
It's important to mention that there is no evidence that the WEF has provided any life saving health information to date concerning the covid pandemic.  In fact, there is no evidence that the WEF is useful to the Canadian public in any way.  The mainstream media's bizarre and antagonistic reaction to Smith's shunning of a foreign organization of elitists that has no loyalty to the Canadian citizenry suggests that they may be operating from a foundation of bias.
Danielle Smith's bravery in cutting off WEF influence from Alberta is being met with a dishonest media response, but in the long run, she is making the best decision possible.  Taking advice from a potential parasite is not good leadership.
********
Alberta's new premier bans mask mandates from returning to schools
---
'The detrimental effects of masking on the mental health, development, and education of children in classroom settings is well understood…'
Screenshot/YouTube
"The detrimental effects of masking on the mental health, development, and education of children in classroom settings is well understood, and we must turn the page on what has been an extremely difficult time for children, along with their parents and teachers," said Smith in a statement announcing the new policy Saturday.
Smith's mask mandate ban came about in response to a recent Alberta Court of King's Bench ruling which stated that the removal of mask mandates in Alberta schools by the province's Minister of Education Adriana LaGrange earlier in the year was "unreasonable."
In February of this year, LaGrange banned all Alberta school boards from enacting face mask requirements for students. This was around the same time then-Premier Jason Kenney scrapped the province's vaccine passport system as the Freedom Convoy's popularity was rising.
The left-leaning group Alberta Federation of Labour (AFL) filed a lawsuit against the Alberta government stating that LaGrange's order barring masks in schools was not valid as she had overstepped her authority.
Justice G.S. Dunlop ruled in favor of the AFL, whose lawsuit applicants included five kids whose parents acted on their behalf and claimed their charter rights have been violated.
Dunlop wrote that LaGrange's order was "was made for improper purposes" but did not think the applicants' charter rights were violated.
"I have directed our Justice minister to assess whether an appeal of Thursday's Kings Bench Court decision is appropriate, and have instructed our government's ministers of Justice, Health and Education to alert me to any legislative or regulatory changes that may be necessary to reaffirm or clarify our government's full authority with respect to this and other health and education matters," said Smith.
Smith, since taking over as Premier from Kenney earlier in the month, has come out strong against vaccine mandates as well as the discrimination against the vaccine-free.
However, she supports abortion.
As for mask use, for a time they were mandatory in Alberta and in all of Canada. Evidence shows, however, they are ineffective at limiting the spread of the coronavirus.
A 2020 study by the U.S. Centers for Disease Control (CDC) found that after 15 minutes of use, a facemask is not at all effective in stopping the spread of COVID.
Also, a 2020 study published by the journal Emerging Infectious Diseases stated that it "did not find evidence that surgical-type face masks are effective in reducing laboratory-confirmed influenza transmission, either when worn by infected persons (source control) or by persons in the general community to reduce their susceptibility."
The burdensome mask policies for young children in the U.S. and Canada were far harsher than those in the rest of the world. For example, in the U.S., kids aged two and up – some still in diapers – were force-masked at daycares, schools, during speech therapy and in medical offices, and on airplanes.
************
••••
The Liberty Beacon Project is now expanding at a near exponential rate, and for this we are grateful and excited! But we must also be practical. For 7 years we have not asked for any donations, and have built this project with our own funds as we grew. We are now experiencing ever increasing growing pains due to the large number of websites and projects we represent. So we have just installed donation buttons on our websites and ask that you consider this when you visit them. Nothing is too small. We thank you for all your support and your considerations … (TLB)
••••
Comment Policy: As a privately owned web site, we reserve the right to remove comments that contain spam, advertising, vulgarity, threats of violence, racism, or personal/abusive attacks on other users. This also applies to trolling, the use of more than one alias, or just intentional mischief. Enforcement of this policy is at the discretion of this websites administrators. Repeat offenders may be blocked or permanently banned without prior warning.
••••
Disclaimer: TLB websites contain copyrighted material the use of which has not always been specifically authorized by the copyright owner. We are making such material available to our readers under the provisions of "fair use" in an effort to advance a better understanding of political, health, economic and social issues. The material on this site is distributed without profit to those who have expressed a prior interest in receiving it for research and educational purposes. If you wish to use copyrighted material for purposes other than "fair use" you must request permission from the copyright owner.
••••
Disclaimer: The information and opinions shared are for informational purposes only including, but not limited to, text, graphics, images and other material are not intended as medical advice or instruction. Nothing mentioned is intended to be a substitute for professional medical advice, diagnosis or treatment.