A ticket to digital slavery: Making access to music and sports events dependent on a Covid pass must be resisted
NEIL CLARK for RT
After a public outcry, Ticketmaster has denied it is planning to ask people to prove they are 'Covid-free' to attend concerts. But digitised health passports are being promoted elsewhere, and that puts us on a very slippery slope.
Imagine only being able to go to a pop concert if you had an app on your smartphone proving that you'd had a Covid vaccine or had tested negative within a 24-72 hour window.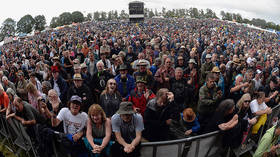 Well, according to Billboard magazine, that's what Ticketmaster, the UK's largest ticket agency, was planning to insist on in 2021. Quite understandably, the report provoked a fierce backlash on social media, with many calling for a boycott of Ticketmaster. So much so that the company released a statement saying that there would be 'absolutely no requirement' for mandatory vaccines.
But it has admitted it was exploring the possible use of the technology. And that – and other developments – should make us all very worried.
Like crime in multi-storey car parks, denying people access to events because they don't have a 'Covid pass' is wrong on so many different levels. We've had bad cases of flu before – most recently in 2017-18 – but it was never suggested then that people needed to prove they'd had a flu jab or didn't have a cold before they entered an arena.
So, what gives Covid-19 special status? Why does this one virus need to radically change how we live our lives? The answer is of course, The Great Reset. Digital 'access' passes are a key component of the World Economic Forum's programme to radically transform every aspect of our lives, but most certainly not in a positive way.
I wrote back in the summer how 'Clear's new Health Pass and other 'Covid hi-tech innovations' are a stark warning of how the globalist 'New Normal' being mapped out will operate. Access to travel, sport and restaurants may be barred for all who refuse to comply.'
In July, the WEF was enthusiastically promoting on social media a 'Covid-Pass App' that could "revive global travel and large events during the pandemic".
The new digital 'Common Pass' health passport scheme, backed by the WEF, and which was given start-up funding by the Rockefeller Foundation, was indeed piloted for the first time in October, for passengers flying from the UK to the US.
Just a month later, we hear that the English Premier League is close to agreeing a "blueprint" with the UK government "to add Covid-19 vaccine records to a digital health passport" to enable the return of crowds to football stadiums next year.
See where we're heading? The 'nut job' 'tin-foil hat' 'conspiracy theories' of April 2020 all seem to be coming true. In September, Prime Minister Boris Johnson said that he was hopeful a 'Freedom Pass', based on mass testing, would "enable people to return to and maintain normal life". But that's simply Orwellian: the truth is that such 'Freedom Passes' will only lead us even further away from normality and the lives we had prior to March 2020.
Once the idea of digitalised access passes is accepted, we're on a very slippery slope towards a totally controlled society.
At first it will be Covid-linked 'data' that's on your app, but it could easily be expanded using the new technology. We would have the basis of a 'social credit' system, as pioneered in China.
Imagine this: the citizen is given points on their digital 'passport' for behaviour deemed 'good' by the state, but loses points – and access – for behaviour deemed 'bad'. Getting a Coronavirus vaccine, plus the regular 'update' boosters, attendance at a diversity awareness course, use of an electric car and reducing one's 'carbon footprint' could see points gained.
A refusal to take a coronavirus vaccine, spreading 'disinformation' about government health policy online, expressing the 'wrong' opinions on social media, and persisting in driving a petrol-fuelled car could see points lost.
The 'goodies' would have access to travel, pop concerts, sporting events and everything else. The 'baddies' would be under virtual house arrest. When we factor in the roll-out of universal basic income – with millions dependent on the state for their income – the prospects for freedom become even more terrifying.
Ironically, the last concert my wife and I went to in the good old days before the Great Reset got going was by the brilliant ska band Madness at the Roundhouse in Camden, north London, just before Christmas 2019.
'Madness' is the best way to describe what's been happening in 2020. Trouble is: there's a method in it, too.
************
••••
The Liberty Beacon Project is now expanding at a near exponential rate, and for this we are grateful and excited! But we must also be practical. For 7 years we have not asked for any donations, and have built this project with our own funds as we grew. We are now experiencing ever increasing growing pains due to the large number of websites and projects we represent. So we have just installed donation buttons on our websites and ask that you consider this when you visit them. Nothing is too small. We thank you for all your support and your considerations … (TLB)
••••
Comment Policy: As a privately owned web site, we reserve the right to remove comments that contain spam, advertising, vulgarity, threats of violence, racism, or personal/abusive attacks on other users. This also applies to trolling, the use of more than one alias, or just intentional mischief. Enforcement of this policy is at the discretion of this websites administrators. Repeat offenders may be blocked or permanently banned without prior warning.
••••
Disclaimer: TLB websites contain copyrighted material the use of which has not always been specifically authorized by the copyright owner. We are making such material available to our readers under the provisions of "fair use" in an effort to advance a better understanding of political, health, economic and social issues. The material on this site is distributed without profit to those who have expressed a prior interest in receiving it for research and educational purposes. If you wish to use copyrighted material for purposes other than "fair use" you must request permission from the copyright owner.
••••
Disclaimer: The information and opinions shared are for informational purposes only including, but not limited to, text, graphics, images and other material are not intended as medical advice or instruction. Nothing mentioned is intended to be a substitute for professional medical advice, diagnosis or treatment.