ER Editor: Readers will surely be aware that the BBC or 'Beeb' has been a broadcasting bastion and icon in the UK for many decades. And is also a huge perpetrator of many things, including protecting the prolific pedophile, pervert and criminal, the late Jimmy Savile. A keeper and promoter of lying cabal narratives, it got a little eloquent and forceful exposure by Elon this week.
This is the full BBC interview with Elon Musk: https://twitter.com/i/spaces/1djGXldPqNyGZ Says Dr. Mike Yeadon on the Telegram channel (April 12) he shares with Robin Monotti and Cory Morningstar about this:
'This is fantastic. If you're short on time, try around 35 minutes onwards. The BBC journalist asks Musk about covid misinformation policy. Musk comments on the question, then challenges the journalist about misinformation from the BBC about masks and vaccine side effects. Musk directly accuses BBC of misinformation. When the journalist insisted that this is an interview about Musk, Musk observed that the questions posed apply equally to BBC. The narrative folds like a cheap suit when challenged. Best wishes Mike'
And
And it's not only the BBC: the entire edifice of British corporate journalism has come crumbling down with this interview; Britain's "journalists" are the laughing stock of the world & rightly so. British "journalism" is no more: it is an ex-parrot.. 

(ER: Monty Python reference to the dead parrot sketch)
The Daily Sceptic also picked up Daily Mail coverage of the event. See
Exposing the BBC matters, it really does. Kudos to Elon.
Elon Musk discovers what we already knew, BBC interviewers like asking pointed questions and making unsubstantiated allegations, but don't like answering any questions. A truly car crash interview for the BBC and any public accountability.

No wonder the BBC would not allow me to… pic.twitter.com/OWE1wHPPr2

— Andrew Bridgen (@ABridgen) April 12, 2023
********
"You Just Lied!": Elon Crushes BBC Reporter's Claims About 'Hate Speech' On Twitter
Less than a week after Twitter labeled the BBC "government funded media," owner Elon Musk gave an impromptu interview to the news agency on Tuesday evening at Twitter HQ, where he discussed topics ranging from layoffs, to misinformation, to his work habits, to the fact that most of the advertisers who left in a huff have now returned or said they will.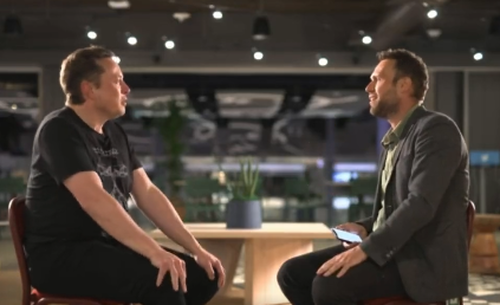 But who cares about most of that. Elon totally crushed the BBC reporter, James Clayton, by calling him out over the nanny state's favorite straw man – 'hate speech,' and then trying to get Clayton to admit he likes large black penises.
When asked why there's 'so much more hate speech on Twitter' since he took over, Musk pushed back – challenging Clayton to provide a single example. Clayton couldn't. '
"You said you've seen more hateful content but you can't name a single example. Not even one," said Musk.
To which Clayton replied: "I'm not sure I've used that feed for the last three or four weeks and I –"
"Then how could you see the hateful content? ..  I'm asking for one example. You can't give a single one." Musk interjected. "Then I say sir that you don't know what you're talking about … because you can't give a single example of hateful content, not even one tweet. And yet, you claimed that the hateful content was high. That's false. You just lied!"
Clayton then points to "many organizations that say that that kind of information is on the rise."
"Give me one example!" says Musk.
Watch:
Musk then amplified a discussion posted by Twitter user @KaneokaTheGreat, in which David Sacks explains how the establishment 'uses hate speech as a red herring to mask their true intention of exerting political censorship and controlling the narrative.'
"What the left has wanted to do since @elonmusk took over Twitter is to say that this is about allowing more hate on the platform, and that has never been the motivation for those of us who care about free speech… What is our main concern about censorship? It is political suppression. It's about narrative control.

"It's not like we want more hate on the platform. We want a level playing field. We don't want the thought police at Twitter putting their thumb on the scale of American democracy and deciding who has a voice and who doesn't. That's what this is really about. The people who believe in censorship want to make you think that this is about allowing more hate, and it's not."
.@DavidSacks explains how the establishment uses hate speech as a red herring to mask their true intention of exerting political censorship and controlling the narrative:

"What the left has wanted to do since @elonmusk took over Twitter is to say that this is about allowing more… pic.twitter.com/CaBXaddyO5

— KanekoaTheGreat (@KanekoaTheGreat) April 12, 2023
Throughout the interview and afterwards, Elon proceeded to make, and promote, BBC ('big black cock') jokes, as is the only appropriate move given the circumstance.
BBC: Why is there so much more hate speech on Twitter now?

Elon: Can you give me an example?

BBC: Uh…

Elon: Just one.

BBC: Uh… People say…

Elon: People say all sorts of nonsense. You don't know what you're talking about.

BBC: Let's move on!

Wow. Reporter got completely…

— David Sacks (@DavidSacks) April 12, 2023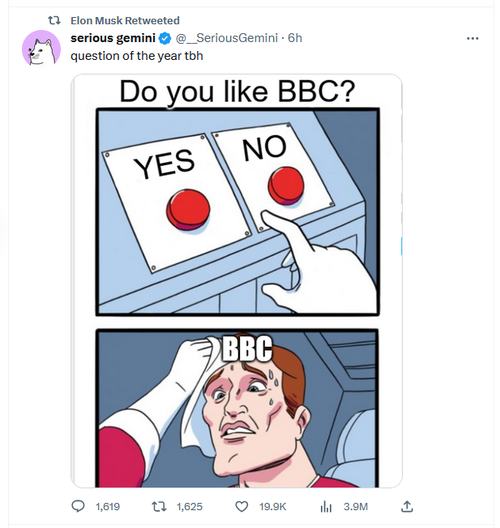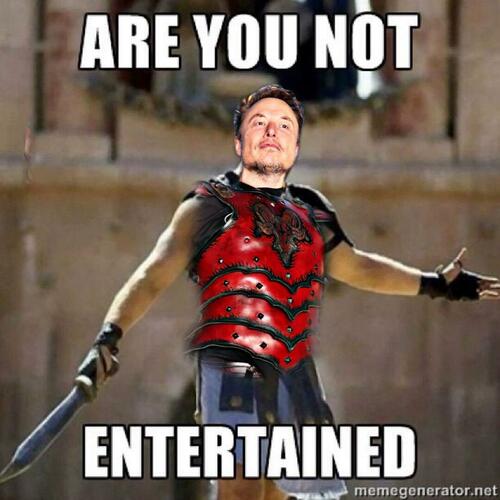 Of course, here's the BBC's take on the interview:
On buying Twitter: "It's not been boring. It has been quite a rollercoaster… It's been really quite a stressful situation."
On laying off staff: "I wouldn't say it was uncaring… If the whole ship sinks, then nobody's got a job."
On profits: "We could be profitable, or to be more precise, cash flow positive this quarter if things keep going well. I think almost all advertisers have come back or said they are going to come back."
On his controversial tweets: "Have I shot myself in the foot with tweets multiple times? Yes."
On labelling the BBC as "Government-funded media": "We're adjusting the label to… publicly funded… If we use the same words that the BBC uses to describes itself, then presumably that would be OK."
************
••••
The Liberty Beacon Project is now expanding at a near exponential rate, and for this we are grateful and excited! But we must also be practical. For 7 years we have not asked for any donations, and have built this project with our own funds as we grew. We are now experiencing ever increasing growing pains due to the large number of websites and projects we represent. So we have just installed donation buttons on our websites and ask that you consider this when you visit them. Nothing is too small. We thank you for all your support and your considerations … (TLB)
••••
Comment Policy: As a privately owned web site, we reserve the right to remove comments that contain spam, advertising, vulgarity, threats of violence, racism, or personal/abusive attacks on other users. This also applies to trolling, the use of more than one alias, or just intentional mischief. Enforcement of this policy is at the discretion of this websites administrators. Repeat offenders may be blocked or permanently banned without prior warning.
••••
Disclaimer: TLB websites contain copyrighted material the use of which has not always been specifically authorized by the copyright owner. We are making such material available to our readers under the provisions of "fair use" in an effort to advance a better understanding of political, health, economic and social issues. The material on this site is distributed without profit to those who have expressed a prior interest in receiving it for research and educational purposes. If you wish to use copyrighted material for purposes other than "fair use" you must request permission from the copyright owner.
••••
Disclaimer: The information and opinions shared are for informational purposes only including, but not limited to, text, graphics, images and other material are not intended as medical advice or instruction. Nothing mentioned is intended to be a substitute for professional medical advice, diagnosis or treatment.