ER Editor: A howler indeed. It's time such people were removed. The West has truly lost it. If Ollongren can carelessly disregard the amount of human life lost in Ukraine, and the estimates are considerable, she likely doesn't value the rest of us peasants, either. Some tweets —
Current estimates of over 500,000 Ukraine's killed in this war. More than all Americans in WWII.
Kajsa Ollongren is an evil NEOCON warmonger! https://t.co/967XkDocF7

— kim peyser (@KimPeyser) October 5, 2023
The MoD of the Netherlands, Kajsa Ollongren, said that Ukraine is a very cheap way to ensure that the Russian Federation does not pose a threat pic.twitter.com/LZU5ON8ICg

— Sprinter (@Sprinter99800) October 4, 2023
I feel profoundly ashamed after listening to Kajsa Ollongren, probably the most I've ever felt. These people have no place in any developed society, let alone in places of power, whose decisions impact the lives of generations. How did we end up here?! HOW?! pic.twitter.com/1FpF26kLSz

— Open your eyes (@openeyes_x) October 4, 2023
See the 2nd tweet here. We do not know if Ollogren is part of the royal Dutch bloodline, but the photo of her with Queen Beatrice is interesting —
… and who's @KajsaOllongren exactly?
Bloodlines? pic.twitter.com/Jz0w4wLwqs

— Future_Proves_Past (@Lieven Brekel) (@future_proves) October 5, 2023
"Ukraine is a very cheap way to make sure Moscow does not pose a threat to NATO"

— Kajsa Ollongren, Minister of Defence of the Netherlands

Ukrainians sold their independence for a bag of cookies, now Zelensky makes billions selling Ukrainians as cannon fodder…

Ukraine is the… pic.twitter.com/1VzRY60LCX

— Gabe (@GabeZZOZZ) October 4, 2023
********
Watch: NATO Minister Suggests Ukrainian Lives Are "Cheap"
In yet another instance of a Western official speaking the quiet part out loud,  the Netherlands' defense minister issued some controversial remarks on Wednesday wherein she referred to supporting Ukraine as a "cheap" way to ensure Europe's security.
"There are of course reasons to worry," Dutch defense chief Kajsa Ollongren began at the Warsaw Security Forum when asked her view on if the West can keep up the level of support needed for the Ukrainians to drive back Russia. She went on to speak of the 20-month old conflict raging on Europe's eastern doorstep in cost-effective terms.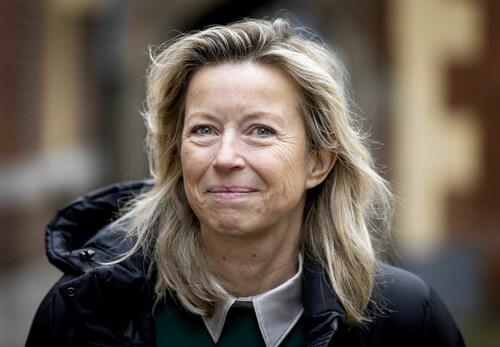 Her answer started by emphasizing that NATO allies have actually been bolstering their support of late which "surprised Ukraine, which surely surprised (Russian President Vladimir) Putin and the Kremlin."
"We also surprised ourselves I think that what we are capable of a lot, and we have proven that in the past year and a half, and the only thing we have to do is keep it up," she said. That's when she pivoted to talking about Europe's overall safety as taking primacy and not just Ukraine's.
She called developments in Washington – where Biden's desire to get tens of billions more approved for Kiev in next year's defense budget has been stymied in Congress – "worrying", and that US lack of support would be a "substantial" negative development..
"We cannot pretend that we'll just wait and see how the American elections are going," she said, adding that European politicians have to engage in the dialogue with American colleagues and friends.
That's she when she referenced the "very cheap way" to protect NATO…
Dutch minister of war Kajsa Ollongren: "It's very much in our interest to support Ukraine. Because they are fighting this war. (…) It is a very cheap way to make sure that Russia with this regime is not a threat to the NATO alliance." pic.twitter.com/VgNGnaQg5K

— Eric van de Beek (@beek38) October 5, 2023
"Because they have the same interest in a way of course, supporting Ukraine is a very cheap way to make sure that Russia with this regime is not a threat to the NATO alliance. And it's vital to continue that support," she said.
She had also emphasized "they are fighting this war, we [the Europeans] are not fighting it."
Of course, at a moment that common Ukrainians are suffering, with their country as ground zero for a ratcheting Russia-NATO proxy war, it's easy to see how they might logically interpret Ollongren's words as in actuality suggesting Ukrainian lives are cheap.
The Dutch Defense Minister said supporting Ukraine is a "very cheap way" of containing Russia.—So people's tears,losses,suffering and lives are a cheap way— pic.twitter.com/niRx8WvLKP

— Wolf (@Vuk02577707) October 5, 2023
A number of online commenters noted the Dutch defense chief's smugness in delivering these lines, given it's set against the tragic backdrop of many tens of thousands having died. The Cato Institute's Doug Bandow has previously written that some US-NATO officials appear willing to fight Russia "to the last Ukrainian" rather than pursue peace negotiations. Clearly Ollongren is in that camp.
************
Featured image source, Kajsa Ollongren: https://www.aa.com.tr/en/europe/dutch-defense-chief-says-supporting-ukraine-is-very-cheap-way-to-ensure-russia-not-threat-to-nato/3007133
••••
The Liberty Beacon Project is now expanding at a near exponential rate, and for this we are grateful and excited! But we must also be practical. For 7 years we have not asked for any donations, and have built this project with our own funds as we grew. We are now experiencing ever increasing growing pains due to the large number of websites and projects we represent. So we have just installed donation buttons on our websites and ask that you consider this when you visit them. Nothing is too small. We thank you for all your support and your considerations … (TLB)
••••
Comment Policy: As a privately owned web site, we reserve the right to remove comments that contain spam, advertising, vulgarity, threats of violence, racism, or personal/abusive attacks on other users. This also applies to trolling, the use of more than one alias, or just intentional mischief. Enforcement of this policy is at the discretion of this websites administrators. Repeat offenders may be blocked or permanently banned without prior warning.
••••
Disclaimer: TLB websites contain copyrighted material the use of which has not always been specifically authorized by the copyright owner. We are making such material available to our readers under the provisions of "fair use" in an effort to advance a better understanding of political, health, economic and social issues. The material on this site is distributed without profit to those who have expressed a prior interest in receiving it for research and educational purposes. If you wish to use copyrighted material for purposes other than "fair use" you must request permission from the copyright owner.
••••
Disclaimer: The information and opinions shared are for informational purposes only including, but not limited to, text, graphics, images and other material are not intended as medical advice or instruction. Nothing mentioned is intended to be a substitute for professional medical advice, diagnosis or treatment.