ER Editor: Macron debated Le Pen last night, the one and only debate before Sunday's second and final round in the presidential elections. Someone we know, sympathetic to Le Pen with good judgement, delivered this verdict: 'He ate Le Pen. He's good in this sphere', while noting at the same time his complete confidence and arrogance.
🇬🇧 The self satisfied, arrogant & narcissistic Macron during last night's debate with Marine le Pen. Many want him to go but he has a lifeline…the over 70's will vote massively for him & there are a lot of over 70's in France.
🇫🇷 https://t.co/Cg12e8AkFV

— john patton : DEFENSE DE L'OCCIDENT (@defenceofwest) April 21, 2022
50 nuances du poudré 🤢🤮#debatmacronlepen #ToutSaufMacon #MarinePrésidente pic.twitter.com/5BhFpTo6dy

— 🌿💤🇫🇷 L~S 🇨🇵💤🌿 (@SofBien) April 21, 2022
TRANSLATION: Macron came to the debate as if the presidential election was won in advance. He kept being arrogant, contemptuous, condescending and cutting off @MLP_official. His gestures and his tone were the demonstration.
Macron est venu au débat comme si la présidentielle était gagnée d'avance. Il n'a cessé d'être arrogant méprisant, condescendant et de couper là parole à @MLP_officiel

Ses gestuelles et son ton en étaient la démonstration.#ToutSaufMacon #TousContreMacron #debatmacronlepen pic.twitter.com/haiELkQ6w9

— Benjamin D (@CroizerDlw) April 21, 2022
********
Tyranny, decline, immigration… Towards a new infernal Macron five-year term
MICHEL GEOFFROY for POLEMIA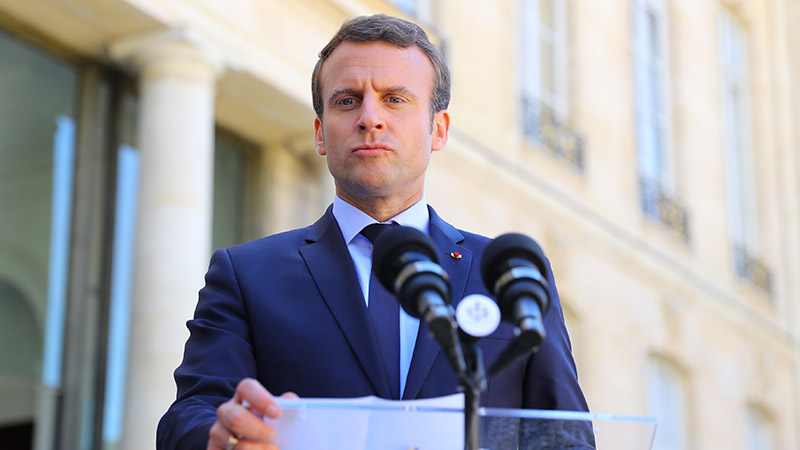 For those who support this new mandate or who resign themselves to it, we will therefore briefly recall what awaits the French. And what the macronphiles will therefore be responsible for in the face of history.
A second term even more tyrannical than the first
Indeed, Emmanuel Macron will not constitutionally be able to run for a third term. And since the lengths of parliamentary and presidential terms now also coincide, this means that Emmanuel Macron, with a new "majority", will no longer have to worry about the opinion of the French at all.
He will therefore be able to "annoy" them as he pleases and impose on them the policy demanded by the Davocracy, with complete impunity henceforth.
Did you like the repression of the Yellow Vests? Did you like the closure of the RT or Sputnik France media? Did you like the dissolution of Génération identitaire or the Alvarium? Did you like Emmanuel Macron's contempt for the French who contest his policy? Do you like official propaganda, ideologized justice and the truncheons of BRAV police officers?
With Macron 2, you will have all this, but bigger!
A war against Russia or against China in perspective
The Ukrainian crisis illustrates the fact that the media and talkative diplomacy of Emmanuel Macron has no hold on reality. But in addition that it aligned itself with the warmongering of the United States and Great Britain, relayed in all unconsciousness by the European Union, therefore by Germany, which in fact leads it.
Because instead of seeking a compromise peace, the EU encourages Ukraine to pursue a lost war by delivering more and more weapons. And it is waging an increasingly violent economic, diplomatic and cultural war against Russia. By continuing to push for provocative NATO enlargement.
Once again the left – the new globalist and liberal-libertarian left that took power in Western Europe after the fall of the USSR and embodied today by Emmanuel Macron – takes us on a military adventure, this time by Atlanticist blindness.
Because the upper class pushes for global conflict in the hope of maintaining its domination at all costs, in an increasingly polycentric world [1] .
An immigration that will not stop
Because settlement immigration corresponds to the project of those who bring Macron to power: be it the globalist oligarchy, the Europe of Brussels, big business or the far left. And because the community vote benefits the candidates of the System.
Emmanuel Macron therefore embodies a postnational project that will unfold during his second term, without restraint: reception and authoritarian territorial distribution of all the "refugees" of the world, favoritism vis-à-vis Islam, new transfers of sovereignty to the EU, positive discrimination against natives, abandonment of overseas territories, new "anti-hate" legislation to prohibit any criticism of immigration, etc.
A project that uses the "European" banner but in reality aims at the eradication of everything that constitutes not only our nation but also our civilization, by means of the establishment of a multicultural and multiethnic society.
A "Canadian" project, in fact, because it is inspired in everything by what is happening there, to replace and silence the French-speaking natives.
A dramatic economic and social decline
Firstly because it will be necessary to try to settle, if only in part, a colossal public debt, which the first five-year term has only increased for electoral purposes. A crisis hidden by official propaganda, election time.
But unfortunately we will apply the old liberal recipes, those still recommended by Anglo-Saxon financial institutions and the oligarchs: reduction in public spending and pensions [2] , taxation of consumption, increase in taxation of the middle classes (the only who cannot benefit from tax relocation), taxation or blocking of bank deposits, etc. But, everywhere, these miracle recipes cause the same results: poverty, unemployment, precariousness for the greatest number.
Did you like the cuts to public services and hospital beds? You have not seen anything yet!
Because, moreover, Europe will bear the brunt of the consequences of the crazy policy of sanctions decreed by the United States and applied by the EU against Russia: rising energy costs, growing shortages, loss of markets and jobs.
These sanctions will also diffuse international distrust of the euro [3] and we will have to bear the collateral effects of the progressive dedollarization of the world economy, launched by the BRICS in order to protect themselves from the sanctions.
During Macron 2, we will therefore enter a phase not only of recession, but also of inflation and growing monetary instability.
Retired boomers who voted for Macron will appreciate when they see their small savings melt away!
An increasingly oligarchic power
What is Emmanuel Macron's name after all?
Of the usurpation of power by large corporations and large globalized financial institutions – in their great majority Anglo-Saxons – at the expense of European peoples and States. This has been demonstrated by the sordid links between Big Pharma and European political "decision makers". Or the enormous weight of foreign consulting firms (ER: McKinsey) in French political decision-making and administration. Or the growing interchangeability between political and economic leaders and the permanent conflicts of interest between the two.
A new five-year term of Emmanuel Macron will accentuate this drift. It will pave the way for the cynical triumph of private and minority interests over the general interest. On entry into the society of control, where the State no longer has the function of protecting citizens, but of making them simple tenants of their means of existence in accordance with the interests of the new world economy.
Did you like the health pass, compulsory vaccination and QR codes? But we will soon have, in addition, the ecological pass, a new dose of punitive ecology and European social control!
Because Emmanuel Macron will bend to the societal follies, woke or ecologists of those who carried his re-election and who will constitute his future majority of openness: openness to the far left, of course! And, in any case, that corresponds to his personal ideology of a windswept oligarch who loves neither France nor the French.
***
Of course, the worst is never certain, they say, even if, in this case, we know that it is inscribed in the genes of macronie. And in our national decadence.
It is therefore to be hoped that a French surge will occur and prove the lie, next Sunday, of those who claim to shape public opinion.
Michel Geoffroy
20/04/2022
[1] On this point, we can refer to our essay The New War of the Worlds, Via Romana, 2020.
[2] The crazy money that annoys Emmanuel Macron so much.
[3] Since, at any time and for any pretext, banks can freeze foreign assets in euros (as in dollars).
************
••••
The Liberty Beacon Project is now expanding at a near exponential rate, and for this we are grateful and excited! But we must also be practical. For 7 years we have not asked for any donations, and have built this project with our own funds as we grew. We are now experiencing ever increasing growing pains due to the large number of websites and projects we represent. So we have just installed donation buttons on our websites and ask that you consider this when you visit them. Nothing is too small. We thank you for all your support and your considerations … (TLB)
••••
Comment Policy: As a privately owned web site, we reserve the right to remove comments that contain spam, advertising, vulgarity, threats of violence, racism, or personal/abusive attacks on other users. This also applies to trolling, the use of more than one alias, or just intentional mischief. Enforcement of this policy is at the discretion of this websites administrators. Repeat offenders may be blocked or permanently banned without prior warning.
••••
Disclaimer: TLB websites contain copyrighted material the use of which has not always been specifically authorized by the copyright owner. We are making such material available to our readers under the provisions of "fair use" in an effort to advance a better understanding of political, health, economic and social issues. The material on this site is distributed without profit to those who have expressed a prior interest in receiving it for research and educational purposes. If you wish to use copyrighted material for purposes other than "fair use" you must request permission from the copyright owner.
••••
Disclaimer: The information and opinions shared are for informational purposes only including, but not limited to, text, graphics, images and other material are not intended as medical advice or instruction. Nothing mentioned is intended to be a substitute for professional medical advice, diagnosis or treatment.