ER Editor: See this tweet from Dr. Naomi Wolf yesterday:
And here is the study she linked to: Passive inhaled mRNA vaccination for SARS-Cov-2:
The feasibility of inhaled RNA for passive transfection has also been proven in a number of studies [14]. 
The first article below deals with women who have been vaccinated and are suffering from subsequent menstrual and related problems. Wolf, however, is referencing something else: the possibility of experiencing these types of symptoms when simply being in the company of a vaccinated person while you yourself remain UNVACCINATED. We are publishing a second piece below that mentions this phenomenon. 
***
In relation to MALE infertility, discussed below, we remind readers of a piece we ran last December titled Freeze Sperm Before COVID Vaccine To Protect Fertility – Says University of Miami Researchers.:
The University of Miami is investigating the possible effects of the coronavirus vaccine on male fertility.

Lead researcher Dr. Ranjith Ramasamy, a reproductive urologist with U Health, initiated an earlier study which found the virus was present in the testicles for up to six months following infection.

That spurred his team to question the virus' effect on sperm and reproduction.

His team is now looking at the potential impact of the vaccine as well.

He said that study participants must have a fertility evaluation before receiving the vaccine. To protect fertility, some men may want to consider freezing their sperm prior to vaccination.
********
Thousands of reports of menstrual irregularities, reproductive dysfunction following COVID vaccines
While the media have focused on blood clots, the UK has registered another phenomenon taking place after coronavirus vaccines.
LifeSiteNews has been permanently banned on YouTube. Click HERE to sign up to receive emails when we add to our video library.
Thousands of women around the world are reporting disrupted menstrual cycles after receiving injections of COVID-19 vaccines.
The U.K.'s government vaccine adverse event system has collected more than 2,200 reports of reproductive disorders after coronavirus injections, including excessive or absent menstrual bleeding, delayed menstruation, vaginal hemorrhaging, miscarriages, and stillbirths.
In the U.K., the Yellow Card adverse event reporting system includes 2,233 reports of "reproductive and breast disorders" after reception of AstraZeneca and Pfizer vaccines.
The U.K. Yellow Card program reports 1,465 reactions involving reproductive systems as well as 19 "spontaneous abortions" (miscarriages), five premature labors, and two stillbirths in association with the AstraZeneca vaccine as of April 5.
The reports include:
255 cases of abnormal uterine bleeding
242 reports of unusual breast pain and swelling
182 women who experienced absent or delayed menstruation
175 cases of heavy menstrual bleeding
165 cases of vaginal hemorrhaging
55 reports of genital swelling, lesions, rashes or ulcerations
19 cases of postmenopausal hemorrhaging
12 cases of premature or "artificial" menopause
Another 768 reports of "reproductive and breast disorders" have been reported for Pfizer's coronavirus vaccine in the U.K., as well as 42 "spontaneous abortions," five premature labor onsets, and two stillbirths. These include:
265 reports of breast changes, including 22 reports of breast cancer and 177 reports of breast pain
134 cases of irregular menstrual bleeding
127 reports of absent or light menstruation
92 cases of heavy bleeding
73 cases of vaginal hemorrhaging
5 reports of postmenopausal hemorrhaging
5 cases of premature or 'artificial' menopause
Male reproductive disorders are fewer, but 75 Yellow Card reports on AstraZeneca's vaccine include 63 erectile dysfunction reactions, 50 cases of testicular pain, 11 cases of scrotal pain and swelling, and three reports of haematospermia, or blood in sperm. (ER: see article linked to above)
Pfizer's Yellow Card includes 22 reports of testicular and scrotal pain and 21 counts of sexual dysfunction.
None of the Yellow Card reports reveal details about the individuals who experienced the side effects. However, 32-year-old Lorri Emmily Lowe of the U.K. said she felt cramping three days after receiving AstraZeneca's vaccine in February.
"I also had a completely unusable arm for 24 hours," she told LifeSiteNews. "It was excruciating and I was pretty much bed-bound just because of the arm. I had to laugh like a mad person for strange pain."
Lowe said she felt "out of sorts" for about three days but what worried her most was that her menstrual cycle that had been predictably "perfect" for 10 years (not including pregnancies) suddenly vanished.
She had a strange "spotting" episode that she has never had in her life before and her period was five days late. "I'm never late. I've been consistent for many, many years," she said, and when it did come on it was "super heavy and lasted eight days."
Lowe's cycle has returned to normal now but is quite heavy. "I do not see how out of the six years since I've birthed a baby, that was the one month my cycle decided to go haywire."
The U.S. Vaccine Adverse Event Reporting System (VAERS) documents similar reproductive complications.
"My period has always been regular. Expected period was to begin on 02/22/2021 (after second vaccine dose) and bleeding did not occur," a 25-year-old woman from Pennsylvania, who received both doses of Moderna's vaccine, reported to the system, which is run by the U.S. Centers for Disease Control and Prevention.
One VAERS report describes a 51-year-old woman from Georgia who received a first dose of Pfizer's vaccine in January and within three days developed a blood rash (petechiae) on her ankles that gradually spread to her knees. She was admitted to the hospital five days after her vaccine with vaginal bleeding and anemia. She was diagnosed with Disseminated Intravascular Coagulation, a blood clotting disorder, which led to her worsening liver function, painful leg swelling, and purple discoloration. She died February 11. [VAERS ID 1032163-1]
Write-up: Patient received dose #1 of COVID-19 vaccine on 1/16/21. Within 3 days, she developed petechiae up to ankles, later rising up to her knees. Pt admitted to hospital on 2/6/21 for symptomatic anemia 2/2 vaginal bleeding. Patient received 4 units FFP, 4 units PRBC, 1 unit cryoprecipitate, and vitamin K 5 mg IV. Also started on medroxyprogesterone 20 mg PO TID. Alectinib d/ced due to worsening liver function. Evalauted by OB/GYN and Hematology. Diagnosed with DIC. Patient with worsening bilateral lower extremity edema and purpura with pain and weakness. Palliative care consulted. Patient passed away on 2/11.
A 48-year-old woman from Texas received a first dose of Moderna's COVID-19 vaccine in January and 13 days later was hospitalized with heavy vaginal bleeding and a critically low platelet count. [VAERS ID 0958885-1]
Write-up: The patient was seen in my office on 1/19/21 with complaint of heavy vaginal bleeding. A CBC was obtained which revealed an H/H of 12.2/36.1 and a platelet count of 1 (not 1K, but 1 platelet!) and this was confirmed on smear review. She was immediately sent to the Hospital ED and repeat CBC confirmed the critically low platelet count. She is currently hospitalized and she has received platelet transfusions but her platelet count is still critically low. She is also receiving steroids and immunoglobulin and is under the care of MD (Heme/Onc)
VAERS also includes 26 reports of miscarriage or other "fetal demise" events after COVID vaccinations.
A 40-year-old pregnant physician from California described a patient's first dose of Pfizer's vaccine as a "lethal event for the fetus" that led to her delivering the baby stillborn six days later.  [VAERS ID 958755]
Write-up: Pt was 18 weeks pregnant at the time of the vaccine. Second pregnancy. Pt is a physician. Pregnancy was entirely normal up to that time. On 1/18/2021, she began to have heavy vaginal bleeding probably due to a placental abruption and subsequently delivered at 18 weeks. Baby was stillborn. Ultrasound done 1/15/2021 normal. Lethal event for the fetus. The patient did well.
"Something insulted this placenta to lead to fetal demise," read another VAERS report on a 24-year-old woman who began bleeding two weeks after receiving a first dose of Pfizer's COVID vaccine in February.  [VAERS ID 1074788 ]
************
Unvaccinated Women Claim Unusual Menstrual Cycles & Miscarriages After Being Near Recently Vaccinated Individuals
NEED TO KNOW NEWS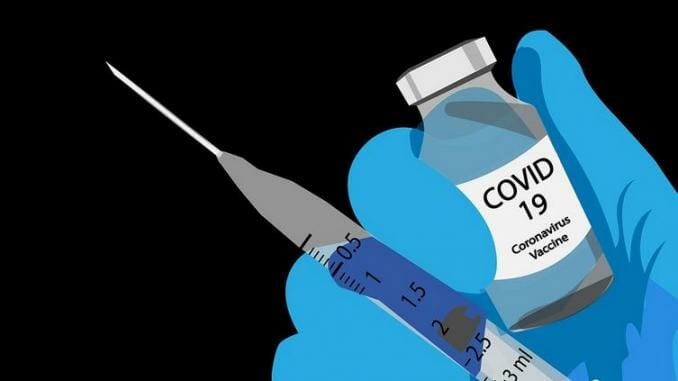 Women have reported concerning reactions to taking the COVID-19 shots that include changes in menstrual periods, painful lumps in armpits, and miscarriage. In a bizarre twist, even unvaccinated women also have complained of heavier periods and miscarriage after being physically close to people who had recently received their COVID-19 vaccination. Some have theorized that the spike protein in the mRNA injections might be shedding and causing illness in unvaccinated women. – GEG
****
Summary by JW Williams
Women are reporting menstrual issues and miscarriages after vaccination. But a new phenomena was noticed by an Instagram user who discovered that women who have not taken the vaccine alsoare reporting changes in their menstrual cycles, and even miscarriage, after simply being physically close to people who recently received a COVID-19 injection. The person posting the Instagram theorized that the spike protein in the mRNA injection might be shedding and causing illness in unvaccinated women. After she wrote about it, she was flooded with thousands of similar testimonials from people around the world.
Many women who received a COVID-19 shot have reported heavier, early, or otherwise irregular menstrual periods. Pro-vaccine health officials claim that it is good to have a strong reaction to COVID vaccines because it shows the immune system is working. Critics, however, believe that a strong reaction is more likely to be an indication of injury. Women have also reported large, painful lumps under the arm after receiving their shots.
Last month, an article from the UK said that miscarriages among vaccinated women rose by 366% over a six week period. The article claimed that that between December 9, 2020, and January 24, 2021, a total of six women had a miscarriage as a direct result of receiving one of the COVID-19 vaccines. The story then says there were 22 more reports of miscarriages from January 24 through March 7, bringing the total to 28, a rise of about 367%. COVID-19 injections are not recommended for pregnant or nursing mothers.
IB Times:  https://www.ibtimes.com/covid-19-vaccine-may-cause-alarming-side-effect-women-i-panicked-3151686
Refinery 29:  https://www.refinery29.com/en-us/2021/04/10410413/vaccine-period-side-effects-irregular-late-heavy
NewsWars:   https://www.newswars.com/disturbing-unvaccinated-women-claim-unusual-menstrual-cycles-miscarriages-after-being-near-recently-vaccinated-individuals/
Daily Expose:  https://dailyexpose.co.uk/2021/03/21/miscarriages-after-having-covid-vaccine-increases-by-366-percent/
************
••••
The Liberty Beacon Project is now expanding at a near exponential rate, and for this we are grateful and excited! But we must also be practical. For 7 years we have not asked for any donations, and have built this project with our own funds as we grew. We are now experiencing ever increasing growing pains due to the large number of websites and projects we represent. So we have just installed donation buttons on our websites and ask that you consider this when you visit them. Nothing is too small. We thank you for all your support and your considerations … (TLB)
••••
Comment Policy: As a privately owned web site, we reserve the right to remove comments that contain spam, advertising, vulgarity, threats of violence, racism, or personal/abusive attacks on other users. This also applies to trolling, the use of more than one alias, or just intentional mischief. Enforcement of this policy is at the discretion of this websites administrators. Repeat offenders may be blocked or permanently banned without prior warning.
••••
Disclaimer: TLB websites contain copyrighted material the use of which has not always been specifically authorized by the copyright owner. We are making such material available to our readers under the provisions of "fair use" in an effort to advance a better understanding of political, health, economic and social issues. The material on this site is distributed without profit to those who have expressed a prior interest in receiving it for research and educational purposes. If you wish to use copyrighted material for purposes other than "fair use" you must request permission from the copyright owner.
••••
Disclaimer: The information and opinions shared are for informational purposes only including, but not limited to, text, graphics, images and other material are not intended as medical advice or instruction. Nothing mentioned is intended to be a substitute for professional medical advice, diagnosis or treatment.