ER Editor: We're running two stories back to back – one from The Daily Sceptic (formerly Lockdown Sceptics) dealing with the test and trace app that Sweden REFUSED to use, and The New American reporting on Sweden's zero death rate, that the media failed to predict. Kudos to Anders Tegnell.
This is from a tweet linked to below:
We must note that these articles contain no information on Sweden's vaccination program/rate, and any problems generated from that.
********
Sweden Avoided a 'Pingdemic'. Why Couldn't We?
THE DAILY SCEPTIC
A reader, who wishes to remain anonymous, has sent the following post, comparing Britain's enthusiastic embrace of a contact-tracing app with Sweden's more considered approach.
As the UK's 'pingdemic' spreads ever wider, wreaking havoc on hospitals, care homes, schools, supermarkets, and the economy, one person at least might afford himself a wry smile.
In the early months of the pandemic, many Swedish epidemiologists, virologists and other medical specialists implored their Prime Minister Stefan Löfven and Health Minister Lena Hallengren to build a contact-tracing app. Tech companies fell over themselves to claim they had the necessary expertise to do just that. Development actually got underway, but once state epidemiologist Dr Anders Tegnell and his team had evaluated the viability of such an app and come to the view it would cause excessive fear and large-scale disruption, Löfven was talked out of it and all work ceased.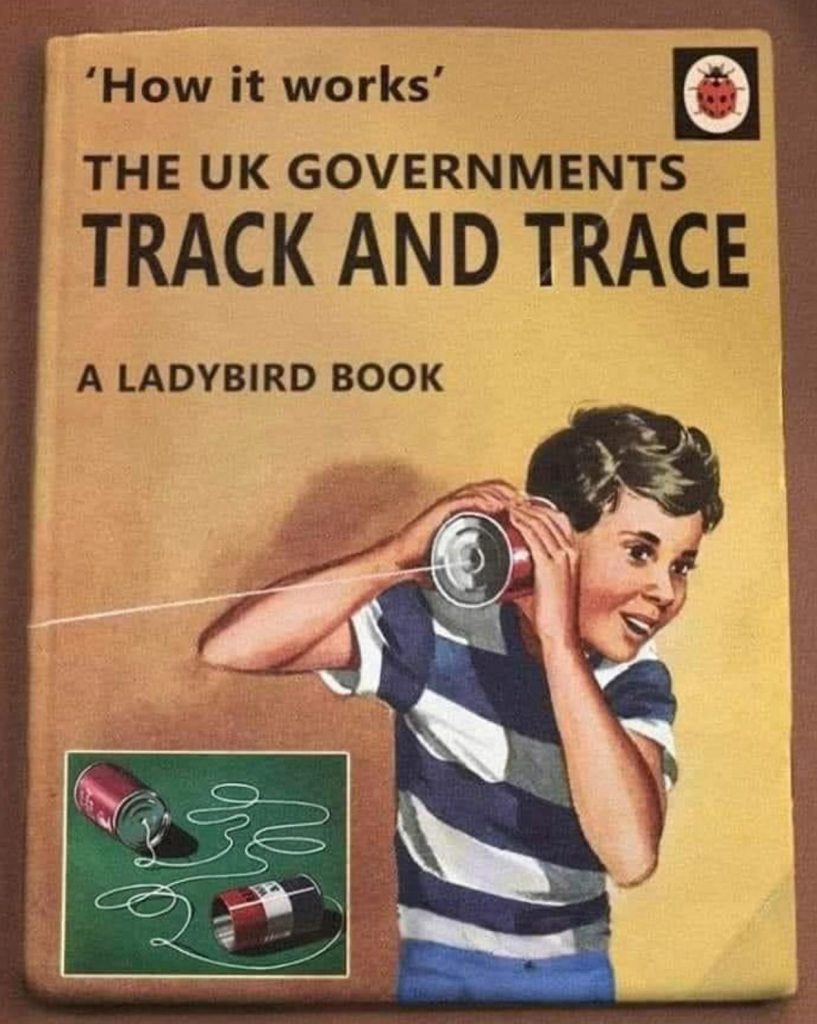 In an interview on Swedish Television in May of last year, Tegnell said he didn't think the idea of an app had been "properly thought through'" (he could have said the same of a great deal else of UK pandemic decision-making and implementation). He foresaw large numbers of 'pings' being generated and vast resources being expended on staffing and testing. Many people would be worried for no good reason and hospitals and care homes would come under more pressure as staff would have to self-isolate. He also questioned whether a distance as great as two metres for a period as short as 15 minutes were appropriate parameters.
Tellingly, when asked: "Wouldn't it be worthwhile at least in controlling the spread of infections?", he replied: "Few of the contacts (of a person with a positive test result) would be infected. For every person ill with Covid, I would reckon about 30 healthy people would be urged to self-isolate unnecessarily."
Is there any evidence that the UK Government's much-vaunted contact-tracing NHS COVID-19 App, run by NHS Test and Trace, has nevertheless been successful? According to politicians of all parties and medics of many disciplines, the answer is a resounding no.
Referring to the current £37 billion projected cost of Dido Harding's test and trace operation, Lord Macpherson, who was Permanent Secretary at the Treasury from 2005 to 2016 and worked on 33 Budgets and 20 Spending Reviews, went so far as to say: "This wins the prize for the most wasteful and inept public spending programme of all time."
To paraphrase Tegnell's famous commentary on Sweden rejecting a large-scale lockdown of society:
"It was as if the world had gone mad about contact-tracing apps, and everything we needed to consider was forgotten. The cases became too many and the political pressure got too strong. And then Sweden stood there rather alone."
********
ZERO COVID Deaths: Sweden's Anti-lockdown Strategy Has Worked
SELWYN DUKE
Sweden isn't in the news much right now, for both good and bad reasons.
The good reason is that unlike in France, where massive protests and rioting inspired by new anti-coronavirus lockdown measures have made headlines, the Nordic country is peaceful. The bad one is that even though the reason it's peaceful is because its anti-lockdown strategy has worked, the COVID-panic-porn-obsessed media don't find this newsworthy. After all, if the masses find out that all the civilization-rending lockdowns and onerous virus restrictions are an exercise in scientific obscurantism, a lot of power-mad politicians could face career destruction.
Photo: atakan/iStock/Getty Images Plus
Here's the news the opinion cartel finds un-newsworthy: As of Wednesday, Sweden's seven-day rolling average for China virus deaths was zero (tweet below).
To be precise, Sweden has on occasion curbed restaurant opening hours (I guess the virus only attacks during certain periods of the day) and has at times enforced crowd limits at venues such as shopping malls, but these have been exceptions to the country's rule of relying on voluntary measures to combat SARS-CoV-2.
This lies in contrast to its European neighbors, which, as the definition of insanity goes, are doing the same thing over and over again while expecting a different result. In France, for example, "government officials have decreed that unvaccinated individuals will no longer be allowed to enter cafes, restaurants, theaters, public transportation and more," reports the Foundation for Economic Education (FEE). This is despite data indicating that many new China virus cases are among the vaccinated and that the most highly vaccinated nations have the worst COVID infection rates — and warnings that the vaccines may actually be dangerous.
"France's approach is unique, but it's just one of many countries around the world imposing new restrictions as fears grow over a new variant of COVID-19," FEE later writes. "Australia's recent restrictions have placed half the country under strict lockdown — even though a record 82,000 tests had identified just 111 new coronavirus cases — while restaurants in Portugal are struggling to survive amid newly imposed restrictions."
In contrast, "Sweden is welcoming tourists," FEE also informs (unlike Canada, which had its border with the United States closed to "unessential travel" for more than a year). "Businesses and schools are open with almost no restrictions. And as far as masks are concerned, not only is there no mandate in place, Swedish health officials are not even recommending them."
(What's more, Sweden's chief epidemiologist, Anders Tegnell, warned last year that mask wearing was actually dangerous because it lends a false sense of security.)
Of course, we don't hear much about the above from mainstream media. But this doesn't mean Sweden isn't getting some press. Just consider today's Reuters headline, "COVID-19 on the rise in Swedish cities as Delta outbreaks dominate."
Thus framing matters without pointing out that having a high infection rate combined with low hospitalization and mortality rates has a great upside — it builds herd immunity — is propagandistic reporting. It is, however, good for ratcheting up fear that will ensure bad policy's perpetuation.
Sweden's case is also interesting because, being a cold nation, it should be harder hit by a respiratory disease such as the China virus. Yet it's joined in this northern-clime boat by North Dakota, which avoided COVID regulations even more assiduously, and which also has managed the disease very well.
Oh, it doesn't get much press, either.
In fact, "Covid is the first epidemic in history in which the healthy population was locked down, and it is not even that lethal for most people," notes writer Thomas Lifson, commenting on the matter. "How that happened is a key question for discussion, and of course is almost never even raised in the media. But Sweden's success in using the common sense, time-tested practice of focusing on the vulnerable and leaving the rest alone is now vindicated, while those countries that failed to build herd immunity as fast continue to suffer, and even redouble their bad bet of locking down."
But even if one reckons Sweden's success differently, and even if its China virus numbers change in time, it doesn't matter. Why?
Because we have no rational choice but to follow its lead. That is to say, we hear much about "following the science." Well, here's the science and the facts:
• Data have long shown conclusively that widespread lockdowns not only don't mitigate China virus spread, but that they actually create a situation in which there's more death than the pandemic alone would cause (not to mention the economic destruction and psychological distress).
• Studies show that masks, when prescribed for the general population, are at best marginally effective at reducing viral contagion; moreover, they also appear themselves to pose significant health risks.
• The six-foot social-distance prescription is fairly arbitrary and is based on the work of a 19th-century German. Ironically, though, today's Germany prescribes a social distance of 4.92 feet while the World Health Organization's figure is 39 inches. Of course, you're less likely to contract a disease if you remain six feet from others than if you're closer; you're even safer if you stay 60 away. You're safer still if you live isolated in the Yukon.
The point is that we must go on with life. Ours isn't a Last Man on Earth/Omega Man situation, where a virus exterminates most of humanity and zombies roam the countryside. As renowned COVID physician Dr. Peter McCullough has pointed out, the China virus has always been treatable, and a correct and official SARS-CoV-2 treatment protocol could have saved 85 percent of those who died from the virus. (You can partially thank Anthony Fauci for its lack.)
I have elderly/vulnerable people in my life whom I love with all my heart, and I want to keep them safe. But I know two things: Draconian government measures won't accomplish this.
And if we continue with the lockdown folly, we won't have much of a nation left.
This wouldn't be good for anyone — except maybe the megalomaniacs who may aspire to rule over the ashes of what was once a successful civilization.
************
••••
Click on the image below to visit site:

••••
••••
The Liberty Beacon Project is now expanding at a near exponential rate, and for this we are grateful and excited! But we must also be practical. For 7 years we have not asked for any donations, and have built this project with our own funds as we grew. We are now experiencing ever increasing growing pains due to the large number of websites and projects we represent. So we have just installed donation buttons on our websites and ask that you consider this when you visit them. Nothing is too small. We thank you for all your support and your considerations … (TLB)
••••
Comment Policy: As a privately owned web site, we reserve the right to remove comments that contain spam, advertising, vulgarity, threats of violence, racism, or personal/abusive attacks on other users. This also applies to trolling, the use of more than one alias, or just intentional mischief. Enforcement of this policy is at the discretion of this websites administrators. Repeat offenders may be blocked or permanently banned without prior warning.
••••
Disclaimer: TLB websites contain copyrighted material the use of which has not always been specifically authorized by the copyright owner. We are making such material available to our readers under the provisions of "fair use" in an effort to advance a better understanding of political, health, economic and social issues. The material on this site is distributed without profit to those who have expressed a prior interest in receiving it for research and educational purposes. If you wish to use copyrighted material for purposes other than "fair use" you must request permission from the copyright owner.
••••
Disclaimer: The information and opinions shared are for informational purposes only including, but not limited to, text, graphics, images and other material are not intended as medical advice or instruction. Nothing mentioned is intended to be a substitute for professional medical advice, diagnosis or treatment.