Spain: Surge in Migrant Crime
"We have tasers, but they are stored in a closet because of political cowardice." — Spokesperson, Municipal Police of Bilbao.
In Madrid, an elderly couple returning home from vacation discovered that their apartment had been "occupied" by African migrants. When a camera crew from the Madrid television channel Telecinco went to investigate, the migrants destroyed the camera…. Spain's notoriously lethargic justice system now rules on who is the apartment's rightful owner.
The Madrid city council, run by Mayor Manuela Carmena, in a case study of political correctness run amok, ordered police to keep out of the neighborhood of Lavapiés. The result is that illegal immigrants, far from facing the threat of deportation, are now secure in the knowledge that their violent actions have empowered them effectively to take control of an entire neighborhood of a major European capital.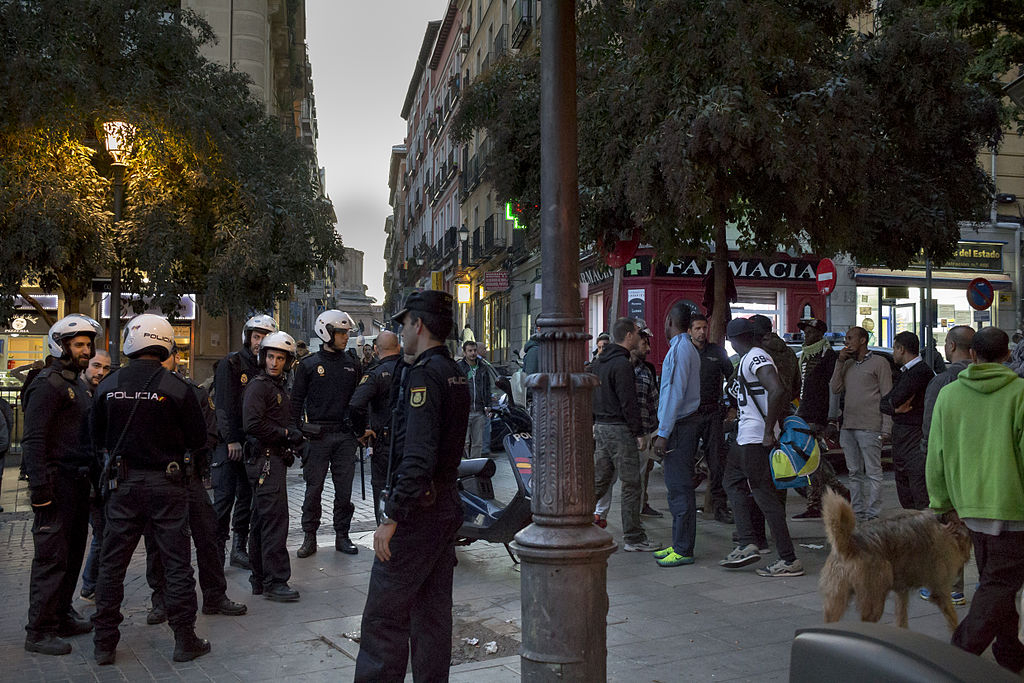 The Madrid city council, run by Mayor Manuela Carmena, in a case study of political correctness run amok, ordered police to keep out of the neighborhood of Lavapiés, one of the most "multicultural" districts of the Spanish capital, to "avoid situations of tension." Pictured: Police officers in Lavapiés on November 12, 2015. (Image source: Luis Sánchez de Pedro Aires/Wikimedia Commons)
Six African migrants gang-raped a 12-year-old girl in small town near Madrid, but Spanish authorities kept information about the crime hidden from the public for more than a year, apparently to avoid fueling anti-immigration sentiments.
On March 15, 2018, the 12-year-old girl was playing in a park in Azuqueca de Henares with several other girls when, at around one o'clock in the afternoon, six migrants — five Moroccans and one Nigerian — approached the playground. They carried two of the girls off to a nearby abandoned building, but then let one of them go after discovering that she was a Muslim. The migrants, aged between 15 and 20, grabbed the 12-year-old by her arms and legs and took turns raping her, first anally and then vaginally, for nearly an hour.
The public was not informed about the crime until March 20, 2019, when the newspaper El Mundo published the results of an investigation. According to the report, Spanish prosecutors and judges secretly decided that three of the minors will be held in a young offenders institution for three years and then be "reinserted" into Spanish society rather than be deported. One of the adults is being held in preventive detention; the other adults were released.
The gang rape has cast a spotlight on spiraling migrant criminality in Spain, where "progressive" immigration policies — promoted by all the mainstream political parties and opposed only by the populist party Vox — are fueling an influx of illegal migration from Africa, Asia and the Middle East. The gang rape has also cast a spotlight on a lenient justice system that routinely releases migrant criminals back onto the streets.
Reliable statistics on migrant-related crimes are unavailable: the data compiled by the Spanish Interior Ministry on specific categories of crimes (homicide, rape, robbery, etc.) do not break down the offenders by nationality.
In addition, different Interior Ministry databases produce different results on the actual number of crimes. One database, for instance, shows that there were 332 homicides in Spain in 2017, while another shows that there were 308. One database shows that there were 865 rapes in 2017, while another shows that there were 1,382 — a difference of 60%.
The official Spanish statistics agency (Instituto Nacional de Estadística, INE) shows that immigrants comprise roughly 10% of the overall Spanish population, but 32% of the Spanish prison population. The INE does not break the statistics down by the nationality of the inmates, although Interior Ministry data show that the majority of immigrants arrested in 2017 were from just two countries: Romania (18,032) and Morocco (17,464).
Despite the lack of official statistics, anecdotal evidence found in the crime reports of local newspapers shows that migrant criminality — ranging from petty theft to sexual assault to murder — is a growing problem nationwide.
In Barcelona, for example, 15 members of a North African itinerant crime gang known as "Allah's Wolfpack" sexually assaulted a woman at a metro station. The migrants, some of whom are unaccompanied minors and all of whom are in Spain illegally, had long rap sheets and were well known to the police.
The attack, which occurred in the Barcelona suburb of Santa Coloma on November 11, 2018, took place when a couple attempted to exit the Can Peixauet subway station. The youths, from Morocco and Algeria, hurled insults and verbal abuse at the couple as they walked off a train, then followed the pair into an elevator, where they assaulted the woman and stabbed her male companion.
Police later found the youths in a nearby abandoned building, where they had been squatting for months, and where they had previously been arrested in connection with a series of robberies in the area. Police also said the youths were infected with scabies, which required police to activate a special decontamination protocol for the officers involved, the police vehicles and the jail cells. Eight of the 15 youths have since been released from police custody and are back on the street.
Migrant gang rapes have become increasingly common in Spain:
The victims of migrant-related sex crimes often are young children and teenagers as well as elderly women:
Other migrant-related sex crimes in Spain include:
Migrant-related honor crimes and domestic violence:
Underage unaccompanied migrants — known in Spain as Menas (menores extranjeros no acompañados) — are also engaged in criminal activity:
Some migrant criminals are serial offenders:
Elderly and handicapped persons are also increasingly victims of migrant-related assaults and robberies:
Other migrant-related homicides, aggravated assaults and violent robberies include:
Violence is also on the rise at migrant shelters:
Soeren Kern is a Senior Fellow at the New York-based Gatestone Institute.  Follow Soeren Kern on Twitter and Facebook