ER Editor: Europe's economy is, well, disastrous anyway. As The Duran team has reminded us periodically, it is bankrupt. Zilch, nada, zero … and of course, it will have nothing when it comes to paying out the pensions of millions of Europeans. If it were a business and not a government, say The Duran team, it would be considered a criminal enterprise. After putting itself further into the red with an economic lockdown for 'health' reasons, as well as pawning off what remains of the family jewels for vaccines, masks, PCR tests and the kitchen sink, now there are energy prices …
What this article below doesn't explain is why energy prices have skyrocketed in the first place. Nordstream II has been completed; it is awaiting a licence. Production should start in October, which should increase supply and therefore bring prices DOWN. See this RT report from September 10, 2021 titled Nord Stream 2 has finally been completed, Russia's Gazprom announces, despite US efforts to block major European gas pipeline. Of note:
The final sections of the controversial Nord Stream 2 pipeline have now been welded into place, Moscow's state energy giant Gazprom has revealed, bringing construction of the underwater link between Russia and Germany to an end.
In a statement issued on Friday, Alexey Miller, Chairman of the Saint Petersburg-based energy giant, said that "at 8.45am this morning Moscow time, work on the Nord Stream 2 pipeline has been completed."

Earlier this week, Russian Foreign Minister Sergey Lavrov revealed that the laying of pipes under the Baltic Sea would be "completed in a few days and (it) will begin working." Bloomberg reports that gas is expected to begin flowing through its network from the start of next month, and that final testing and preparations are underway.

…

Russia insists that the pipeline is a vital step to secure the continent's energy supply and deliver low-cost gas from Siberia to consumers in Western Europe.
We've reported on the utter failure of green energy sources in Europe, especially Germany, as well as how Merkel had absolutely no intention of NOT completing the pipeline. Of course, as the pipeline flows directly into Germany, this puts Germany in the power seat. Nonetheless, there is a clear need for low-cost gas in Europe, not the expensive LNG via the United States. So we ask again, what is going on with these high energy prices, which will cripple further the EU economy? Is this another way in which our economies are being hijacked by the globalists?
********
Skyrocketing Energy Prices Could Cripple Europe's Economy
Authored by Tsvetana Paraskova via OilPrice.com
Surging energy prices in Europe are hurting more than just consumers.
The price spikes have started to hit industrial activities, threatening to deal a blow to the post-COVID recovery in European economies with a triple whammy of reduced consumer purchasing power, lower industrial production, and higher operating costs. (ER: Isn't this what the globalists like Schwab want?)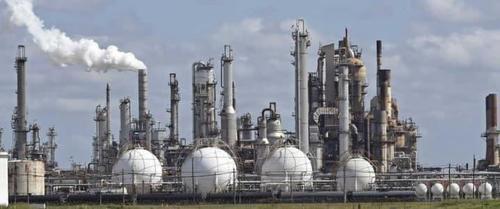 Giant European firms, from chemicals and mining to the food sector, say sky-high gas and electricity prices are hitting their profit margins and forcing some of them to curtail operations. 
Some factories have shut down because of record natural gas prices. More idling of industrial activity across Europe is likely in the coming weeks, analysts say.
Meanwhile, the record European natural gas prices are sending Asian spot prices of liquefied natural gas (LNG) to record levels for this time of the year—between peak summer demand and ahead of the winter heating season.
Europe's tight gas market, low wind speeds, abnormally low gas inventories, and record carbon prices have combined in recent weeks to send benchmark gas prices on the continent and power prices in the largest economies to record highs. Almost daily, gas and power prices in Europe surge to fresh records, putting pressure on governments as consumers protest against soaring power bills.
It's not only consumers that struggle with the record energy prices. Industries are starting to feel the heat, too. 
CF Industries, a manufacturer of hydrogen and nitrogen products, said this week it was halting operations at both its Billingham and Ince manufacturing complexes in the UK due to high natural gas prices.
"The Company does not have an estimate for when production will resume at the facilities," CF Industries said.
Norway-based Yara, one of the world's top ammonia producers, is curtailing production due to the record-high gas prices.
"Record high natural gas prices in Europe are impacting ammonia production margins, and as a result Yara is curtailing production at a number of its plants. Including optimization of on-going maintenance, Yara will by next week have curtailed around 40% of its European ammonia production capacity," the company said on Friday.
Germany's large bioethanol producer CropEnergies AG said its operating profit for the second quarter of its fiscal year nearly halved as "The significantly higher net raw material cost and the recent rise of energy prices to record levels were the main burdens on the results."
Also in Germany, the largest chemicals producer in Europe, BASF, and the top copper producer, Aurubis, also flag high energy prices as a significant burden on their profits and profit margins.
Major industrial companies in France, such as top sugar producer Tereos and starch producer Roquette Freres, tell Bloomberg that record-high energy prices are putting inflationary pressure on their financials and on "every other cost."
All those headwinds for Europe's industry could be just the beginning, especially if the coming winter in Europe and Asia turns out colder than usual, driving up further demand for gas and power.
Industries in Europe face the risk of blackouts in a cold winter, Goldman Sachs warned this week.
"Under such an outcome, the only balancing mechanism would be a significant further rally in European gas and power prices reflective of the need to destroy demand, with curtailed power demand in the industrial sector through blackouts," Goldman's analysts said in a note carried by Bloomberg.
A slowdown in the industrial sector is one of the last things Europe needs right now, just as its economies have started to rebound from the pandemic. 
Moreover, competition from Asia on the LNG market could mean that Europe may not get too much additional LNG supply. Spot prices in Asia are at record highs for this time of the year, but buyers are paying regardless, concerned that the natural gas shortage globally could worsen as the winter season approaches.
"Asia is panicking a little bit because they had a really bad winter last year," Ogan Kose, managing director and global lead for Integrated Gas at Accenture, told Bloomberg this week.
Utilities and industries in Europe, and probably governments, are hoping for a mild and windy winter, otherwise, the natural gas supply crunch could last through the end of the first quarter of 2022.
************
••••
The Liberty Beacon Project is now expanding at a near exponential rate, and for this we are grateful and excited! But we must also be practical. For 7 years we have not asked for any donations, and have built this project with our own funds as we grew. We are now experiencing ever increasing growing pains due to the large number of websites and projects we represent. So we have just installed donation buttons on our websites and ask that you consider this when you visit them. Nothing is too small. We thank you for all your support and your considerations … (TLB)
••••
Comment Policy: As a privately owned web site, we reserve the right to remove comments that contain spam, advertising, vulgarity, threats of violence, racism, or personal/abusive attacks on other users. This also applies to trolling, the use of more than one alias, or just intentional mischief. Enforcement of this policy is at the discretion of this websites administrators. Repeat offenders may be blocked or permanently banned without prior warning.
••••
Disclaimer: TLB websites contain copyrighted material the use of which has not always been specifically authorized by the copyright owner. We are making such material available to our readers under the provisions of "fair use" in an effort to advance a better understanding of political, health, economic and social issues. The material on this site is distributed without profit to those who have expressed a prior interest in receiving it for research and educational purposes. If you wish to use copyrighted material for purposes other than "fair use" you must request permission from the copyright owner.
••••
Disclaimer: The information and opinions shared are for informational purposes only including, but not limited to, text, graphics, images and other material are not intended as medical advice or instruction. Nothing mentioned is intended to be a substitute for professional medical advice, diagnosis or treatment.