ER Editor: Putin delivered his speech at Valdai Discussion Club at the end of last week. Here we give an RT report as well as a more interpretative piece from Pepe Escobar.
We recommend listening to his speech in the earlier part of the video (below). Around the 30th minute, we can find him tearing apart wokeism.
'Any New World Order Should Be Based on Sovereign States'
********
End of capitalism, transgender kids, NATO, reverse racism, WWII, censorship and more: What Putin spoke about at Valdai
RT
Russian President Vladimir Putin's appearance at the 2021 Valdai Discussion Club rivaled his famous annual press conferences, clocking in at over 3 hours. Here are some of the topics that he touched upon.
Putin spoke at length at the plenary session of the Valdai Club in Sochi on Thursday, taking questions from the moderator as well as the audience, both those physically present and over video link.
NATO on Russia's doorstep
The Russian leader noted the trip by US Defense Secretary Lloyd Austin to Ukraine earlier in the week, saying it could "open the door" for Kiev to join NATO, which "really poses a threat to the Russian Federation."
Tomorrow, rockets could appear near Kharkov, what are we going to do about it? It's not us placing our missiles there, it's them shoving theirs under our nose
Those who broke Afghanistan should help it heal
Normalizing the situation in Afghanistan requires helping the country rebuild, the Russian president said. While Russia, China, and other countries of the Shanghai Cooperation Organization – who have pledged aid to Kabul – will do their part, "the main responsibility for what happens there is borne by those countries that fought there 20 years," meaning the US and its NATO allies.
"The first thing they should have done, in my opinion, is to unfreeze Afghan assets and enable Afghanistan to solve social and economic problems of primary importance," Putin added, referring to gold reserves and bank accounts that have effectively been confiscated by the US.
'Monstrous' newspeak about gender in the West
"Those who risk saying that men and women still exist, and that this is a biological fact, are virtually ostracized" in the West, Putin said, calling the situation "a total phantasmagoria."
"This is not to mention things that are simply monstrous," he added, "like when children are taught from an early age that a boy can easily become a girl and vice versa. In fact, they are indoctrinating them into the alleged choices that are supposedly available to everyone – removing parents from the equation and forcing the child to make decisions that can ruin their lives."
This is borderline crime against humanity – all under the guise of 'progress'
He added that the situation reminds him of the 'newspeak' invented by the "Soviet culture-warriors" in the 1920s, in hopes of redefining people's values and creating a new sense of consciousness.
Cancel culture and reverse racism
Another Western practice that reminds Putin of the early Soviet days was the push for "social justice" through affirmative action and cancel culture.
"The fight against racism is a necessary and noble cause, but in the modern 'cancel culture', it turns into reverse discrimination, reverse racism," Putin said. "We see with bemusement the process unfolding in countries that have grown accustomed to viewing themselves as flagships of progress."
It is with puzzlement that in the West today we see practices that Russia has left in the distant past
What 'conservatism' means in Russia
Asked if these views make him a conservative, Putin quoted the Russian philosopher Nikolai Berdyaev (exiled from the USSR) who said that
"Conservatism is not something that prevents you from going up and forward, but something that prevents you from going back and down into chaos."
No to revisionism of World War II
Putin said the West seems determined to erase from history the fact it was the Red Army that stormed Berlin in 1945, not the British or the Americans. Nor were they the only ones trying to revise the outcome of that conflict – Turkish President Recep Tayyip Erdogan argued that "the fate of humanity should not be left to the mercy of a handful of countries that won World War II," earlier this week during a speech in Angola.
"If we remove the veto right of the permanent members, the UN would die the very same day – it would turn into the League of Nations. It would simply become a discussion platform, the Valdai Club 2.0," Putin said.
Inequality and the crisis of capitalism
That is not to say the world is not in a crisis. According to Putin, there is a "growing inequality of material benefits and of opportunities within society" in some of the world's wealthiest countries.
"Everyone says that the existing model of capitalism, which is now the basis of the social order in the vast majority of countries, has run out of steam," Putin said. "There is no longer any way out of the tangle of more and more confusing contradictions."
Freedom of speech and Russia's response to Western censorship
YouTube's decision to close two channels of RT DE in Germany was a "mistake" and merits a response, but the Russian president suggested the situation could be sorted out without resorting to reprisals that would cause even more damage.
"Of course, they infringe on freedom of speech – this is bad," he told RT's editor-in-chief, Margarita Simonyan. "As far as a response is concerned, we have to be careful," he added, "Reciprocal measures should not be counterproductive."
********
Escobar: The World According To Vladimir Putin
Authored by Pepe Escobar via The Asia Times
Russian president, in Sochi, lays down the law in favor of conservatism – says the woke West is in decline…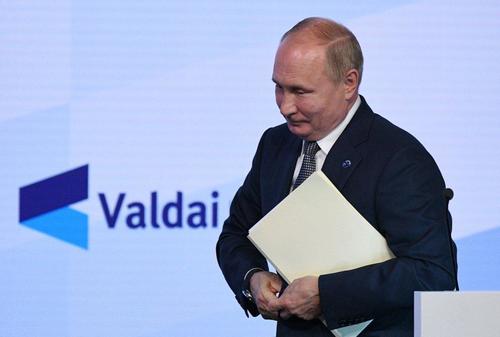 The plenary session is the traditional highlight of the annual, must-follow Valdai Club discussions – one of Eurasia's premier intellectual gatherings.
Vladimir Putin is a frequent keynote speaker. In Sochi this year, as I related in a previous column, the overarching theme was "global shake-up in the 21st century: the individual, values and the state."
Putin addressed it head on, in what can already be considered one of the most important geopolitical speeches in recent memory (a so-far incomplete transcript can be found here) – certainly his strongest moment in the limelight. That was followed by a comprehensive Q&A session (starting at 4:39:00).
Predictably, assorted Atlanticists, neocons and liberal interventionists will be apoplectic. That's irrelevant. For impartial observers, especially across the Global South, what matters is to pay very close attention to how Putin shared his worldview – including some very candid moments.
Right at the start, he evoked the two Chinese characters that depict "crisis" (as in "danger") and "opportunity," melding them with a Russian saying: "Fight difficulties with your mind. Fight dangers with your experience."
This elegant, oblique reference to the Russia-China strategic partnership led to a concise appraisal of the current chessboard:
The re-alignment of the balance of power presupposes a redistribution of shares in favor of rising and developing countries that until now felt left out. To put it bluntly, the Western domination of international affairs, which began several centuries ago and, for a short period, was almost absolute in the late 20th century, is giving way to a much more diverse system.
That opened the way to another oblique characterization of hybrid warfare as the new modus operandi:
Previously, a war lost by one side meant victory for the other side, which took responsibility for what was happening. The defeat of the United States in the Vietnam War, for example, did not make Vietnam a "black hole." On the contrary, a successfully developing state arose there, which, admittedly, relied on the support of a strong ally. Things are different now: No matter who takes the upper hand, the war does not stop, but just changes form. As a rule, the hypothetical winner is reluctant or unable to ensure peaceful post-war recovery, and only worsens the chaos and the vacuum posing a danger to the world.
A disciple of Berdyaev
In several instances, especially during the Q&A, Putin confirmed he's a huge admirer of Nikolai Berdyaev. It's impossible to understand Putin without understanding Berdyaev (1874-1948), who was a philosopher and theologian – essentially, a philosopher of Christianity.
In Berdyaev's philosophy of history, the meaning of life is defined in terms of the spirit, compared with secular modernity's emphasis on economics and materialism. No wonder Putin was never a Marxist.
For Berdyaev, history is a time-memory method through which man works toward his destiny. It's the relationship between the divine and the human that shapes history. He places enormous importance on the spiritual power of human freedom.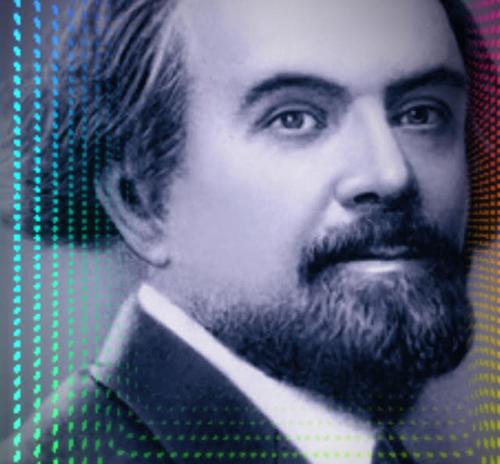 Nikolai Berdyaev. Photo: Center for Sophiological Studies
Putin made several references to freedom, to family – in his case, of modest means – and to the importance of education; he heartily praised his apprenticeship at Leningrad State University. In parallel, he absolutely destroyed wokeism, transgenderism and cancel culture promoted "under the banner of progress."
This is only one among a series of key passages:
We are surprised by the processes taking place in countries that used to see themselves as pioneers of progress. The social and cultural upheavals taking place in the United States and Western Europe are, of course, none of our business; we don't interfere with them. Someone in the Western countries is convinced that the aggressive erasure of whole pages of their own history – the "reverse discrimination" of the majority in favor of minorities, or the demand to abandon the usual understanding of such basic things as mother, father, family or even the difference between the sexes – that these are, in their opinion, milestones of the movement toward social renewal.
So a great deal of his 40 minute-long speech, as well as his answers, codified some markers of what he previously defined as "healthy conservatism":
Now that the world is experiencing a structural collapse, the importance of sensible conservatism as a basis for policy has increased many times over, precisely because the risks and dangers are multiplying and the reality around us is fragile.
Switching back to the geopolitical arena, Putin was adamant that "we are friends with China. But not against anyone."
Geoeconomically, he once again took time to engage in a masterful, comprehensive – even passionate – explanation of how the natural gas market works, coupled with the European Commission's self-defeating bet on the spot market, and why Nord Stream 2 is a game-changer.
Afghanistan
During the Q&A, scholar Zhou Bo from Tsinghua University addressed one of the key, current geopolitical challenges. Referring to the Shanghai Cooperation Organization, he pointed out that, "if Afghanistan has a problem, the SCO has a problem. So how can the SCO, led by China and Russia, help Afghanistan?"
Putin stressed four points in his answer:
The economy must be restored;
The Taliban must eradicate drug trafficking;
The main responsibility should be assumed "by those who had been there for 20 years" – echoing the joint statement  after the meeting between the extended troika and the Taliban in Moscow on Wednesday; and
Afghan state funds should be unblocked.
He also mentioned, indirectly, that the large Russian military base in Tajikistan is not a mere decorative prop.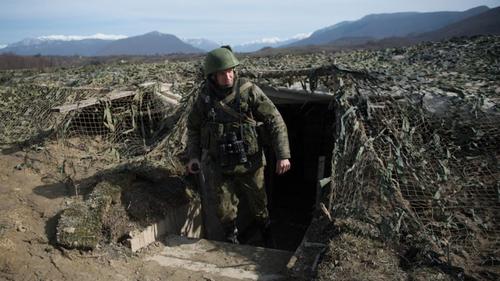 Training bunker at Russia's military base in Takikistan. Photo: Moscow Times
Putin went back to the subject of Afghanistan during the Q&A, once again stressing that NATO members should not "absolve themselves from responsibility."
He reasoned that the Taliban "are trying to fight extreme radicals." On the "need to start with the ethnic component," he described Tajiks as accounting for 47% of the overall Afghan population – perhaps an over-estimation but the message was on the imperative of an inclusive government.
He also struck a balance: As much as "we are sharing with them [the Taliban] a view from the outside," he made the point that Russia is "in contact with all political forces" in Afghanistan – in the sense that there are contacts with former government officials like Hamid Karzai and Abdullah Abdullah and also Northern Alliance members, now in the opposition, who are self-exiled in Tajikistan.
Those pesky Russians
Now compare all of the above with the current NATO circus in Brussels, complete with a new "master plan to deter the growing Russian threat."
No one ever lost money underestimating NATO's capacity to reach the depths of inconsequential stupidity. Moscow does not even bother to talk to these clowns anymore: as Foreign Minister Sergey Lavrov has pointed out, "Russia will no longer pretend that some changes in relations with NATO are possible in the near future."
Moscow from now on only talks to the masters – in Washington. After all, the direct line between the Chief of General Staff, General Gerasimov, and NATO's Supreme Allied Commander, General Todd Wolters, remains active. Messenger boys such as Stoltenberg and the massive NATO bureaucracy in Brussels are deemed irrelevant.
This happens, in Lavrov's assessment, right after "all our friends in Central Asia" have been "telling us that they are against … approaches either from the United States or from any other NATO member state" promoting the stationing of any imperial "counter-terrorist" apparatus in any of the "stans" of Central Asia.
And still the Pentagon continues to provoke Moscow. Wokeism-lobbyist-cum-Secretary of Defense Lloyd "Raytheon" Austin, who oversaw the American Great Escape from Afghanistan, is now pontificating that Ukraine should de facto join NATO.
That should be the last stake impaling the "brain-dead" (copyright Emmanuel Macron) zombie, as it meets its fate raving about simultaneous Russian attacks on the Baltic and Black Seas with nuclear weapons.
************
••••
The Liberty Beacon Project is now expanding at a near exponential rate, and for this we are grateful and excited! But we must also be practical. For 7 years we have not asked for any donations, and have built this project with our own funds as we grew. We are now experiencing ever increasing growing pains due to the large number of websites and projects we represent. So we have just installed donation buttons on our websites and ask that you consider this when you visit them. Nothing is too small. We thank you for all your support and your considerations … (TLB)
••••
Comment Policy: As a privately owned web site, we reserve the right to remove comments that contain spam, advertising, vulgarity, threats of violence, racism, or personal/abusive attacks on other users. This also applies to trolling, the use of more than one alias, or just intentional mischief. Enforcement of this policy is at the discretion of this websites administrators. Repeat offenders may be blocked or permanently banned without prior warning.
••••
Disclaimer: TLB websites contain copyrighted material the use of which has not always been specifically authorized by the copyright owner. We are making such material available to our readers under the provisions of "fair use" in an effort to advance a better understanding of political, health, economic and social issues. The material on this site is distributed without profit to those who have expressed a prior interest in receiving it for research and educational purposes. If you wish to use copyrighted material for purposes other than "fair use" you must request permission from the copyright owner.
••••
Disclaimer: The information and opinions shared are for informational purposes only including, but not limited to, text, graphics, images and other material are not intended as medical advice or instruction. Nothing mentioned is intended to be a substitute for professional medical advice, diagnosis or treatment.