ER Editor: See also this piece by John-Henry Westen for LifeSite News, titled Pope Francis calls for homosexual civil unions, bashes Trump in new film. Curious timing for a new movie? Not if you want to influence the upcoming US presidential election:
ROME, October 21, 2020 (LifeSiteNews) – In perfect time to affect the U.S. presidential election, a new film will premier in North America Sunday which represents in dramatic fashion Pope Francis' attack on President Trump as "not a Christian" for the President's building of the border wall. In the documentary, which premiered in Rome today, Pope Francis has made his most clear statements contradicting Catholic Church teaching by calling for homosexual civil unions to be legalized. Speaking of homosexual civil unions, he said "What we have to create is a civil union law. That way they are legally covered. I stood up for that."

The film Francesco is a fawning and dramatic treatment of Pope Francis, painting the pontiff as a liberator of humanity pushing on many of the hot-button issues dear to the Democrat left.

…

Catholic News Agency reports that the film includes the "story of the pontiff encouraging two Italian men in a same-sex relationship to raise their children in their parish church."  Speaking of his pastoral approach in an interview with filmmaker Evgeny Afineevsky, the Pope said, "Homosexuals have a right to be a part of the family. They're children of God and have a right to a family. Nobody should be thrown out, or be made miserable because of it."

LifeSite has contacted the Vatican Press Office and several Cardinals for comment but has not yet received responses.
Archbishop Carlo Maria Viganò (pictured) has vigorously responded, noting how such statements are deliberately designed to provoke schisms in the Church. His politically astute response deserves a fulsome quote:
One does not have to be a theologian or a moral expert to know that such statements are totally heterodox and constitute a very serious cause of scandal for the faithful.

But pay careful attention: these words simply constitute the umpteenth provocation by which the "ultra-progressive" part of the Hierarchy wants to artfully provoke a schism, as it has already tried to do with the Post-Synodal Exhortation Amoris Laetitia, the modification of doctrine on the death penalty, the Pan-Amazon Synod and the filthy Pachamama, and the Abu Dhabi Declaration which has now been reaffirmed and aggravated by the Encyclical Fratelli Tutti.

It appears that Bergoglio is impudently trying to "raise the stakes" in a crescendo of heretical affirmations, in such a way that it will force the healthy part of the Church – which includes bishops, clergy, and faithful – to accuse him of heresy, in order to declare that healthy part of the Church schismatic and "the enemy of the Pope."

Jorge Mario Bergoglio is trying to force some Cardinals and Bishops to separate themselves from communion with him, obtaining as a result not his own deposition for heresy but rather the expulsion of Catholics who want to remain faithful to the perennial Magisterium of the Church. This trap would have the purpose – in the presumed intentions of Bergoglio and his "magic circle" – of consolidating his own power within a church that would only nominally be "Catholic" but in reality would be heretical and schismatic.

This deception draws on the support of the globalist élite, the mainstream media and the LGBT lobby, to which many clergy, bishops, and cardinals are no strangers. Furthermore, let us not forget that in many nations there are laws in force which criminally punish anyone who considers sodomy reprehensible and sinful or who does not approve of the legitimization of homosexual "matrimony" – even if they do so on the basis of their Creed. A pronouncement by the bishops against Bergoglio on a question like homosexuality could potentially lead civil authority to prosecute them criminally, with the approval of the Vatican.

Bergoglio would thus have on his side not only the "deep church" represented by rebels like Father James Martin, S.J., and those who promote the German "Synodal Path," but also the "deep state." It is not surprising that in the documentary there is also an endorsement of the Democratic candidate in the upcoming American presidential election, along with a disconcerting condemnation of the policy of the Trump Administration, which is accused of separating families that want to enter the United States illegally, while the reality is that the President is confronting human trafficking and the trafficking of minors.
Viganò goes on to denounce the denial of the right of conservative US bishops to endorse Trump while Bergoglio steps in for the Democrats. The whole piece by Archbishop Viganò deserves to be read.
********
Pope Francis backs same-sex civil unions in major shift on Catholic Church's stance
RT
The Pope has called for same-sex couples to be protected by civil union laws, in a remarkable departure from both the Vatican's historic stance on homosexuality and his own.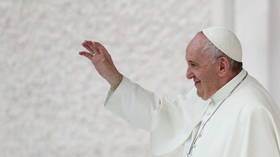 "Homosexual people have a right to be in a family," the head of the Catholic Church says in new documentary 'Francesco', which premiered at the Rome Film Festival on Wednesday.
They are children of God and have a right to a family. Nobody should be thrown out or be made miserable over it. What we have to create is a civil union law. That way they are legally covered. I stood up for that.
The pontiff's comments in the film, directed by Russian-born Jew Evgeny Afineevsky, set him notably apart from his predecessors.
The previous pope, Benedict, famously compared the need to save humanity from homosexuals to the need to save the rainforest. Even before his papacy, Benedict went as far as claiming that the homosexual "condition" tended towards "an intrinsic moral evil," in a 1986 letter to Catholic bishops.
By contrast, Pope Francis was named "person of the year" in 2013, the year of his accession, by LGBT magazine Advocate. Weeks earlier, American magazine Time had also proclaimed Pope Francis its "person of the year," in an article lauding his "conscious and skillful" approach.
The latest comments from Pope Francis also mark a break from his own previous stance on gay marriage. While he was still archbishop of Buenos Aires, he opposed moves to legalize same-sex marriage in 2010. And in the book 'On Heaven and Earth', published in 2013, he said it would be an "an anthropological regression" for same-sex relationships to be equal to heterosexual marriages in law.
As recently as 2018, Pope Francis was also expressing concerns over what he termed "fashionable" homosexuality, while saying that he would not welcome gay priests in the Catholic Church.
************
••••
The Liberty Beacon Project is now expanding at a near exponential rate, and for this we are grateful and excited! But we must also be practical. For 7 years we have not asked for any donations, and have built this project with our own funds as we grew. We are now experiencing ever increasing growing pains due to the large number of websites and projects we represent. So we have just installed donation buttons on our websites and ask that you consider this when you visit them. Nothing is too small. We thank you for all your support and your considerations … (TLB)
••••
Comment Policy: As a privately owned web site, we reserve the right to remove comments that contain spam, advertising, vulgarity, threats of violence, racism, or personal/abusive attacks on other users. This also applies to trolling, the use of more than one alias, or just intentional mischief. Enforcement of this policy is at the discretion of this websites administrators. Repeat offenders may be blocked or permanently banned without prior warning.
••••
Disclaimer: TLB websites contain copyrighted material the use of which has not always been specifically authorized by the copyright owner. We are making such material available to our readers under the provisions of "fair use" in an effort to advance a better understanding of political, health, economic and social issues. The material on this site is distributed without profit to those who have expressed a prior interest in receiving it for research and educational purposes. If you wish to use copyrighted material for purposes other than "fair use" you must request permission from the copyright owner.
••••
Disclaimer: The information and opinions shared are for informational purposes only including, but not limited to, text, graphics, images and other material are not intended as medical advice or instruction. Nothing mentioned is intended to be a substitute for professional medical advice, diagnosis or treatment.