ER Editor: Why does this topic matter? Because a sinister agenda can get rolled out amidst significant ignorance on the part of the public, an agenda clearly aimed at children as well as psychologically unstable people. Unwitting people can therefore be psychologically cowed when they have a nasty, politically-motivated label such as 'transphobe' unjustly thrown at them. Thus they don't understand enough to comprehend what is being done to children in schools and the media, and what is being perpetrated against aspiring, biologically female athletes. Their ability to fight is gone because of aggressive and deliberate mislabelling. Who would think that schoolgirls have NO RIGHT use a toilet for their own biological sex? Nor do they have a right to complain about it.
It's a period of madness, and ignorance around language is vital.
People we know, in all innocence, believe that 'trans' people are those born with the rare condition of being a hermaphrodite, having both genitalia. Thus the choice to become fully male or female surgically and biochemically seems to make sense – they're opting for a 'side'.  Such people are usually shocked to find that there are those who CHOOSE to have their genitals and bodies butchered with surgery. They'd be even more shocked to find that children are being persuaded to do this.
WARNING – GRAPHIC IMAGES
Apologies to sensitive readers, but these are illuminating images we came across, which Twitter or X does not allow to be copied in a linked-to tweet:
Notice the phrase in the RT article below, 'gender affirming care'. Does this look like CARE?
Here's the original Daily Mail Online article —
Of note (this is precisely the point):
MBM blamed institutions, such as the BBC, for using the terms during gender debates without considering that the public are not entirely sure what they mean.
********
One-third of Britons don't know trans women are biologically male – survey
Research has shown significant public confusion over various gender-related terms in the UK
RT
A survey conducted in the United Kingdom has shown that more than one-third of respondents did not know that transgender women were born biologically male, as campaigners call for greater understanding of the phraseology being used in the ongoing debate over gender.
The poll, which comes from Scottish-based analysis group Murray Blackburn Mackenzie (MBM), showed that 35% of people sampled were of the belief that a transgender woman was someone who was born as a female, or did not know what the term meant.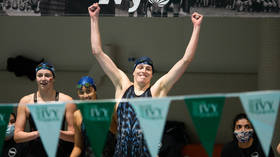 .
The results, MBM said, showed that there are "high levels of misunderstanding and confusion" regarding gender-based phrases in the UK. The group added that the survey underscores a need for further clarity on language being used by the media in relation to debates around transgender athletes in sport or gender-affirming care.
"Using these terms, without spelling out what they mean for a person's sex as a matter of course, will leave a large minority of people at best uncertain," MBM's Lisa Mackenzie said.
The survey data also showed that 40% of people did not have an accurate definition of the term "trans woman," while the 25-34 age group was less knowledgeable about gender language than both the 18-24 and 55+ groups.
The topic of gender-based terms and gender identity has been a prevalent one in recent years, especially as it pertains to transgender women competing against biologically born women in sport. Gender-affirming care for people under the age of 18 has also incited debate about the ethics involved in medically assisting the gender transition of a young person.
Critics of the latter claim that many cases in which a minor disagrees with their biological sex can be explained as a side-effect of puberty, or gender dysmorphia – a clinical term used to describe when a person doesn't feel associated with the sex assigned at birth.
Various Republican-led legislatures in the United States have set in motion plans to restrict gender-affirming care for minors, while several sporting governing bodies have imposed rules over the past several months to restrict the ability for transgender women to compete against biological women in competition.
The topic drew widespread media attention after swimmer Lia Thomas became the first transgender athlete to win a female national collegiate title in the United States in March 2022. Thomas had previously competed, largely without success, on the University of Pennsylvania's men's swim team.
ER insert:
After William Thomas has been BANNED from competing against women in Olympic Swimming.

Should he return the medals he has stolen from female swimmers? pic.twitter.com/t64d7p6KuD

— Dr. Anastasia Maria Loupis (@DrLoupis) August 6, 2023
According to Maya Forstater from the Sex Matters campaign group, "When policy decisions are being made it is crucial that people understand what is meant.
"They need to spell out clearly whether the person is male or female," she told The Telegraph.
************
••••
The Liberty Beacon Project is now expanding at a near exponential rate, and for this we are grateful and excited! But we must also be practical. For 7 years we have not asked for any donations, and have built this project with our own funds as we grew. We are now experiencing ever increasing growing pains due to the large number of websites and projects we represent. So we have just installed donation buttons on our websites and ask that you consider this when you visit them. Nothing is too small. We thank you for all your support and your considerations … (TLB)
••••
Comment Policy: As a privately owned web site, we reserve the right to remove comments that contain spam, advertising, vulgarity, threats of violence, racism, or personal/abusive attacks on other users. This also applies to trolling, the use of more than one alias, or just intentional mischief. Enforcement of this policy is at the discretion of this websites administrators. Repeat offenders may be blocked or permanently banned without prior warning.
••••
Disclaimer: TLB websites contain copyrighted material the use of which has not always been specifically authorized by the copyright owner. We are making such material available to our readers under the provisions of "fair use" in an effort to advance a better understanding of political, health, economic and social issues. The material on this site is distributed without profit to those who have expressed a prior interest in receiving it for research and educational purposes. If you wish to use copyrighted material for purposes other than "fair use" you must request permission from the copyright owner.
••••
Disclaimer: The information and opinions shared are for informational purposes only including, but not limited to, text, graphics, images and other material are not intended as medical advice or instruction. Nothing mentioned is intended to be a substitute for professional medical advice, diagnosis or treatment.