ER Editor: While we are not opposed to what Macron is doing in this instance, we firmly insist that he is trying to outmanoeuvre Marine Le Pen ahead of the 2022 general election, and thus remove the reason for her very existence, politically speaking. The government and MSM are, thus far, confident that she can be beaten in 2022; even figures on the right such as Marion Marechal have expressed concern about this.
********
Macron to Target Islamist 'Separatism' in France
BREITBART LONDON
PARIS (AP) — President Emmanuel Macron, trying to rid France of what authorities call a "parallel society" of radical Muslims thriving outside the values of the nation, laid out a series of measures on Friday in a proposed law that would disrupt the education, finances and other means of indoctrination of the vulnerable.
Macron has coined the term "separatism" to describe the underworld that thrives in some neighbourhoods around France where Muslims with a radical vision of their religion take control of the local population to inculcate their beliefs.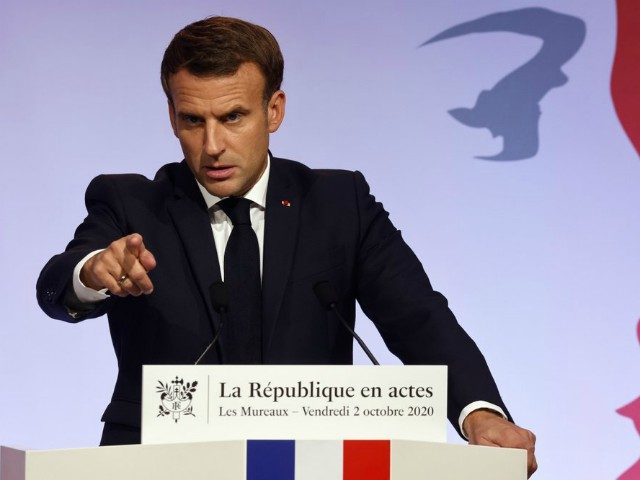 Macron stressed in a speech that stigmatising French Muslims would be falling into a "trap" laid by radicals. He blamed France itself for organising the "ghettoisation" of a population that could easily fall prey to the preaching of those whose goal is to substitute their laws for those of the nation and reiterated that secularism is the "cement" of France. (ER: he is not wrong in describing France as having 'ghettos'. The government has, over the years, taken in lots of migrants and dumped them in particular municipalities. These are the areas where emergency services need backup and may even be called in in the first place to be set up for attack. But is his government doing anything different in this regard? We suspect not.)
He spoke in Les Mureaux, a working-class town west of Paris, after meeting with the mayor, Francois Garay, who is largely credited with building projects that help bring the Muslim population into the mainstream. He said that 70 people from the region of Les Yvelines, where the town is located, travelled to Syria and Iraq.
Macron gave his speech while a trial is underway in Paris over the deadly January 2015 attacks on satirical newspaper Charlie Hebdo and a kosher supermarket by French-born Islamic extremists. Last week, a man from Pakistan stabbed two people near Charlie Hebdo's former offices in anger over its publication of caricatures of the Prophet Muhammad. Macron noted both cases.
The president laid out a five-point plan aimed at upending the world that lets those who promote a radical brand of Islam thrive, notably via associations or home schools that steep members and students in radical ideology.
France has the largest Muslim population in Western Europe with up to 5 million members, and Islam is the country's No. 2 religion.
The proposed bill, which would go to parliament early next year, would require all children from the age of 3 to attend French schools, and allow distance learning only for medical reasons. Associations, which receive state funding, would be made accountable for their spending, their sometimes invisible leaders and be forced to reimburse misused funds.
Macron called France's schools "the heart of secularism (where) children become citizens."
Authorities contend that the vector for inculcating Muslims with an extremist ideology was once the mosque but, today, the main vector is schools.
The proposed measures nevertheless address mosques, which Macron said are sometimes subject to hostile takeovers, as well as imams to keep houses of prayer and preachers out of the control of people who use religion for their own ends.
"In a few days, you can see radical Islamists…take control of associations (running mosques) and all their finances. That won't happen again," the French president said.
"We're going to install an anti-putsch system, very robust, in the law," Macron said without elaborating.
The bill, which is to be sent to religious leaders for review this month, also includes putting a gradual end to the long-standing practice of importing imams from elsewhere, notably Turkey, Algeria and Morocco, and instead training imams in France to assure there are enough. A Muslim organisation that serves as an official conduit to French leaders is to take part in the project.
The rector of the Grand Mosque of Paris cautioned against mixing all Muslims in France with the "separatism question."
"For those who let it be believed that Islam is Islamism, and the reverse, there is indeed a distinction between the Muslim religion and the Islamist ideology," Chems-Eddine Hafiz wrote in a commentary in the newspaper Le Monde.
However, the rector threw his support behind the initiative — on condition it's not used as a communications gadget.
"For nearly 40 years, a ghettoisation has progressively installed itself, first urban, then sociological, before becoming ideological and identitarian," Hafiz, the Paris mosque rector, wrote in his commentary.
Authorities say there are all kinds of "separatisms," but Macron said the others are "marginal" while radical Islam is a danger to France because "it sometimes translates into a counter-society."
For Macron, a perverse version of the religion has penetrated French society, including public services, from Paris' Charles de Gaulle airport to the transport system. He said some bus drivers have been known to bar women with short skirts from getting aboard.
The proposed law would also ban "certificates of virginity" provided by doctors to some Muslim women ahead of marriage. Macron, who has made gender equality a priority of his presidency, said the documents are offensive to women's dignity.
He conceded the fight he proposes would be long because "what took decades to build won't be put down in a day."
************
••••
The Liberty Beacon Project is now expanding at a near exponential rate, and for this we are grateful and excited! But we must also be practical. For 7 years we have not asked for any donations, and have built this project with our own funds as we grew. We are now experiencing ever increasing growing pains due to the large number of websites and projects we represent. So we have just installed donation buttons on our websites and ask that you consider this when you visit them. Nothing is too small. We thank you for all your support and your considerations … (TLB)
••••
Comment Policy: As a privately owned web site, we reserve the right to remove comments that contain spam, advertising, vulgarity, threats of violence, racism, or personal/abusive attacks on other users. This also applies to trolling, the use of more than one alias, or just intentional mischief. Enforcement of this policy is at the discretion of this websites administrators. Repeat offenders may be blocked or permanently banned without prior warning.
••••
Disclaimer: TLB websites contain copyrighted material the use of which has not always been specifically authorized by the copyright owner. We are making such material available to our readers under the provisions of "fair use" in an effort to advance a better understanding of political, health, economic and social issues. The material on this site is distributed without profit to those who have expressed a prior interest in receiving it for research and educational purposes. If you wish to use copyrighted material for purposes other than "fair use" you must request permission from the copyright owner.
••••
Disclaimer: The information and opinions shared are for informational purposes only including, but not limited to, text, graphics, images and other material are not intended as medical advice or instruction. Nothing mentioned is intended to be a substitute for professional medical advice, diagnosis or treatment.