ER Editor: The finger might not be permitted, but the French have been getting very creative at their anti-Macron, anti-pension reform demonstrations by using pots and pans (called 'casseroles') to make a loud noise. See (browsers will translate) Demonstrations and concerts of casseroles for the anniversary of the re-election of Emmanuel Macron.
For the difference in Canada, readers may be interested in this recent article titled
In his often-hilarious 26-page ruling cited by the Guardian on Friday, Quebec Judge Dennis Galiatsatos unequivocally proclaimed that displaying the rude gesture does not constitute a criminal act.

"To be abundantly clear, it is not a crime to give someone the finger," the judge wrote in his recent opinion. "Flipping the proverbial bird is a God-given, Charter-enshrined right that belongs to every red-blooded Canadian.

"It may not be civil, it may not be polite, it may not be gentlemanly. Nevertheless, it does not trigger criminal liability."
********
Macron Gives 'Le Doigt' To Free Speech: Protesters To Be Prosecuted For Flipping-Off French President
Five years ago, I wrote a column criticizing Democratic and Republican members of Congress who joined the media in gushing over an address from French President Emmanuel Macron as he called for European style censorship. Free speech has been in a virtual free fall in France for decades and Macron is a major voice in that movement.
This week, the French added another outrage to Macron's legacy by promising to prosecute three citizens who protested the President by flipping him off at an event. The use of "Le Doigt" could now land them in "La Prison."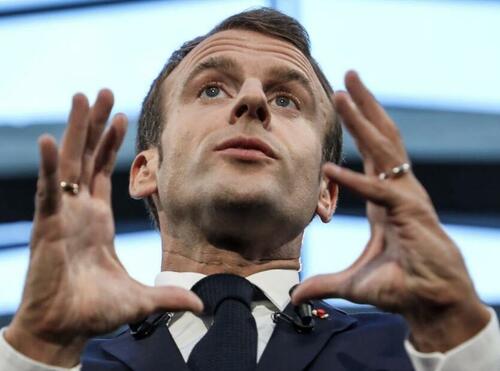 The three will be prosecuted under France's abusive criminal code that allows for the arrest of those who engage in speech that "affect the personal dignity or the respect owed to a public official." It is a breathtaking denial of political speech and invites selective prosecution.
If convicted, they could face a fine of 15,000 euros and potentially up to one year in prison, according to La Chaîne Info.
Macron has hit a record low in polling, but his government will now enforce respect for him through threats of incarceration.
France has been a leader in the rollback on free speech in the West with ever widening laws curtailing free speech. These laws criminalize speech under vague standards referring to "inciting" or "intimidating" others based on race or religion. For example, fashion designer John Galliano has been found guilty in a French court on charges of making anti-Semitic comments against at least three people in a Paris bar. At his sentencing, Judge Anne Marie Sauteraud read out a list of the bad words used by Galliano to Geraldine Bloch and Philippe Virgitti, including using 'dirty whore" in criticism.
In another case, the father of French conservative presidential candidate Marine Le Pen was fined because he had called people from the Roma minority "smelly." A French mother was prosecuted because her son went to school with a shirt reading "I am a bomb."
A French teenager was charged for criticizing Islam as a "religion of hate."
Yet, our leaders (and many in the media) were ecstatic when Macron came to the Congress and called for a joint war against "fake news," declaring, "Democracy is about true choices and rational decisions. The corruption of information is an attempt to corrode the very spirit of our democracies."
Nothing says Democracy like jailing those who do not show you respect.
The anti-free speech wave has now reached our own shores and many like Hillary Clinton have even called on Europeans to censor Americans on social media if Twitter or other companies fail to do so.
Many have argued (falsely) that hate speech is not protected under our Constitution, including members of Congress. In France, the middle finger is not free speech when directed at a public official. Likewise, speech considered harmful or disrespectful to particular groups is barred.
It is all about instilling good virtue but punishing the wicked. After all, as Maximilien Robespierre taught the French, "Terror is only justice: prompt, severe and inflexible; it is then an emanation of virtue."
************
Featured image, Macron on banner: AP Photo Aurelien Morissard Keystone
••••
The Liberty Beacon Project is now expanding at a near exponential rate, and for this we are grateful and excited! But we must also be practical. For 7 years we have not asked for any donations, and have built this project with our own funds as we grew. We are now experiencing ever increasing growing pains due to the large number of websites and projects we represent. So we have just installed donation buttons on our websites and ask that you consider this when you visit them. Nothing is too small. We thank you for all your support and your considerations … (TLB)
••••
Comment Policy: As a privately owned web site, we reserve the right to remove comments that contain spam, advertising, vulgarity, threats of violence, racism, or personal/abusive attacks on other users. This also applies to trolling, the use of more than one alias, or just intentional mischief. Enforcement of this policy is at the discretion of this websites administrators. Repeat offenders may be blocked or permanently banned without prior warning.
••••
Disclaimer: TLB websites contain copyrighted material the use of which has not always been specifically authorized by the copyright owner. We are making such material available to our readers under the provisions of "fair use" in an effort to advance a better understanding of political, health, economic and social issues. The material on this site is distributed without profit to those who have expressed a prior interest in receiving it for research and educational purposes. If you wish to use copyrighted material for purposes other than "fair use" you must request permission from the copyright owner.
••••
Disclaimer: The information and opinions shared are for informational purposes only including, but not limited to, text, graphics, images and other material are not intended as medical advice or instruction. Nothing mentioned is intended to be a substitute for professional medical advice, diagnosis or treatment.