ER Editor: Turkey and Thailand are going to the polls today. Turkey's Erdogan, a former CIA asset, is the one the deep state wants rid of. They tried and failed with an assassination attempt back in 2016. Erdogan is likely to pull Turkey out of NATO if he wins, and is co-operating with Russia. A reminder of the recent 'earthquakes' in Turkey and northern Syria, that seemed mightily suspicious. 74 year old Kemal Kilicdaroglu is the deep state's choice against Erdogan.
The Thai royal family were recently put on alert over the Pfizer Covid vaccines by Prof. Sucharit Bhakdi over one of their family members having succumbed to vaccine injury, possibly death.
********
ER: Readers may also be interested in this RT report —
By way of introduction:
Some 64 million Turkish citizens are expected to vote in Sunday's presidential and parliamentary elections. The showdown between President Recep Tayyip Erdogan and opposition leader Kemal Kilicdaroglu will determine whether or not Türkiye turns back to the West, while dozens of parties will fight it out for control of the country's 600-seat legislature.
The 'West', of course, means the western Deep State. Check Moon of Alabama's short piece below for what a win for Erdogan (and the corresponding figure in Thailand) would mean for
CIA color revolution possibilities.
***
High-stakes vote begins in Türkiye
The presidential and parliamentary elections will determine the country's course for the next five years
RT
The polls have opened in Türkiye for key presidential and parliamentary elections that will decide whether incumbent President Recep Tayyip Erdogan will retain power, in a hotly contested race.
The polling stations opened at 8am local time in 81 provinces, with almost 200,000 ballot boxes installed across the country. Around 60 million people are eligible to vote, while 1.8 million people abroad have already cast their ballots. Both the president and members of the parliament are elected for five-year terms.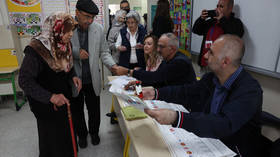 .
According to the election laws, news, forecasts, and commentary about the elections are not permitted until 6pm local time, one hour after the polls close. The results cannot be reported on until 9pm.
On Friday, Ahmet Yener, the head of the Supreme Election Board, said the authorities had taken "all measures for healthy and secure elections," including reinforcing the technological infrastructure against power cuts and cyber-attacks.
Meanwhile, all eyes are on the heated presidential contest. The two main candidates are the incumbent, Erdogan, and opposition figure Kemal Kilicdaroglu, who leads the social-democratic Republican People's Party (CHP). Recent polls indicate a tight race between the two. If no candidate wins at least 50% of the vote, a run-off will be held on May 28.
Erdogan and Kilicdaroglu hold opposing views on a range of policies. As Türkiye's prime minister and later president, Erdogan has pursued a path of relative geopolitical independence, steering the country away from integration with the EU and fostering close ties with Moscow – which has not changed, even amid the conflict between Russia and Ukraine.
Kilicdaroglu, however, has taken more of a pro-EU approach, also vowing to comply with the Western sanctions on Russia if he wins.
The parliamentary election comes down to a race between The People's Alliance (which currently holds a parliamentary majority and consists of Erdogan's Justice and Development Party and the far-right Nationalist Movement Party) and the opposition Nation Alliance, which backs Kilicdaroglu for president and is comprised of six parties.
ER: this is an interesting video report. Close to the beginning, the Turkish opposition leader paints the West and the EU as some saintly bastion of democracy. Was he asleep during the plandemic?
********
Regime Change Watch
MOON OF ALABAMA
Tomorrow

(ER: today)

there will be elections in Turkey and Thailand. In both countries the U.S. would like to see the current opposition win.
Recent pieces in the New York Times leave no doubt about that.
A Crucial Question in Thailand's Election: Can You Criticize the King?
Liberal voters have intensified their scrutiny of the Thai monarchy in recent years. Conservatives have responded with a campaign to defend the institution at all costs.
An Erdogan Loss in Turkey Would Stir Relief in the West and Anxiety in Moscow
European leaders would be delighted to have "an easier Turkey," while Russia could lose an important economic and diplomatic partnership should the Turkish leader lose power in Sunday's elections.
Polls in both countries seem to be between all over the place and tight, but my hunch is that the incumbents have a good chance to win.
If the results are to the favor of the current governments, the U.S. may well use its well honed color revolution schemes to change the outcomes.
It has done so before, not only in Turkey and Thailand, but also in many other countries.
For a long time, the US Central Intelligence Agency (CIA) has plotted "peaceful evolution" and "color revolutions" as well as spying activities around the world. Although details about these operations have always been murky, a new report released by China's National Computer Virus Emergency Response Center and Chinese cybersecurity company 360 on Thursday unveiled the main technical means the CIA has used to scheme and promote unrest around the world.
…
For decades, the CIA has overthrown or attempted to overthrow at least 50 legitimate governments abroad (the CIA has only recognized seven of these instances), causing turmoil in related countries. Whether it is the "color revolution" in Ukraine in 2014, the "sunflower revolution" in Taiwan island, China, or the "saffron revolution" in Myanmar in 2007, the "green revolution" in Iran in 2009, and other attempted "color revolutions" — the US intelligence agencies are behind them all, according to the report. The US' leading position in technologies of telecommunication and on-site command has provided unprecedented possibilities for the US intelligence community to launch "color revolutions" abroad. The report released by the National Computer Virus Emergency Response Center and 360 disclosed five methods commonly used by the CIA.
…
We need therefore to keep an eye open for new regime change attempts.
************
••••
The Liberty Beacon Project is now expanding at a near exponential rate, and for this we are grateful and excited! But we must also be practical. For 7 years we have not asked for any donations, and have built this project with our own funds as we grew. We are now experiencing ever increasing growing pains due to the large number of websites and projects we represent. So we have just installed donation buttons on our websites and ask that you consider this when you visit them. Nothing is too small. We thank you for all your support and your considerations … (TLB)
••••
Comment Policy: As a privately owned web site, we reserve the right to remove comments that contain spam, advertising, vulgarity, threats of violence, racism, or personal/abusive attacks on other users. This also applies to trolling, the use of more than one alias, or just intentional mischief. Enforcement of this policy is at the discretion of this websites administrators. Repeat offenders may be blocked or permanently banned without prior warning.
••••
Disclaimer: TLB websites contain copyrighted material the use of which has not always been specifically authorized by the copyright owner. We are making such material available to our readers under the provisions of "fair use" in an effort to advance a better understanding of political, health, economic and social issues. The material on this site is distributed without profit to those who have expressed a prior interest in receiving it for research and educational purposes. If you wish to use copyrighted material for purposes other than "fair use" you must request permission from the copyright owner.
••••
Disclaimer: The information and opinions shared are for informational purposes only including, but not limited to, text, graphics, images and other material are not intended as medical advice or instruction. Nothing mentioned is intended to be a substitute for professional medical advice, diagnosis or treatment.