ER Editor: Normally, we publish considerably from the anglosphere on the vaccine topic, but this article was put out by noted French paediatric oncologist, Dr. Nicole Délépine, one of a small number of French doctors to relentlessly speak out against this, plus everything else to do with the plandemic. She gives us a broad summarizing picture of what's been happening, which we've reported on individually. For more on Poland refusing to purchase or accept more vaccines, which she notes at the outset, see
We've also published a piece by Dr. Meryl Nass which echoes this sentiment of the vaccine being kicked into touch:
We don't doubt, however, that with the introduction of the digital pass that has started up in Italy, they will somehow try to link the 'vaccine' (or some other one that we don't yet know about) to this. See 
********
Is the end of the PFIZER vaccination approaching?
DR. NICOLE DELEPINE
Poland makes a major decision and opposes the European Commission. The end of Pfizer and the questioning of the EU?
"Warsaw refuses to accept and pay for new vaccine deliveries" [1]
Poland is refusing to receive and pay for new deliveries of Covid vaccines, the health minister said on Tuesday, indicating that his country still has 25 million unused doses.
"At the end of last week, we invoked the force majeure clause and informed both the European Commission and the main vaccine manufacturer (Pfizer, editor's note) that we refused to receive these vaccines and that we also refused to make the payments," Adam Niedzielski told the TVN24 news broadcaster.
"This situation will lead to a legal conflict. In fact it is already taking place", he added, indicating that the contract relating to vaccines had been signed "between the Commission and the producers" and that his country is not directly part of this contract.
According to him, Poland, a country of 38 million inhabitants, still has 25 million doses of vaccines, while 67 to 70 million others have been ordered. Currently, about 51% of Poles have been fully vaccinated, 59% have received a single dose, and the vaccination rate has dropped sharply, according to data from the Ministry of Health.
A bit of transparency shows the dangers of Pfizer injections
This information comes at the same time groups of lawyers obtained by judgments that Pfizer opens the files which it intended to keep secret 75 years. These files are explosive: for example Pfizer knew from the start of the pandemic that natural immunity was better than that obtained by injection.
Serious side effects and deaths had been hidden on the first trial:
The quantity of vax according to the batches varies from 1 to 100 explaining the major differences in side effects. A global trial hidden from the guinea pig population.
Information relayed on twitter: (Tara F [56]) on April 17, 2022 and the Epoch Times, following the publication on April 1, 2022 of another batch of 11,000 Pfizer documents by the United States Food and Drug Administration. [2]
No difference in evolution was observed between those who had already been infected with COVID and those who had received the vaccine. Neither group experienced a serious infection.
The 2nd revelation is that the side effects of the injections were more severe in young people, aged 18 to 55, than in those aged 55 and over. Interestingly, Pfizer's documentation also includes medical information that mainstream media and fact-checkers have labeled misinformation.
Pfizer knew that in the first week after the injection, people of all ages suffered from transient immunosuppression, or in other words, a temporary weakening of the immune system, after the 1st dose.
This may have skewed infection rates, as people were not considered partially vaccinated until 14 days after their first shot and officially fully vaccinated 2 weeks after the second dose.
However, if people are susceptible to infection during this first week, but are considered unvaccinated during this period, this gives the impression that unvaccinated people are more prone to infection when this is not is simply not true.
The Pfizer trial had immediately shown that the infection was more frequent in the vaccinated group than in the placebo group and significantly so: 409 against 287 – during the first 7 days following the vaccine.
Pfizer and the US Food and Drug Administration were aware from the first trial that the vaccine caused immunosuppression.
The latest data from the UK government shows that
compared to the non-vaccinated, those who received two doses are:
–  Up to 3 times more likely to be diagnosed with COVID-19
–  2 times more likely to be hospitalized with COVID-19
–  3 times more likely to die from COVID-19
The comparison of death rates suggests that anyone over 40 who has been double-bitten is now more likely to die from COVID than an unvaccinated person of the same age.
Complications of pseudo-vaccines in the USA
As of March 25, 2022, there were 145,781 hospitalizations and 26,396 deaths in the USA linked to "vaccination". And in the EU (27 countries only, without GB):
Pfizer's documentation also includes medical information that mainstream media and fact-checkers have labeled misinformation.
A pediatric consent form lists several possible side effects, including a myocarditis rate of 10 in 100,000 — far higher than the 1 in 50,000 (i.e. 2 in 100,000) rate previously reported by our rulers and mainstream media.
In modern history, no drug has been as harmful and deadly as these experimental injections.
And for vaccines only:
Between December 2020 and the end of February 2021, Pfizer shipped 126,212,580 doses of its mRNA "vaccine" globally. Divided by 158,893 reported side effects, we get an adverse event rate per dose of almost 1/800
THEY HAD. It was simply irresponsible to "vaccinate" en masse!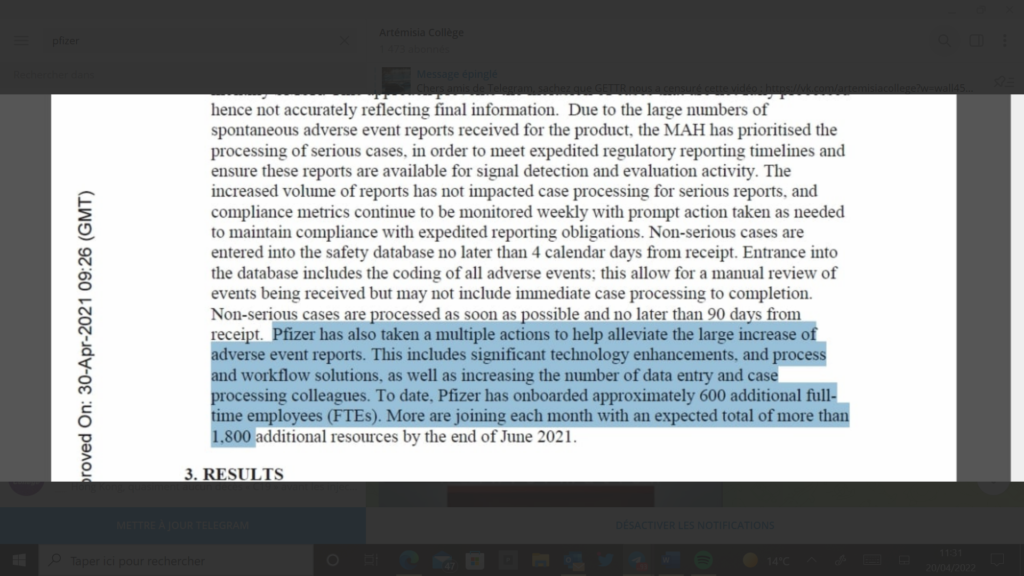 Pfizer admits to having hired 600 people just to deal with "the large number of reports of side effects from vaccines" and planned to hire 1800 by the end of June 2021!
Meanwhile Macron declared the vaccine compulsory for caregivers and imposed the Health Pass…
Revealed by documents released via FDA in a new batch, we are at 11,000 documents now. Page 6 of the report "reissue_5.3.6 postmarketing experience.pdf"
COLLECTIVE DRAMA
Help offered on the Artemisia college Telegram channel:
Eloise Soave:
Via: https://odysee.com/@LeLibrePenseur.org: 2/LLE20-Eloise-Soave-pfizer:4 Soave:
"We are heading towards delayed side effects. There are people who have side effects at the moment T, but for those who don't have any, nobody says that in 1 year, 2 years, you will not have the list which is already noted by Pharmacovigilance on side effects… There is no one guaranteeing it today… This will be our legacy to all… I have many testimonials from men on side effects… Big erection problems, heart problems … CVA leading to death… I invite you to contact me, if you need legal or other help".
For up-to-date information on side effects, you can listen to the replays of the April 16, 2022 doctothon.
And also check out Instagram #OUESTMONCYCLE (ER: Where is my period?) — AFTER THE "VACCINATION"?
Lola Dewaere (actress) broke the silence: "Hemorrhage and blood clots":
https://www.rtl.fr/culture/medias-people/cotonavirus-lola-dewaere-temoigne-des-douleurs-dont-elle-est-victime-depuis-sa-vaccination-7900134121 .
Lola Dewaere testifies to the pain she has suffered since her vaccination
"Hemorrhage and blood clots", actress Lola Dewaere talks about her ordeal which she associates with her vaccinations against Covid-19.
"I WANT IT TO STOP! begs Lola Dewaere in an Instagram post. The French actress explains her vaccination course, strewn with pre-menstrual syndrome, absence of periods and bleeding accompanied by blood clots.
Lola Dewaere explains how she lives with these symptoms: "I have to go every day to rotate with 1 premenstrual panty + 1 towel over it + 1 tampon and I have to change every 10 minutes, because even these triple protections are not enough! The 42-year-old actress  notably compares herself to horror movie scenes to depict the unbearable menstrual flow she has been experiencing for several months now.
According to her, these symptoms are due to the three doses of vaccine against Covid-19  that she has received since August. She also calls for testimonials by sharing a photo from the @ouesmoncycle account, which shares testimonials from women with  disrupted menstrual cycles  since their Covid-19 vaccine injection.
Experts have been talking about it for a long time:
Alexandra Henrion-Caude (geneticist, at 22 min):
Diane Protat (lawyer, video of Reaction19 from March 8, 2022 at 31 min):
https://videos.reaction19.fr/?mediaId=e010b212-e6fa-4467-803c-0a47dc666a15
Census of testimonies of women following the "vaccination":
••••
The Liberty Beacon Project is now expanding at a near exponential rate, and for this we are grateful and excited! But we must also be practical. For 7 years we have not asked for any donations, and have built this project with our own funds as we grew. We are now experiencing ever increasing growing pains due to the large number of websites and projects we represent. So we have just installed donation buttons on our websites and ask that you consider this when you visit them. Nothing is too small. We thank you for all your support and your considerations … (TLB)
••••
Comment Policy: As a privately owned web site, we reserve the right to remove comments that contain spam, advertising, vulgarity, threats of violence, racism, or personal/abusive attacks on other users. This also applies to trolling, the use of more than one alias, or just intentional mischief. Enforcement of this policy is at the discretion of this websites administrators. Repeat offenders may be blocked or permanently banned without prior warning.
••••
Disclaimer: TLB websites contain copyrighted material the use of which has not always been specifically authorized by the copyright owner. We are making such material available to our readers under the provisions of "fair use" in an effort to advance a better understanding of political, health, economic and social issues. The material on this site is distributed without profit to those who have expressed a prior interest in receiving it for research and educational purposes. If you wish to use copyrighted material for purposes other than "fair use" you must request permission from the copyright owner.
••••
Disclaimer: The information and opinions shared are for informational purposes only including, but not limited to, text, graphics, images and other material are not intended as medical advice or instruction. Nothing mentioned is intended to be a substitute for professional medical advice, diagnosis or treatment.