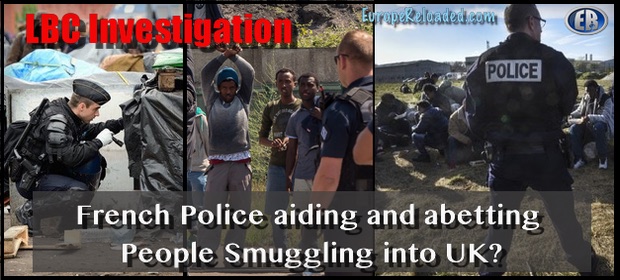 Pam Barker | Director of TLB Europe Reloaded Project
London-based radio station LBC has conducted an investigation into a people-smuggling ring bringing migrants across the Channel from France into the UK. It seems that French police are actively encouraging and assisting these illegals to exit French soil. Here is a brief RT report on this:
We also highly recommend this accompanying piece by the same LBC journalist titled "How I Infiltrated One Of The Biggest People Smuggling Rings In Northern France."
What's remarkable is how the police, as representatives of both UK and French authorities, are essentially shrugging their shoulders and letting it happen, even enabling it. Uniformed UK border police are present in the French migrant camps according to these reports, discouraging the migrants from doing the Channel crossing. Quite obviously, this won't work. French police also enable the process (which one can frankly understand given the grief northern French residents experience with these camps close to their towns), and British police pick up around 70% of them in UK waters taking them to safety. The smugglers, mostly of Asian ethnicity according to this report, profit massively. Declarations by the British government of vowing to stop it are absurd: the UK government of any political stripe has been ploughing migrants into the UK for around 20 years with pride (Labour 'sent out search parties for immigrants', Lord Mandelson admits). This all beggars belief.
Beyond that, there is an entirely comedic element involved, as UK border police say to these people 'don't go' while French police say 'bye bye'. Ridiculous, illegal and undemocratic. There is clearly no firm policy directive on this from a much higher place, except to turn a blind eye.
********
LBC Uncovers Major People Smuggling Ring Bringing Migrants Across Channel To UK
An LBC investigation has uncovered a major people smuggling ring that claims French police are helping them get people to the UK.
An undercover team for LBC infiltrated the criminal gang, operating out of Dunkirk in the north of France.
He covertly filmed the gang, based in Dunkirk, London and Birmingham, who claimed that French police assist them getting people across the Channel. They said authorities tell them not to cross one day, but to come back the next – possibly due to the waters being patrolled by the UK Border Force.
Posing as an Indian family wanting to bring a young relative to the UK, they met Farooq in his camp deep in woodland off the beaten track in Dunkirk.
Farooq charges £7,000 for a place on a boat and offers a discount for children and subsequent families members wanting to make the trip. He claims to have sent 300 to 400 people to the UK in boats.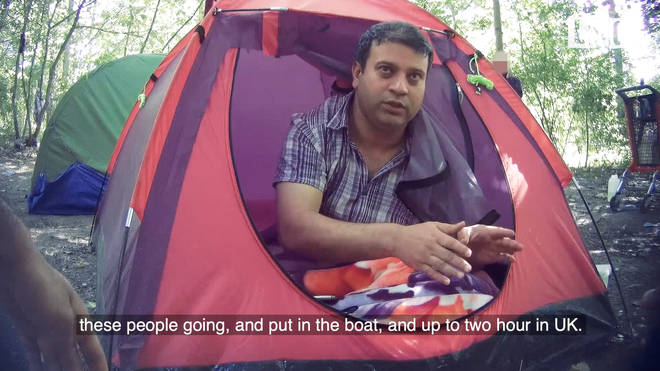 Farooq, who runs the people smuggling ring in Dunkirk. Picture: LBC
.
The boats are piloted by his team. After being pointed in the direction of the English coastline, they are told not to stop until they cross into UK waters where they will be rescued.
The majority of the money for the crossings changes hands in the UK, with a deposit of between £500 and £1,000 going straight to Farooq, who has bank accounts in the UK, France and Pakistan.
LBC's undercover team were given three UK addresses to pay a deposit to secure the crossing: a restaurant and an off-licence in west London, and a newsagent in Birmingham.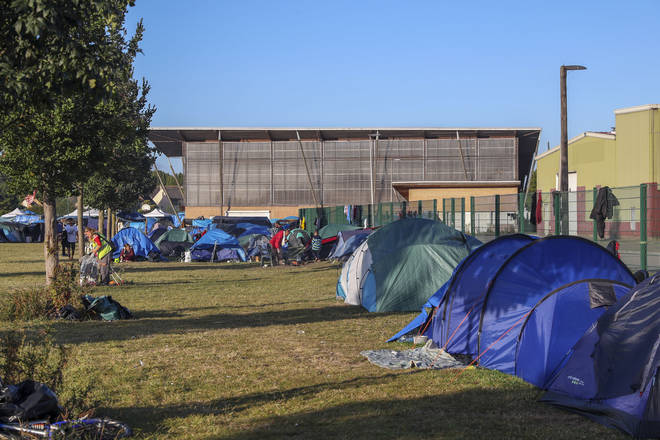 .
The Home Office have launched an investigation into the ring, using the information we supplied them.
A spokesperson said: "The organised crime groups behind the illegal attempts to cross the Channel are putting the lives of vulnerable people in serious danger for their own financial gain.
"We are determined to put a stop to this illegal activity and last week alone Immigration Enforcement and the National Crime Agency made 23 arrests as part of a series of ongoing investigations into suspected people smuggling.
"An investigation based on the information provided by LBC is already under way."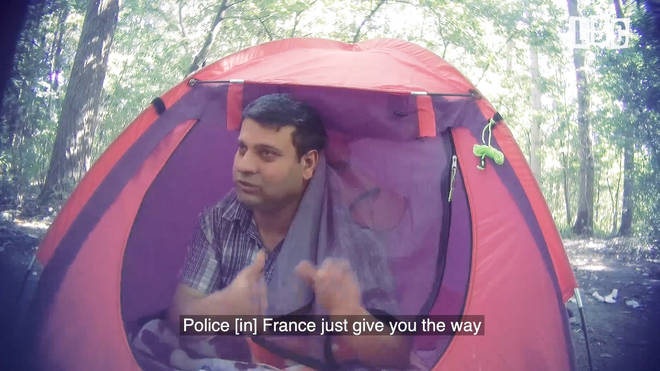 .
In the video – seen below – the moment our team meet Farooq, who ran the people smuggling ring, can be seen. The following conversation transpired, in which he discussed how the French police help them.
LBC's Undercover Investigation Into People Smuggling Ring In France
LBC reporter: How many people you sending already, do you think?
Farooq: Every time, 30, 40, 30, 40, 50… Last night people pass. I think it's 20, 25 people it's gone.
—
Farooq: When you're going to the beach… Police coming, the French police. Is told, "Today not possible. Today go, next day come."
LBC reporter: Police say that?
Farooq: Yeah.
LBC reporter: Police say okay?
Farooq: Sometimes, when people are going, the French police with him. When he's crossed the border, after [they just say], "Bye bye"… I don't know. Now, a lot of people pass. Like here, three-four hundred people pass.
LBC reporter: So police is no problem?
Farooq: French police is no problem. Police [in France] just give you the way.
LBC reporter: They're helping?
Farooq: Just go, go…
—
Tomorrow, LBC follows the trail of the money for the people smuggling ring, where agents work out of convenience stores in London and Birmingham.
************
••••
The Liberty Beacon Project is now expanding at a near exponential rate, and for this we are grateful and excited! But we must also be practical. For 7 years we have not asked for any donations, and have built this project with our own funds as we grew. We are now experiencing ever increasing growing pains due to the large number of websites and projects we represent. So we have just installed donation buttons on our websites and ask that you consider this when you visit them. Nothing is too small. We thank you for all your support and your considerations … (TLB)
••••
Comment Policy: As a privately owned web site, we reserve the right to remove comments that contain spam, advertising, vulgarity, threats of violence, racism, or personal/abusive attacks on other users. This also applies to trolling, the use of more than one alias, or just intentional mischief. Enforcement of this policy is at the discretion of this websites administrators. Repeat offenders may be blocked or permanently banned without prior warning.
••••
Disclaimer: TLB websites contain copyrighted material the use of which has not always been specifically authorized by the copyright owner. We are making such material available to our readers under the provisions of "fair use" in an effort to advance a better understanding of political, health, economic and social issues. The material on this site is distributed without profit to those who have expressed a prior interest in receiving it for research and educational purposes. If you wish to use copyrighted material for purposes other than "fair use" you must request permission from the copyright owner.
••••
Disclaimer: The information and opinions shared are for informational purposes only including, but not limited to, text, graphics, images and other material are not intended as medical advice or instruction. Nothing mentioned is intended to be a substitute for professional medical advice, diagnosis or treatment.