ER Editor: What's really going on here? Thierry Meyssan's site, Voltaire Network, put out a very brief report yesterday on this alleged 'coup plot', reproduced below. We've also included a couple of RT articles. Of course, German MSM mentioned Russia as well as 'QAnon followers'. The cliches are coming out. As is 'Citizens of the Reich'. It feels like we're in Kanye West territory on Alex Jones.
Is the Deep State prepping the ground to discredit something they believe is coming up that is out of their control? 'White hat' afficionados will know what this means. Or is it the white hats playing out a desensitization strategy on the German public?
Is any of this even real? If it's not, which side is scripting it?
***
Coup attempt in Germany
VOLTAIRE NETWORK

 | 
A coup d'état attempt was foiled in Germany. The conspirators had planned to take over the Bundestag and proclaim Prince Heinrich XIII of Reuss as the country's ruler.
3,000 police officers were deployed, 130 raids took place, 25 people were arrested, including a former AfD deputy, a Berlin judge and several former members of the Special Forces Command (KSK) and Bundeswehr parachute units.
The House of Reuss-Greiz had already distanced itself this summer from Prince Heinrich XIII, considering him to be "confused".
The German press alludes to contacts between the plotters and Russia. While not denying the existence of an overture, the latter declared that it never followed up on it.
********
German police foil alleged 'citizens of the Reich' coup plot
Authorities have detained 25 people, including ex-police and military personnel, who allegedly wanted to reinstate a monarchy
RT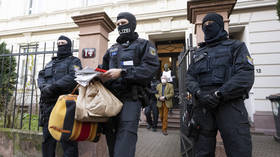 SWAT deployments, more than 130 searches and a total of 25 arrests have been carried out in Germany and several neighboring countries in one of the largest counter-terrorist operations in the nation's history, according to German media.
Those arrested include former members of the military and police force, as well as a Russian national. They are suspected of conspiring to depose the current government in Berlin by force, and reinstate a regime modeled on the German Reich of 1871.
Multiple raids in the early hours of Wednesday involved some 3,000 German police officers storming apartments in 11 of the country's regions, authorities revealed.
The group members are said to be adherents of the QAnon ideology, who believe Germany is currently being controlled by the 'deep state'. (ER: Bingo!)
Having started their preparations for a coup back in November 2021, the suspects formed a 'military wing,' and were actively attempting to recruit military personnel currently serving in the Bundeswehr.
Apart from storming the country's parliament, the Bundestag, and taking lawmakers hostage, the suspects also allegedly intended to target Germany's energy infrastructure in the hope of triggering civil-war-like clashes.
The conspirators also reportedly formed a shadow cabinet, planning to put a nobleman from Frankfurt, Prinz Heinrich XIII, at the helm for an interim period following the coup.
Birgit Malsack-Winkemann, a former MP for the right-wing Alternative for Germany party, was among those arrested and also had her property searched, ZDF media outlet reported.
Among the suspects is a Russian national identified as Vitalia B. She allegedly helped the would-be ruler to establish contacts with Russia, though apparently to little avail. As Germany's federal prosecutor's office noted, "According to the investigations [conducted] so far, there are no clues [suggesting] that their contact partner reacted positively to their request."
Meanwhile, Russia's embassy in Berlin told the media that it had not been notified by German authorities that a Russian national had been detained. The diplomats added that they would send an inquiry to the German prosecutor's office, saying they are ready to provide all necessary assistance to the woman.
Commenting on the raids, Kremlin spokesman Dmitry Peskov said on Wednesday that officials in Moscow had learned about the situation from the media, describing it as Germany's "internal problem."
********
Coup plot an example of government's diversionary tactics – German MP
RT
AfD party's Eugen Schmidt said the arrest of alleged conspirators is a smokescreen amid the energy crisis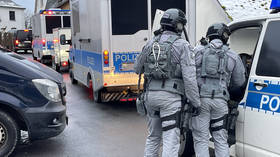 A lawmaker from the right-wing Alternative for Germany party, Eugen Schmidt, has called into question the authorities' claims that a group of QAnon followers had been plotting a coup to overthrow the German government. The MP alleged that the powers-that-be in Berlin arranged the arrest of dozens of people on Wednesday merely to divert Germans' attention from an increasingly acute energy crisis.
Speaking to Russia's Izvestia media outlet on Wednesday, Schmidt pointed out that the vast majority of the suspects are in their 60s or even 70s. He noted that the elite troops who officials say were part of the conspiracy had served before 1990, when the German Democratic Republic was still around, and added that these soldiers are "long past their prime."
With this in mind, the lawmaker argued, the official position that these individuals had been planning to storm the German parliament sounds downright "absurd" and "ludicrous." 
According to Schmidt, the entire case is merely an attempt by the German government to create a furor in the media that would eclipse "catastrophic problems in the German economy."
He stressed that, amid the worsening energy crisis and with deteriorating weather, many Germans "have no means to pay [the bills]" because they "receive fairly modest salaries." The MP also cited energy prices that are up to five times higher than last year.
He went on to say that ever more people are starting to ask themselves "who's to blame?" Bearing the responsibility for the current situation, the MP proposed, is the "incompetent government." 
"So, now, right before our eyes, a media provocation is being concocted with the sole purpose of diverting [the people's] attention from their everyday problems," the AfD politician concluded.
On Wednesday morning, German police announced it had carried out multiple raids across the country, arresting 25 members and supporters of an alleged terrorist group.
According to officials, the suspected conspirators had been planning to form an armed group to overthrow the government and install a regime modeled after the German Reich of 1871.
A former MP for the AfD is among the detainees, along with a Russian national.
************
••••
The Liberty Beacon Project is now expanding at a near exponential rate, and for this we are grateful and excited! But we must also be practical. For 7 years we have not asked for any donations, and have built this project with our own funds as we grew. We are now experiencing ever increasing growing pains due to the large number of websites and projects we represent. So we have just installed donation buttons on our websites and ask that you consider this when you visit them. Nothing is too small. We thank you for all your support and your considerations … (TLB)
••••
Comment Policy: As a privately owned web site, we reserve the right to remove comments that contain spam, advertising, vulgarity, threats of violence, racism, or personal/abusive attacks on other users. This also applies to trolling, the use of more than one alias, or just intentional mischief. Enforcement of this policy is at the discretion of this websites administrators. Repeat offenders may be blocked or permanently banned without prior warning.
••••
Disclaimer: TLB websites contain copyrighted material the use of which has not always been specifically authorized by the copyright owner. We are making such material available to our readers under the provisions of "fair use" in an effort to advance a better understanding of political, health, economic and social issues. The material on this site is distributed without profit to those who have expressed a prior interest in receiving it for research and educational purposes. If you wish to use copyrighted material for purposes other than "fair use" you must request permission from the copyright owner.
••••
Disclaimer: The information and opinions shared are for informational purposes only including, but not limited to, text, graphics, images and other material are not intended as medical advice or instruction. Nothing mentioned is intended to be a substitute for professional medical advice, diagnosis or treatment.