ER Editor: Journalist Mehdi Messaoudi informs us of the existence of this paramilitary-police ('gendarme') creation, EuroGendFor, which was something we were not previously aware of. A little digging around shows that it was likely deployed in Greece to quell civil unrest following the economic crisis starting everywhere in 2008, a time period when Greece got economically destroyed in systematic fashion by the EU and IMF combined.
This is the Wikipedia page of EuroGendFor, and it's clear that the participating countries (7 of them: 5 originally, then 2 more) echo what might be called 'deep state', 'Atlanticist' interests. They've also got their own gendarme forces (military-police combination) already in place. This is the Dutch military's mention of them. From Wikipedia:
The European Gendarmerie Force (EUROGENDFOR) is an operational, pre-organised, and rapidly deployable intervention force, exclusively comprising elements of several European police forces with military status of the Parties in order to perform all police tasks within the scope of crisis management operations, as established by Art.1 of the Treaty establishing the European Gendarmerie Force.[2][3]

It was launched by an agreement in 2006 between five member states of the European Union (EU): France, Italy, the Netherlands, Portugal, and Spain. Romania joined in 2009; Poland in 2011.[4] Its status is enshrined in the Treaty of Velsen of 18 October 2007.[5] The headquarters are located in Vicenza, Italy.

It is presently not established at the EU level (referred to as the Common Security and Defence Policy, CSDP); it is for instance not a project of the Permanent Structured Cooperation (PESCO) of the CSDP. It may however contribute in the implementation of the CSDP, when made available as a multinational force in accordance with article 42.3 of the Treaty on European Union (TEU).
***
This is an interesting report, translated from Greek, dating back to 2010 in the context of the economic crisis beginning 2008-2009, showing that EuroGendFor was indeed being used to target internal domestic unrest in certain EU states. Greece is not one of the participating countries in this organization, yet it was a country expected to have significant unrest:
Is it the turn of EUROGENDFOR?
5/06/2010 01:10:00 pm.

For the past year and a half, almost all Western institutions have been warning of the possibility of widespread riots/riot due to the crisis.
A US Army War College report (December 2008) warned that the crisis could lead to "widespread unrest and the need to use the military to enforce order".
The Pentagon began training 30,000 Northcom troops in riot suppression.
Admiral Michael Mullen, chief of the US Joint Chiefs of Staff, called the economic crisis a greater threat than the wars in the Middle East, while US intelligence chief Dennis Blair underlined the dangers to international stability.
For Europe there is EUROGENDFOR or European Gendarmerie Force, which translates to "European police".
The European Gendarmerie Force (EGF) has been set up to combat riots and unrest in Europe and is an initiative by 6 EU member states – France, Italy, the Netherlands, Portugal, Spain and Romania – to improve crisis management capacity in sensitive areas. The European Gendarmerie Force is based in Italy.
Information reports that, some time ago, a police spokesman had revealed to the radio "Thema" that the European Union together with the (Greek) government, are preparing to import part of the EuroPolice Force as he called it, consisting of Spaniards, Germans, Italians, Dutch and other mercenaries, "who will also have the burden of suppressing the apparently coming uprising, if and when the local police do not do their job well". The force in question can reportedly intervene wherever and however it wants without being subject to control and restrictions, taking orders only from the EU.
Another report states that secret preparations have been made for the intervention of the special European military force EUROGENDFOR in Greece in order to immediately suppress the popular protests and reactions to the new harsh measures of the government.
These European repressive forces will in fact be an army used by the states in an attempt to make it appear that they are not mixing their own army but European direct intervention forces.
The economic crisis, which will be accompanied by social unrest, will give Brussels a prime opportunity to test the intervention capacity of the secret group set up to put down riots and unrest in Europe.
The official site is http://www.eurogendfor.eu/ and the news was originally posted on the German Kopp Verlag.
It is a fact that the government has so far maintained 'silence' on the issue, while most European citizens are unaware of the existence of this group.
Source
This Greek report (in English) from 2011 uses eyewitness testimony for the presence of EGF troops in the country, and is rather interesting:
We recall reports during 2020-21, for example, of how a special riot police would show up at the magical time of 3pm at those places in London, Trafalgar Square for example, where protestors against Covid restrictions and lockdowns were most active. Before 3pm, regular dressed police with normal accents would be patrolling the protestors, but at 3pm, a wholly different faction would turn up in vans, with swarthier looks and different accents. As we recall, nobody could identify who they were.
See also this from 2010:
********
EuroGendFor, this European private secret army, created to quell revolts in Europe
French President Emmanuel Macron, like his Western counterparts, does not miss an opportunity to attack the Russian private military enterprise Wagner, calling it a terrorist organization and accusing it of abuses in Mali, after his troops were driven from Mali, the Central African Republic (RCA) and Burkina Faso, in the wake of operations Serval, Barkhane, Task Force Takuba, Sangaris and Saber, knowing that Wagner's presence in Libya has never been criticized.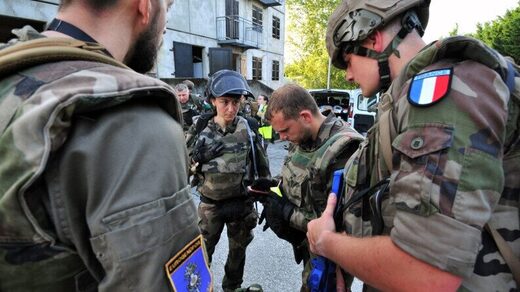 What about EuroGendFor?
If the criticisms targeting the Wagner Group have taken on a broad dimension with the conflict in Ukraine and the end of the French military presence in Mali, RCA and Burkina Faso, the fact remains that officials have rarely addressed the aspect of the creation of a European private secret army whose function is to serve the objectives of the European Commission. This army is called EuroGendFor. It is located in Vicenza in Italy. This secret army or special intervention unit is made up of 3,000 men. Political, judicial, armed police and provided with secret services, its missions are carried out in close cooperation with the European armies in order to guarantee 'security in European crisis territories'.
In other words, put an end to all popular revolts within the EU member states which join 'EuroGendFor'. This paramilitary troop was founded without the slightest democratic legitimacy, in all opacity, and each State can call on the FGE to quell any crisis whatsoever.
The new European private paramilitary militia was set up in the greatest secrecy, the aim of which is not to alert the population under any pretext – The European citizen, moreover, does not know of its existence – suggesting that it is a police force in the country concerned – do you think the name was invented from the intellectual innovation of the French (Europe gendarmerie force) also called 'Force European gendarmerie' ( FGE ).
EuroGendFor is both police, judicial police, army and secret services
The skills of this unit are practically unlimited. It must, in close cooperation with the European military, guarantee 'security in European crisis territories'.
More and more EU member states are joining EuroGendFor for the sole purpose of not having to use their own armies against the citizens of the country – in short, they wash their hands of the people.
What is behind Eurogendfor?
Command is located in Vincenza, Italy, far from the seat of the EU! This police force was created on the initiative of the former French Minister of Defense, Michèle Alliot-Marie, to more easily suppress the demonstrations which are still degenerating again in French cities in the future.
The big problem is this: Eurogendfor will in future reduce national law and national sovereignty of EU member states to the European level! A 'War Council', which is made up of the Ministries of Defense and Security of the EU countries participating in Eurogendfor and of the country concerned, will decide to intervene in an EU member state – this is how the new police troop of the EU is regulated 'EU in 'constituent document' called Velsen Agreement ( NL ).
Bob Denard and Blackwater, neither faith nor law
In the past, Westerners have used private military groups to preserve their predation of the wealth of African and Asian countries. These groups include the French mercenary Bob Denard and the American private group Blackwater.
Bob Denard had at least participated for three decades in a series of 'helping hands' in Africa and the Middle East. He was one of the key players in coups d'état that overthrew progressive powers, to the benefit of puppet regimes serving the West.
For its part, the Blackwater company became famous during the American invasion of Iraq, where it had got hold of the American police, military and diplomatic administration. Clearly, in 2007, Blackwater 'reigned' over Iraq. There are more private contract workers, 180,000, and baptized 'the most powerful army in the world', describing precisely the privatization of military affairs after the attacks of September 11, 2001 and the jackpot won by Blackwater in 2006 which will obtain the contract to secure American civil servants and institutions in 27 countries.
On September 16, 2007, five American private guards, employed by Blackwater, opened fire in the center of Baghdad on unarmed civilians. There were 17 dead and 24 injured among Iraqi civilians. The guards claim that they were attacked, which all Iraqi witnesses deny. Blackwater management denied any fault, arguing that its agents involved in the Baghdad shooting felt threatened. But other incidents involving members of Blackwater will be discovered. All were 'treated' discreetly. The Nisour square massacre would nevertheless be a turning point in the war in Iraq, which saw the anti-American sentiment in Iraq flourish. But it is also the impunity enjoyed by Blackwater members that explains the reasons for the 'failure of talks between Washington and Baghdad on the maintenance of a contingent of 3,000 American instructors to train Iraqi soldiers. Washington demanded total immunity for its soldiers, protecting them from any legal action in Iraq, which Baghdad refused.
************
Featured image left: https://www.keeptalkinggreece.com/2011/10/14/thriller-with-rumors-on-eurogendfor-hit-men-in-greece/
••••
The Liberty Beacon Project is now expanding at a near exponential rate, and for this we are grateful and excited! But we must also be practical. For 7 years we have not asked for any donations, and have built this project with our own funds as we grew. We are now experiencing ever increasing growing pains due to the large number of websites and projects we represent. So we have just installed donation buttons on our websites and ask that you consider this when you visit them. Nothing is too small. We thank you for all your support and your considerations … (TLB)
••••
Comment Policy: As a privately owned web site, we reserve the right to remove comments that contain spam, advertising, vulgarity, threats of violence, racism, or personal/abusive attacks on other users. This also applies to trolling, the use of more than one alias, or just intentional mischief. Enforcement of this policy is at the discretion of this websites administrators. Repeat offenders may be blocked or permanently banned without prior warning.
••••
Disclaimer: TLB websites contain copyrighted material the use of which has not always been specifically authorized by the copyright owner. We are making such material available to our readers under the provisions of "fair use" in an effort to advance a better understanding of political, health, economic and social issues. The material on this site is distributed without profit to those who have expressed a prior interest in receiving it for research and educational purposes. If you wish to use copyrighted material for purposes other than "fair use" you must request permission from the copyright owner.
••••
Disclaimer: The information and opinions shared are for informational purposes only including, but not limited to, text, graphics, images and other material are not intended as medical advice or instruction. Nothing mentioned is intended to be a substitute for professional medical advice, diagnosis or treatment.