ER Editor: Voting for the Covid-19 vaccine certificate took place in a preliminary way yesterday, which has produced an agreement to fast-track the PROCESS for approving it, while the substance of the matter has not yet been scrutinized by MEPs. The entire process is being linked, simplistically, to pressure exerted by the tourism sector: 'If we pass this, people can go on holiday.' Hence the fast-tracked nature of the process, which will inevitably limit debate on incredibly important medical and democratic issues addressed by Senta Depuydt of Children's Health Defense Europe in the video below.
We're running two reports of interest below from Irish media, but we issue a very strong MSM warning for both articles.
Robert F. Kennedy Jr. of Children's Health Defense gets an honorable mention (irony) below. We link to this article of 3 days ago, with a video presentation by CHD Europe head Senta Depuydt breaking down the entire issue of vaccination certificate. See European Union to Vote This Week on Vaccination Travel Passport.
********
MEPs fast-track Covid-19 vaccine cert
JAMES COX for BREAKING NEWS.IE
EPs have voted in favour of fast-tracking the approval process for the European Commission proposal for a Covid-19 vaccine certificate (Digital Green Certificate).
MEP Deirdre Clune has welcomed today's majority vote.
"With all measures to prevent and alleviate the worst impact of the Covid-19 pandemic on the health, wellbeing and prosperity of our citizens, there is no time to waste. Speeding up our work as legislators on issues such as this, when required, should be a priority", the Fine Gael MEP said.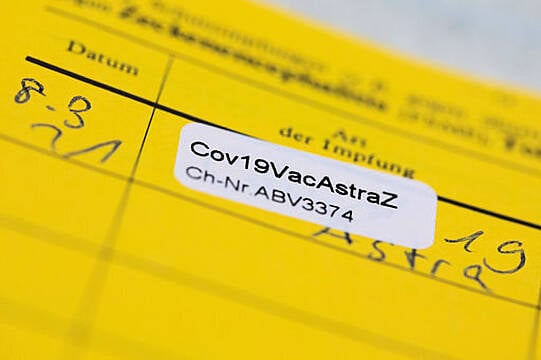 Summer tourism season
The European Parliament voted to use an urgency procedure for the proposal, but has yet to scrutinise and vote on the actual content of the travel cert. Today's vote guarantees a timeframe allowing for the certificate to come into force by June — in time for the summer tourism season — if agreed and adopted.
For MEP Clune, the travel cert could positively boost tourism, preparing the way for safer and easier freedom of movement in Europe.
"The Digital Green Certificate or vaccination cert will make travel safer and easier across Europe by providing uniform proof that those travelling has been vaccinated against Covid-19, have tested negative or developed immunity", said Ms Clune, a member of the Parliament's Environment and Public Health Committee.
"Today, MEPs backed a faster process for its consideration, but the proposal will still be subject to scrutiny by the Parliament and to agreement of the Member States before it can be adopted. It is also important that it respects our fundamental rights and values, as well as data protection requirements.
********
Anti-vax email 'deluge' hits European Parliament
MEPs receive thousands of emails aiming to stop introduction of vaccine certificates
NAOMI O'LEARY EU Correspondent
Irish and international members of the European Parliament have been deluged by thousands of emails organised by anti-vaccination and anti-lockdown activists in a bid to stop the introduction of vaccine certificates intended to ease the resumption of travel in the European Union.
The proposed pan-EU digital certificates would show if people have been vaccinated, tested negative or recovered from Covid-19.
Many of the emails are copies of a template text shared online by a network of activists that casts doubt on the safety and efficacy of Covid-19 vaccines and describes the certificate as "the same as imposing travel papers on Jews by the Nazi's".
MEPs and their staff described the emails as highly unusual because of their volume, their focus on a procedural vote that would usually not attract much interest and their grounding in misinformation about vaccines and the Covid-19 pandemic.
"It is extremely unusual to have 2-3,000 emails coming in overnight and over the course of a day and a half. I think you really have to ask questions about the algorithms and so on behind it and the ability to generate this," said Fine Gael's Frances Fitzgerald, who sits on a disinformation committee in the parliament.
The template letter to MEPs and a list of their email addresses began to go viral on Facebook in Ireland after they were posted by barrister Tracey O'Mahony and shared by Prof Dolores Cahill, formerly of the Irish Freedom Party, both of whom made speeches at an anti-lockdown event in Dublin on St Patrick's Day.
This followed a similar call to email all EU MEPs and the sharing of a different template letter by Children's Health Defense, an anti-vaccination group in the United States founded in 2015 by Robert F Kennedy Jr, a nephew of the late US president John F Kennedy and a notorious anti-vaccination campaigner.
The group expanded into Europe last summer when Mr Kennedy was among the speakers at a mass rally of anti-lockdown protesters and conspiracy theorists in Berlin, and it now campaigns on EU issues in English, German, French and Italian. MEPs from across the EU described their inboxes being flooded with similar emails to an extent that disrupted their ability to work.
'Breach of rights'
"Some of the emails are genuine, others are obviously coming from a centralised distribution system. There's quite a strong lobby coming from outside the European Union itself," said Fianna Fáil's Billy Kelleher.
"There's a strong anti-vax element to it . . . Some people have views that it's a breach of fundamental rights in terms of transport and travel, others have views that vaccination hasn't proved to be successful and it's all part of a conspiratorial agenda," he added. "Some of them are quite threatening. They go to strange, appalling comparisons between Jewish people and Germany in the '30s having to wear the star, it really is bordering on the ugly."
MEPs vote on Thursday on whether to speed up procedure to allow for debates to be held earlier on a proposal for pan-EU digital certificates that would show if people have been vaccinated, tested negative or recovered from Covid-19.
There is pressure to set up the digital system in time for summer, particularly from a group of tourism-dependent states led by Greece, which hopes it could help ease international travel by allowing some people to skip quarantine or testing requirements.
In Israel, a vaccine certificate system has been introduced to allow people who have received jabs exclusive access to gyms, hotels, theatres and concerts. But the idea is controversial in Europe and opposed as discriminatory by several member states, so the proposed EU version of the scheme would also allow people to demonstrate that they have tested negative or have antibodies as they have recovered from Covid-19, as an alternative to vaccination.
************
••••
The Liberty Beacon Project is now expanding at a near exponential rate, and for this we are grateful and excited! But we must also be practical. For 7 years we have not asked for any donations, and have built this project with our own funds as we grew. We are now experiencing ever increasing growing pains due to the large number of websites and projects we represent. So we have just installed donation buttons on our websites and ask that you consider this when you visit them. Nothing is too small. We thank you for all your support and your considerations … (TLB)
••••
Comment Policy: As a privately owned web site, we reserve the right to remove comments that contain spam, advertising, vulgarity, threats of violence, racism, or personal/abusive attacks on other users. This also applies to trolling, the use of more than one alias, or just intentional mischief. Enforcement of this policy is at the discretion of this websites administrators. Repeat offenders may be blocked or permanently banned without prior warning.
••••
Disclaimer: TLB websites contain copyrighted material the use of which has not always been specifically authorized by the copyright owner. We are making such material available to our readers under the provisions of "fair use" in an effort to advance a better understanding of political, health, economic and social issues. The material on this site is distributed without profit to those who have expressed a prior interest in receiving it for research and educational purposes. If you wish to use copyrighted material for purposes other than "fair use" you must request permission from the copyright owner.
••••
Disclaimer: The information and opinions shared are for informational purposes only including, but not limited to, text, graphics, images and other material are not intended as medical advice or instruction. Nothing mentioned is intended to be a substitute for professional medical advice, diagnosis or treatment.