ER Editor: The Duran team of Alex Christoforou and Alexander Mercouris discuss the latest on the impasse between Hungary and Poland vetoing the EU budget and slush fund (for the well-connected), ostensibly related to the 'pandemic', and the EU hierarchy.
Has the EU got a workaround to get its budget passed without Hungary and Poland?
EU punishment methods assume that Hungary & Poland are disregarding the rule of law, so they must be policed by the great and good of the EU.  So what does the EU do when these countries legally veto the budget (which is allowed under the treaties and EU constitution)?
It works around its own rule of law! They're talking about having an agreement between various member states that excludes Hungary and Poland, through some sort of separate treaty. This is so like the EU – they will have an active budget, sending their slush monies to various states, excluding H&P from these monies. It shows that the 'right of veto' that we have heard so much about in the EU doesn't exist. Countries evidently don't have a right of veto.
What's next? An EU PR media campaign in these two countries against their own leaders is very likely. So Soros will be pushing, via the media, for regime change. Poland is a very divided country, which may be somewhat receptive to this tactic, whereas Hungary is a more difficult case: Orban is stronger there with solid party support behind him. But H&P are going to come under incredible pressure.
But can simply circumventing the EU's veto mechanism happen? Other countries may oppose this as their own veto power may be annulled. Further, it may not be legal. Mercouris: I think this EU circumvention of the veto power of a country will be attempted despite its illegality. Then we'll see astroturf protests in these countries to bring these countries down.
It's a step toward annulling the veto power of member states. In time, individual nations will have to kowtow to the ruling powers of the EU. Mercouris: in reality, veto power of member states has been dead for a long time. It only happened effectively way back in the '60s with de Gaulle. The EU Council often makes decisions that don't involve member states, e.g. sanctions against Russia: Greece found this out the hard way. To the extent that veto power STILL exists, it's about to be abolished.
EU economy is in a terrible state and is facing a massive contraction. Previous problems such as 2008 and the Eurozone crisis have never been resolved. A structure at the top is being consolidated while the foundations are rotten and continue to crumble. Strong countries need to rebel, otherwise this will simply go on. The EU has a genius for continuing an integrationist model while everything else falls apart.
********
EU mulls rule change. Poland & Hungary EU VOTE will no longer count
ALEX CHRISTOFOROU
EU set to change rules. Poland & Hungary EU VOTE will no longer count
***
EU Mulls Sidelining Hungary & Poland Altogether On Blocked Recovery Fund
The European Union is appearing less and less a "union" of willing participants (nothing at all new). And apparently its vaunted democratic processes are alterable and expendable simply if things don't go the way of the powerful technocrats in charge in Brussels.
The major development and prime case in point emerging Wednesday: "Brussels is considering ways to push ahead with the creation of the EU's Covid-19 recovery fund without the participation of Hungary and Poland, a senior commission official has said, piling pressure on the two countries to drop their veto over the union's upcoming budget."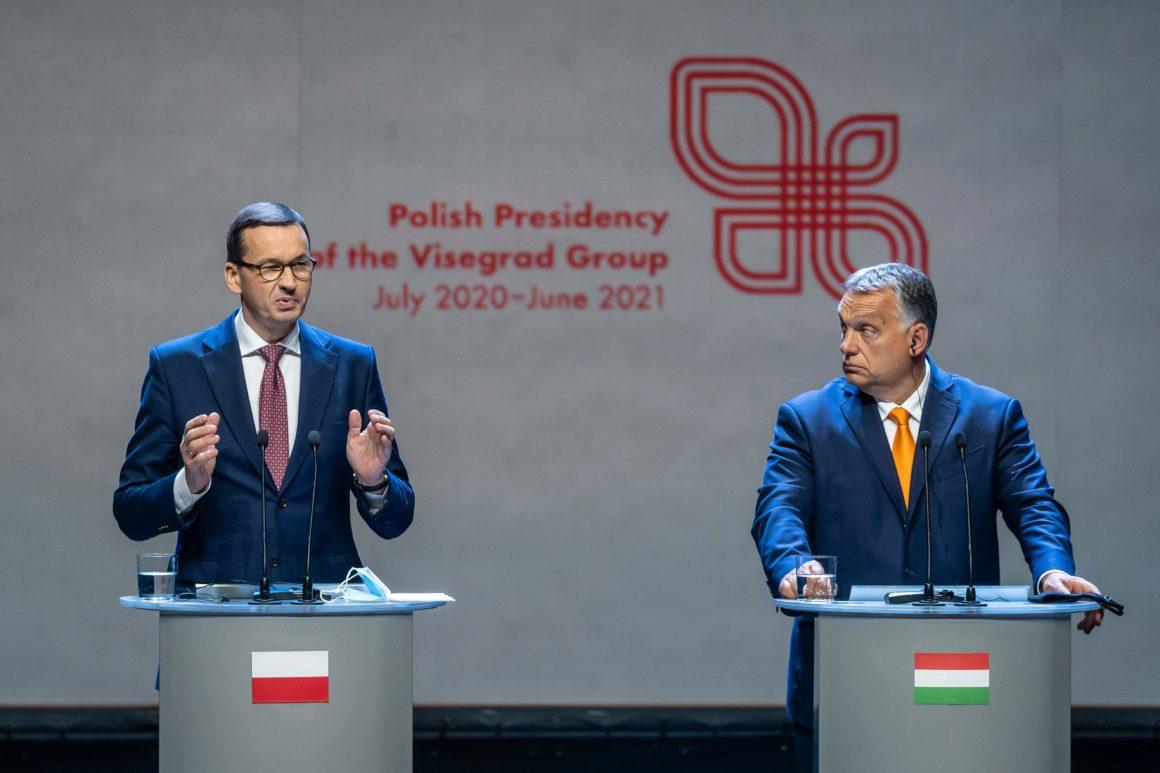 But the purpose of the veto is debate and achieving consensus, while avoiding member nations being force-fed dictates against their will. But "force-feeding" is long the story of the EU.
The senior commission official said further according to FT:
The official said the EU's 25 member states could proceed with setting up an envisaged €750bn recovery fund next year to act as a "bridge" until Hungary and Poland drop a veto over the bloc's overall €1.8tn budget and recovery package.
This central irony shouldn't be missed: it's the EU that has long charged the current resistors to passing the EU budget and COVID relief package, namely Poland and Hungary, with "democratic backsliding".
From the start of the two countries vowing to block the budget together in order to torpedo key conditions which they see as "blackmail" – as Hungary's Viktor Orbán previously put it – there's been growing anger and fear among other members that the union will be held hostage by a few obstructionists content to pick up their ball and go home.
Meanwhile, look which "billionaire philanthropist" is leading the charge…
Already under formal EU probes, both countries have sensed the latest attempts to link budget and stimulus packages to conformity with EU consensus ideology – or what Brussels touts as 'rule of law' – is yet another attempt to legally impose external values and directives.
"Diplomats hope Hungary and Poland can be convinced to drop their objections and throw their weight behind the recovery fund that was agreed by all member states in a July summit," FT continues.
Citing Rabobank's analysis this is precisely the scenario we featured yesterday…
* * *
A different scenario: Bypassing obstructive states
Technically it seems possible to create a separate Recovery and Resilience Fund (the largest chunk of the total EUR750bn new crisis recovery instrument) among willing Member States, outside the MFF. It could be based on an intergovernmental treaty between all EU Member States except for Poland and Hungary – and possibly Slovenia. It might persuade Poland and Hungary to come around on the MFF given their needs for EU funds and weakened bargaining position, but could also reach the opposite, not for economic reasons but by feeding emotions of anger and frustration. We don't think this scenario is viable in the foreseeable future, for several reasons. First, it would push the EU into uncharted waters and take months at least to talk things through, politically and legally, prior to implementing it. Also because it would likely require paid-in capital from participating Member States. Second, it could make it more difficult to solve the deadlock on the MFF and ORD, which would harm those Member States which depend more on regular budget funds than recovery funds and see budget rebates withheld from certain Member States. Third, it would underscore a failure of EU cooperation, with accompanying risks. That said, as time passes, this option might still become viable in the eyes of most Member States, as the EU would not want to be held hostage by (a few) obstructing Member States.
************
••••
The Liberty Beacon Project is now expanding at a near exponential rate, and for this we are grateful and excited! But we must also be practical. For 7 years we have not asked for any donations, and have built this project with our own funds as we grew. We are now experiencing ever increasing growing pains due to the large number of websites and projects we represent. So we have just installed donation buttons on our websites and ask that you consider this when you visit them. Nothing is too small. We thank you for all your support and your considerations … (TLB)
••••
Comment Policy: As a privately owned web site, we reserve the right to remove comments that contain spam, advertising, vulgarity, threats of violence, racism, or personal/abusive attacks on other users. This also applies to trolling, the use of more than one alias, or just intentional mischief. Enforcement of this policy is at the discretion of this websites administrators. Repeat offenders may be blocked or permanently banned without prior warning.
••••
Disclaimer: TLB websites contain copyrighted material the use of which has not always been specifically authorized by the copyright owner. We are making such material available to our readers under the provisions of "fair use" in an effort to advance a better understanding of political, health, economic and social issues. The material on this site is distributed without profit to those who have expressed a prior interest in receiving it for research and educational purposes. If you wish to use copyrighted material for purposes other than "fair use" you must request permission from the copyright owner.
••••
Disclaimer: The information and opinions shared are for informational purposes only including, but not limited to, text, graphics, images and other material are not intended as medical advice or instruction. Nothing mentioned is intended to be a substitute for professional medical advice, diagnosis or treatment.