ER Editor: Update Feb 20/21 – The Dutch senate has voted to keep the curfew in place under an emergency law in a 45-13 vote last night. See Dutch curfew extended by emergency bill as government shuns court ruling of Covid lockdown 'illegality'.
***
This has become a story of sudden reversal on the very same day. First, the district court in The Hague sided with protestors against the government-imposed curfew on the grounds of violation of basic liberties. Then the decision was reversed (second story) on the grounds that the public shouldn't be left confused as to whether there's a curfew in operation or not. This second legal decision has yet to be examined fully in a hearing on Friday.
For a reminder of how the Dutch don't appreciate living under curfew conditions – the first imposed on them since WWII, see this RT report titled Clashes, arson & mass arrests as riot police struggle to contain anti-lockdown rage in the Netherlands (VIDEOS).
We also recommend this short report for additional perspective from Euronews titled Netherlands Covid-19 Curfew to Continue After Court Ruling.
********
The Hague court sides with activists, tells Dutch government to IMMEDIATELY lift 'illegitimate' curfew
RT
The Dutch government has been told by the court to reverse its coronavirus pandemic curfew after The Hague ruled there was no legal basis for it and called it an infringement on people's rights.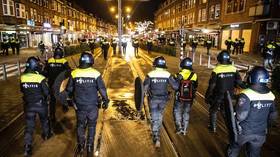 In a statement, The Hague declared that the government's use of the Extraordinary Powers of Civil Authority Act – an emergency act which allows the state to bypass the legislative process to impose a curfew in "very urgent and exceptional circumstance" – was not justified in this case during the Covid-19 crisis.
"The Preliminary Relief Judge ruled that the introduction of the curfew did not involve the special urgency required to be able to make use of the [act]," the Hague continued, noting that the government had had time to discuss such a curfew beforehand, before ruling that "the use of this law to impose curfew is not legitimate."
The curfew is a far-reaching violation of the right to freedom of movement and privacy and (indirectly) limits, among other things, the right to freedom of assembly and demonstration.
The country's Justice Ministry says it is now studying the ruling.
After the Dutch government imposed the curfew on January 23, citizens were legally required to stay home between the hours of 9pm and 4:30am unless they had a valid excuse, and they were warned that they could face fines if they refused to do so. (ER: France is still living under curfew conditions starting at 6pm every evening!)
Valid excuses to go outside during the curfew included emergencies, essential work, to seek medical assistance, and to walk a dog on a lead.
The Hague's decision was made after a group known as the Virus Truth Foundation filed a lawsuit arguing that the curfew was an infringement on human rights and the Dutch constitution.
The Netherlands experienced several nights of rioting over the curfew, which resulted in burnt cars, looted business, clashes with police, and hundreds of arrests.
********
Dutch court REINSTATES coronavirus curfew in break-neck reversal of earlier order to end 'illegitimate' policy
RT
A Dutch appeals court has revived the country's Covid-19 curfew just moments before it came into effect, overturning a ruling handed down hours earlier ordering the government to lift the "illegitimate" measure immediately.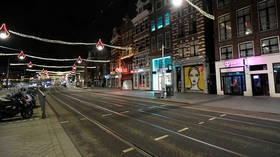 A three-judge appellate panel granted an emergency injunction following a request from the Dutch government on Tuesday, agreeing to vacate the earlier order from a lower court to end the nightly curfew, DW reported. The decision came just moments before the 9pm curfew was set to take effect, with the judges scheduling a full hearing on its legality for Friday.
The appeals judges argued that they wanted to avoid what they called a "yo-yo effect," referring to public confusion around whether the curfew was still in force, adding that "in this case, the state's interests weigh more than that of Virus Truth's," the activist group that brought the initial complaint against the curfews to court – also known by its Dutch name, Viruswaarheid.
"The curfew is a far-reaching violation of the right to freedom of movement and privacy and (indirectly) limits, among other things, the right to freedom of assembly and demonstration," the judge concluded, adding that the measure "must be lifted immediately." A ruling from a district court judge earlier on Tuesday deemed the curfew policy had exceeded the government's legitimate authorities, namely its use of the Extraordinary Powers of Civil Authority Act, which allows the state to bypass the legislature to impose curfews under certain circumstances.
While the Dutch Justice Ministry noted it was reviewing the decision after it was handed down, Prime Minister Mark Rutte continued to insist the curfew would be enforced regardless, urging citizens to "keep respecting the curfew" even if the government's appeal failed. Later on Tuesday night, Rutte tweeted:
"Curfew applies, even tonight. The coronavirus is not yet under control. It remains important to stay at home, meet as few people as possible, and adhere to all measures, such as curfews."
The successful appeal prompted a harsh rebuke from the founder of Virus Truth, Willem Engel, who has helped to organize a string of protests against lockdown policies in the Netherlands.
"You are making a big mistake," Engel told the appellate judges. "This is unacceptable. You have to explain yourself before a judge."
Imposed on January 23 and extended to early March last week, the curfew order requires citizens to stay home between 9pm and 4:30am each day unless they can provide a valid rationale for leaving – such as a medical emergency or travel for "essential" work – with violators facing fines.
Condemned by groups like Virus Truth as a blatant violation of the Dutch constitution and basic human rights, the curfews have stoked heated protests across the Netherlands. Demonstrations during the first days of the curfew last month descended into violence and rioting, seeing cars torched, businesses looted and street clashes with police, one of the most serious bouts of unrest in the country in decades.
************
••••
The Liberty Beacon Project is now expanding at a near exponential rate, and for this we are grateful and excited! But we must also be practical. For 7 years we have not asked for any donations, and have built this project with our own funds as we grew. We are now experiencing ever increasing growing pains due to the large number of websites and projects we represent. So we have just installed donation buttons on our websites and ask that you consider this when you visit them. Nothing is too small. We thank you for all your support and your considerations … (TLB)
••••
Comment Policy: As a privately owned web site, we reserve the right to remove comments that contain spam, advertising, vulgarity, threats of violence, racism, or personal/abusive attacks on other users. This also applies to trolling, the use of more than one alias, or just intentional mischief. Enforcement of this policy is at the discretion of this websites administrators. Repeat offenders may be blocked or permanently banned without prior warning.
••••
Disclaimer: TLB websites contain copyrighted material the use of which has not always been specifically authorized by the copyright owner. We are making such material available to our readers under the provisions of "fair use" in an effort to advance a better understanding of political, health, economic and social issues. The material on this site is distributed without profit to those who have expressed a prior interest in receiving it for research and educational purposes. If you wish to use copyrighted material for purposes other than "fair use" you must request permission from the copyright owner.
••••
Disclaimer: The information and opinions shared are for informational purposes only including, but not limited to, text, graphics, images and other material are not intended as medical advice or instruction. Nothing mentioned is intended to be a substitute for professional medical advice, diagnosis or treatment.