ER Editor: Here we're doing an informational update on new SCIENTIFIC discoveries about the Coronavirus. We are in no way playing into the mass hysteria and virtual psychosis we're witnessing about it in the western MSM. According to a google search today, France still only has 4 (FOUR) deaths from what they are telling us is the Coronavirus: at least 2 of those were very old people (late 80s) who died during 'flu season. And at least one was a Chinese tourist. It's clear the mass panic isn't warranted. It's simply a good time to buy shares in companies making masks and hand sanitizers.
We remind readers of the essential role IV Vitamin C is playing in the prevention and treatment of patients with the virus in China and how this information is being suppressed. See Early Large Dose IV Vitamin C is the Treatment of Choice for 2019-nCov Pneumonia; Three IV Vitamin C Research Studies Approved for Treating COVID-19; and News Media Attacks Vitamin C Treatment of COVID-19 Coronavirus [VIDEO].
We're linking independently here to the just-published study by a team of Chinese researchers, linked to below, titled On the origin and continuing evolution of SARS-CoV-2. which discusses the S- and L-types of the virus.
We've published a fair amount on the new coronavirus-as-bioweapon theory and what may be the targeting of China, and to date, it still appears that Chinese people and those in genetically related groups are at most risk of serious illness and fatality. We're open to having our minds changed, however.
********
Scientists Discover More Aggressive Strain Of Coronavirus Responsible For 70% Of Current Infections
Chinese scientists studying the new coronavirus have found two new primary strains of the disease – one of which appears to be far more aggressive.
The researchers, from Peking University's School of Life Sciences, discovered a milder "S-type" strain, and an "L-type," which is highly infectious and currently accounts for around 70% of cases, according to The Telegraph. The researchers cautioned that their preliminary findings looked at a limited number of cases (103), and that follow-up studies with larger data sets are needed to better understand the virus's evolution.
A genetic analysis of the coronavirus found in a man who tested positive in the United States on January 21 also showed that it's possible to be infected with both strains.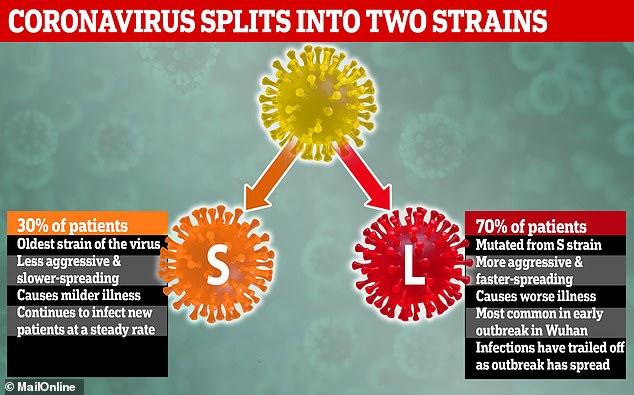 Coronavirus, which was first detected in December 2018 in Wuhan, China, has infected at least 94,000 people – officially, and killed more than 3,200 as of this writing.
And while there are now two major strains identified, scientist Trevor Bedford of Nextstrain has been tracking 161 strains of SARS-CoV-2 (the virus that causes COVID-19) in patients across the globe.
Bedford writes in a March 2 blog post that "The novel coronavirus which is responsible for the emerging COVID-19 pandemic mutates at an average of about two mutations per month."
Here is his latest situation report, and thread on the virus which provides a detailed analysis of what mutations have been found, and where (click the tweet to jump into the thread):
********
A Beijing Hospital Confirms Covid-19 Attacks Central Nervous System
ER: We're linking to other sources for this story. See here, here and here. 
Via CNTechPost.com
Beijing Ditan Hospital affiliated to the Capital Medical University said on March 4 that the first patient with novel coronavirus pneumonia complicated with encephalitis was discharged from the hospital on February 25.
Liu Jingyuan, director of the ICU at the Hospital, presided over the treatment of the patient. He reminded that patients with conscious disturbances must consider the possibility that the virus may attack the central nervous system.
At present, patients with new type of coronavirus pneumonia can be combined with multiple organ damage, such as severe respiratory distress syndrome (ARDS), myocardial damage, abnormal coagulation function, kidney damage, liver damage, etc. However, no central nervous system involvement has been reported. The case report is the first in the world.
Previous studies on SARS (Severe Acute Respiratory Syndrome) and MERS (Middle East Respiratory Syndrome) have also shown that the coronaviruses that cause these two diseases also cause cases of central nervous system damage.
According to the introduction of Beijing Ditan Hospital, two suspected cases of new-type coronavirus pneumonia have been treated since January 12 this year (confirmed on January 20). As of 7:00 on March 4, the hospital has accumulatively received 150 patients with new-type coronavirus pneumonia, of which the above patient is the only patient with new type of coronavirus pneumonia and encephalitis.
The 56-year-old patient was admitted to the hospital on January 24 with new coronavirus pneumonia, critical illness, and respiratory failure. After admission, he was given a combination of interferon nebulization, antiviral treatment, prevention of bacterial infection, and TCM syndrome differentiation. No improvement, high fever, fatigue, and dyspnea gradually increased.
On January 27 (10th day of onset), a chest CT showed that the range of ground-glass density in both lungs was enlarged, and some of them were consolidating. Short-term nasal high-flow oxygen inhalation, no relief in breathing distress, irritability, breathing 50 breaths per minute, partial oxygen pressure of 85%, intubation in the ICU, mechanical ventilation in accordance with the principle of ARDS breathing ventilation.
After 96 hours of treatment (day 14 of the onset), the patient developed frequent twitching of the maxillofacial and mouth angles with persistent hiccups.
On examination, the doctor found positive neck resistance, bilateral pupils and other large contours, sluggish light reflection, increased limb muscle tension, bilateral knee reflexes, bilateral Pap sign and ankle clonus, and no intracranial CT scan. Abnormal, the cerebrospinal fluid pressure was greater than 330mmH2O, the appearance of the cerebrospinal fluid was colorless and clear, and the biochemical test was normal.
Beijing Ditan Hospital's Department of Critical Medicine, Laboratory Medicine, and the China Centers for Disease Control and Prevention's Infectious Diseases Joint Working Group performed metagenome second-generation sequencing of the collected cerebrospinal fluid specimens and identified possible infectious pathogens. Other pathogens were excluded and a new coronavirus was obtained. Genomic sequence.
Gene sequencing confirmed the existence of a new coronavirus in the cerebrospinal fluid and clinical diagnosis of viral encephalitis.
Subsequently, the medical staff treated the patients with viral encephalitis after 14 days of mechanical ventilation and mannitol to control intracranial pressure, midazolam to control convulsions, gamma globulin, and methylprednisolone anti-inflammatory treatment, and observed the patient's lung disease imaging gradually improved, neurological symptoms disappeared.
On February 10 (day 24 of the onset of illness), the trachea was intubated and the nasal cannula was given oxygen after fully assessing the patient's respiratory and neural function. On February 18 (the 32nd day after the onset of illness), he was transferred out of the intensive care unit and continued to receive treatment in the new coronavirus ward.
Liu Jingyuan reminded that in clinical observation, there were many cases of cervical resistance, positive pathological signs, sudden disturbance of consciousness and even coma.
He said that in the face of such patients, it is necessary to be vigilant to the new type of coronavirus infection that can affect the central nervous system, timely conduct relevant examinations such as cerebrospinal fluid, and improve the work on SARS-CoV-2 nucleic acid and gene sequencing of cerebrospinal fluid in order to better understand COVID-19. Explore and actively deal with related neurological complications, thereby further reducing the mortality of critically ill patients.
************
••••
The Liberty Beacon Project is now expanding at a near exponential rate, and for this we are grateful and excited! But we must also be practical. For 7 years we have not asked for any donations, and have built this project with our own funds as we grew. We are now experiencing ever increasing growing pains due to the large number of websites and projects we represent. So we have just installed donation buttons on our websites and ask that you consider this when you visit them. Nothing is too small. We thank you for all your support and your considerations … (TLB)
••••
Comment Policy: As a privately owned web site, we reserve the right to remove comments that contain spam, advertising, vulgarity, threats of violence, racism, or personal/abusive attacks on other users. This also applies to trolling, the use of more than one alias, or just intentional mischief. Enforcement of this policy is at the discretion of this websites administrators. Repeat offenders may be blocked or permanently banned without prior warning.
••••
Disclaimer: TLB websites contain copyrighted material the use of which has not always been specifically authorized by the copyright owner. We are making such material available to our readers under the provisions of "fair use" in an effort to advance a better understanding of political, health, economic and social issues. The material on this site is distributed without profit to those who have expressed a prior interest in receiving it for research and educational purposes. If you wish to use copyrighted material for purposes other than "fair use" you must request permission from the copyright owner.
••••
Disclaimer: The information and opinions shared are for informational purposes only including, but not limited to, text, graphics, images and other material are not intended as medical advice or instruction. Nothing mentioned is intended to be a substitute for professional medical advice, diagnosis or treatment.