ER Editor: Readers may also be interested in this piece by MSM stalwart Politico.eu, titled
The major takeaway from this Greek election is that while another round of voting is necessary, the left-leaning Syriza party has lost a lot. To our knowledge, PM Kyriakos Mitsotakis of the so-called right wing party, New Democracy, is about as globalist as they come. A reminder of one of his personal associations from 2020. The real Hanks hasn't been seen in an age:
Greece now has the proportional representation system of voting. While the percentage of votes does not give New Democracy the majority, Mitsotakis' party has taken all but one region of Greece.
Some tweets:
Who knew that taking a science-led approach to a pandemic, enforcing one of the strictest lockdowns in the world and maintaining mask mandates longer than most… actually choosing to save lives, would be so popular? 1/ #GreekElections pic.twitter.com/RhYBBBfiYK

— Nomadpossum 🐟🇬🇷 🇦🇺 (@nomadpossum) May 22, 2023
Breaking news: Greek elections: rail tragedy that had Nea Dimokratia as the perpetrator, taught nothing to thousands of Greeks, that still voted for the government that killed young people and took no responsibility. https://t.co/gmf23MtVNV

— ria 🍧 🍦 🍨 (@gelate_rria) May 21, 2023
This is not simply a victory for @kmitsotakis and @neademokratia, this is a political earthquake in Greece. #GreekElections pic.twitter.com/MgnXYmUDbm

— Endy Zemenides (@Zemenides) May 21, 2023
Big, big win for incumbent New Democracy Party in Greek elections. ND win all but one electoral district, even old left wing fortresses. Vote share is up a bit on last election but main story is huge fall in Syriza vote. pic.twitter.com/Hyue05LYRB

— Lewis Goodall (@lewis_goodall) May 21, 2023
Congratulations from one of Klaus Schwab's Young Global Leaders —
Congratulations to @kmitsotakis for again winning the Greek parliamentary elections decisively. Greek voters remember well that Syriza nearly led them to the brink of collapse while you have brought back economic growth and prosperity. https://t.co/wXRpFwwHDo

— Sebastian Kurz (@sebastiankurz) May 21, 2023
Why would election fraud not be a possibility in the Greek elections, since they are in many other countries?
We had election fraud in Greece as I said previously. There's no logical way that @PrimeministerGR got more votes than what he got in previous elections.

I also talked about Israel interference in our electoral process weeks before.#GreekElections #Elections2023

— Terry Hatziieremias (@hatziieremias) May 21, 2023
This is the guy who sold out Greece, bankrupting it, to the World Bank and IMF —
📝🇬🇷Syriza leader Alexis Tsipras votes for the legislative elections in Athens: Syriza leader Alexis Tsipras votes at a polling station in Athens for the Greek general elections. Outgoing right-wing Prime minister Kyriakos Mitsotakis is seen as the favourite but is unlikely to… pic.twitter.com/X0fynUf4os

— 🌐World News 24 🌍🌎🌏 (@DailyWorld24) May 21, 2023
Greek voters are frustrated with their options in today's elections. As one says, "There is not one party that represents me politically and that I would want to vote for. I am thinking of just voting for the party that would do the least damage."https://t.co/AKzuYoNvKm

— Jacobin (@jacobin) May 21, 2023
********
Conservatives fall short of outright majority in Greek parliamentary election
Prime Minister Kyriakos Mitsotakis has signaled that a second vote is likely
RT
The ruling conservative New Democracy party scored a landslide victory in the Greek parliamentary election on Sunday, but failed to win an outright majority that is required to form a government.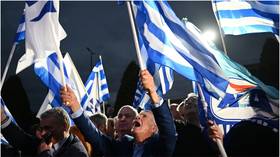 .
With over 96% of votes counted, Prime Minister Kyriakos Mitsotakis' New Democracy (ND) is leading with 40.79%. The left-wing Syriza party is trailing behind with 20.06%. According to newspaper Kathimerini, the country has not seen a 20-point victory margin in a parliamentary election since 1974.
Despite the impressive performance, ND has failed to secure a the much-needed majority in the 300-seat Hellenic Parliament, which means it cannot form a government on its own. Mitsotakis has signaled that he would seek a second election rather than search for a coalition partner. If announced, the second vote would likely take place in late June or early July, according to Greek media.
"I will follow all constitutional procedures, but [maintain] my firm view that the mathematics of proportional representation is akin to party horse-trading and results in a dead-end," Mitsotakis said on Sunday evening. He stressed that "the political earthquake that occurred today" demands that conservatives "speed up the process" of consolidating their victory.
Syriza leader Alexis Tsipras, who served as prime minister between 2015 and 2019, admitted that election results were "exceptionally negative" for his party, but added that "the electoral cycle is not yet over." He also said that a new election is likely.
The campaigning had been dominated by the economy and the growing cost of living, as well as by several political scandals.
In January, Mitsotakis' cabinet survived a no-confidence vote that was put forward by the opposition after the government had been accused of spying on political opponents. A month later, nearly 60 people died in a train collision in central Greece. The tragedy prompted more criticism of the government and led to the resignation of the transport minister.
************
••••
The Liberty Beacon Project is now expanding at a near exponential rate, and for this we are grateful and excited! But we must also be practical. For 7 years we have not asked for any donations, and have built this project with our own funds as we grew. We are now experiencing ever increasing growing pains due to the large number of websites and projects we represent. So we have just installed donation buttons on our websites and ask that you consider this when you visit them. Nothing is too small. We thank you for all your support and your considerations … (TLB)
••••
Comment Policy: As a privately owned web site, we reserve the right to remove comments that contain spam, advertising, vulgarity, threats of violence, racism, or personal/abusive attacks on other users. This also applies to trolling, the use of more than one alias, or just intentional mischief. Enforcement of this policy is at the discretion of this websites administrators. Repeat offenders may be blocked or permanently banned without prior warning.
••••
Disclaimer: TLB websites contain copyrighted material the use of which has not always been specifically authorized by the copyright owner. We are making such material available to our readers under the provisions of "fair use" in an effort to advance a better understanding of political, health, economic and social issues. The material on this site is distributed without profit to those who have expressed a prior interest in receiving it for research and educational purposes. If you wish to use copyrighted material for purposes other than "fair use" you must request permission from the copyright owner.
••••
Disclaimer: The information and opinions shared are for informational purposes only including, but not limited to, text, graphics, images and other material are not intended as medical advice or instruction. Nothing mentioned is intended to be a substitute for professional medical advice, diagnosis or treatment.