Brain Inflammation and the mRNA Vaccines
Case reports and a major new study raise troubling signals
All Global Research articles can be read in 51 languages by activating the Translate Website button below the author's name.
To receive Global Research's Daily Newsletter (selected articles), click here.
Follow us on Instagram and Twitter and subscribe to our Telegram Channel. Feel free to repost and share widely Global Research articles.
***
Three large insurance databases showed sharp increases in cases of severe brain inflammation after the Covid mRNA shots, according to a new peer-reviewed paper.
People who received the Pfizer jab or booster had a 40 to 70 percent higher chance over the next six weeks of encephalitis or encephalomyelitis. The Moderna jab carried an even higher risk after the second primary dose or a booster.
Encephalitis is inflammation of the brain itself, while encephalomyelitis is inflammation of nerve sheaths in the brain or spinal cord. Both can range from relatively mild conditions to serious or even fatal illnesses. The researchers reported 47 cases following Pfizer's jab; they did not disclose an exact figure for Moderna's.
Though the finding was published in the peer-reviewed journal Vaccine, it has received little attention – in part because the authors presented the findings in a way that made them seem less statistically robust than they were.
The paper's finding comes after a stream of case reports in medical journals of brain inflammation following the mRNA shots.
The reports have come from physicians worldwide, including Belgium, Japan, Taiwan, Peru, and Thailand – and even the United States, an unusual development since American physicians are often reluctant to publicize serious mRNA vaccine side effects.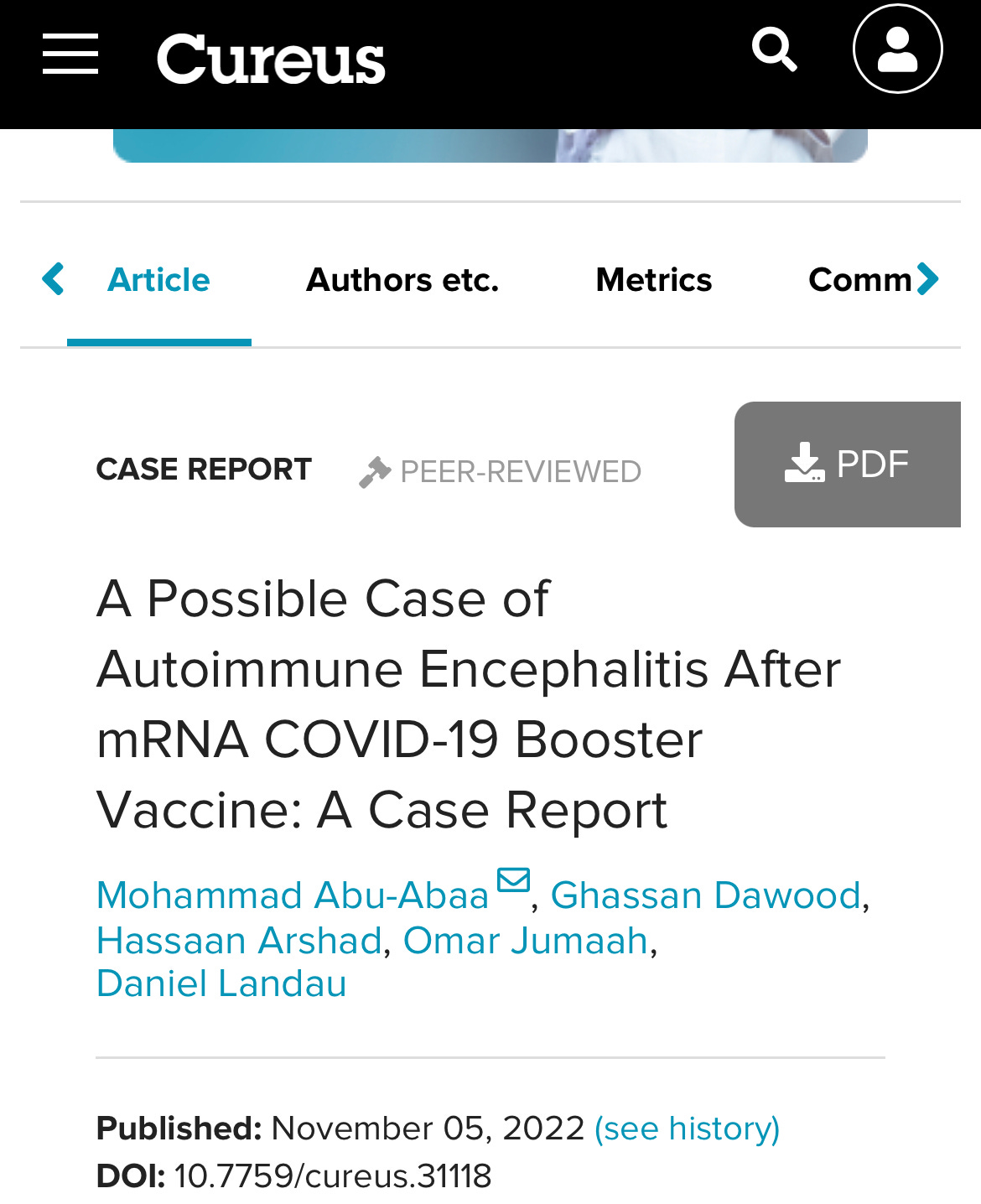 VAERS, the federal vaccine adverse events reporting system, also contains scores of reports of severe cases of encephalitis or encephalomyelitis shortly after Covid shots, although those are not peer-reviewed.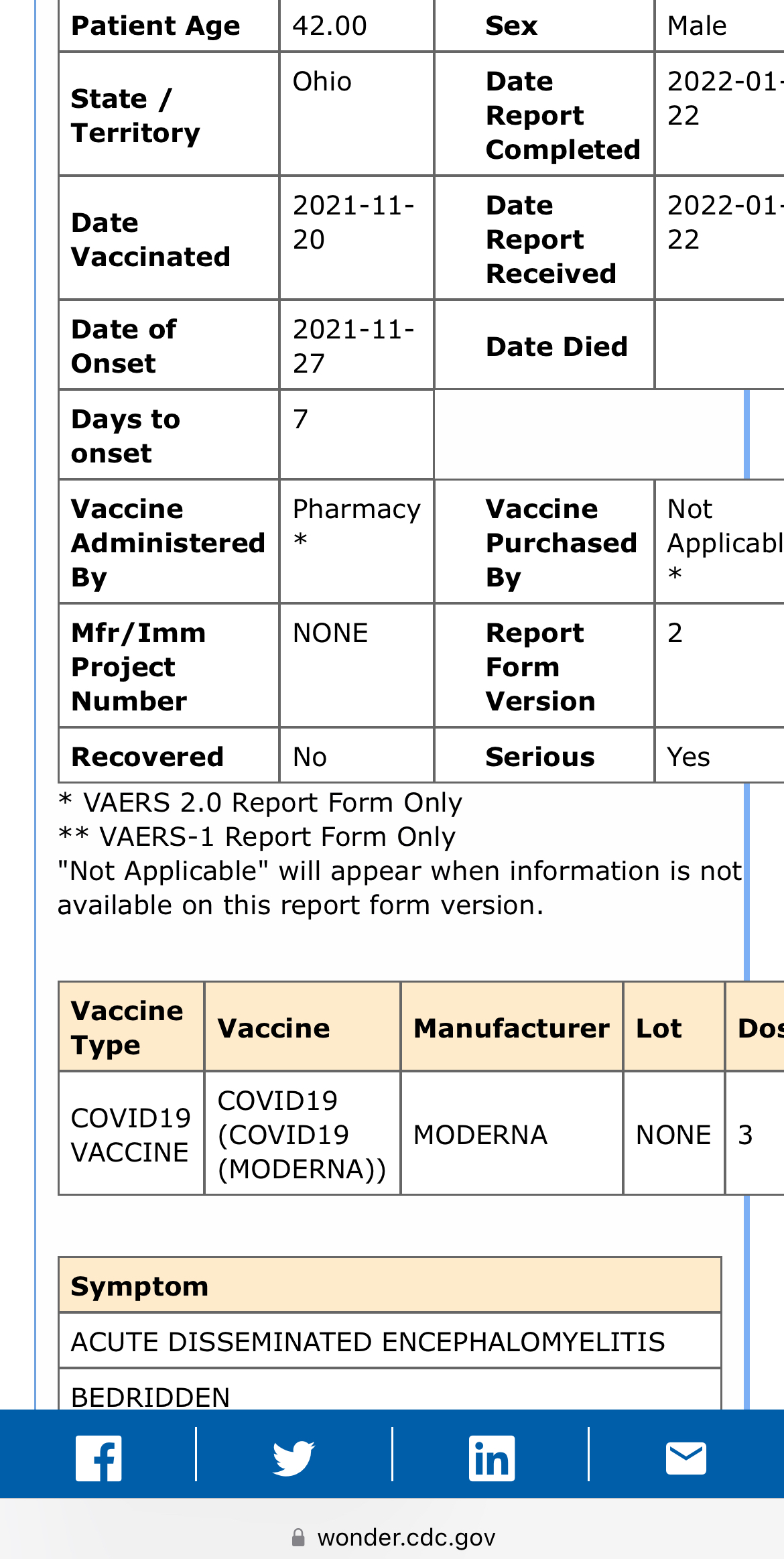 SOURCE: VAERS case report 2057411-1
Encephalitis and encephalomyelitis are rare conditions that can occur following infections or auto-immune reactions. Both can be fatal in serious cases if untreated.
The most likely mechanism for potential mRNA vaccine encephalitis is that the shots overstimulate the immune system and cause the body to attack its own tissues in what physicians sometimes call a cytokine storm. As Taiwanese physicians explained in describing two cases:
Exposed mRNA or vaccine components may also be detected as antigens [substances that stimulate the immune system], further resulting in aberrant proinflammatory cytokine cascades and activation of immune signaling pathways…
Some patients in the case reports have had complete recovery after treatment with steroids or other immunosuppressants. Others remained injured or even comatose, according to the case reports.
*
The Vaccine paper appeared online on September 27 and in print October 26. It draws on the Food and Drug Administration's Biologics Effectiveness and Safety database, which tracks insurance claims in people who have received vaccines or other treatments.
In this case, the researchers followed claims for 17 different potential side effects, including myocarditis, in three large commercial insurance databases including more than 16 million vaccinated people. They they compared the results to the background rates of the conditions before the shots.
This method probably substantially understates the risk of short-term post-vaccine side effects, because people who are ill or feeling ill – seriously or not – are likely to delay being vaccinated. Thus vaccines tend to be given to people at times when they are at lower risk for illness or death.
*
That problem is common to all vaccine safety analysis outside of randomized clinical trials, and essentially unavoidable. But this paper had another issue, one that came directly from its design.
The researchers failed to pool the results from the three different databases. Instead, they analyzed each separately. They also analyzed the Pfizer and Moderna shots separately, rather than together.
As a result, the researchers were examining the post-shot risks using data that they had sliced into relatively small pools. In five of the six pools they checked, the researchers found that people who had received the mRNA shots had a notably increased risk of brain inflammation – ranging from 43 to 89 percent. (The only exception was after the first Moderna shot.)
But the scientists then dismissed those findings. Why? The smaller the pool of data, the more easily researchers can dismiss a finding as due to chance. Scientists generally say a finding is not necessarily real if statistical analysis confirms more than a 5 percent chance that it is due to chance.
Thus the writers simply ignored the excess risk they had found, claiming that it "did not meet the threshold for statistical signal in any of the three databases."
Their refusal to pool and reanalyze the data was particularly odd in the case of Pfizer's jab, which showed a remarkably consistent excess of encephalitis and encephalomyelitis not just among the various insurers but after each shot. (Inevitably, the researchers made those numbers available only deep in the paper's appendix.)
The FDA researchers offered no clear explanation for their failure to pool the claims databases – especially since they noted that all they had analyzed all three databases "using the same protocol, analysis, and programming specifications."
But if their goal was to make safety signals as hard as possible to find, they succeeded.
************
Featured image (vaccine vials) is from FiercePharma
Featured image: Adobe stock
••••
The Liberty Beacon Project is now expanding at a near exponential rate, and for this we are grateful and excited! But we must also be practical. For 7 years we have not asked for any donations, and have built this project with our own funds as we grew. We are now experiencing ever increasing growing pains due to the large number of websites and projects we represent. So we have just installed donation buttons on our websites and ask that you consider this when you visit them. Nothing is too small. We thank you for all your support and your considerations … (TLB)
••••
Comment Policy: As a privately owned web site, we reserve the right to remove comments that contain spam, advertising, vulgarity, threats of violence, racism, or personal/abusive attacks on other users. This also applies to trolling, the use of more than one alias, or just intentional mischief. Enforcement of this policy is at the discretion of this websites administrators. Repeat offenders may be blocked or permanently banned without prior warning.
••••
Disclaimer: TLB websites contain copyrighted material the use of which has not always been specifically authorized by the copyright owner. We are making such material available to our readers under the provisions of "fair use" in an effort to advance a better understanding of political, health, economic and social issues. The material on this site is distributed without profit to those who have expressed a prior interest in receiving it for research and educational purposes. If you wish to use copyrighted material for purposes other than "fair use" you must request permission from the copyright owner.
••••
Disclaimer: The information and opinions shared are for informational purposes only including, but not limited to, text, graphics, images and other material are not intended as medical advice or instruction. Nothing mentioned is intended to be a substitute for professional medical advice, diagnosis or treatment.