ER Editor:  Many thanks to colleagues at AlethoNews for making this entire RT report about grain-burning available to us. First, a 21st Century Wire introduction to it, followed by the full story from RT.
***
And a follow-up from Press TV about those grain shipments unable to leave Ukraine because of Ukrainian-planted mines in the waters leading into the Black Sea:
Ukraine has rejected calls from Russia to de-mine its ports around the Black Sea to resume grain shipments, accusing Moscow of trying to "attack" the port of Odessa (ER: a new justification?), the largest seaport in the crisis-stricken country.

Sergiy Bratchuk, a spokesman for Odessa's regional administration, in a statement on Wednesday, noted that Russia "dreams of parachuting troops" into the city and that Moscow's army "wants to attack" Odessa.

"The moment we clear access to the port of Odessa, the Russian fleet will be there," Bratchuk said. He had earlier said that any exports from Odessa must be "escorted by NATO countries."

His remarks followed a statement by Russian Foreign Minister Sergei Lavrov on Wednesday about de-mining the Ukrainian ports.

"To solve the problem, the only thing needed is for the Ukrainians to let vessels out of their ports, either by de-mining them or by marking out safe corridors, nothing more is required," Lavrov said.

Speaking alongside Turkey's Foreign Minister Mevlut Cavusoglu, Lavrov said the main problem was that Ukrainian President Volodymyr Zelensky had "categorically refused" to resolve the issue of the mined ports. …
See also Turkey Calls On Ukraine To Cooperate With Russian 'Grain Corridor' Plan To Unblock Ports
And now Zelensky's henchmen are allegedly wrecking grain supplies that can be used at home.
********
Ukrainian Nazis Burned 50,000 Tons of Grain in Mariupol

MARIUPOL: NATO-backed Nazi militants set fire to grain stores in an attempt to blame Russia for global food shortages. 
.
According to the western establishment narrative being pushed by the mainstream media, United Nations and others, the Ukraine war has stoked a global food crisis, and Russia is to blame. However, upon closer examination, these claims appear to be false.
In the end analysis, the current crisis is most certainly a direct result of a series of deliberate policy decisions made by leading western powers –  most notably, sanctions against Russia. The only problem is, no one in the West, or Kiev, is willing to take responsibility for their own role in fomenting the current debacle.
Meanwhile, in Ukraine, the Zelensky regime and its desperate Nazi foot soldiers have been busy doing their part to exacerbate the crisis, in the hopes that the western media and politicians continue blaming recent events on Moscow.
RT International reports…
***
Grain burned by Ukrainian nationalists – Moscow
Russia says a large granary in the port of Mariupol has been deliberately destroyed
RT
The Russian Defense Ministry has accused Ukrainian "militants of the nationalist battalions" of deliberately setting fire to a large granary in Mariupol's sea port while fleeing from Russian forces.
According to a statement issued on Wednesday, the alleged act of arson was down to the unwillingness of the "militants" to leave grain supplies to Mariupol's residents. As a result, according to the military, more than 50 thousand tons of grain were destroyed.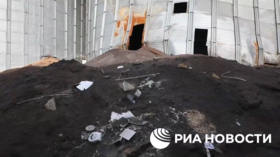 Ukrainian troops set fire to tons of grain in the storages of the port of Mariupol. © Sputnik / RIA News
"This inhuman crime demonstrates to the entire world community the 'true face' of the Kiev regime, which, in fact, uses the methods of food terrorism against its own people," it claimed.
The ministry said the destruction was committed as the "so-called civilized West" continues to support Kiev while accusing Russia of stoking a global food crisis.
The Defense Ministry stressed that Russian forces during their "special military operation" support the civilian population, treat it humanely and "do not strike at the social infrastructure of the country, unlike the Ukrainian armed formations." (ER: There is evidence of this claim if we watch witness testimony from various groups of Donbass residents shown on camera by Patrick Lancaster on his Youtube channel.)
Since the launch of the Russian military operation in Ukraine, Moscow and Kiev have accused each other of various war crimes, while denying their own liability.
The Donetsk People's Republic authorities reported earlier that the firefighters failed to save the grain stock despite several days of efforts.
"There is a large amount of grain on the territory of the Mariupol port, this is both corn grain and wheat. Judging by the smell and appearance, it is unsuitable for further use, most of it," an aide to the government of the Donetsk People's Republic, Yan Gagin, told RIA Novosti.
The global food market, already affected by climate change and the Covid pandemic, has been badly affected by the Russian military offensive in Ukraine, as the two countries account for about 30% of global wheat exports. Russia is also the world's largest exporter of fertilizers.
While the West has accused Russia of causing a surge in food prices by continuing its military operation, Moscow maintains that the real cause of the food crisis is the "politically motivated" Western sanctions against it.
Ukraine has repeatedly accused Moscow of "stealing" its stockpiles of wheat and sending it overseas. The spokesman for the UN Secretary-General, Stephane Dujarric, however, said the United Nations is unable to verify these claims.
Ukraine and Western states have repeatedly accused Moscow of impeding grain exports by blocking Ukraine's Black Sea ports. Russia has rejected such claims, maintaining it is ready to ensure safe passage for grain-carrying vessels from the ports. The disruption of grain flow stems from Kiev's own actions and extensive mining of the shoreline by the Ukrainian military, Moscow insists. (ER: This has been verified by other parties such as the International Maritime Organization (IMO). See No, The Ukraine War Has Not Stoked A Global Food Crisis.)
Russia attacked the neighboring state in late February, following Ukraine's failure to implement the terms of the Minsk agreements, first signed in 2014, and Moscow's eventual recognition of the Donbass republics of Donetsk and Lugansk. The German- and French-brokered protocols were designed to give the breakaway regions special status within the Ukrainian state.
The Kremlin has since demanded that Ukraine officially declare itself a neutral country that will never join the US-led NATO military bloc. Kiev insists the Russian offensive was completely unprovoked and has denied claims it was planning to retake the two republics by force.
************
••••
The Liberty Beacon Project is now expanding at a near exponential rate, and for this we are grateful and excited! But we must also be practical. For 7 years we have not asked for any donations, and have built this project with our own funds as we grew. We are now experiencing ever increasing growing pains due to the large number of websites and projects we represent. So we have just installed donation buttons on our websites and ask that you consider this when you visit them. Nothing is too small. We thank you for all your support and your considerations … (TLB)
••••
Comment Policy: As a privately owned web site, we reserve the right to remove comments that contain spam, advertising, vulgarity, threats of violence, racism, or personal/abusive attacks on other users. This also applies to trolling, the use of more than one alias, or just intentional mischief. Enforcement of this policy is at the discretion of this websites administrators. Repeat offenders may be blocked or permanently banned without prior warning.
••••
Disclaimer: TLB websites contain copyrighted material the use of which has not always been specifically authorized by the copyright owner. We are making such material available to our readers under the provisions of "fair use" in an effort to advance a better understanding of political, health, economic and social issues. The material on this site is distributed without profit to those who have expressed a prior interest in receiving it for research and educational purposes. If you wish to use copyrighted material for purposes other than "fair use" you must request permission from the copyright owner.
••••
Disclaimer: The information and opinions shared are for informational purposes only including, but not limited to, text, graphics, images and other material are not intended as medical advice or instruction. Nothing mentioned is intended to be a substitute for professional medical advice, diagnosis or treatment.