India: Another Demonetization?
Authored by Jayant Bhandari via LewRockwell.com
In late 2016, the Indian Prime Minister, Narendra Modi, came on TV at 8 pm to announce that most currency bills would no longer be legal tender after midnight. An individual was allowed to convert only about $30 per visit to the bank. This led to massive crowds (not lineups, because Indians don't follow the lineup system) at the banks, suffering, chaos, and deaths—there were no exceptions for the sick, older people, and pregnant women.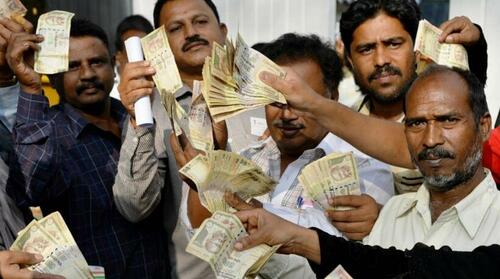 Eventually, more than 100% of the demonetized cash returned to the banks, although I know no one who didn't forget to convert some of his misplaced currency bills. What happened? Demonetization ended up laundering massive amounts of counterfeit currency. But thinking through the consequences of their utopian—rather puerile—policies isn't within the competencies of the Indian bureaucrats. Worse, to patch up, they kept issuing contradictory policies that even school students should not make. This led to a constant cycle of paranoia, rumors, and confusion.
The declared objective of the exercise was to destroy black money. Of course, it did nothing of the sort. Soon more cash was in people's hands than ever before, and kept on rising, a clear sign of a higher distrust among the people and the rising corruption.
Over the years, corruption in India has become increasingly shameless and blatant. I have never encountered a public servant who does not ask for a bribe. Who among them wants corruption to end?
So, what was the real purpose behind the demonetization of 2016?
As India gets closer to election time, cash disappears from the market, prices of expensive properties fall, and shares of certain companies get sold off. This happens because these vehicles act as a reservoir for black money and, when encashed, are used for hiring goons and bribing voters: giving out free cash, alcohol, etc. All this is done openly.
Cash sits in the vaults of political parties, ready to be given away for votes. Property transactions entail the exchange of as much as 80% in cash, which sucks up black money and regenerates it when needed at a low transaction cost—the stamp duty is based on the declared price of the properties. Stocks of certain companies rise and fall as black money is laundered for payments that must be officially reported. What are supposed to be investment vehicles often lead to a loss, seen as nothing but the cost of storing black money.
In 2016, one could conclude that the ruling BJP government, insiders to the demonetization policy, had converted their cash into what was to stay legal tender and harmed the value of the black money in the hands of the opposition.
Recently provincial elections were held in the state of Karnataka, where the BJP, which also controls the federal government, ruled. It lost the elections. That wasn't because the hate-filled fanaticism against minorities they had ignited failed to get traction but because some votes of one opposition party, JDS, moved to another, winning party, Congress. Congress had promised to offer more freebies: regular cash payments for doing nothing and more free grains.
Hate didn't lose, and freebies won.
As we approach the next federal elections, due within a year, physical cash has disappeared from the market, now sitting in the coffers of political parties.
Stocks of some companies dealing with money laundering and political purposes have fallen. However, this could be because of the fear of short-selling ignited by the US short-seller Hindenburg.
On 19th May 2023, India announced another demonetization, on this occasion of INR 2,000 bills. As usual, their notice is confusing and contradictory. On the one hand, it says that the INR 2,000 bill stays legal tender, but on the other, they give a deadline of 30th September 2023 to bring them to the bank. Indian federal government bureaucrats fail the rationality test school students are supposed to pass. Or, perhaps this policy gives leeway to the ruling party, BJP, to use their INR 2,000 bills, while other parties would find themselves entrapped.
Corruption and tyranny continue to increase, and the economy continues to falter in India, quite in contrast to the bullish statements being made in the Western media. And a sane Indian voter has a choice between Tweedledee and Tweedledum. Most Indians, even when they are rich and middle class, don't care about the larger interests of society. They act out of envy and to gain personal advantages. The chaotic, stressful mess of India is what they get and deserve.
The following are screenshots of the Reserve Bank of India press release.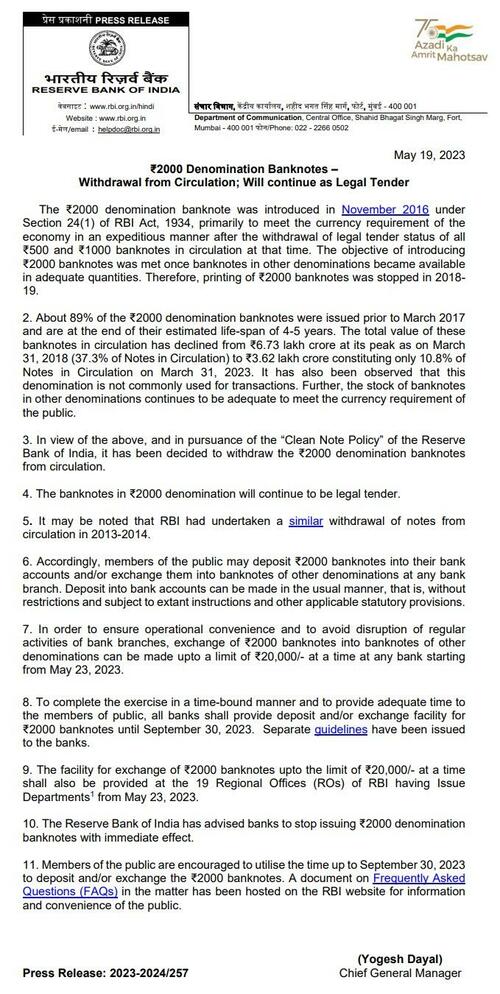 It is also linked here.
************
••••
The Liberty Beacon Project is now expanding at a near exponential rate, and for this we are grateful and excited! But we must also be practical. For 7 years we have not asked for any donations, and have built this project with our own funds as we grew. We are now experiencing ever increasing growing pains due to the large number of websites and projects we represent. So we have just installed donation buttons on our websites and ask that you consider this when you visit them. Nothing is too small. We thank you for all your support and your considerations … (TLB)
••••
Comment Policy: As a privately owned web site, we reserve the right to remove comments that contain spam, advertising, vulgarity, threats of violence, racism, or personal/abusive attacks on other users. This also applies to trolling, the use of more than one alias, or just intentional mischief. Enforcement of this policy is at the discretion of this websites administrators. Repeat offenders may be blocked or permanently banned without prior warning.
••••
Disclaimer: TLB websites contain copyrighted material the use of which has not always been specifically authorized by the copyright owner. We are making such material available to our readers under the provisions of "fair use" in an effort to advance a better understanding of political, health, economic and social issues. The material on this site is distributed without profit to those who have expressed a prior interest in receiving it for research and educational purposes. If you wish to use copyrighted material for purposes other than "fair use" you must request permission from the copyright owner.
••••
Disclaimer: The information and opinions shared are for informational purposes only including, but not limited to, text, graphics, images and other material are not intended as medical advice or instruction. Nothing mentioned is intended to be a substitute for professional medical advice, diagnosis or treatment.