ER Editor: Given recent US train derailments and fires, it's easy to be suspicious about any disaster. We're not sure what is behind this head-on train crash in Greece, but it is raising ire and protests in the country. Many of the passengers were apparently students. For what it's worth, PM Mitsotakis is one of the biggest globalists around; the entire country under both 'left' and 'right' has been sold out over years under EU neoliberalism.
Hundreds take the streets in Athens after a deadly train collision that cost the life of at least 40 persons. The demonstration was hit by the police outside operator's #hellenic_train offices. The demonstration is heading towards the parliament. #GreeceTrainAccident #Τεμπη pic.twitter.com/NnmyEcbTjM

— George Mourmouris (@GeorgeMourmour2) March 1, 2023
We pray 🙏 for the victims and the families of the horrific #GreeceTrainAccident #Greece #Greek #hellas @ZouvelosGeorge #GeorgeZouvelos #Zouvelos #Ζουβελος #ΓιωργοςΖουβελος pic.twitter.com/wsBrCUZktC

— George Ζουvelos (@ZouvelosGeorge) March 2, 2023
This is Kostas Karamanlis, the Greek Minister of Transport that resigned after the deadly train accident. Responsible for the passengers' safety in the Greek public transport system was a man who used seat belt clips in his car to avoid wearing a seat belt. #GreeceTrainAccident pic.twitter.com/99YiYgQnyf

— Spyros Kasapis (@spyroskasapis) March 1, 2023
Athens metro workers on #strike
today demanding safety measures after #greecetraincrash#hellenic_train #greecetrain #GreeceTrainAccident #GreeceTrainAccident pic.twitter.com/zyw9RMlFCe

— PAME Greece International (@PAME_Greece) March 2, 2023
The protests continue.
Protesters gathered in front of the Greek parliament.#GreeceTrainAccident
antireport #τεμπη #τεμπη_τραγωδια pic.twitter.com/IsxXxvqxXA

— Vedat Yeler (@vedatyeler_) March 1, 2023
Cops always guard criminals.#GreeceTrainAccident #greecetraincrash #Greece #Τεμπη_Τραγωδια #τεμπη_εγκλημα #Yunanistan #Grece pic.twitter.com/SMo4IeBMQn

— kazi (@katia0) March 1, 2023
The train was full of students and workers going back home after a national holiday. The train company was recently privatised and its employees kept striking demanding automitization systems and safer conditions. All over the world, capitalism murders us #GreeceTrainAccident

— kaseropites (@kaseropites) March 1, 2023
Here is the BBC for some basic reporting: Greece train crash: Angry protests erupt after disaster
Of note:
Protests have erupted in Greece over the rail crash which killed 43 people, with many seeing it as an accident that had been waiting to happen.
Rioters clashed with police outside the headquarters of Hellenic Train in Athens – the company responsible for maintaining Greece's railways.

Protests were also held in Thessaloniki and the city of Larissa, near where the disaster happened on Tuesday night.

The government has said an independent investigation will deliver justice.

Three days of national mourning have been declared across the country following the incident, in which a passenger service crashed head on into a freight train, causing the front carriages to burst into flames.

The front carriages of the passenger train were mostly destroyed.

Many of the 350 passengers on board were students in their 20s returning to Thessaloniki after a long weekend celebrating Greek Orthodox Lent.

Prime Minister Kyriakos Mitsotakis said "tragic human error" was to blame for the disaster.

A 59-year-old station master in Larissa has been charged with manslaughter by negligence. He has denied any wrongdoing, blaming the crash on a technical fault.

Rail union members believe safety systems were not working properly, with repeated warnings about this over many years.

In protest and mourning, rail workers are planning on striking on Thursday at what they say is official neglect of the railways.

"Pain has turned into anger for the dozens of dead and wounded colleagues and fellow citizens," the workers' union said in a statement announcing the strike.
"The disrespect shown over the years by governments to the Greek railways led to the tragic result," it added in comments cited by Reuters news agency. …
********
Greece Train Crash Kills Dozens, Minister Resigns, Station Manager Arrested
Update (1050ET):
Greek Infrastructure and Transport Minister Kostas Karamanlis announced that he would resign hours after the horrific train crash.
"When something this tragic occurs, we can't go on as if nothing had happened," Karamanlis said in a statement.
"It's a fact that we inherited the Greek railway in a state that is not fitting for the 21st century. (ER: Blame other political parties.)

"In those three and a half years we made every effort to improve this reality. Unfortunately, those efforts were not adequate to avert such a tragedy," he added.
According to local authorities, a station manager has been taken into custody in relation to the crash, and a preliminary inquiry is currently ongoing. However, the individual's identity has not been revealed.
WSJ quoted local officials who said, "the death is the highest for a train crash in Greece since at least the mid-1960s."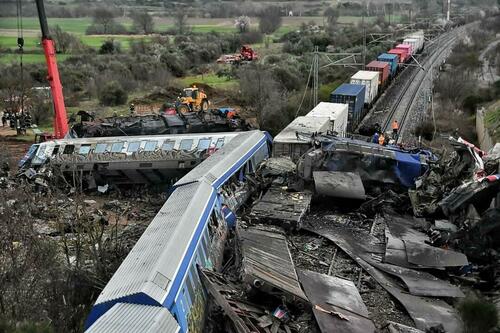 As of Wednesday afternoon, at least 38 people have been confirmed dead, and more than 80 injured.
*   *   *
In a devastating accident on Tuesday night, two trains collided head-on in northern Greece, resulting in the deaths of at least 36 people and leaving dozens more injured, AP News reported. The accident occurred near the town of Tempe in northern Greece.
According to reports, a passenger train carrying 350 passengers and a freight train collided on the same track. Rescue workers and emergency services arrived on the scene and found a mangled mess of carriages and freight cars.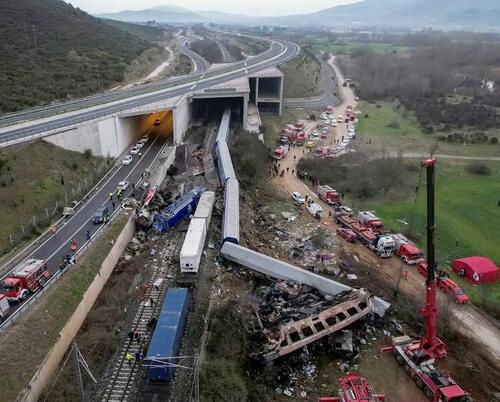 Rescuers have been combing through the twisted, smoking wreckage on Wednesday morning. Fire officials provided an update hours ago that 36 people had died in the crash, while another 66 were injured.
AP spoke to survivors and one local about the horrific scene:
Survivors said the impact threw several passengers through the windows of train cars. They said others fought to free themselves after the passenger train buckled, slamming into a field near the gorge, about 380 kilometers (235 miles) north of Athens.

"There were many big pieces of steel," said Vassilis Polyzos, a local resident who said he was one of the first people on the scene. "The trains were completely destroyed, both passenger and freight trains."

He said dazed and disoriented people were escaping out of the train's rear cars as he arrived.

"People, naturally, were scared — very scared," he said. "They were looking around, searching; they didn't know where they were."
What's clear is both trains were on the same track. As to why, well, that remains a mystery, and police are questioning rail officials.
************
••••
The Liberty Beacon Project is now expanding at a near exponential rate, and for this we are grateful and excited! But we must also be practical. For 7 years we have not asked for any donations, and have built this project with our own funds as we grew. We are now experiencing ever increasing growing pains due to the large number of websites and projects we represent. So we have just installed donation buttons on our websites and ask that you consider this when you visit them. Nothing is too small. We thank you for all your support and your considerations … (TLB)
••••
Comment Policy: As a privately owned web site, we reserve the right to remove comments that contain spam, advertising, vulgarity, threats of violence, racism, or personal/abusive attacks on other users. This also applies to trolling, the use of more than one alias, or just intentional mischief. Enforcement of this policy is at the discretion of this websites administrators. Repeat offenders may be blocked or permanently banned without prior warning.
••••
Disclaimer: TLB websites contain copyrighted material the use of which has not always been specifically authorized by the copyright owner. We are making such material available to our readers under the provisions of "fair use" in an effort to advance a better understanding of political, health, economic and social issues. The material on this site is distributed without profit to those who have expressed a prior interest in receiving it for research and educational purposes. If you wish to use copyrighted material for purposes other than "fair use" you must request permission from the copyright owner.
••••
Disclaimer: The information and opinions shared are for informational purposes only including, but not limited to, text, graphics, images and other material are not intended as medical advice or instruction. Nothing mentioned is intended to be a substitute for professional medical advice, diagnosis or treatment.