People-smugglers bring the migrants to the NGOs' ships, which then reach Italian seaports. Another legal enquiry has been opened about the mafia's economic interests in managing the migrants after their arrival.
One cannot compare the migrants to the Jews fleeing Nazism. Pope Francis, for example, recently compared the migrants' centers to Nazi "concentration camps". Where are the gas chambers, medical "experiments," crematoria, slave labor, forced marches and firing squads? These comparisons are spread by the media for a precise reason: shutting down the debate.
By 2065, it is expected that 14.4 million migrants will arrive. Added to the more than five million immigrants currently in Italy, 37% of the population is expected to be foreigners: more than one out of every three inhabitants.
First, it was the Hungarian route. Then it was the Balkan route. Now Italy is the epicenter of this demographic earthquake, and it has become Europe's soft underbelly as hundreds of thousands of migrants arrive.
With nearly 10,000 arrivals in one recent three-day period, the number of migrants in 2017 exceeded 60,000 — 48% more than the same period last year, when they were 40,000. Over Easter weekend a record 8,000 migrants were rescued in the Mediterranean and brought to Italy. And that is just the tip of the iceberg: during the summer, the number of arrivals from Libya will only increase.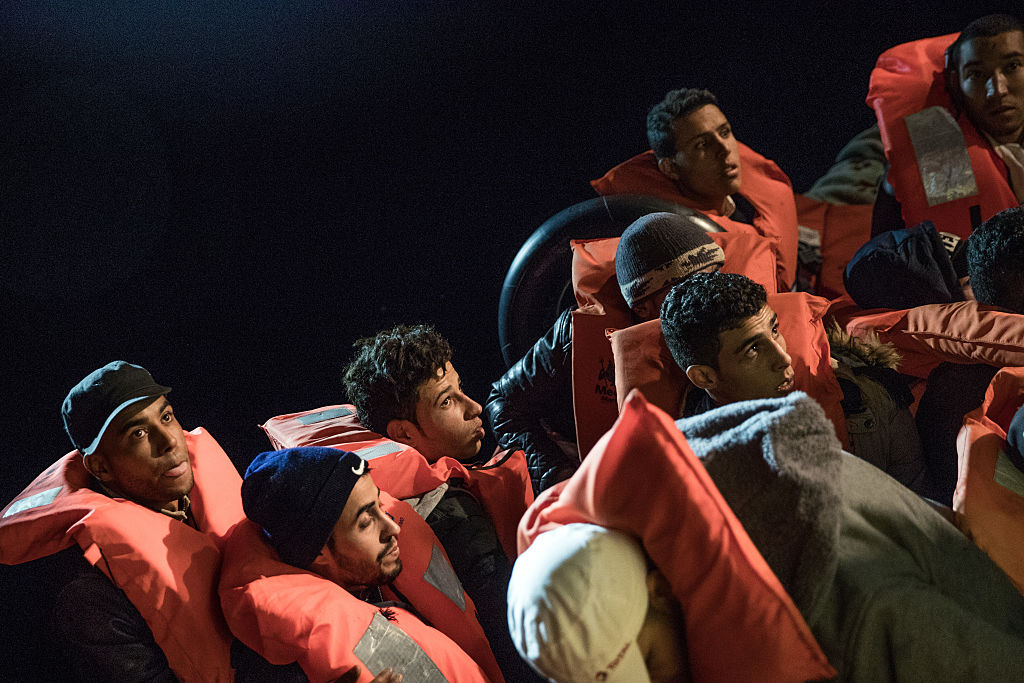 A wooden boat carrying migrants waits to be escorted to the Topaz Responder vessel, as members of the Migrant Offshore Aid Station make a rescue at sea on November 21, 2016 in Pozzollo, Italy. (Photo by Dan Kitwood/Getty Images)
A replacement of population is under way in Italy. But if you open the mainstream newspapers, you barely find these figures. No television station has dedicated any time to what is happening. No criticism is allowed. The invasion is considered a done deal.
In 2016, 176,554 migrants landed in Italy — an eight-fold increase since 2014. In 2015, there were 103,792. In 2014, there were 66,066. In 2013, there were just 22,118. In the last four years, 427,000 migrants reached Italy. In only the first five months of this year, 2017, Italy received 10% of the total number of migrants of the last four years.
There are days when the Italian navy and coast guard rescue 1,700 migrants in 24 hours. The country is exhausted. There are Italian villages where one-tenth of the population is already made up of new migrants. We are talking about small towns of 220 residents and 40 migrants.
One of the major aspects of this demographic revolution is that it is taking place in a country which is dramatically aging. According with a new report from the Italian Office of Statistics, Italy's population will fall to 53.7 million in half a century — a loss of seven million people. Italy, which has one of the world's lowest fertility rates, will lose between 600,000 to 800,000 citizens every year. Immigrants will number more than 14 million, about one-fourth of the total population. But in the most pessimistic scenario, the Italian population could drop to 46 million, a loss of 14 million people.
In 2050, a third of Italy's population will be made up of foreigners, according to a UN report, "Replacement Migration: Is It a Solution to Decline and Aging Populations", which designs a cultural melting-pot that could explode in cultural and social tensions. The level of arrivals will fall from 300,000 to 270,000 individuals per year by 2065; during the same period, it is expected that 14.4 million people will arrive. Added to the more than five million immigrants currently in Italy, 37% of the population is expected to be foreigners – more than one out of every three inhabitants.
ER recommends other articles by The Gatestone Institute
About the author
Giulio Meotti, Cultural Editor for Il Foglio, is an Italian journalist and author.