ER Editor: The Duran team of Alexander Mercouris and Alex Christoforou give their appraisal of Alexander Lukashenko's claim that an assassination attempt was to be made against him but was foiled. 
Here are the main points of the video discussion:
What do we make of the news, especially its timing, of the alleged assassination attempt of Lukashenko that was foiled by the intelligence services of Minsk and Moscow? Is this just Lukashenko sounding off?
More information makes Lukashenko's claim difficult to discount. 1) Russia backed the claim and was involved in exposing it. 2) Then tape recordings were produced of participants in the coup who were set up by Russian intelligence. 3) Others involved, outside of Belarus and Russia, have corroborated the story. So some sort of plot was being hatched, which Russia got the wind of; then entrapped some members of it. Belarus will be pulled more toward Russia and further away from the US as a result.
The plot was supposed to have been hatched for the beginning of May, at the time when US warships were to arrive in the Black Sea. UK warships were also due to arrive, which meant NATO powers were in the Black Sea with other NATO forces out in the Mediterranean. Sanctions were to be announced; forces were being amassed at the Ukraine border. So a lot of chess pieces were being put into place. Yet it has now been unravelled! So was a big play being set up after Biden got into office, which has now fallen apart? (Neocons Kagan and Nuland had also put out articles that advocate the US pushing forward with an offensive against Russia.)
Has it all been an Inspector Clouseau-type plot? Russia seems to have been ready for all of this in any case. Russia learned a lot after the Maidan coup in 2014. They were taken by surprise back then, had a very exposed economy, and had no relationship with China. Their military was also weaker, so they weren't ready to respond. This time, Russia is being much more assertive. Their counter-sanctions to the US' are quite strong, and they are promising to go after western NGOs in Russia that have given them trouble. They will also protect their interests along their western border.
Russia is now the singular foreign policy focus of the White House pretty much. Do the Neocons have inside people or intel in Russia? Was the Covid situation permitting them to destabilize Russia?  Neocons do tend to listen to the wrong people. And in fact, Putin and the government's popularity have both been growing recently.
Patrick Armstrong, an astute Russia watcher and former Canadian ambassador, demolished the neocon articles of Nuland and Kagan, saying they lack a major understanding of Russia and what drives it.
What about Alexei Navalny? He's being moved to a prison hospital and is in stable condition, allegedly. Russians aren't generally sympathetic to Navalny nor are they interested in him. He tends to grandstand a lot. Russia isn't interested in letting him become ill.
Today, Wednesday April 20, is the day of Putin's state of the nation address.
********
Russia & Belarus Say US-Backed "Assassination" & "Coup" Attempt Against Lukashenko Thwarted
Russian and Belarusian state sources are alleging that a major assassination and "coup" attempt of Belarusian president Alexander Lukashenko has been thwarted by security services, which has further been dubbed in state media as an "armed insurrection" attempt which may have had the backing of the United States.
However, details surrounding the alleged 'plot' remain murky and it doesn't appear that anything actually close to an 'insurrection' ever got off the ground. Instead, multiple Belarussian officials were reportedly arrested on vague suspicions of treasonous plotting. Russia's FSB is also widely reported to have detained two conspirators in Moscow for their association with the plot.
"Several people, including two in Russia, have been arrested for allegedly plotting an armed insurrection against the Belarusian president," RT describes of the Belarusian media reports. "He claims that the US may have sanctioned the assassination attempt."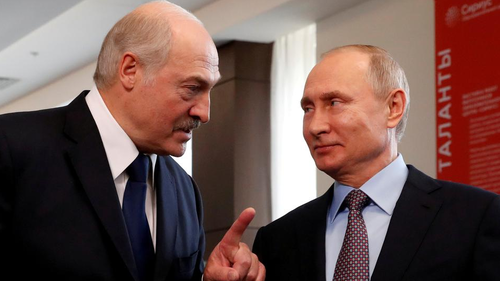 It comes after prior months of growing protests against the longtime autocrat, and after pro-democracy opposition leader Svetlana Tikhanovskaya from exile urged for more opposition to Lukashenko's rule in the streets after a security services crackdown of the past months.
Europe's "last dictator," as Lukashenko sometimes calls himself, recently claimed victory and was sworn in for a sixth term last September after already being 24 years in power, which set off the widespread protests.
Here's more of RT's description of the alleged anti-Lukashenko coup plotting:
The existence of an alleged plot to kill Lukashenko, other top Belarusian officials, and even their family members was revealed on Saturday. In Minsk, the national broadcaster ONT ran a story naming suspected conspirators and exposing their plans. The report offered as evidence several clips of what appears to be Zoom meetings between them.
And some of the details discussed among the officials were said to be captured by a hidden recording:
The plan discussed at the meeting, as described by the FSB, involved killing "almost the entire leadership" of Belarus, a military coup, and a power blackout of the entire country. "It was suggested that the active phase would be launched by some armed groups ('partisans'), who are currently stationed at 'secret bases'," the FSB reported. The action was reportedly scheduled for May 9, when Belarus holds a military parade dedicated to the victory over Nazi Germany in 1945.

Hidden camera footage of what appeared to be the meeting in Moscow was aired by the ONT in its expose. In it, Zenkovich and Feduta detailed their suggestions on how to conduct a successful armed coup. They said Lukashenko needs to be "disposed of" and at least 30 in Minsk – presumably top officials – need to be "interned literally within the first hour."
In a subsequent televised address, the Belarusian leaders explained: "we detained the group [of coup plotters], they showed us how they had planned everything, I remained silent." He then accused the US of assisting in the plot: "Then we discovered the work of clearly foreign intelligence services, most likely the FBI, the CIA."
At the height of the contested reelection protests last August, Lukashenko and other top officials said that NATO had built up forces along Belarus' Western border. He warned at the time that his military would immediately 'react' with force to any NATO provocation.
However, the crisis has since died down after a severe crackdown by police and security services, which involved stationing armed vehicles and tanks surrounding the presidential palace complex in Minsk.
************
••••
The Liberty Beacon Project is now expanding at a near exponential rate, and for this we are grateful and excited! But we must also be practical. For 7 years we have not asked for any donations, and have built this project with our own funds as we grew. We are now experiencing ever increasing growing pains due to the large number of websites and projects we represent. So we have just installed donation buttons on our websites and ask that you consider this when you visit them. Nothing is too small. We thank you for all your support and your considerations … (TLB)
••••
Comment Policy: As a privately owned web site, we reserve the right to remove comments that contain spam, advertising, vulgarity, threats of violence, racism, or personal/abusive attacks on other users. This also applies to trolling, the use of more than one alias, or just intentional mischief. Enforcement of this policy is at the discretion of this websites administrators. Repeat offenders may be blocked or permanently banned without prior warning.
••••
Disclaimer: TLB websites contain copyrighted material the use of which has not always been specifically authorized by the copyright owner. We are making such material available to our readers under the provisions of "fair use" in an effort to advance a better understanding of political, health, economic and social issues. The material on this site is distributed without profit to those who have expressed a prior interest in receiving it for research and educational purposes. If you wish to use copyrighted material for purposes other than "fair use" you must request permission from the copyright owner.
••••
Disclaimer: The information and opinions shared are for informational purposes only including, but not limited to, text, graphics, images and other material are not intended as medical advice or instruction. Nothing mentioned is intended to be a substitute for professional medical advice, diagnosis or treatment.