Pam Barker | Director of TLB Europe Reloaded Project
Pensions in many EU countries now seem to be heading for a haircut-in-stages if not the chopping block. Macron's going for pension 'reform' in France and people aren't at all happy (see this from September as an example, Angry French professionals march against Macron's pension reform). But it seems some degree of cutting has already been implemented here. Talking to people informally, many have a story about how their own pensions or that of a relative have been cut by around 1,000 euros per month, which is a lot, especially given that these people still have to pay a ridiculous number of taxes (here we pay a 'habitation' tax, just for either renting a place or living in your own place; and if you own it, you also pay a property tax) and prices in the shops are relatively high compared to salaries, and compared to North America. France has a mass demonstration coming up to protest the pension reforms on December 5th.
Although we don't endorse an international socialist viewpoint, we do recommend this piece by World Socialist Website for its solid analysis, titled French unions meet with Macron administration to organize attack on pensions. Of note:
The restructuring of the national pension system is the centerpiece of President Emmanuel Macron's austerity program. …

While the full details have not been released, the proposed pension system will include certain major elements. It will abolish in one stroke 42 different pension entitlements that currently apply within specific industries and create a single universal scheme in their place. Pension rights that had been won by different sections of public sector workers in major struggles in the 20th century, including railway workers, teachers, nurses and other healthcare workers, will no longer apply. This change, which is grotesquely being presented as improving the equality in retirement, had been particularly demanded by business.

Secondly, pensions will no longer be an annuity, in a guaranteed amount of money. Instead, workers will accumulate points over the course of their working lives. Upon their retirement, these points will be converted via some as-yet undisclosed mechanism into a monetary amount. This will allow either the Macron or any future administration to continually reduce the monetary value of points and compel workers to work for longer by making retirement impossible.
What the piece below by Zerohedge emphasises is that the ECB's ridiculous negative interest rate policy (NIRP) is playing a major role, one of creating vulnerability and disaster within pension investment schemes, as has the massive creation of virtually free money (QE) to banks and corporations, who are able to enrich themselves and their shareholders without creating anything of real value in the real economy which citizens depend on. The WSWS mentions the wishes of the French business sector as a key element in the reform scheme. Let's mount the barricades!
********
Netherlands Headed For Unprecedented Crisis: Millions Of Retirees Face Pensions Cuts Thanks To The ECB
When one thinks of pensions crisis, the state of Illinois – with its woefully underfunded retirement system, which issues bonds just to fund its existing pension benefits – usually comes to mind. Which is why it is surprising that the first state that may suffer substantial pension cuts is one that actually has one of the world's best-funded, and most generous, pension systems.
According to the FT, millions of Dutch pensioners are facing material cuts to their retirement income for the first time next year as the Dutch government scrambles to avert a crisis to the country's €1.6 trillion pension system. And while a last minute intervention by the government may avoid significant cuts to pensions next year – and a revolt by trade unions –  if only temporarily, the world finds itself transfixed by the problems facing the Dutch retirement system as it provides an early indication of a wider global pensions funding shortfall, not to mention potential mass unrest once retirees across some of the world's wealthiest nations suddenly finds themselves with facing haircuts to what they previously believed were unalterable retirement incomes.
At the core of the Dutch cash crunch is the ECB's negative interest rate policy, which has sent bond yields to record negative territory across the eurozone, and crippled returns analysis while pushing up the funding requirements of Dutch pension funds.
Ahead of a parliamentary debate on Thursday on this hot topic issue, the Dutch minister for social affairs and employment, Wouter Koolmees, will write to lawmakers to outline his response to the pension industry's problems, the FT reported.
In order to offset the ECB's NIRP policy, Shaktie Rambaran Mishre, chair of the Dutch pension federation which represents 197 pension funds and their members, said that contributions might have to rise by up to 30% over the next few years, an outcome which will lead to outrage among existing working-age employees who will suffer a surge in the pension costs. Absent a dramatic increase in benefits contributions, "as things stand, around 2 million people are facing cuts from next year," she added.
Predictably, trade unions have already held protests and strikes this year over the potential cuts to pensions and have threatened more action if the government does not step in. "We expect some relief next week and if not, we will mobilise," said Tuur Elzinga, lead pensions negotiator at FNV, the biggest Dutch union.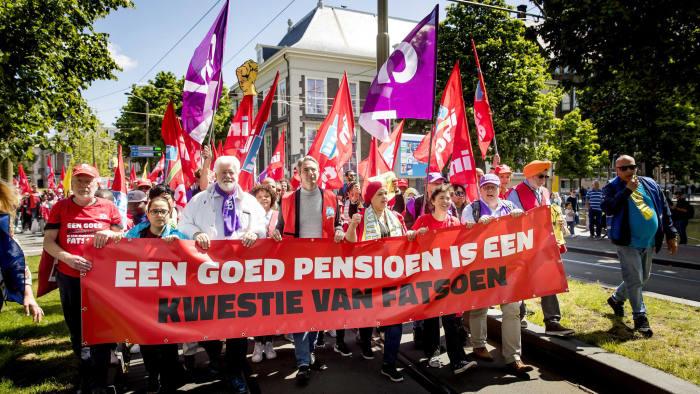 The Netherlands – one of the Eurozone's richest nations – is hardly alone in this predicament, as the ongoing debate reflects broad concerns about the impact of low interest rates among the Eurozone and Japan, as ageing populations and longer life expectancy have put pension systems across the world under great strain. A report last week from the Group of Thirty, a club for current and former policymakers, warned of a $15.8tn shortfall in funding to support the ageing populations of the world's 20 biggest countries.
And if there is one way to guarantee riots among the world's richest nations, it is to inform pensioners that their benefits are suddenly being "haircut."
In some ways, the Netherlands has one of Europe's most generous retirement systems: at its core, it represents a basic pay-as-you-go state pension as well as employer-run pension scheme which together provide workers with about 80% of their average lifetime wages when they retire. The US and UK have similar systems, but Dutch pension funds are more generous and must use a lower risk-free rate to value their liabilities, forcing them to hold more assets.
Unfortunately, the lower Dutch risk-free rate is not low enough, and as a result about 70 employer-run pension funds with 12.1m members had funding ratios below the statutory minimum at the end of September, according to the Dutch central bank. And here lies the rub: if funds have ratios below the legal minimum for five consecutive years or have no prospect of recovering to a more healthy level, they must cut their payouts. Interest rates have rebounded slightly in recent weeks, but many funds are still facing cuts.
In other words, in making a select handful of European stockholders rich courtesy of NIRP and QE, Mario Draghi is threatening the pensions of hundreds of millions of retired European workers.
So what, if any, is the solution?
Last week, Rabobank reported that the Minister of Social Affairs is supposedly willing to prevent a large part of the pension benefit cuts of 2020, as the government is reportedly willing to lower the minimum coverage ratio from 100% to 90% for one year. This temporary measure can be seen as a pause button, which buys time for:
Pension funds to hopefully recover over the next year. For pension funds, a rise in their risk-free rate term structure which is used to discount their liabilities (EUR 6m swap rates) would be most helpful
Continuing to work out the details of the Pension Reforms announced in June 2019. Unions, employer representatives and the opposition parties were against pension cuts because this would undermine the goals set out in the Pension Reforms.
Cutting pensions is a very sensitive and unpopular measure, especially for politicians, because the government has the ability to change the rules by changing the law. This is especially hard in times where there is no economic downturn, because it makes it more difficult to explain and justify the cuts. One can only imagine what will happen to Dutch pensions during the next Eurozone recession, when the ECB will be forced to cut rates even more negative, in the process threatening even more pension haircuts.
While this pause would, in theory, prompt some pension funds to reduce their matching portfolio or hedge ratio in anticipation of pension cuts, not many pension funds already acted on the threat of these cuts according to Rabobank. Therefore, this temporary measure will have a limited effect on the investment behaviour of pension funds because:
Pension funds are typically big and are long term investors, meaning they take time to react to certain events
Most pension funds have a fixed risk budget. This risk budget is maximised by regulation and is fixed at the moment the coverage ratio drops below the required coverage ratio. This means if a pension fund would want to increase its risk toward for example equity, it often has to reduce risk somewhere else in the portfolio
Possible pension cuts are based on the policy coverage ratio which is the 12th month average of the coverage ratio. This further reduces the incentive for a temporary risk-on or risk-off strategy.
What's next? On 21 November 2019 the official plans will be discussed in parliament, although Rabobank does not expect any additional changes that would affect investment behavior of pension funds. However, as the Dutch bank admits, "there are some challenging times ahead in the pension reform discussions" and it expects possible big changes this time next year. Chief among them: the risk free rate term structure that is used to discount the liabilities will likely change in every possible reform scenario, although it is unclear how much lower it can drop.
As the FT notes, a group of 10 academics wrote to parliament recently calling on the Dutch government not to raise the risk-free rate, arguing this would be at the expense of younger workers as "the assets pot will be a little bit more empty each year". Others, however, think the government will intervene. "I expect that politically the cuts will not happen," said Lex Hoogduin a professor at the University of Groningen and a former board member of the Dutch central bank, who did not sign the letter.
"But this is just kicking the can down the road as eventually they won't be able to afford the payouts that people expect," said Mr Hoogduin. And the people have Mario Draghi – and now Christine Lagarde – to thank for it.
********
The anger of Italian pensioners explode
Italy's pensioners took to the streets to protest against a maneuver that "does not give answers" to the problems concerning the country's oldest population.
ROME – "For the government we are invisible" says the unions Spi Cgil, Fnp Cisl and Uilp Uil. They pointed the finger at the government at the Circus Maximus in Rome at a national demonstration, to send a clear message to the government.
The title of the event was: "Invisible no, we are sixteen million." That is in fact the number of pensioners in Italy. The initiative, which follows on a similar event which was held last June in Piazza San Giovanni, touched on various issues including the re-evaluation of pensions, the reduction of taxes for "a more equitable tax", and the request of a disability law.
According to the unions, the government has forgotten about the pensioners, since the responses have been "insufficient" because the government is "incapable of giving concrete answers to the needs of the elderly". In other words, the latest measures have been called "a hoax", considering that the paltry re-evaluation is "not even 50 cents a month" included in the Budget law.
Even after countless appeals to the executive, the demands of the unions have not been taken into consideration yet.
The pensioners want answers, and a re-evaluation but not under the conditions set by the government. They were also waiting for a law on non-self-sufficiency and a fairer tax.
The General Secretary of Spi Cgil, Ivan Pedretti, spoke at the event: "We are not invisible and we will prove it to you. We will be your thorn in your side until you understand the mistake you are making. We also ask all the parliamentarians: listen to the needs of the weakest citizens, stop listening only to the lobbies and political leaders, improve this budget maneuver. We will look closely at what you will do and what amendments you will support, so we will draw the consequences."
The general secretary of the FNP CISL, Gigi Bonfanti, proposed a mass general strike to make the government understand its errors on pensioners: "I propose a great general strike of workers and retirees together, on the themes that unite us."
The judgment of Carmelo Barbagallo, secretary of the UIL, was also harsh: "The government is not taking pensioners into proper consideration. For years, since 2011, there has not been a re-evaluation of pensions and pensioners are becoming poorer."
************
••••
The Liberty Beacon Project is now expanding at a near exponential rate, and for this we are grateful and excited! But we must also be practical. For 7 years we have not asked for any donations, and have built this project with our own funds as we grew. We are now experiencing ever increasing growing pains due to the large number of websites and projects we represent. So we have just installed donation buttons on our websites and ask that you consider this when you visit them. Nothing is too small. We thank you for all your support and your considerations … (TLB)
••••
Comment Policy: As a privately owned web site, we reserve the right to remove comments that contain spam, advertising, vulgarity, threats of violence, racism, or personal/abusive attacks on other users. This also applies to trolling, the use of more than one alias, or just intentional mischief. Enforcement of this policy is at the discretion of this websites administrators. Repeat offenders may be blocked or permanently banned without prior warning.
••••
Disclaimer: TLB websites contain copyrighted material the use of which has not always been specifically authorized by the copyright owner. We are making such material available to our readers under the provisions of "fair use" in an effort to advance a better understanding of political, health, economic and social issues. The material on this site is distributed without profit to those who have expressed a prior interest in receiving it for research and educational purposes. If you wish to use copyrighted material for purposes other than "fair use" you must request permission from the copyright owner.
••••
Disclaimer: The information and opinions shared are for informational purposes only including, but not limited to, text, graphics, images and other material are not intended as medical advice or instruction. Nothing mentioned is intended to be a substitute for professional medical advice, diagnosis or treatment.